Best Jigsaws
Jig Saws are an amazing tool to have in your workshop because it can has many different uses and can be used on a variety of projects. The jig saw can cut curves and patterns from a variety of materials with the right amount of voltage. Jig saws are relatively easy to use and can be very handy if you invest in the right one. The following reviews explore top quality jig saws that provide the best value for your dollar.
Bosch JS572EL 120-Volt Top-Handle Jig Saw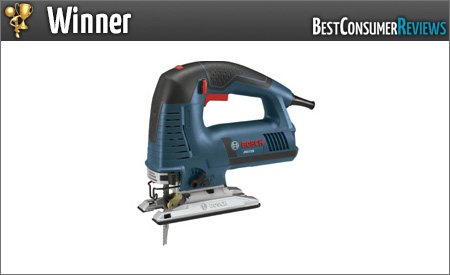 Editorial Rating
Value (9.8 of 10)
Quality (9.9 of 10)
Popularity (9.7 of 10)
Consumer Details
Under $300
Over 19 Reviews
4.5 of 5 Star Rating
Bosch JS572EL 120-Volt Top-Handle Jig Saw
The Bosch JS572EL 120-Volt Top-Handle Jig Saw with L-BOXX 2 is one of the best jigsaws on the market. The jig saw is comfortable to hold and ergonomic design is built to relieve strain on hands and shoulders enabling you to use this product for long periods of time. The Bosch JS572EL 120-Volt Top-Handle Jig Saw with L-BOXX has a two finger trigger switch, which was created with the customers comfort in mind. The jig saw has a variable-speed dial and accelerator trigger that allows you to use the jig saw as fast or as slow as desired. The Bosch JS572EL 120-Volt Top-Handle Jig Saw with L-BOXX offers precision control which allows for convenient and accurate cuts. It has switchable LED lighting for better visibility. The four orbital-action settings create the power and force needed for a wide range of projects. The jig saw has an adjustable dust blower, which allows you to keep the work space clean. When you purchase the Bosch JS572EL 120-Volt Top-Handle Jig Saw with L-BOXX the L-BOXX Case, which is included. This is a new line of cases that stack and latch together for easy transport.
Features
Two finger trigger switch
Variable speed dial
recision Control II
Adjustable Dust Blower
L-BOXX case included
Black & Decker JS660 Jig Saw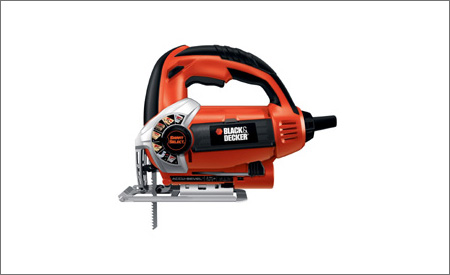 Editorial Rating
Value (9.7 of 10)
Quality (9.5 of 10)
Popularity (9.6 of 10)
Consumer Details
Under $40
Over 220 Reviews
4.5 of 5 Star Rating
Black & Decker JS660 Jig Saw
The Black & Decker JS660 Jig Saw with Smart Select Dial has SmartSelect technology that automatically sets the jig saw to improve any cutting application. The Black & Decker JS660 Jig Saw with Smart Select Dial has a variable speed dial that allows up to seven different speed settings ranging from 800 to 3,000 rpm. This jigsaw can cut wood, metal, and plastic making straight and curved cuts with ease. The powerful 5 amp motor can handle almost any task required for your projects. The Black & Decker JS660 Jig Saw with Smart Select Dial was created with the customer in mind and has a tool-free blade change that helps prevent accidents and creates hassle free blade changes. The Black & Decker JS660 Jig Saw with Smart Select Dial has a 2-year limited warranty and includes one blade with the initial purchase.
Features
Select technology
Cuts woods, metal, and plastic
Seven speed settings
5 amp motor
2 year warranty
Makita 4350FCT Top Handle Jig Saw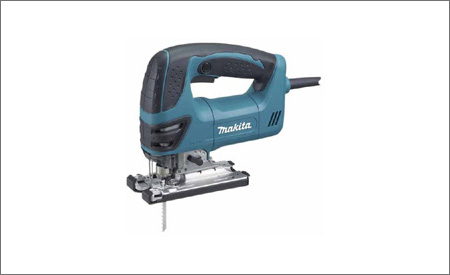 Editorial Rating
Value (9.8 of 10)
Quality (9.9 of 10)
Popularity (8.8 of 10)
Consumer Details
Under $120
Over 40 Reviews
4.5 of 5 Star Rating
Makita 4350FCT Top Handle Jig Saw
The Makita 4350FCT Top Handle Jig Saw with LED. Light has many factors that make this a great tool. The jigsaw has an on-board LED light that allows for better visibility. The jigsaw also has an on-board hex wrench that allows you to make fast and accurate bevel adjustments. The Makita 4350FCT Top Handle Jig Saw with LED. Light can maintain consistent speed throughout the cut. For cuts that require greater precision the jigsaw includes a speed control dial. This speed dial ranges from 800 to 2,800 SPM. The jigsaw has three orbital settings plus straight cutting with a very powerful 6.3 amp motor. The tool-less blade change system allows for fast and easy blade installation and removal. This feature is patented and cannot be found on any other product. The Makita 4350FCT Top Handle Jig Saw with L.E.D. Light has a built in dust blower that allows for easy cleanup. The aluminum base also adjusts for customer's convenience up to 45 degrees right or left with a positive stop at 90 degrees.
Features
On-board LED light
Variable speed control dial
3 orbital setting
Tool-less blade change
Aluminum base that adjusts
The Simplest Jigsaw Buying Guide
A jigsaw is an instrument used to cut curves and make complex patterns and designs in different types of materials. The other types of saws cannot perform certain cuts because of bigger blades and immobile limitations. Fortunately, the jigsaw can accurately cut difficult patterns since it has smaller blades and it can be transported from one position to another. It is a highly regarded tool for sawing creative designs in various materials. The tool is versatile as it can be a good option for making all types of cutting.
This tool is mainly for trimming wood. Nonetheless, it can also be used to cut other materials such as plastic, ceramics, paper and metal. The ability of the jigsaw to cut different materials depends on the type of blade.
Types of Cutting action
The most common cut done by this tool is a curve. The curve is a broad term as it also pertains to complex patterns and globular cuts. This competence allows the jigsaw to enhance your artistic and creative craft. A plunge cut is done by cutting in the middle of the materials used. Other saws would start at the edge. The saw can also be used for cutting in a straight manner. However, to make a perfectly straight cut, the person handling the saw must be skillful. Otherwise, the cut will be a little inclined. This tool has the ability of spinning around. This is to tilt the blade when making a bevel cut.
Types of Jigsaws
The majority of the saws have D-handle grips on top or barrel-grip handles. You may choose from the 3 power options.
The corded saws are powered by electricity. It has the ability to cut thick objects. The thickness varies depending on the unit and blades. One must be cautious in using this tool to avoid cutting the cord. Once the cord is cut, it can lead to an electrocution, the sudden death caused by an electric shock.
In this type, the tool is powered by batteries. It is less powerful than the corded ones. However, the advantage of this type is the portability. It may be heavier than the corded units.
Pneumatic saws are more advantageous because it is powered by the air. The air is being compressed by an air compressor. This is also the lightest among the three types. You can also prevent electrocution if you use this type in moist areas.
Power Jigsaw
The unit for determining the power used is amps. The higher the amps, the powerful the jigsaw can be.The 3 to 4-amp saw can cut light objects, while the 5-amp or higher-amp saws can cut thick objects.
Standard Features of This Tool
This is very conducive as different types of materials need different speeds for sawing. The rule is to cut the light materials faster and the bulky materials slower.
This is the feature allowing you to cut the materials up to 45 degrees. Some units have easy-to-adjust regulators, where as some units need some tools to be adjusted.
Sometimes, the shadow cast directly on the portion you are going to cut. In this case, you need to switch on the LED guide light.
Some units have this useful feature. It is for gathering up the sawdust that is producedwhen cutting materials. This is to avoid the dust from accumulating in front of thejigsaw.
A sturdy case can protect the jigsaw when not in use. If you store the tool without a case, there is a tendency of being damaged.
Blades Jigsaw
You can buy the blades independently. For every type of cut, there is a corresponding blade to use. You can cut even the thickest material as long as you use the appropriate blade. You should be accustomed to use the suitable types of blades to cut the materials with accuracy.If you used the wrong blade, the blade may perform poorly or be broken.
Blade Materials
Blades are made from different types of materials such as high-carbon steel, tungsten carbide, high-speed steel and bi-metal. It is advisable to use steel blades for the softwoods and the light metals. You must use the bi-metal blade for cutting heavy-duty materials, hardwoods and hard-to-cut materials. The tungsten carbide blade is compatible for cutting ceramics.
Blade Teeth
The measurement for the blade's teeth is in teeth per inch. The quantity of the teeth can influence the material to be cut, the precision of every cut and the speed of the blade. The jigsaw with a lower count of teeth, approximately 6 to 20, is used in cutting soft materials like paper, cloth and wood. Softer materials can be easily cut by rough teeth. Hard materials such as ceramics and steel, needs a slow and more precise kind of cutting. The blade count must be about 14 to 36 teeth per inch.
There are two types of tooth set: the milled and the ground. The tooth set is responsible for the speed and coarseness of the blades. The milled tooth set is dull and usually used for faster and coarser cutting. The ground tooth set has sharp and fine-pointed teeth. This set has the ability to create finer cuts, although the speed decreases. The ground set tends to wear out faster than the milled set.
Jigsaw guide
For Easy-to-do tasks, you can use a cordless or a corded saw. The easy-to-do tasks include cutting 2 ¼ inches of softwood, 1 3/8 inches of hardwood and 3/16 inch of steel.
For professional cuts, you can use a high-powered saw, either a corded or a pneumatic type. These cuts include cutting woods with thickness up to 3 3/8 inches.
The suitable saw must be inlined with your personal preference and purpose. Some features may be useful to some works, but may also be unnecessary to some cuts. For those people who will use the saw for simple tasks, it is advisable to purchase the cordless type. You need to consider these things in order to buy the most efficient jigsaw.