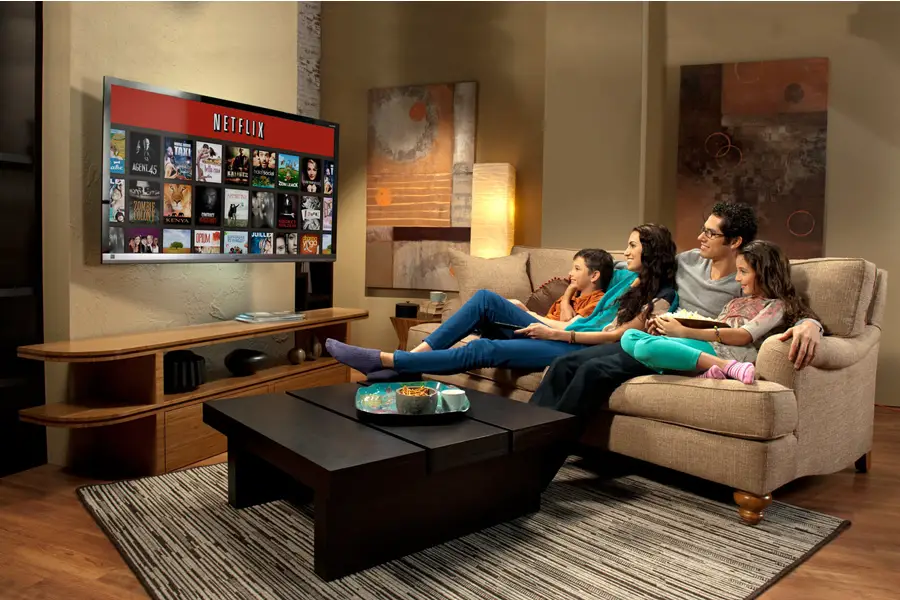 3D TV Reviews
Technology is advancing and 3D movies and applications are becoming more and more popular with consumers. With these advancements have emerged 3D televisions. These units are new to the market and are providing a theatre like experience in consumer homes. With these 3D TVs you will be able to watch 3D movies and television shows with a more lifelike experience. The following reviews offer the best and most reliable 3D TVs on the market with the best features and applications available.
Most Popular 3D TV
Samsung
The Samsung UN60F6400 60-Inch 1080p 120Hz 3D Slim Smart LED HDTV is a perfectly designed television set that will enhance the look of any room. This 3D TV set is 54 X 31.2 X 1.9 inches in size without the TV stand. This 3D Smart TV has voice control that will make controlling your television easier than ever before. Instead of having to figure out how to use a complicated remote you can simply use your voice to control your television and find the shows and features you are looking for. With the voice control feature will also access the built in Wi-Fi providing access to the network with streaming content and the internet. The 120Hz refresh feature makes general viewing better than ever before and will allow you to play video games, watch action-packed movies, and your favorite sports teams without freezing and blurring crucial moments. The 1080 pixels HDTV will offer the best quality picture with crisp and clear pictures. The Samsung UN60F6400 60-Inch 1080p 120Hz 3D Slim Smart LED HDTV also offers micro dimming that will adjust to the light levels in the room to ensure the best picture quality.
54 X 31.2 X 1.9 inches in size without stand
Voice controlled
Network with streaming content
120Hz refresh feature
1080 pixels HDTV
– Anthony Dawson
Best Overall 3D TV
VIZIO
The Vizio M-Series M552i-B2 55-Inch 1080p 240Hz 3D Smart LED HDTV will be a wonderful piece of technology for your home. The ultra-thin design is sure to complement your residence. This 3D TV has Razor LED with smart dimming allowing your picture to have a deeper contrast and clearer pictures. The 240Hz refresh rate with a smooth motion enhanced feature has backlight scanning which will help fast action-packed scenes be more vibrant without blurriness. The Vizio M-Series M552i-B2 55-Inch 1080p 240Hz 3D Smart LED HDTV is 32.5 x 55.5 x 6.2 inches in size without the stand. With the VIZIO Internet Apps Plus you will be entertained with the latest television shows, movies, music and more on your big screen 3D TV. The Theater 3D feature will give you the clearest, flicker-free, brighter 3D images than many other standard 3D TVs on the market. This 3D TV has built-in Wi-Fi allowing you to connect to the internet easily with the fast wireless. This provides the ability to check email, along with streaming options through your favorite internet provider like Hulu Plus, Netflix or YouTube.
Ultra-thin design
Smart dimming
Deeper contrast and clearer pictures
32.5 x 55.5 x 6.2 inches in size without the stand
Theater 3D feature with built in Wi-Fi
– Anthony Dawson
Best Budget 3D TV
LG
The LG Electronics OLED55B8PUA 55-Inch Cinema 3D 4K 120Hz LED-LCD HDTV with Smart TV and Four Pairs of 3D Glasses (2013 Model) will provide you with the highest quality television set available. Without the stand, this 3D television set is 8.7 x 48.3 x 29.6 inches in size. This 3D TV will bring sharp detail to the fastest moving pictures that are destined to come across your screen. This provides a lifelike experience for gaming and action-packed movies. With the LG's TruMotion 120Hz technology you will not be disappointed with the picture quality. The LG Electronics OLED55B8PUA 55-Inch Cinema 3D 4K 120Hz LED-LCD HDTV with Smart TV has 3D technology that uses lightweight glasses without the need of batteries to provide you with an amazing 3D experience for movies, TV shows, and your gaming needs. This 3D TV will allow you to watch your favorite content from providers like Hulu Plus, Netflix, and YouTube direct from your 3D TV set by using the magic remote. It provides built in Wi-Fi and smart TV features along with the 3D experience.
8.7 x 48.3 x 29.6 inches in size without the stand
Sharp detail to fast moving pictures
TruMotion 120Hz technology
3D technology with battery-free lightweight glasses
Watch content from internet providers
– Anthony Dawson
3D TV Buying Guide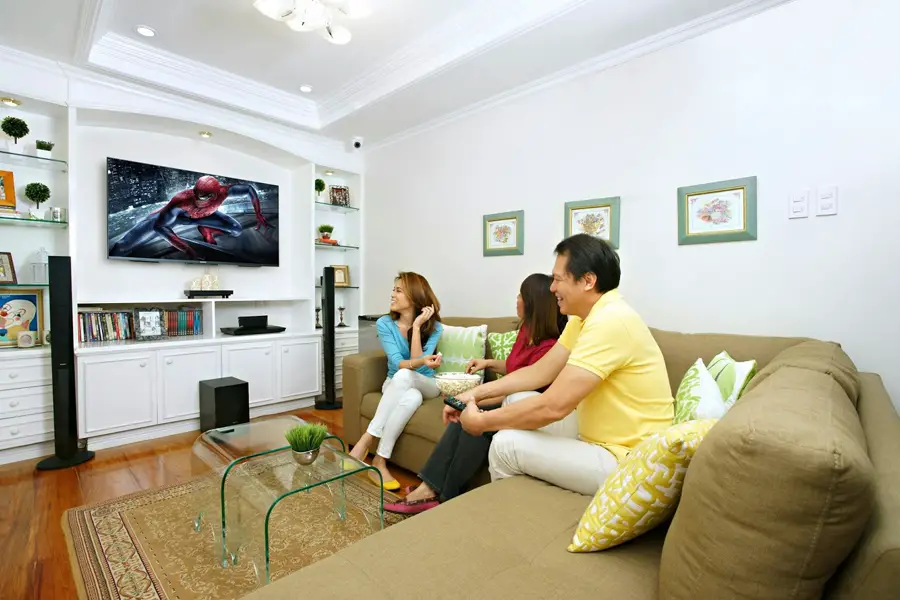 3D TV is the next step from the flat screen televisions that one often has as the centre of their home entertainment system. 3D TV or stereoscopic television as it is also known is a way of creating a more realistic experience from the visual information that is projected from the screen. It works by creating depth in the image through the creation of an optical illusion. This is done by wearing 3D glasses. Each eye creates a different dimension to the image which is slightly altered from the other. When both eyes are watching the screen this then aligns and the image becomes three dimensional.
As 3D TV becomes more popular, so are more and more companies choosing to invest in products and services that combine with the 3D TV technology. Sky3D is one such service that can be used to enjoy 3D TV on a streaming service, however there are now a wide selection of other services and devices that can be used in conjunction with a 3D TV.
Features
Choosing which 3D TV to purchase depends on a number of different factors and varies according on what you wish to do with the system. Many individuals now use their TV for a wide range of different things. The most common of those is to watch television and movies either via DVD players, Blu-ray, normal TV or via digital streaming boxes. However, many individuals will also want to use the screen to play computer games via devices such as the Xbox and the PlayStation consoles.
3D TVs vary in price and some are extremely expensive so it is a good idea to think about what you will actually be using the device for before you make the investment. One type of 3-D TV is known as the shutter 3-D TV and these use 3-D glasses that are quite bulky when they are worn. These are also relatively expensive but the price you will pay will result in an extremely high quality experience. Today's active shutter 3-D TVs are best suited for high-definition imagery such as that from blue ray movies or from gaming consoles. Imagery which moves at a faster rate such as sports are also more effective with these types of 3-D television.
If you are interested in simply watching television via one of the new streaming devices such as sky's 3D channels, you may then wish to invest in a 3D TV that uses passive 3D technology. This is the same type of technology that is used within modern 3D cinemas. This option is far cheaper than that of shutter 3D TVs and the 3D glasses that are used are also cheaper and can be bought for a couple of pounds each. You can also feel safe in the knowledge that digital gaming will look good on passive 3-D TVs but the screen quality will be rendered into 720p rather than that of the highest definition which is 1080p.
Features
Another thing to consider when purchasing a 3D TV is the size of the screen. The general rule is that the bigger the screen, the more immersive it will be and the more enjoyable the experience will be. The whole point of a 3D TV is to immerse the individual into the action which is taking place on the screen and if any edges are seen then this will become like a barrier to the individual when experiencing the visuals. One of the most popular sizes of 3D TV avail;able is that of 50 inches and these are available by the popular screen building companies such as Panasonic and Sony.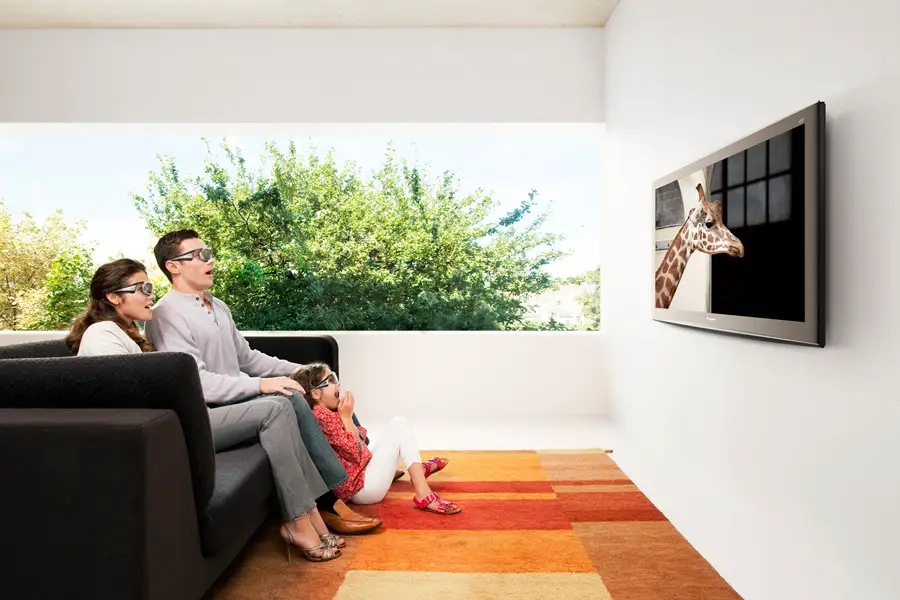 Many different companies are now developing 3D TVs in both the active shutter format as well as the passive formats and both of these styles can be used on a wide variety of 3D streaming devices such as sky 3D, 3-D Blu-ray, 3-D gaming and 3-D virgin. All of these channels will require the 3D glasses as well as the 3D TV screen and these will come with the device when it is purchased but can also be bought separately. If you have purchased and active shutter 3D TV then you will require 3D glasses that are battery-powered. These 3D glasses will need to be synced with the TV beforehand so that the correct images are displayed in conjunction with each other. This is carried out by a polarization of the image into two separate images for both the left and the right eye. This will then be given a slightly different feed from the main screen and this is what will create the sense that there is an illusion coming from the flat image and the sense of depth of which the watcher will become immersed in.
Some users have complained that these 3D glasses are uncomfortable to wear and can easily detect light from outside of the screen which can then become a distraction for the viewer. This design of 3D glasses for the active shutter screens are also relatively expensive and may not suit everyone's needs.
However, 3D televisions are also now being designed that do not need 3D glasses. There are still problems within this format and technology has some way to go before it will be able to show three-dimensional imagery as a high resolution without the need for 3D glasses.
Summary
The experience of watching a 3D television is more focused on the depths that can be achieved rather than the element of objects coming out towards the individual as they are watching. 3D televisions are great for creating an immersive experience for the viewer and should definitely be considered by individuals who have a keen desire to be drawn into the screen as they watch media or play on video games. More and more devices are now seeing the potential of 3D usage within the visual screen and are incorporating it into the latest devices. If you wish to experience the latest viewing experience then a 3D television is a worthy object to invest in.