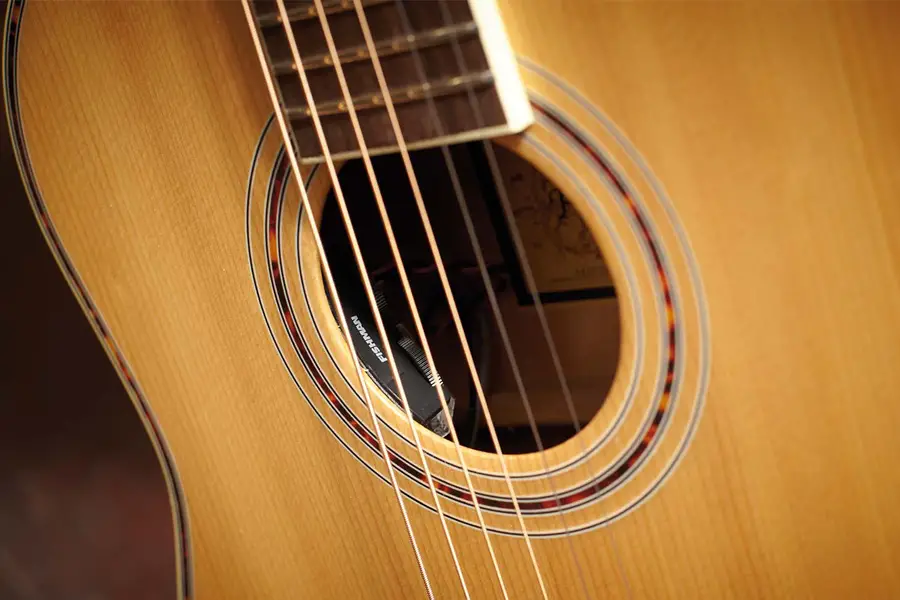 Acoustic Guitar String Reviews
When playing an acoustic guitar the strings are a very important factor. Low quality strings must be constantly tuned and do not keep the clear tones that guitarists want. Low quality strings are also hard on a guitarist's fingers, making it harder to play. We have selected the top quality strings that will keep your guitar tuned longer, and playing clearer brighter sounds for a longer period of time. These strings are built with top quality construction that are easy on your hands and will be enjoyed by guitarists, whether they play occasionally or daily.
Most Popular Acoustic Guitar String
D'Addario – Pack of 3 Sets
The DAddario-EJ16-3D-Phosphor-Acoustic-Strings comes in packs of 1, 3 or 10 sets of strings. The DAddario are some of the most popular strings on the market today. They create a warm and balanced tone that musicians are drawn to. The DAddario-EJ16-3D-Phosphor-Acoustic-Strings are corrosion resistant and are produced in an environmentally friendly process. The strings are made in the USA. DAddario-EJ16-3D-Phosphor-Acoustic-Strings are available in plain steel with .012 gauge or .016 gauge. They are also available in Phosphor Bronze Wound strings that come in .024, .032, .042 and .053 gauge. These high quality strings are built with a high carbon steel core. This construction provides a long lasting string with a bright tone that provides excellent intonation. The design creates a string that stays in tune longer and remains in tune for the entire length of the string.
Exclusive string winding machines that produce high quality and consistency between string sets
Environmentally sound packaging to minimize waste
Available in Plain steel or Phosphor Bronze Wound strings
Long Lasting strings that stay in tune longer from end to end
Made in the USA
– Anthony Dawson
Best Overall Acoustic Guitar String
Elixir
The Elixir-Nanoweb-Bronze-Acoustic-Strings will last from 3 to 5 times longer than standard strings. The ultra-thin coating feels like traditional strings but create a bright tone in the music, similar to non-coated strings. The coated strings are easier on your fingers. The Elixir-Nanoweb-Bronze-Acoustic-Strings are created with a thin polymer tube that is micro thin, yet strong and flexible. The space-age polymer design enables the tube to remain tightly wound and only makes contact at the top of the windings. This leaves the core tight and maintains the clear acoustic sound longer. These plain steel strings are corrosion resistant with anti-rust protection.
Strings last 3 to 5 times longer, even with extended playing
Coating is ultra-thin providing the feel of traditional strings with the protection of coated strings
Winding process keeps the strings wound tighter keeping the strings in tune longer
Polymer design creates long lasting bright sound
Flexible and strong with consistent clear sound
– Anthony Dawson
Best Budget Acoustic Guitar String
Martin
The Martin-MSP4100-Phosphor-Acoustic-Strings are made of a bronze alloy material and comes in gauges ranging from .012 to .054. The Phosphor Bronze strings have a longer life than traditional strings. The construction of the strings includes a 92/8 alloy composition which provides a clear sound that will last a long time, even when played frequently. The strings create deep tones and a rich bass sound. The treble sound is clear and concise, to meet the demands of today's acoustic guitar players. They are built for daily use and will remain tuned longer than traditional strings. The Martin-MSP4100-Phosphor-Acoustic-Strings resist breakage because of the quality steel core. The beautiful bronze strings are both aesthetically pleasing as well as functional.
Available in gauges from .012 to .054
Phosphor Bronze strings made with top quality construction for longer life
Alloy composition maintains a clear sound and stays tuned even with regular play
Create deep bass tone and clear treble tones
Built to last even with everyday playing
– Anthony Dawson