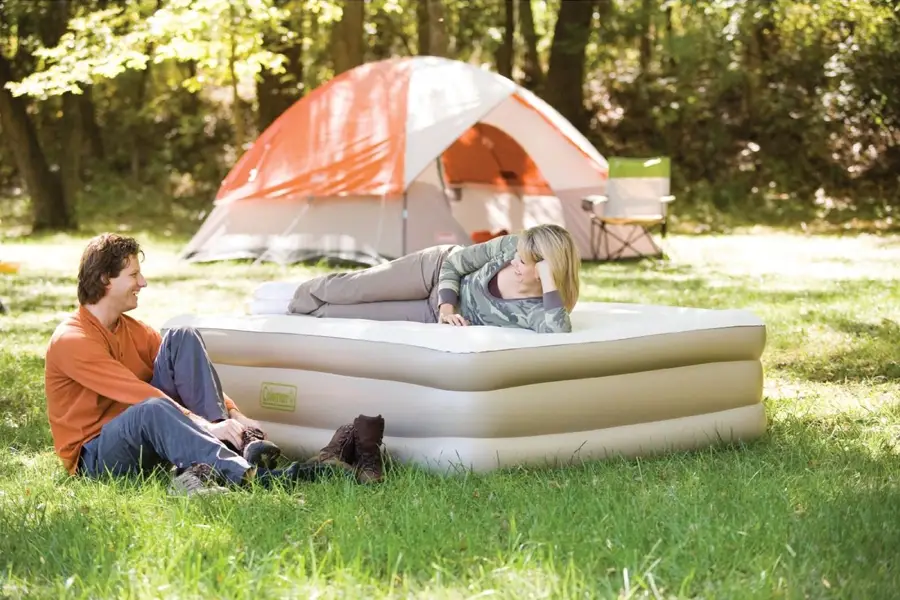 Air Mattress Reviews
Air mattresses are temporary sleeping surfaces that are inflatable and made of plastic or rubber. The are easy to store which makes them useful for traveling or for guests. The mattresses can be inflated orally or with a manual or electric pump. There are many choices in material, texture, strength, size and additional features such as height, weight, strength, pump type, storage methods, and style. We have brought together all of the top models and narrowed the list down of the ones we think are the best.
Most Popular Air Mattress
Insta-Bed
The InstaBed Raised Air Bed has a "Never Flat" Technology AC Pump which inflates and deflates the bed quickly. The raised height makes an easy to rise up from because it has customizable firmness selection, it will be as comfortable to sleep on as you desire. Unlike many other air mattresses that sag and lose air pressure, the InstaBed Raised AirBed with Never Flat™ Technology maintains pressure until morning. The pump is as quiet as a whisper and keeps the bed fully inflated while you rest. The sizable inflated dimensions are 78″ x 60″ x 19″ and the desired comfort levels to choose from are Plush, Medium, or Firm. The comfort levels are monitored during the night with the secondary pump. There is also a feature that when the bed is fully inflated, the pump will shut-off (also does this when it is deflated) so you need not worry that the pump will get burned out. There are coils that make the sleeping surface cozy and the ridged top keeps sheets and blankets in place.
Patented, powerful internal NeverFlat AC pump
Carry bag is also included
Nightly inflation guarantee
Customizable firmness selection
Inflated Dimensions: 78″ x 60″ x 19″
– Anthony Dawson
Best Overall Air Mattress
Insta-Bed
The InstaBed Raised Queen air bed will offer your guests a night's sleep they will be comfortable with. When fully inflated, this queen size bed measuring 80" x 60" x 22" utilizes a unique innovation, called "SecureAir Construction." It has a chamber that is independent from the rest which adds additional stableness. Expansion and sagging is therefore minimized. The InstaBed Queen Raised SureGrip Bottom with a BuiltIn Pump is effortless to lay in and get out of because the height is identical to a standard mattress and because it has a textured bottom grip, it won't slide around. The Insta-Bed Queen Raised Inflatable Bed with Built-In Pump features a 120v pump which makes blow up and deflation quick and easy and a bag is included for carrying, storage and transport. This bed comes with a 1 year warranty.
Unique dual chamber design
SureGrip on underside assures the bed will like slide
Carry bag included
Backed by a 1 year warranty
Inflated Dimensions: 80" x 60" x 22"
– Anthony Dawson
Best Budget Air Mattress
AeroBed
The AeroBed 18" Air Mattress has a headboard design and an AC pump that is powerful and convenient and inflates super fast. The bed is stable and comfortable and feels much like your own bed. It comes with a carry bag so you can take it with you traveling or have it at home to offer to your overnight guests. The AeroBed Comfort Anywhere 18" mattress has the same dimensions as a queen size bed so you can use standard sheets in queen size. Long-wearing and versatile, the AeroBed mattress will withstand long distance travel or slumber parties. Material durability has been enhance through new innovations and the AeroBed is strong and sturdy. The AeroBed keeps pillows on the bed where they belong using a headboard style design. There is also a stability barrier and 24 gauge bottom which heavy duty and puncture resist.
Comfortable and supportive surface
Resistant to punctures
Comfort control settings
Included is a bag for carrying or storage
Dimensions are 78″L x 60″W x 18″D
– Anthony Dawson
Air Mattress Buying Guide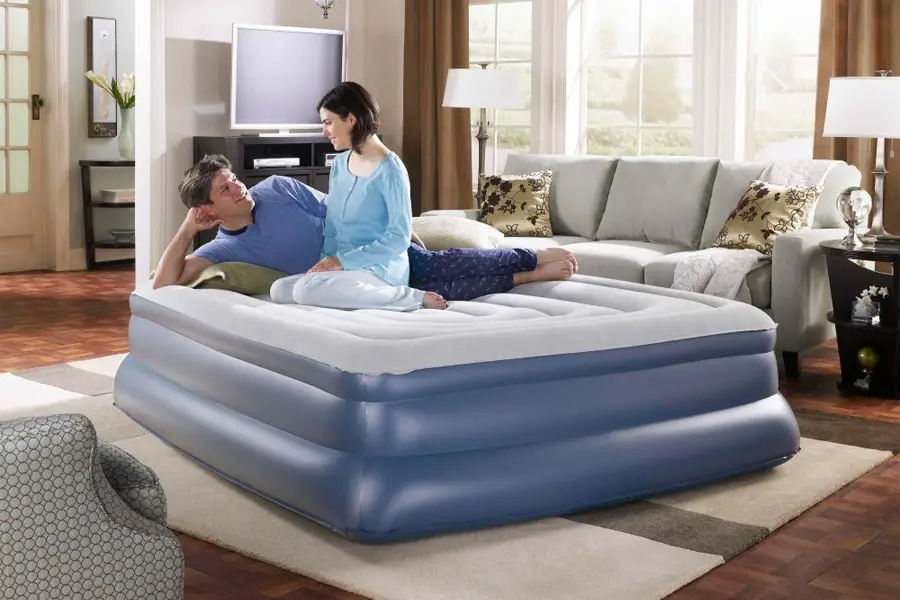 How To Buy The Perfect Air Mattress For You
Not getting a good night sleep can ruin your day and upset your productivity.The air mattress arms race has yieldeda host of products that incorporate new technologies while still maintaining the good old air mattress features of comfort and versatility.No matter what purpose you will use your air mattress for and how much fancy its accessories are, there are basic features that you should look for in buying an air mattress. After all, at the end of the day, you will use your mattress for sleeping (literally and figuratively).Below are some the things to look for in an ideal air mattress for you:
Comfort
No explanation is needed why this is important.What you need to know is how is the level of comfort affected by the materials used in manufacturing an air mattress. There is a general consensus that air mattresses with vulcanized rubber air bladders/chambers (the part of where the air actually stays) are more comfortable than those with PVC, nylon or urethane air chambers. Although nylon, PVC and urethane air bladders boast formidable longevity and durability, some consumers actually perceive them as stiff and uncomfortable.
Purpose of the air mattress
After comfort, this is the second thing that you have to consider. Will the air mattress be used as a main bed? For camping purposes?Or for guest use? Sure a typical air mattress can incorporate all of these uses but an air mattress that is specifically designed for the specific purpose that you will use it for will always be more cost-efficient.Here are some basic features of an air mattress and how these features may vary according to the air mattress' purpose:
Durability – If you are planning to use your air mattress for outdoor purposes, then durability should be your primary requirement.Normally, air mattresses made from durable and thicker materials should be fine for outdoor use.
Versatility and Ease of Use – This is critical for people who always move from one place to another. Air mattresses should beeasy to set-up and pack-up and should be lightweight for easy transport. This also applies for air mattresses for camping and guest use.
Size and Height – If you are looking for an air mattress for use as a main bed, size should depend on whether you live alone or with a special someone. Raised air mattresses are also available if you prefer to sleep on a bed with normal height.Your in-laws will visit you tonight? Raised air mattresses are also excellent guest beds for the elderly for ease of getting on and out of the bed. If the air mattress will be used by children or people who move around a lot during sleep, then a low profile air mattress can help lessen the chance of bumps and more serious injuries. Air mattresses for outdoor use should seamlessly fit your tents. There are even air mattresses designed to fit in SUVs and pick-ups.
Moisture Proof – This goes for all air mattresses.Air mattresses that allow bodily fluids and moisture to get inside its air chambers are potentially hazardous to your health as the moisture can cater to the formation of mold spores that can be toxic.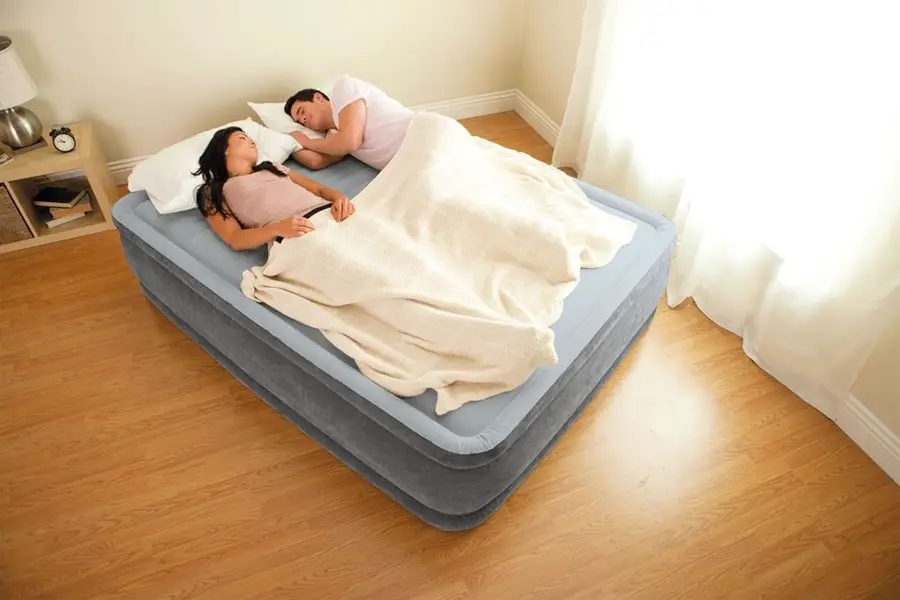 Air mattresses for two should be suitable for love-making
This should be non-negotiable for couples. Avoid mattresses that have a tendency for "trenching" or form a valley in the middle portion when in use. Designs often incorporate reinforced middle parts that form humps to avoid trench formation. These humps, however, may form intrusions during love-making and limit the space in the mattress suitable for sex so watch out for that. Pressure sensitive mattresses might not be suitable forcouples who are sexually active as this prevents easy movement and quick shift in sex positions.Air mattresses for couples should alsobe durable enough to resistsagging after repeated use.Heavy and energy absorbing air mattresses allows for discretion, a feature that may be important for couples who already have children. Other couples prefer bouncy mattresses to aid in getting to the "rhythm".
Health and Environmental Concerns
Synthetic plastic compounds such as PVCs are commonly used materials for air mattresses. The main concerns for such materials are the VOCs (volatile organic compounds) that these materials contain.These compounds are often released in a process called outgassing. This outgassing produce fumes that are responsible for the smell associated with a newly purchased air mattress. Besides environmental concerns, these fumes are associated with skin and respiratory diseases.Manufacturers are now aware that consumers are now pickier for eco and health friendly mattresses.The truth is, there really are no 100% eco-friendly or "green" air mattresses, the most manufacturers can do is to substitute 10-30% of the petroleum content in their mattresses by natural plant-based oils. While only a part of these air mattresses are actually eco-friendly, this may be acceptable to health and environment standards as third party certifications from environmental volunteer groups label some these mattresses safe for use.
Air Mattress Pumps
Pumps may be electric or manual. Electric pumps can be battery-operated, rechargeable, or use wall outlets and car power outlets. Logically, if you want air mattresses for outdoor use, electric pumps will allow for quick inflation and deflation. Manual pumps (hand and foot operated) can be used without any external power sources and may be preferred by those who want physical activity. New designs of manual pumps can accomplish the job in as short as 60 seconds.The amount of noise these pumps produce should also be a major consideration. As a rule, the less moving parts a pump has, the more silent the pump.
Pumps may also be detachable or built-in. Built-in pumps are more space saving and greatly simplifies set-up. Some attached pumps also continually pump air during use so sagging and deflation during sleep will never be a problem. Some air mattresses even have remote controls for the built-in pumps for easy of adjustment of the firmness level. These built-in pumps should be absolutely silent for obvious reasons.The problem with built-in pumps is these pumps may be difficult to access for cleaning. Detachable pumps should be simple enough for useand easy to store.
Air Mattress Accessories and Covers
Accessories range from the most basic such as storage bin, travel storage bags, and covers to the innovative like built-in speakers.For those who will spend more time travelling or camping, portable storage and travelling bags will greatly simplify taking your air mattress with you wherever you go.Covers can be the typical pillow top cover, memory foam or latex. Pillow top covers are soft and cozy but these will eventually breakdown over time. The good news is, you can always buy a new pillow top if you want. Memory foams provide excellent comfort as this will conform to your body's contours thereby minimizing stress concentration on some areas. Latex covers will last a long time and provide a 'bouncy' feel.
Built-in speakers where an mp3 player can be connected are excellent for camping trips or if you just want some relaxing music to soothe you before you sleep.