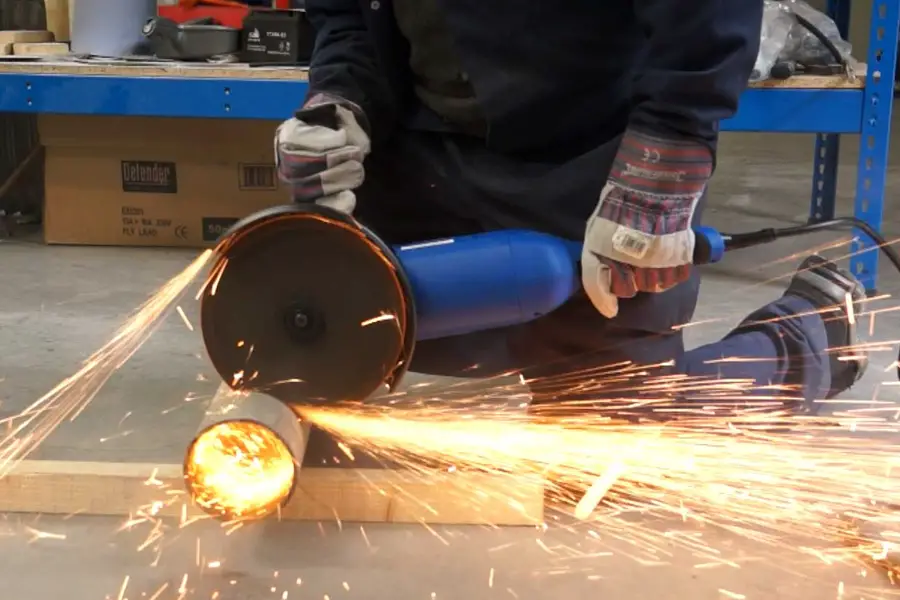 Angle Grinder Reviews
If you constantly work with metal you will normally have to join various pieces of metal together. Even if that is not the case you will find that you have pieces of metal with either very sharp or very rugged edges. This is where an angle grinder comes in. A grinder is used to smooth out those rough seams and edges and this is done to improve handling of the item and to avoid any potential injury.Angle grinders are also used to cut out unwanted portions of metal. This hand-held tool consists of a handle and motor design that rotates a spinning disc and the grinders are either powered by electric motor, compressed air or gas engine. The angle grinder is speed adjustable and directionally adjustable as well which means that you can use it in a variety of positions. A variety of spinning discs are available for various functions, for instance to cut or smooth out stone surfaces you use the disc designed for use on stone. In the case of metal you use the disc designed for metal and so on. Simply put, the grinder is a must have for you especially if you love working with metal or even for various small tasks around the house.
Most Popular Angle Grinder
Makita
This is an angle grinder with an Aluminum case. It has a 4 to 41/2 grinding wheel and uses a diamond wheel. It has both and DC and Ac power connectivity for alternative power sources and has a power cord which uses standard US 120V. It has a standard continuous off and on switch position for continuous use and a small diameter grip for easy use and handling, the grip is only 2-1/2 inches. It has a 7.5A motor for more power encased in a small compact fashion. The Makita has thicker coil wires which are more closely wound to reduce heat and energy loss and a metal gear design as well as all-bearing design for durability. The paddle switch is quite large for better comfort during operation. This grinder also has protective zigzag varnish for protection from dust and debris of the armature as well as ensuring longer lifespan for the grinder. The shipping weight is 11.8 pounds.
Powerful motor
Neat package case for easy storage
Easy to transport great for mobile jobs
Strong Aluminum case for durability
It comes with free discs including one for cutting concrete
– Anthony Dawson
Best Overall Angle Grinder
DEWALT
This is a great grinder from the legendary power tool makers Dewalt. It has a 10A 1.9HP motor that delivers up to 11000 RPM. It features a system for ejection of dust that is actually exclusive to Dewalt. This protects the internal components from damage from debris and dust. It designed to be quiet during operation and weighs 8.6 pounds based on shipping weight. It uses US standard 120V voltage so you won't need an inverter. It is designed for easy changing of the grinding disc by use of a spindle-lock button. This small grinder also has a keyless adjustable guard that will make it easy for you to tune it easily. Compact body makes it easy to use even in those small spaces and tight spots. The paddle switch component weighs around 4.6 lbs by itself.
Comfortable to the hand as well as light for easy use
Heavy duty plastic body for durability
Adjustable handle location for both right and left handed persons
Excellent choice for both grinding and cutting
Uses easy to find grinding wheels found everywhere
– Anthony Dawson
Best Budget Angle Grinder
Bosch
This Bosch grinder is a great power tool. It weighs around 5.6 pounds and it has a 1HP 7.5A motor which uses standard US 120V voltage. It is a 4 ½ inch grinder which is great for professionals who need sturdy and effective tools on a daily basis. The reason it is called slim is because the motor has a very small field diameter. However, the slimness has not affected its output and the motor is still quite powerful with an output of 11ooo RPM. This ensures that you can cut and grind through anything be it concrete or metal. The grinder is designed for use over long hours.
The grinder employs an efficient air flow system that ensures that dust, dirt and debris does not damage inner components, this enhances durability. The grinder weighs just 4.2 pounds which is quite light for such a powerful machine.
It is very sturdy and doesn't break even after accidentally falling.
Very light and comfortable to hold and use
Fits snugly to your hand thus ensuring smooth usage
Powerful motor with great RPMs
It also comes with a concrete cutting disc in the package.
– Anthony Dawson
Angle Grinder Buying Guide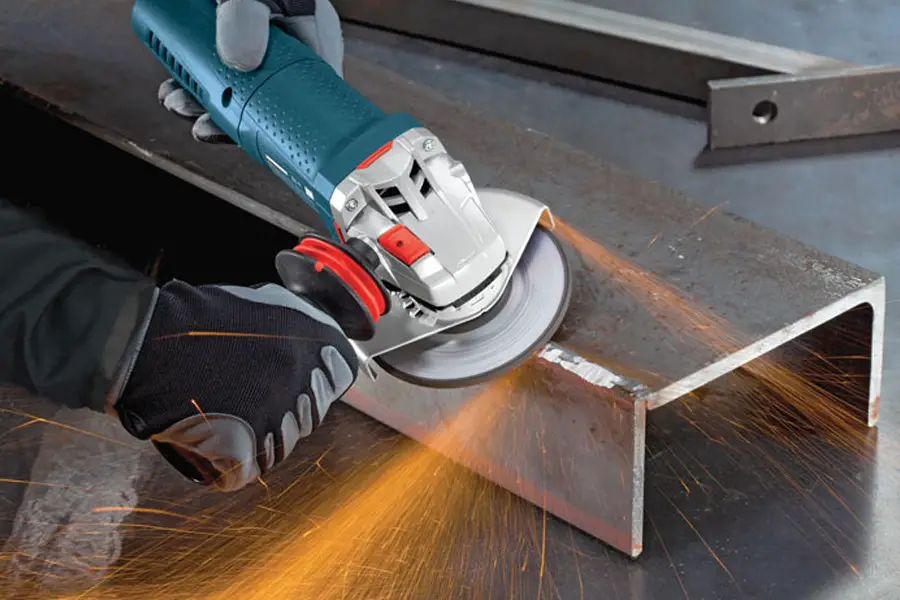 The cheapest model, a recognized brand, the best offer? They're all valid options but when it comes to purchasing your angle grinder, how do you really know what you're getting? Buying a basic model from a recognized brand may be lacking in certain areas, likewise purchasing a lesser-known brand at a fraction of the price may include all the features you require and more! The following guide
What Type of Angle Grinder do I Need?
Before you even cast eyes on an angle grinder it's important to understand the fundamental differences between the types available on the market, in the end this is all relative to what you will be using it for, what purpose do you want it to serve? There are four main varieties of to choose from, each one is more accustomed to a certain job than the other, this should be you're first consideration.
Battery Powered Angle Grinder
One of the main things that works in favor of the Battery powered variant is the fact that its cordless, this is not only more convenient than its counterparts but also offers a greater degree of flexibility while you work. The downside is that the battery only has a limited output before it needs to be recharged, so if you'll be grinding for sustained periods of time it may be wiser to invest in something that has access to mains power to avoid any disruption.
Electrically Powered Angle Grinder
Undeniably the most popular form of grinder, favored by hobbyists and professionals alike, the Electric powered angle grinder utilizes the mains supply to power its motors. Although this gives it an edge in terms of unlimited power and efficient output it does mean that it can only be used with a readily available power source nearby, there are ways and means of getting around this issue though, such as the use of an electrical generator or an extension cable. As it's so sought after its available in a wide range of models and sizes, this is what makes the Electric powered angle grinder one of the most adaptable, from cutting to grinding, polishing to sharpening, whatever your needs you're sure to find a suitable electrical angle grinder.
Petrol Powered Angle Grinder
This is really only for use on large-scale projects, think along the lines of construction work, so needless to say they're heavy duty! The 'big brother' of the battery powered angle grinder the petrol variant is also cordless which adds to its versatility. Be careful with this specific type of grinder though, a shower of sparks and a petrol leak don't make for a good combination, regular maintenance is important – I don't think I need to say any more!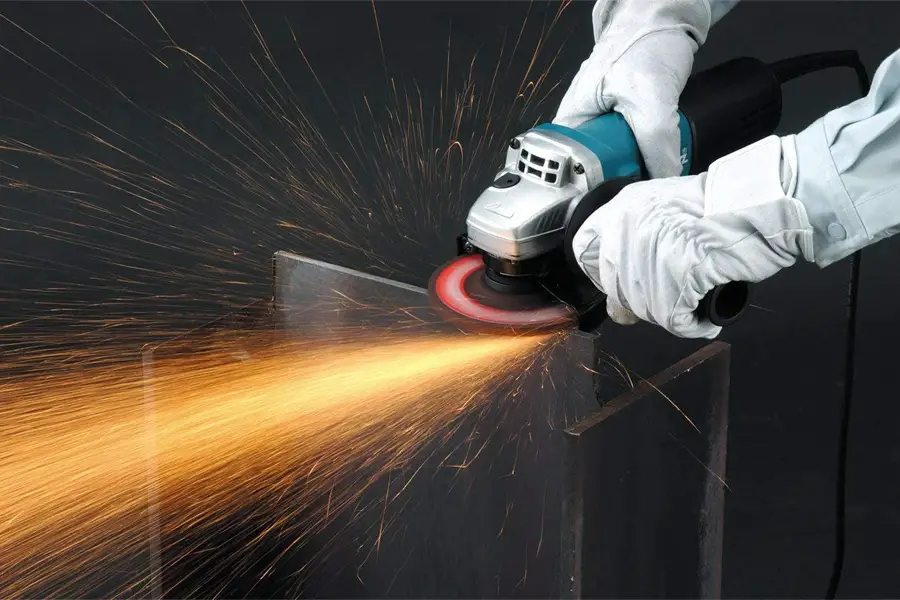 Pneumatic Angle Grinder
The pneumatic angle grinder is a powerful bit of kit, making full use of its heavy duty, compressed air power source it's ideal for areas that are hard to reach but still require a lot of power. Quite often the disc size of a pneumatic angle grinder is smaller than others – although larger sizes are readily available. The reason for this is that the small size coupled with the strong pneumatic powered motor lends itself to precision tasks, often vertically mounted as opposed to horizontally the reduced size allows you to work a smaller area to the same degree of accuracy without any loss of power.
Power
Angle grinders are available in varying degrees of power or RPM (revolutions per minute), fortunately for consumers, manufacturers will specify a certain disc size to go with a certain RPM, resulting in an optimum performance level. Use this rule of thumb: The larger the disc size the larger the power output and vice versa. Asides from RPM you will notice that each grinder has a differing degree of wattage, volts and amps, the latter being the one to pay attention to. Grinders can start off with as little as 4 amps, which may be perfectly adequate for small DIY tasks, all the way up to 15 amps, which is for your heavy duty, professional models.
Discs
When deciding what grinder to buy don't let the discs come into the equation, each of the individual types of grinder will accommodate each variant of disc, although there are different sizes of disc so it's best to check which diameter size the grinder takes before purchasing. The discs themselves are each designed to work with a specific substrate, so it is possible to work on any material with any angle grinder; it purely comes down to the discs. With that said the power, RPM, and disc size are all critical factors in how long it takes to finish a job and to what standard, so choose wisely.
Safety
It goes without saying that you should take precautionary steps whilst operating any power tool, the same can be said of angle grinders, if not more so. The spinning disc designed to cut through steel like butter can reach speeds of up to 10,000 RPM, so ensuring your grinder has all the necessary handles and guards built into it is a must. Thankfully modern day angle grinders are heavily regulated to ensure just that, one thing you may wish to consider though is who will be operating this machinery, is it just for personal use or will others have access to it? If so you may wish to purchase a grinder with adjustable handles and guards for both left and right handed users.
Selecting which angle grinder to purchase should be an informed decision, using the above information and considering all the requirements should factor into your choice, whether it is the cheapest, the best offer or a recognized brand all these reasons to buy should come secondary, put your needs first and choose what's right for you.