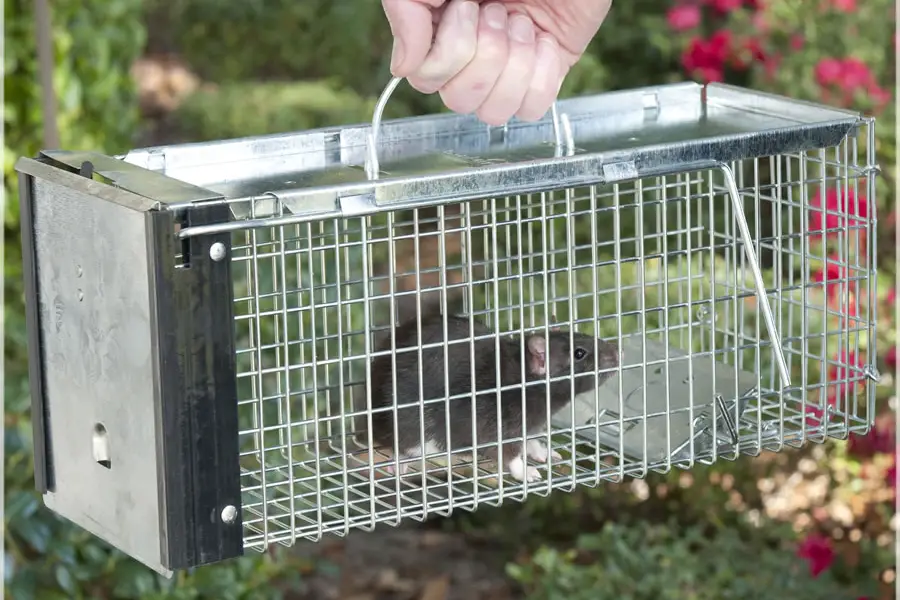 Animal Trap Reviews
Animal trapping is the use of a device that will catch an animal for a variety of reasons. Pest control is undoubtedly the biggest problems faced by wildlife management professionals. Traps are used to try and eliminate any damage to household furnishings or food supplies and are used as an alternative to pesticides. A much more humane way to catch the pests, however spring traps are still used to catch mice or other small rodents, depending on the style of trap used is how the outcome of the pest being caught will end up, as some you can simply set them free back into the wild too. The traps can be used in any area that a known problem has occurred and needs dealing with, restaurants or industrial properties may also use animal traps in order to prevent contamination and disease from arising.
Most Popular Animal Trap
Havahart 1089
The Havahart 1079 Live Animal Professional Style One Door Cage Trap is ideal for capturing raccoons or groundhogs or any other similar sized animals. The specialised design of the trap means it is appealing to all professional animal trappers, making it a highly sort after product. Animal control officers rate and trust the Havahart traps giving you confidence when using them. The use of the sturdy and strong mesh wire, which has steel reinforcements for a longer life, means you will be getting the maximum results against rusting and corrosion. The openings in the trap are small, compared to traps of other similar sizes; this prevents any escapes from happening allowing for no stolen bait to be had. The door is spring loaded with an extremely sensitive trigger, which will capture the animal quickly and securely. Not only is the door so sufficient it is also solid and strong, with a handle guard protection for the user for transportation purposes with smooth internal edges to prevent injuries to the animals inside.
Rust resistant wire mesh frame with steel reinforcements for long life span and maximum resistance to rust
Spring load door and sensitive trigger for quick capture
Ideal for use against racoons, cats, groundhogs, and similar sized animals.
– Anthony Dawson
Best Overall Animal Trap
Pet Trex
Pet Trex Live Humane Animal Trap is the ultimate animal catcher. It can trap racoons, stray cats, woodchucks, groundhogs, armadillos, skunks and any other animals of a similar size. The well-branded name Pet Trex is known for being eco-friendly and allowing the animals to be set free without any hurt or pain inflicted upon them, as instead of killing the animals the user of this animal trap can let them free back into their habitat. It is very easy to use and is safe for both the user and the animal being caught. The steel construction means the cage is extremely sturdy and being made from such heavy-duty tubular steel makes for even more durability, not to forget the green powder finish on top. The traps actual size is 36 4/5 inches long and 12 1/5 inches wide 13 4/5 inches high. This makes it great for trapping racoons or rabbits or any other medium to large rodent. With its pop up handle transportation is easy and animal friendly, with rolled metal edges and snug doors, so no sharp points to harm the animals. It comes with a 1 year limited lifetime warranty too.
Steel cage made from heavy duty tubular steel
Extra green powder coat for durability
Large, spring loaded door
Carry handle is pop up for easy transport
– Anthony Dawson
Best Budget Animal Trap
Havahart 1045
This animal trap is perfect for capturing any medium sized nuisance animals. The two-door cage system has been specially designed for animal's safety making it animal friendly and safe to use. It is a humane trap using two spring-loaded doors that has many aspects involved to make it quick easy and safe to catch the animals. The mesh wire is sturdy and made with reinforced steel that is galvanized for the maximum resistance to any rust or corrosion. The openings in the mesh wire are much smaller, this means that the animals cannot escape and prevents stolen bait. The idea of the two spring doors means the animals can enter form either side of the trap then with the quick sensitive triggers the animal is captured and secure within the trap. The door is solid and has a handle that is protected for when in transportation with smooth edges that will not harm the animals when inside.
Rust resistant mesh with steel reinforcements for life long use
Smaller mesh openings for no escape
Triggers are sensitive for quick capturing
Solid door with handle guards
Great for medium sized animals
– Anthony Dawson