Are Baby Swings Safe?
While baby swings are great for putting babies in to play or to relax it is more debatable as to whether or not it is safe for babies to sleep in them. Baby swings are designed to take the weight of younger babies but not necessarily for a prolonged period of time. However there are reasons in favor of letting babies sleep in baby swings and arguments against it. Whatever someone thinks about the issue wherever babies sleep you have to keep a close eye on them to make sure that they are safe at all times.
Baby Swing Weight Limit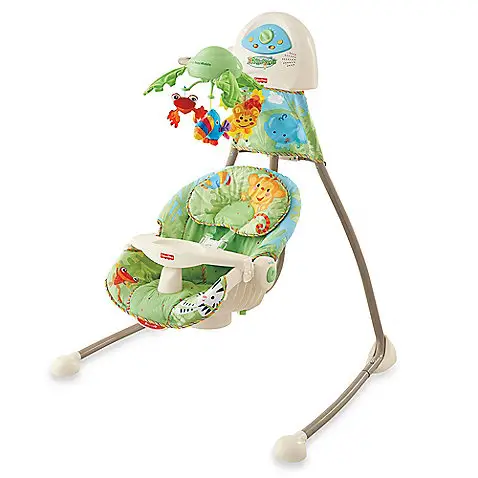 To begin have a look at how much weight a baby swing can take. It is best to remember that such swings are meant to have a baby in them for a short amount of time instead of a period of a couple of hours or perhaps even longer than that. So it would probably be safe to let a baby have a short nap in a baby swing yet it would be more of a risk to let your baby sleep in one overnight. The older your baby is the less likely it is that it would be safe for them to sleep overnight in a baby swing. Younger babies tend to be lighter so it would be less of a risk over all to have them sleep in a baby swing.
New baby swings should state the maximum weight that it is safe to put in the swing so that babies that are too heavy are no longer safe to put into them. So providing that your baby is below the maximum weight then it should be safe to let your baby sleep in it. If your baby is over the maximum weight then there is no way that you should be using a baby swing anymore in any case let alone letting your child sleep in it anymore. Whenever in doubt consult the safety instructions that come with baby swings to make your baby stays safe. Never risk your baby, once they have grown bigger only let them sleep in a cot or a baby bed.
Ensure Swing is Secure
If you are considering letting your baby sleep in a baby swing make sure that it is tied up securely so that it cannot collapse with your baby inside it. Ideally the baby swing should be attached to something solid such as a wall that means the swing will stay in place. If you're not able to make the swing secure and stable enough then do not let your baby sleep in it at all. If you can make the baby swing secure enough and your baby is light enough then yes it should be safe to let your baby sleep in it.
Concerns with dizziness, nausea and motion sickness
At the time of this article we have found no studies or articles we could reference to help alleviate some concerns some parents may have with if baby swings side effects include nausea, or motion sickness in some babies. We will update if we find some credible sources or studies explaining this.
In order to answer the question are baby swings safe enough for babies to sleep in? The response is that many baby swing manufacturers aim to make the swings as safe as possible, use only and directed and properly follow setup instructions. When the baby is still young and the swing is secure then by all means let your baby sleep in one. However If there is any concern about the safety, setup, durability of the swing you bought, then put safety first and do not leave your baby in the swing.It would be better to let your baby nap in a baby swing instead of sleeping in it overnight.