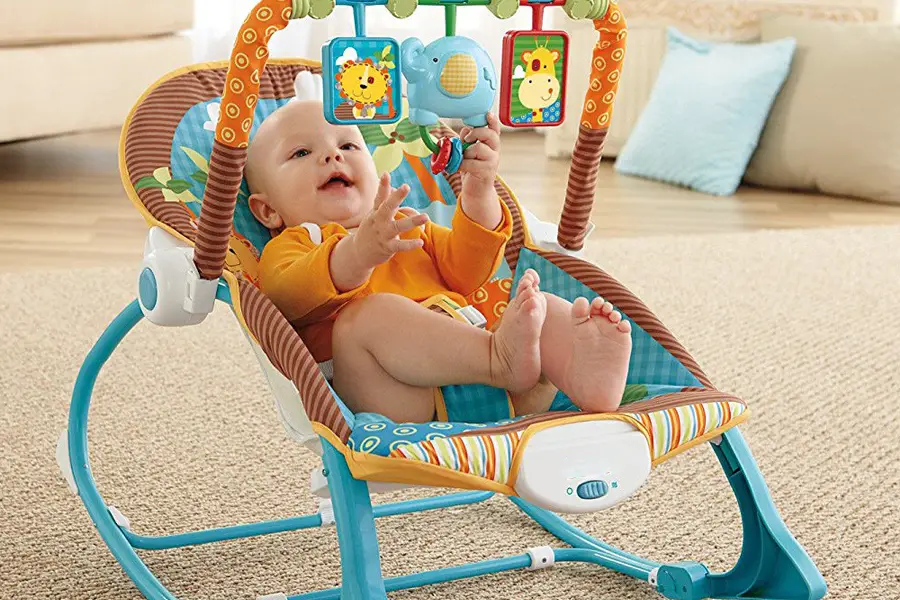 Baby Bouncer Reviews
Baby bouncers are a wonderful thing, and most parents can't imagine what life would be like without them. They provide the right amount of entertainment and stimulation for your child, while also encouraging them to develop key motor skills. Some of the best bouncers you can find encourage your child to move with the help of sound and lights. You definitely want to find one that plays music, as this really encourages your child to bounce. There are also designs that come with detachable toys, which gives your child something to see and touch. If you plan on traveling with your bouncer, then be sure to find one that is lightweight and collapsible. You also want to find one covered in fabrics that are soft and easy to clean. All in all, there are a lot of different bouncers on the market, and finding the one that suits your tastes and budget should be quite easy.
Most Popular Baby Bouncer
Fisher-Price Rainforest
There's nothing more important than stimulating your child in a positive way, and this Fisher-Price Rainforest Jumparoo not only allows your child to move, but also provides fun sounds, lights, and other forms of entertainment. Made by the brand that everyone trusts, this Fisher-Price Rainforest bouncer is a super fun way for your child to develop fundamental motor skills. The sturdy, free-standing base makes this bouncer incredibly secure, and also features a spinning seat with tons of bright and colorful toys to touch, pull, and tug. The seat height is adjustable so that it can grow as your baby grows. The soft cover on this bouncer is also very safe for your child's sensitive fingers. Whenever your baby jumps, they are re-warded with a charming light display, as well as fun sound effects and music so your baby is encouraged to keep on moving.
Encourages baby with fun sounds and lights
Bright toys are great to play with
Easy to use and install
Sturdy base ensures safety
Adjustable seat grows while your child grows
– Anthony Dawson
Best Overall Baby Bouncer
BABYBJORN
BabyBjorn is one of the most trusted names in baby products, and this ultra-soft bouncer is a wonderful way to get your child moving in a comfortable and fun way. The soft fabric comes on a supportive design that creates an extra cozy feeling for your baby, while it's easy to fold the bouncer completely flat and stow away. That makes this baby bouncer easy to take on the go when you travel. The rocking motion that this bouncer provides helps to develop your baby's key motor skills, while promoting balance in a natural way that is fun. There are no batteries required with this bouncer, and the ergonomic design provides proper back support and support for baby's delicate head. There's nothing more important than giving a newborn proper support for their growing structure, and this bouncer manages to provide that at a reasonable price.
Provides proper ergonomic support
Ultra-soft design for the ultimate in comfort
Promotes healthy motor skills and exercise
Gives extra support to baby's head and neck
– Anthony Dawson
Best Budget Baby Bouncer
Fisher-Price Go Wild
This Fisher-Price Go Wild Infant Seat is deluxe in size and gently snuggles baby's neck in a soft and cushy fabric that feels nice against the skin. The wool headrest is designed to cradle baby's head while soft velboa fabric lines the seat of the bouncer. There's an adjustable mirror dome overhead that keeps your baby entertained, and a sweet plush lamb with rattle dangles from a star for your baby to play with. There are also vibrations that help to soothe your baby, and lovely classical music and lullabies help to comfort your child. There are 10 different songs in all to choose from. The music will play continuously for 15 minutes, which is just the right amount of time to help your child feel soothed and relaxed. The toy bar also rotates out of the way so that it is easy to get your baby in and out of the seat. All in all, this is an amazing bouncer that is a lot of fun and effectively entertains and soothes your child. The three point restraint also provides the ultimate in safety and security.
Secure three point harness
10 different songs to choose from
Musical plays continuously for 15 minutes
Fun toys and features come included
Deluxe in size
– Anthony Dawson