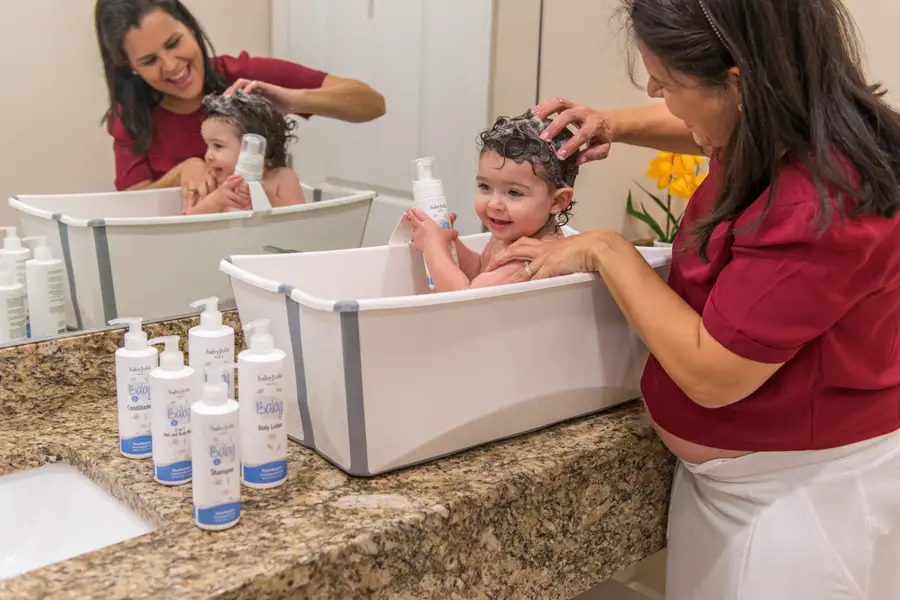 Baby Conditioner Reviews
When looking for the best conditioner for your baby, there are a number of different factors that can influence your decision. What you should know first is that natural products are much easier on baby's delicate skin, and finding a conditioner that is tearless is of great importance. We all know how soft baby's hair naturally is, so it's important to find a product that will keep the hair soft and shiny, without any unnecessary irritation. Detangling is the fundamental benefit of using a conditioner on your child, because tangled hair causes great discomfort while brushing. Look for products that are formulated for the type of hair that your child has, such as straight, curly, dry, or oily. There are a number of different options like spray-on conditioners and leave-in products. For those kids with extra sensitive skin, natural and herbal ingredients are going to work best. These products are not only better for your child but they're easier on the environment.
Most Popular Baby Conditioner
Johnson's Buddies
Babies are always getting tangled up in things, but what you don't have to stand for are tangles in their hair. This can be particularly uncomfortable when brushing or combing. Johnson's has formulated a fantastic conditioner here that gets the tangles out and makes your baby's hair much more manageable. This spray-on formulation makes it easy to apply. What that also means is there's one less step to take care of in the bathtub; if you choose to simply shampoo and then spray afterwards when bath time is done and you're ready to brush. This also happens to be a very popular product among moms as well. Those expensive adult detanglers don't perform quite as well as this affordable bottle from Johnson's. Because this is such a trusted brand, you can rest assured that you chose a fantastic and safe product for your baby. Conveniently, the conditioner can be used on either wet or dry hair.
Instantly makes hair more manageable
Unlocks the tightest knots
Works with wet or dry hair
No More Tears formula
Pleasant scent
– Anthony Dawson
Best Overall Baby Conditioner
Nature's Baby Organics Conditioner & Detangler
This product from Nature's Baby is really versatile and effective. Because you can choose to leave it in or rinse it out, it gives you the convenience of using the conditioner however it suits you best. It also has the double action of being both a conditioner and detangler at the same time, so there's no need to purchase separate products. If you're into organic ingredients for your baby, then this conditioner is a fantastic choice. With certified organic aloe, comfrey and calendula, you're going to ensure that your baby's hair is soft and shiny, and as manageable as can be. There are also natural oils and Shea butter to increase moisture. There is absolutely no residue from this product, and it's lightweight with a delightful Lavender and Chamomile scent that is both soothing and subtle. This is also a popular conditioner among moms, because it works just as effectively on adult hair as it does on kids. It's great to have the option to rinse or leave-in. Sometimes when baby's hair is extra dry, leaving it in overnight can solve the problem.
Made from 70% Certified Organic Ingredients
Choose to leave-in or rinse-out
Great for babies or adults
Soothing Lavender Chamomile scent
– Anthony Dawson
Best Budget Baby Conditioner
Johnson's No More Tangles Conditioner
This is a fantastic leave-in conditioner from Johnson's; a name that moms can really trust. It's super lightweight and unlocks even the toughest knots in the hair, making combing so much more easy for everyone involved. By the end of the day, a baby's hair can be a mess from all the crawling, digging, napping, and exploring, and bath time is the right time to get those snarls and tangles out. It's so easy to use this conditioner right out of the tub, and there's no need to rinse. It makes baby's hair infinitely more manageable and shiny, and the light, fresh scent is pleasing for babies and moms. The conditioner is also allergy tested for safety, and the product is suitable for everyday use. The No More Tangles formula is exclusive to Johnson's products, and it's the most effective product on the market for taming even the most stubborn locks. Moms even love to use this product on their own hair, because of the amazing results that their children get from it.
Lightweight and tough on knots
No More Tears formula
Fresh, light scent
Allergy tested
Gentle and safe for everyday use
– Anthony Dawson