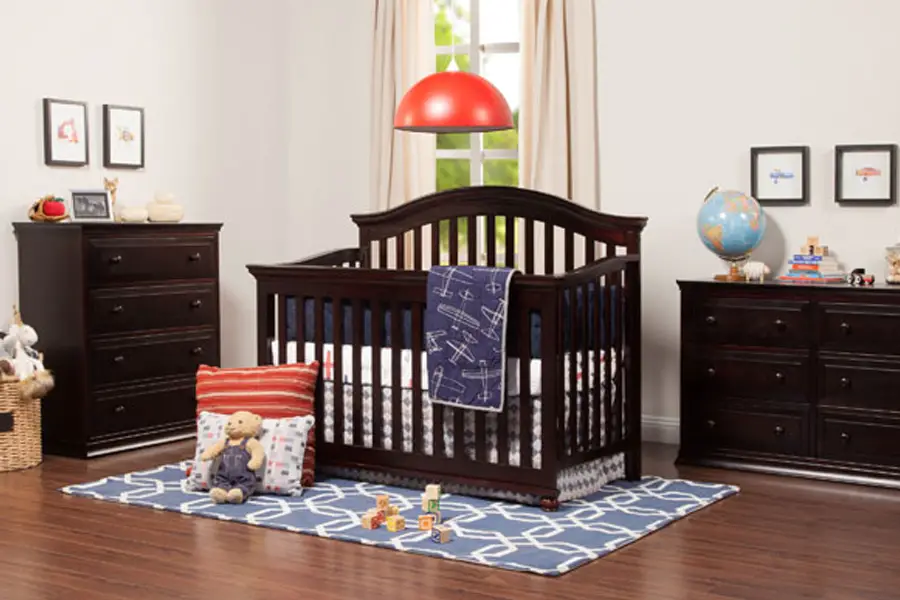 Baby Crib Reviews
Cribs are the main and most important furniture in a baby's room. Choosing the right look for the room is a lot of fun, but it is important to keep in mind that babies spend the majority of their time either asleep or just resting in their crib. Therefore, safety, space, quality, and adaptability are four of the most important features that a parent must focus on when choosing the right crib for their baby. Below are three of our top choices for baby cribs.
Most Popular Baby Crib
Storkcraft Tuscany 4-in-1
This elegant stationary Stork Craft Stages Crib is made of solid wood, wood products, and non-toxic finishes guaranteeing strength, safety and adaptability. This crib can convert into four different stages which will allow you to use it for a lifetime if you so desire. The first stage is a regular crib, which you can then convert it to a toddlerbed, the third stage is a daybed, and the final stage is a full-size bed. This crib will not only look elegant in each stage but it will also provide the safety and comfort your child needs during all stages of his/her life.
Matching furniture available for purchase
Meets or exceeds Canadian and US safety standards
Permanently attached easy to assemble instructions
Cribs weighs 79.8 lbs
JPMA certified
– Anthony Dawson
Best Overall Baby Crib
Storkcraft Portofino 4-in-1
This beautiful stationary crib has the required support, strength, adaptability, and safety that your child needs. It is made of solid wood, wood product and non-toxic materials. It converts from a crib, toddler bed, daybed, as well as a full-size bed by following easy instructions. In addition, it comes with a three drawer changer with waterproof vinyl change pad for your convenience. This StorkCraft Portofino 4 in 1 crib guarantees a safe and peaceful slumber for your baby.
Adjustable three position mattress support base
Bed rails not included
Comes with 1 year limited manufacturer's warranty
JPMA certified
Crib weighs 125 pounds
– Anthony Dawson
Best Budget Baby Crib
DaVinci
This convertible crib is fashionable and easily transformed from a crib, to a toddler bed, daybed, and to a full-size bed. This crib is made out of sustainable pine wood that guarantees durability and your child's safety. Its stylish design will attract both girls and boys from all ages and its quality will endure years of use.Crib has non-toxic finishing for safety.
Made with New Zealand pine wood and lead-phthalate-safe materials
JPMA certified and meets ASTM crib safety standards
Maximum child weight recommended: Toddler Bed – up to 50 lbs, and
Full-sized bed – up to 165 lbs.
Wooden rails for full-size bed sold separately
– Anthony Dawson
Baby Crib Buying Guide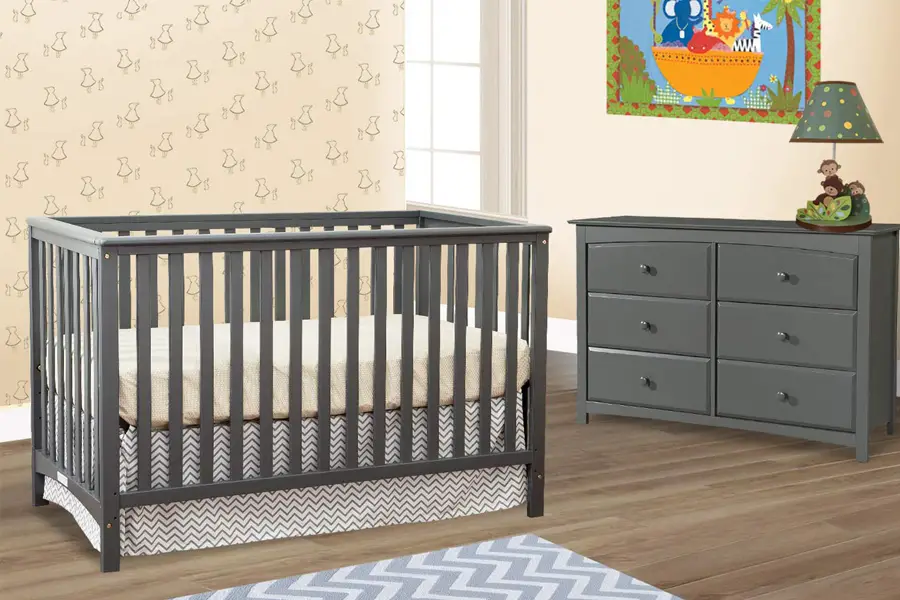 Products for your newborn baby should have excellent quality. When having a baby, you should also consider buying a baby crib. A crib keeps your baby confined and secure. These days, there are many methods and options in purchasing a crib. With so many crib styles that are popping out in the market, it's difficult to choose what type or option does your baby needs. There are so many factors to consider in buying crib. This article will serve as a buying guide to help ease the stress of finding the right crib for your baby.
There are government standards that manufacturers of baby cribs should meet. These standards set by the US government aim to improve the safety and quality of a baby crib's design. Knowing these standards is an advantage in purchasing baby cribs.
Factors to Consider
First among these standards is that the baby crib slats should be made with stronger wood and enclosed in ways that they can't be easily wrecked. Second, the brackets that are attached to mattress should be tougher. Third, it is required that hardware on the baby crib must be strong. The crib must also have an anti-loosening device on the hardware to make sure it doesn't fall off. The instructions on assembling the baby crib should also be clear and easy to understand to avoid confusions that lead to breakage. Lastly, the crib must have labeling on the crib rails saying that parents should not add extra items to the crib for the safety of their baby. After knowing all the government safety standards for baby cribs, you must not only consider these standards as there are many other factors to consider before purchasing it.
Baby cribs have three types of sides, the stationary side, the drop side and the drop-gate side, enables you to pick the baby without difficulty. The drop side came also with two different types, single-drop sides, and double-drop sides. If you are looking for baby crib that is safe for your baby, the stationary side is the best for you. If you want a convenient and easy to use crib, the drop side is for you. But, the safety standards established that manufacturers are not allowed making drop-side crib. But, if you are really looking for convenient type of crib, start looking for a crib with fixed-side or choose the drop-gate crib.
Mobility is also a factor to consider in purchasing baby crib. You can move the crib wherever you want and for your baby to have fun riding it. In buying crib with wheels, check the caster and make sure it's secure and not weak to avoid any accidents.
Having an adjustable mattress also gives convenient in your part. It allows mattress to be higher so you can gently lay down your baby and easily reach them. It also keeps the baby from climbing out. Today, most cribs have up to five different levels for the mattress base but those who have three are already good.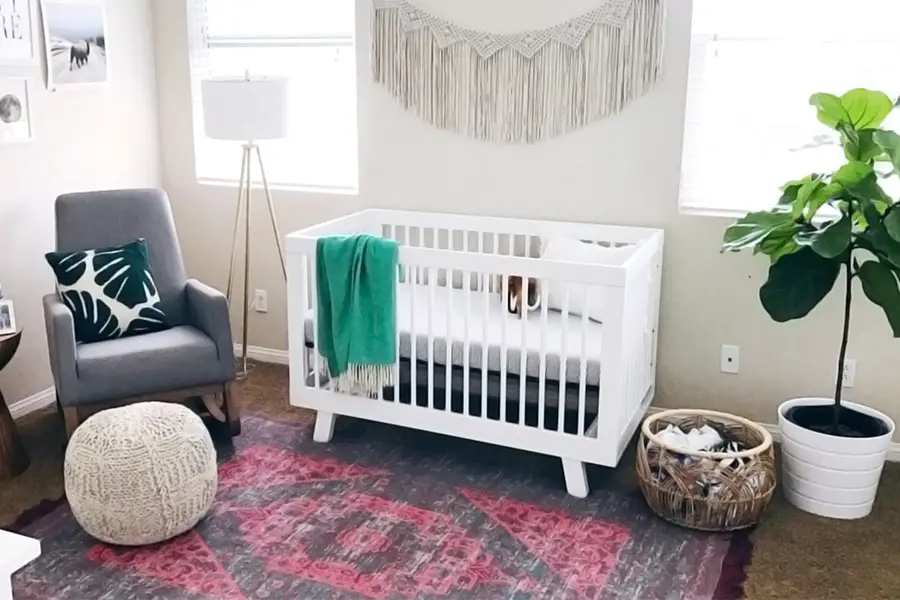 Types of Baby Crib
You can choose from five different types of baby crib, the standard crib, convertible crib, canopy crib, round crib and the portable crib. The Standard baby crib is a rectangular crib; it's a basic crib and the most popular one. It's mostly used for babies aged up to 18 or 24 months. You can also choose the style in this regular type as it comes with different colors, sizes, styles and designs. Because of the standard set by the US Government, regular type of crib is now supposed to have fixed and secure sides. Another type is the convertible baby crib and it's also called lifetime crib. This type gives you the ability to adjust the height of the mattress and it is convertible into a small toddler bed for future use. However, this type of crib is expensive than other types of cribs. If you are looking for a cheapest crib, you will tend to disregard this one. Nevertheless, since you're baby is growing they are worth the extra money.
Another type of crib is the canopy baby crib. This type of crib has a canopy top that creates cute and cozy nursery. It makes your baby enjoy watching colorful and beautiful things. But, if your baby reaches the age of four months, you will have to remove the canopy because your baby will use it to climb out that leads to falling out the crib. The round baby crib is another type of crib. It looks stylish and trendy. It provides an option for canopy. It is also available in a lot of colors and finishes. But, round crib design is set in different themes such as sports, stars, butterflies or princesses. It is also not convertible into toddler bed and when your baby will grow up, he will outgrow this curb. Portable baby crib is another type of crib that is perfect for traveling or visiting babies. It is also called 3 in 1 folding cribs. It is considered as the safest crib. They can easily fold up; also have wheels, space for up to four mattress levels and even convert it into daybeds.
If you are out of budget, you will be considering buying used crib. You should be wary of used crib. Before buying a used crib, check the sides of it if it is correctly assemble. Check also the hardware if it's complete and check for other potential problems. There are a lot of disadvantages in buying used crib. You should think first the safety of your baby before making a final decision.
In purchasing a crib, safety must be your first priority. Consider the characteristics and feature of the crib before buying it. Check the crib based on the standards set by the US Government. Remember also all buying guides article or reviews you've read. It must be sturdy and stable. It should be easy to assemble and easy to maneuver. You should also consider the design of the crib and make your baby looks fresh and pleasant. It must have a unique design and color that will suit your taste. Please do consider doing an extensive research before buying the best crib for your baby. It will be his second home, so it should be comfortable yet durable at the same time.
Choosing the Right Crib
Children frequently sleep in cribs until they're around three years old, at which point they will make the transition to full-size beds. Parents that have multiple children will frequently keep the same crib in the family and use it for multiple children. Selecting the right baby crib is exceedingly important.
Cribs are going to be the focal point of a baby's room, so many families select certain cribs primarily for aesthetic reasons. The crib is often one of the most popular baby items to buy, since cribs are such iconic items. Apart from aesthetics, parents should be sure to keep safety and structural support in mind when they are shopping for their baby cribs. Parents that do plan to use the same cribs for multiple children should make sure to check the structure of the old cribs periodically. Even the best pieces of furniture don't last forever. However, if it is a new crib, parents have less of a reason to be concerned.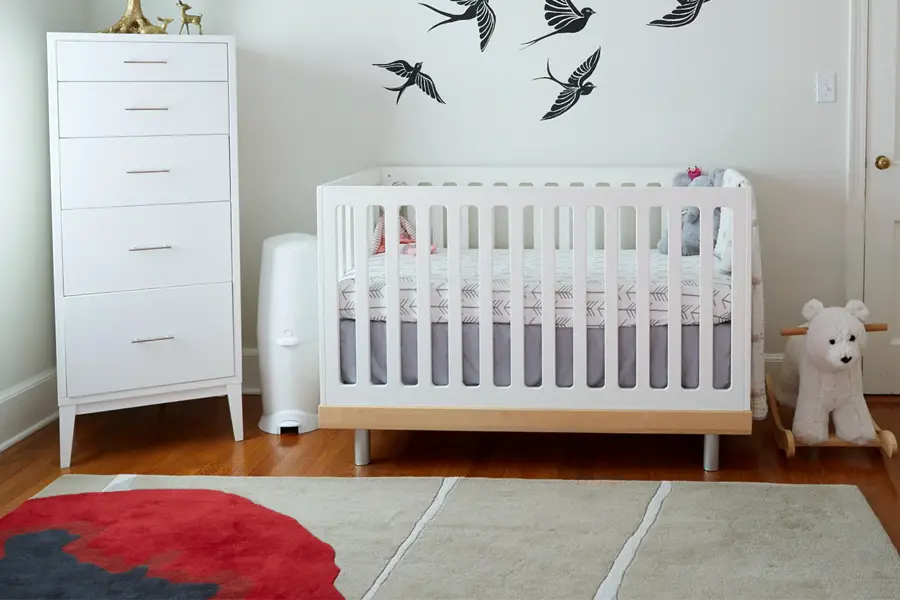 Crib Decorations
Parents should be wary of any crib decorations that could easily fall into the baby's crib. Young children are liable to put almost anything into their mouths, and it's important to avoid any possible accidents. Some parents that focus primarily on aesthetics may not consider the problem at first. While many people have decorative cribs without experiencing any problems at all, it's important to consider all possibilities.
Newer Cribs are Better
Antique cribs should almost always be avoided. Today, federal standards in the United States have made baby cribs significantly safer. However, the cribs that were manufactured before the year 1973 predate those new regulations. It's even possible for some older cribs to be painted with lead paint, which was standard for a good portion of the twentieth century. As such, it will be harder for parents to trust that the older baby cribs are safe. Parents that really want to stay on the safe side should avoid anything manufactured before 1991. Most new parents can probably minimize almost all of these risks by only purchasing the latest cribs from the store. Parents that need to use secondhand cribs for whatever reason should have an eye out for peeling paint, unstable slats, and sharp edges.
Drop sides on cribs should be avoided, since they threaten the stability of the crib and can put infants at risk for all sorts of accidents. While drop sides are less common today, crib bumpers are more likely to be found in some newer cribs, and they can potentially pose some risks to infants. The structural integrity of any crib is one of its most important qualities, since the majority of baby crib accidents are simply caused by the cribs collapsing. When shopping for cribs, parents can ask questions about some of the worrisome features that cribs can have to confirm that they've made the right purchases. Parents that are aware of the potential problems with baby cribs should be able to prevent most of the major problems from happening, and they shouldn't be concerned.