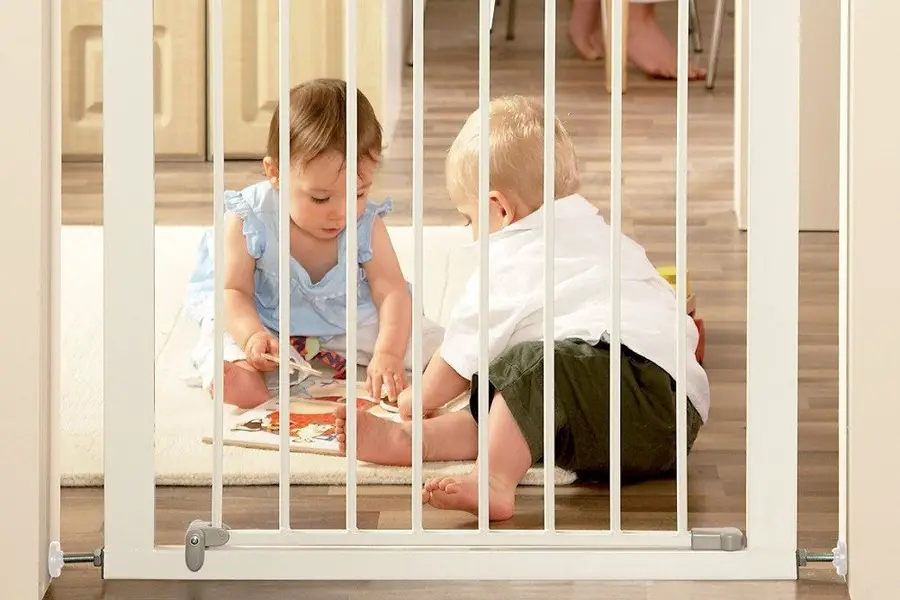 Baby Safety Gate Reviews
One of the first things that come to mind when the learning one is pregnant is to ensure we can offer a safe and secure home to our baby. When kids start to walk they want to explore the world. They are inquisitive by nature and hungry for adventure. The fact is that while this is a great and incredible phase of a child's life, it is also the most nerve wrecking phase for the parents. Being so innocent and young also makes them naïve to the dangers around them. Baby safety gates are the answer to all your fears. Investing in a good quality gate will allow your toddler to safely wonder around, giving you the peace of mind that every caring parent need.
Most Popular Baby Safety Gate
Regalo Easy Step
This sturdy and versatile safety gate is ideal for any door and staircase. It extends from 29 inches to 34 inches. It also comes with pressure mounts and extensions that do not require any tool for installation and which were designed to not damage your walls. Unlike most baby gates, this one was designed to be easily opened with a lever handle that can be handled with just one hand. You can rest assured that this gate will deliver what it promises as it meets all ASTM Standards and is JPMA Certified. You will be delighted by how easy this gate is to put together and use while giving your child the protection he/she needs.
The 6 inch extension kit is allows you to use the gate in openings up to 40 inches wide
Extends from 29″ to 34″
Lever handle has a one-touch release
Powerful and durable steel construction
Also convenient for pets
– Anthony Dawson
Best Overall Baby Safety Gate
Summer Infant
This elegant bronze 36 inches tall gate will give the protection you need for your child, while at the same time complementing the décor of your home. It comes with extensions to fit in any opening ranging from 28 inches to 48 inches wide. It also comes with mountings that allow you to permanently install this beautiful gate anywhere your heart desires. This gate was designed with the safety of your child in mind, but also taking into consideration the needs of the parent. That is why this walk-through gate can be easily opened with just one hand and it will automatically lock itself behind you. As you can see, this incredible gate meets all the needs and wants of that conscious, precautious and stylish parent.
Weight: 24.3 lbs
Mounts included for installation on stairways
Dimensions: 36.7 x 28.0 x 2.0 inches
Can be opened with one hand and it closes automatically
Frustration free certified
– Anthony Dawson
Best Budget Baby Safety Gate
Regalo EasyOpen
This incredibly strong metal gate is ideal for the home that has an array of openings throughout the home. It can be adjusted to accommodate any opening ranging from 29 inches to as wide as 52-inches. This is all possible because it comes with a 6 inch and 12 inch extension kits. The one hand triggered lever handle is ideal for those occasions that you have your baby in your arms and cannot afford to fuzz and battle to open the gate. It is so convenient that you do not need any tools to assemble it. This gate also comes with mountings that can be used if you would like to have them placed permanently in one location. Even though it is made out steel and opens wide, it only weighs 11 lbs making this gate easy to remove and carry around the house.
Gate expands from 29 inches up to 52-inches
Can also be used for pets
Easy to install and remove
One touch release lever handle
Dimensions: 52 x 2 x 30 inches
– Anthony Dawson
Baby Safety Gate Buying Guide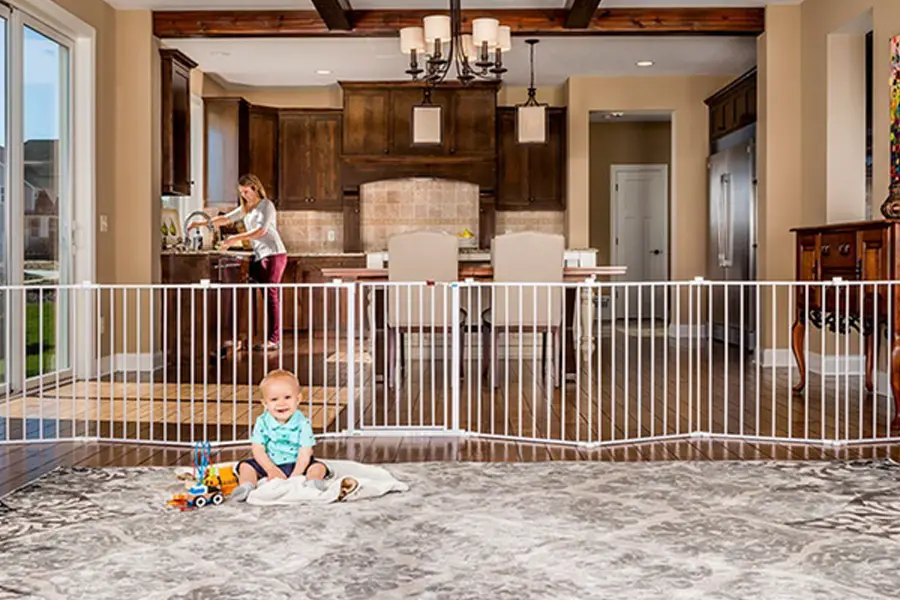 One of the most exciting parts of being a parent is witnessing baby's first crawl. The baby has grown and much of his or her motor skills have developed. This is especially exciting since the baby is gradually transitioning towards the more exciting first walk. Before anyone could realize it, baby couldn't and wouldn't stop moving.
But while no parent can contest the fact that these are wonderfully exhilarating moments, it also cannot be denied that these are among one of the more stressful moments of parenthood.
Fascinated by the newfound ability to finally move around the room, a baby would take each and every opportunity to move and reach out to anything. This constant need and desire for movement poses a huge risk for the safety of the baby. There are just so many spaces and objects in the room that could potentially do the baby more harm than good if the baby continues to move around.
Naturally, no parent would want to stop their babies from standing up on their own feet and exploring. But, overprotective parental instincts also demand that these movements be restricted to ensure the safety of the baby. This is especially true for most parents, since hardly anyone could keep eye on their babies 24 hours a day.
Fortunately, there are several ways to ensure that baby could still move around without risking his or her safety. The most commonly used – and among the most effective – is the baby safety gate. For busy and stressed out parents, the gate is a lifesaver. It works by keeping children in a safe area where they could freely explore on their own and locking them away from harm's way. This works best for active children as young as 6 months to two years old.
Of course, there are several types of safety gates out in the market and they vary greatly according to style and functionality. This buying guide will provide an insight into the many types of safety gates while helping shoppers look for the ones that best provide the protection and safety needs of their babies.
Types of Baby Safety Gates
Essentially, a safety gate works as a barrier to protect children from accessing specific areas – usually those that pose a danger to their safety and protection – by fencing a child in a safe and enclosed area.
Safety gates are classified into three main types:
Hardware-Mounted Baby Safety Gates
These gates are semi-permanently attached by bolting them to the walls using screws. An adult could pass through them easily because these have doors that could be swung open and latched shut. This is also ideal since it won't open regardless of the amount of effort a baby would exert in pushing through the gate. They are sturdy and are most effective when used at the top and bottom of staircases or in places wherever there is a chance that the child might fall.
The downside to this type of gate is that it takes longer to set up and is definitely more expensive. They will also leave some holes behind once the gates are removed.
Pressure-Mounted Baby Safety Gates
These gates use pressure to press themselves on opposing sides. They are temporary, portable and won't leave any holes in the wall. They are also easier to install in a room.
However, these gates are not ideal in places where there is a risk of a child falling, such as the top of stairways, since they cannot be permanently attached to a wall. They are best used in between rooms and to discourage children from climbing up the stairs.
With enough force, a child could push through the gate. Adults and children could also step over them because these do not have swinging doors.
Free-Standing Baby Safety Gates
These are usually composed of a series of panels that are interlocked to form a closed area. Since they do not sit in a frame, they could be easily removed from the wall by simply releasing the pressure. They are very convenient for traveling since they could be folded up quite easily and are generally light to carry. However, these are not the best for daily use since they have to be re-placed every time somebody has to pass through them. They are also best used as barriers rather than as gates.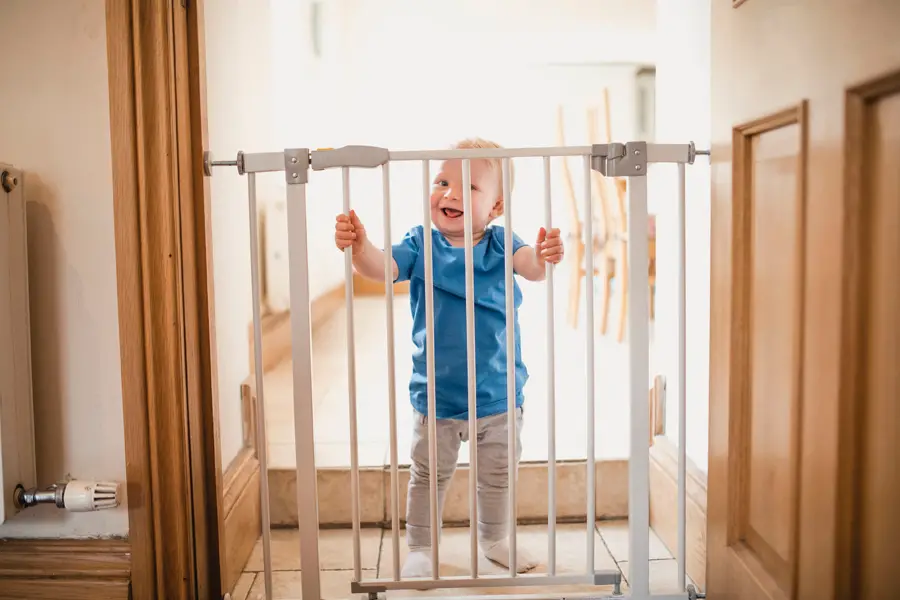 What to Look For In a Baby Safety Gate
ASTM Or JPMA Certified
Regardless of the type of gate to be installed, the gates have to be certified and approved by the Juvenile Products Manufacturers Association and/or by the American Society for Testing and Materials. Parents could make sure that the gates purchased and installed meet these association's international voluntary safety standards by looking for the JPMA or ASTM sticker on the frame or packaging. This ensures that the gates have passed through several safety and performance tests, including the integrity of the latches and the sizes of gate openings.
Make Sure It Could Be Easily Opened
Hardware-mounted gates are convenient because they have doors that could be swung open, while pressure-mounted gates have to be stepped over and free-standing gates have to be constantly re-placed. Weary and stressed out parents have to have so many stressful things to worry about. Tripping over small fences in the house shouldn't be one of them.
The Location of the Baby Safety Gates
Some gates work best in some places while some work well in others. As stated earlier, hardware-mounted gates are better installed on the top of staircases while pressure-mounted gates are great when installed in between rooms.
Cost For Value
Some brands and manufacturers provide more expensive gates, but expensive doesn't always mean the best and cheaper gates aren't always so bad. However, since the safety of the children is the primary concern, it is best to search up on the quality of the products before purchasing and installing them at home.
Customer reviews are especially helpful. They provide wonderful insight into a product and its use, just make sure that the reviews read up on are actually written by real customers instead of simply promotional articles.
Latch Mechanisms for Hardware-Mounted Gates
The best types of latches are those that could be easily opened and closed by an adult, but are difficult for an infant to use.
The Baby's Age and Height
Typically, safety gates are used for babies who are still learning how to crawl or to walk. If a gate is short enough for a baby to crawl over or if the child is old enough to open and pass through them, then the purpose of installing these gates for safety is defeated. The gates should be three-fourths of the child's height and are typically used on children within the ages of 6 months to 2 years old.
Essentially, these considerations are merely guidelines to finding the best kind of safety gate for children. However, safety gates could only do so much. Safety gates help provide parents with the peace of mind during stressful days. But the real safety and protection of the children shouldn't rely on them alone. After all, nothing could truly compare to the proper care and supervision given by parents to their children.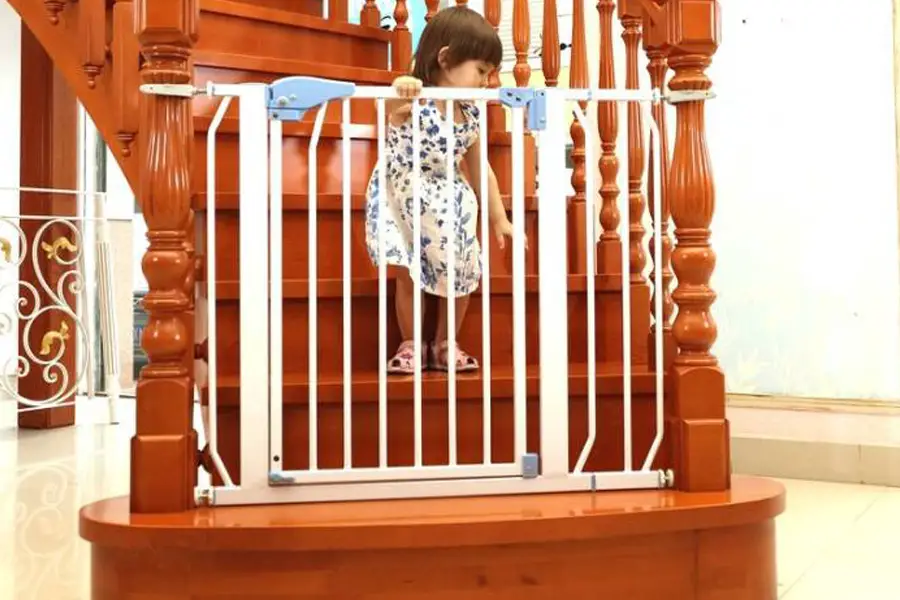 Precautions
When we first introduce a baby to our home it is understandable that we're worried about the baby's safety. Babies are prone to all types of accidents and injuries some of which can't be prevented as they are unpredictable. However, there are a few precautions around your home which you can take to ensure that the safety of your baby is not put at risk. One of these precautions you can take is installing several baby safety gates in your home.
How Will This Improve My Baby's Safety?
A baby safety gate can be installed in numerous places in between two walls or a door-frame. They essentially act as restriction devices and prevent your baby from accessing dangerous areas and rooms. For example, your baby shouldn't be allowed to go into the kitchen unsupervised because he/she may get burnt from a hot appliance or cut themselves on a knife that was left out. The top and bottom of the staircase is also a good place to install a baby safety gate as you will be able to prevent your baby from falling down the stairs, as well as accessing the rooms upstairs which may also be a risk. In short, a safety gate will allow you to keep a close eye on your baby.
What to Look For When Purchasing
Knowing the benefits of a baby safety gate is not enough to ensure the safety of your baby. Some products will even put your baby at risk (which will be discussed in more detail below) so it's important to know what to look for when purchasing a baby safety gate. Also remember that you shouldn't allow the price of the product to deter you from purchasing it, your baby's safety is much more important than saving a couple hundred dollars.
Safety of the Product – this is first on the list as since you are buying a safety product, you should be concerned about how well the product does the job. You should only purchase products that are certified by the American Society for Testing and Materials or JPMA. This will ensure that the product meets certain safety regulations such as the slats being no greater than 2 3/8 inches apart (which could lead to strangulation).
Check for the Correct Fit – You should also measure your door-frame and refer back to the measurement when purchasing a baby safety gate. Some of the products may not fit your door-frame so it would be wise to check this prior to buying. If you have an unusually large area which you want to block off then you may want to look for gates which extend or have interlocking sections.
Ease of Use – Lastly, try to find a safety gate which is easy to open and close and won't cause you too much hassle. You may not think opening and closing a gate is much of a bother, but wait until you have your hands full and you're in a rush, then you will realize that maybe you should have went for that gate with the simpler opening mechanism.
Conclusion
To conclude, baby safety gates are an essential baby-proofing product for your home. There price will vary according to the features, width and more – however, you should never be discouraged from purchasing a safety gate because of the price as the safety of your baby is much more important. When purchasing a baby safety gate there are three main factors which you should take into consideration which are the safety of the product, the measurements, and the ease of use.