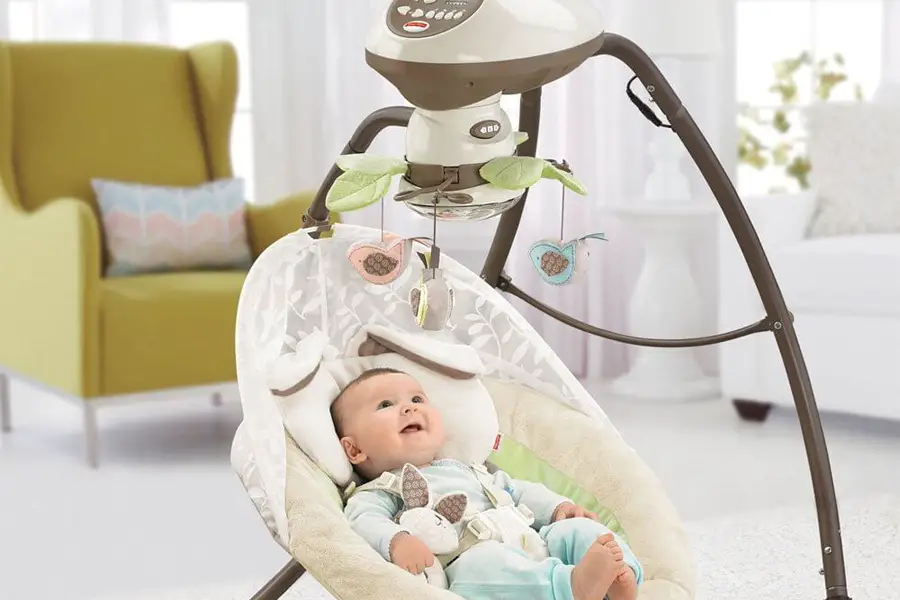 Baby Swing Reviews
There are many reasons why purchasing a baby swing is a great investment and a necessity. The process of birth is very traumatic for all babies especially because all they knew was being inside their mother's womb where they were soothed by their mommy's heartbeat. Once the baby is born it is imperative to surround your baby with items that will bring them to that place where they felt safe, warm, and calm. That is exactly what a baby swing is designed to do. It can be entertaining, educational, soothing, and it will give you the time to take care of house chores that otherwise you will not be able to tend to. Below are three of our favorite baby swings that we know will meet your needs.
Most Popular Baby Swing
Fisher-Price Starlight Cradle
Every baby is special and deserves only the best. It is said that what a child experience as a baby will pave and mold who they will be as an adult. Giving him/her this Fisher Price swing will help you give your baby the most wonderful experience that will give your child the building blocks to a happy future. The comfortable seat has a built in headrest to ensure your baby's head is at all time protected. It can be set to swing from side to side and from front to back, which will bring variety and keep your baby entertained. The canopy is full of surprises that will captivate your child. It has stars dangling that with a switch it will start to rotate. It also comes with sixteen tunes that serve different purposes. Eight tunes are for your child to listen during the day, and the other eight is for when it is time for sweet slumber. Your baby will fall asleep as starlight projects on the net that wraps around and over your baby. This will make your child float up to the sky while drifting into a peaceful nap.
Six swing speeds and Two position reclining seat
Maximum child weight: 25 lbs
Mobile, Light, and tunes turn off after seven minutes when using battery
Uses a 4 D battery
AC adapter included
– Anthony Dawson
Best Overall Baby Swing
Fisher-Price Mocha Butterfly
This adorable and stylish Fisher Price swing is practical and creative. It is designed to entice the cognitive development of your baby as well as giving you practicality. Cognitive development is reinforced by visually stimulating your child with rotating toys that will also sway as he/she rocks back and forth, or from side to side. Your child will be captivated by soothing melodies or nature sounds to stimulate their listening sense. The seat is made of very soft and comfortable materials that will have your child feeling relaxed, soothed, and comfortable. This swing set is convenient and practical for the parent as it is manufactured with their needs in mind. The headrest, pillow, blanket, and seating pad are machine washable and the swing can operate either with batteries or with an AC adaptor. Finally, the seat has smooth wood handles and it can also be removed so you can easily carry your baby to any room in the house without having to take him/her out of the seat.
It is practical and cost-saving
Two reclining settings
Seat can easily be removed and put back in place with a simple snap
A three-point harness to secure your baby in place
4 D batteries required and it comes with an AC adapter
– Anthony Dawson
Best Budget Baby Swing
Fisher-Price Snugabunny Cradle
Babies love to be in their mommy's arms, but we guarantee that this beautifully crafted swing made by Fisher Price will be your baby's second favorite place to be. It is ingeniously crafted to meet and exceed your baby's need and your expectations. Your baby will love how cozy and comfy the seat feels. The materials are soft and fluffy to make him/her feel like he/she is floating on a cloud. The seat is shaped to perfectly cocoon her/him to give her/him a safe and cozy experience. The swing can be adjusted to swing side to side or front to back. When the baby looks up he/she will be enchanted by rotating lambs that will change the direction in which he/she is being rocked. The swing also has eight different lovely and soothing melodies and nature sounds that will keep your baby calm, happy, and entertained. You will fall in love with the swing as you see your baby loving each minute he/she spends in it.
To store just fold the sturdy steel legs
Six different speeds
Batteries: 4 D (not included and required)
Removable tray and bead bar
16 songs: eight for soothing, and eight to entertain
– Anthony Dawson
Baby Swing Buying Guide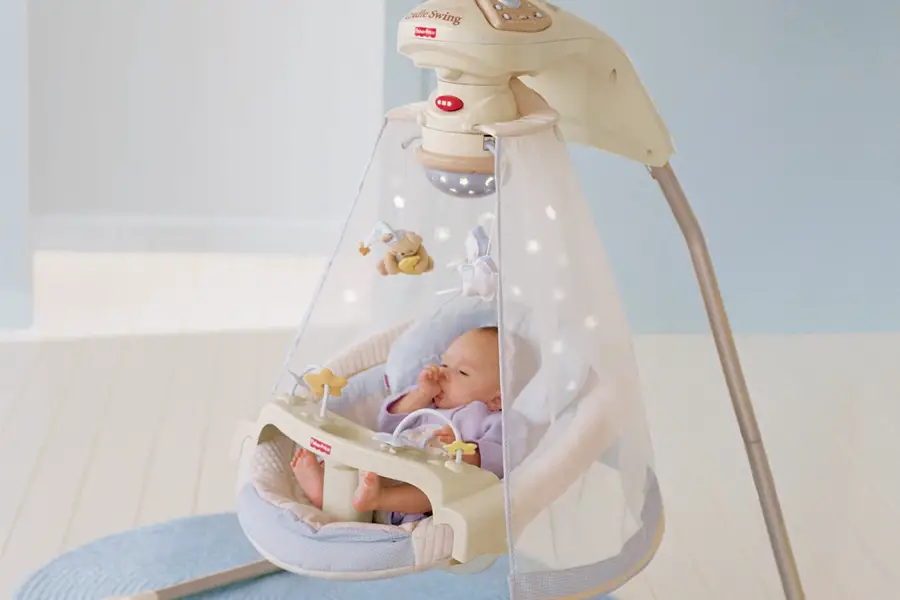 Baby swings are, at times, something that most couples would prefer not to have.  A lot of people think that having a baby swing is something similar to not having the strength, literally, to take your baby into your arms and rock him to sleep.  Many parents know how tiring it is to do this.  Besides, there are times when the baby simply wants to be rocked during playtime.  Baby swings are not only for convenience but for fun as well.  But with all the baby swings out there, how will couples find the best one? Here's a guide to buying baby swings, including what it is and what to look for.
Types of Baby Swings
A baby swing is a device that simulates the gentle rocking motion in a mother's womb. It lets you put your baby in a place that mimics this movement, leaving you free to do other things.
Baby swings come in a range of sizes and types, from swings that can take up large spaces to something that fits in the car. Here are the types of baby swings and how they can help you:
Full-Size
As the name implies, this swing is the largest and can hold the most weight (25-30 pounds). It can take up a huge space in your room, which makes it perfect for people who have large bedrooms and want to keep their babies in check. However, if you live in a small apartment, or you like to move your baby from one room to the other, it will not be to your advantage to get a full-size swing.
Portable Travel Swings
While full-size swings are perfect for those who stay at home more often, a portable travel swing is great for any couple who likes travelling with their baby. Portable travel swings are typically rated up to 25 pounds, not to mention barely taking up space in a room. This makes it a good option for couples who either travel a lot with their baby or just want to be able to move the swing from room to room.
Hybrid/Bouncers
Bouncer seats are basically baby swings that are built to hold your baby for a moment. It's designed for those mothers who are able to rock their baby to sleep yet need a break every once in a while. Take note, however, that not all baby bouncer seats are rated safe for infants, so be sure to get one that's approved by the Juvenile Products Manufacturers Association (JPMA).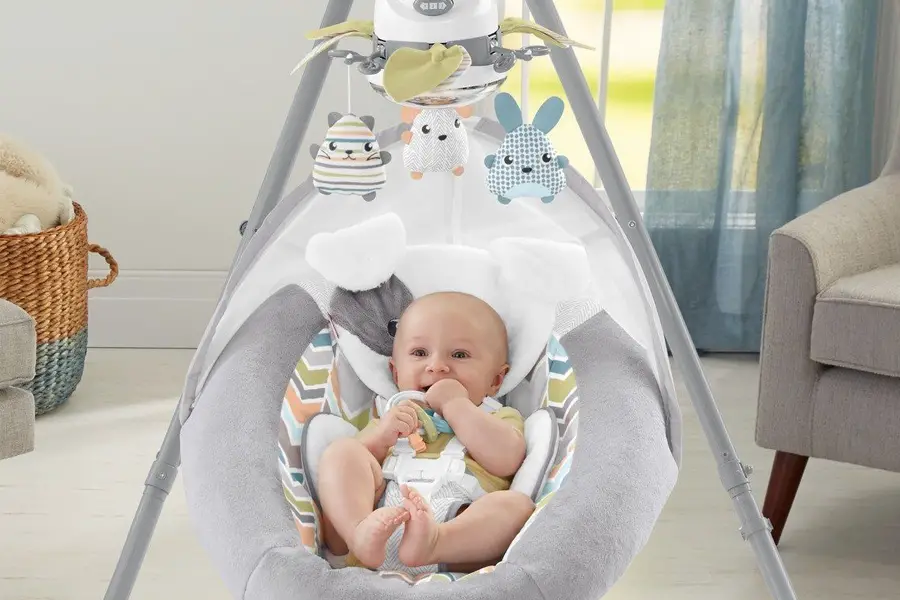 What To Consider In Buying Baby Swings?
Cost is always a factor in buying baby swings, which could go for $50 – $200. Price aside, here's a guide on what to look for as far as baby swings are concerned.
Types
This is probably the biggest factor in deciding choosing from baby swings. Are you looking to keep your baby in one place? Do you have room in the house to keep your baby tied to one area? Do you travel a lot? Are you fond of moving your baby on a swing around the house? These are some of the questions you should answer before you go out and buy a swing. You'll also need to factor in your budget, as baby swings can come in as basic packages or full-on baby entertainment centers. If you don't need the feature, don't get it.
Power Source
It's best to look at how the swing is powered. Does it have a cord, or is it powered by batteries? Be mindful of your power source, as this can dictate whether or not you'll be spending too much money or too much time on the baby swing. It's best to get a corded swing, because you're bound to go through a lot of batteries. However, if you travel a lot, or if you just prefer being able to move the baby from room to room without looking for an outlet, then go for battery power.
Safety Harness
A five-point harness is the best way to keep your baby tied down to the seat. Never settle for anything less, since your baby's safety should be the number one priority.
Stability
Make sure that the baby swings you are looking at are stable, or else you'll find yourself in a heap of baby trouble. Look for swings with a wide base that's low to the ground. It also has to be sturdy. That way, if your baby leans to one side, it won't tip over.
Safety Standards
A JPMA seal of approval means your baby is completely safe in the swing by industry standards. But this doesn't mean that you can take your eyes off your child. It only assures you that you're getting the best quality out there.
Portability
You don't want to have a swing that's hard to set-up, but you also don't want to get a swing that's hard to put away for those times you don't need it. Be careful in getting swings that are too big for your living space. Remember, the swing is there to help you, not take up your whole house, especially if you don't have that much space to begin with.
Comfort
If you don't want to deal with a baby that's constantly yelling at you, be sure to get a comfortable swing. Try and fit your baby into the swing to see if he/she is comfortable in it. A padded cushion also helps with comfort, as well as any sort of recline.
Extra Features
Trays, toy bars, mobiles, light shows, and music. You can factor all these in before looking at baby swings. You certainly don't need them all, but if it can help you keep your baby entertained while you take a break, get it. Just don't overdo it.
Speed Settings
Most swings have up to eight speeds. Make sure there are multiple speed settings on the swing so you can customise it to your baby's needs, as babies tend to react differently to different speeds.
Clean-up
Ah, yes. The dreaded clean-up. Everyone hates it, which is why it's important to factor in how easy a swing is to clean. Look for a swing that has a removable, washable cover so you don't need to worry about drool, spit-up, and diaper overflow.