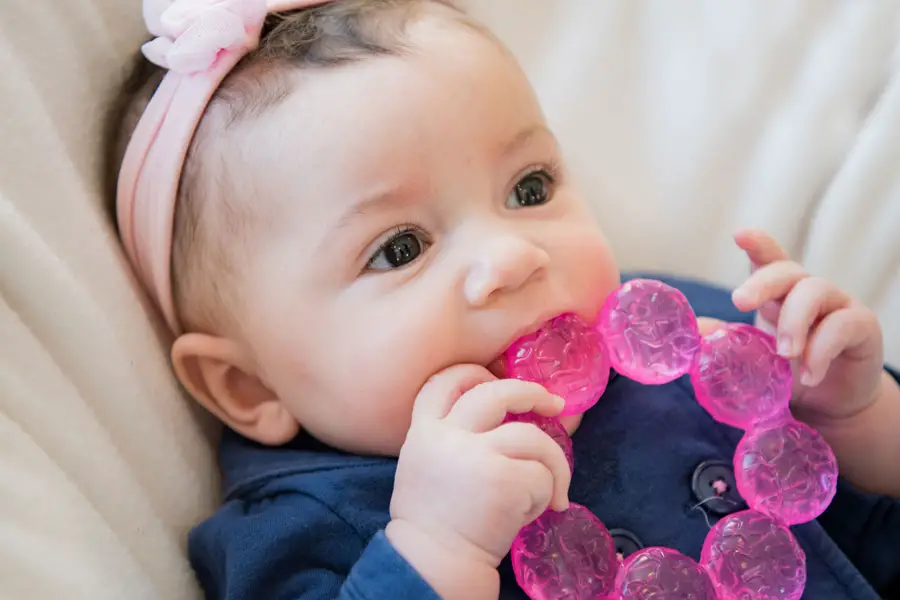 Baby Teething Relief Reviews
Once those primary teeth start coming in, the baby enters a phase known as teething, and it can be quite uncomfortable for the little one. Usually around 6 months is when moms will begin to notice this change, and finally when the child is about 3 years old, there will be a full set of 20 primary teeth; sprung-up like flowers from a garden. It can seem like a great miracle when all of this is happening, but it can quickly change to a nightmare when your child is experiencing the natural discomfort that is involved in the process. Due to the soreness and swelling, babies can become quite fussy at this time, just about 3 to 5 days before the incoming tooth reveals itself. Although some babies aren't effected at all by teething, a good number of them find it to be an unpleasant experience, and that's why there are some good products out there that help to alleviate the discomfort and tears.
Most Popular Baby Teething Relief
The First Years
It's incredibly smart to buy a blanket that your child can chew on, cause lets face it, they're going to do it anyhow. The Star Teething Blanket has a number of teething surfaces on its soft terry cloth surface, and the crinkly satin offers particular relief. The blanket is nice and lightweight, and easy for baby's little hands to grasp. There's even a little squeaker at one of the points that creates a fun sound that kids just love. The blanket provides endless variety and entertainment because there are so many different fun textures to explore and chew on. The plastic ring makes it easy to attach the blanket to bouncers and baby bibs, keeping it from being tossed aside accidentally. It's easy to wash, and putting it in the machine doesn't damage the squeak toy. The price definitely makes it worth it at the end of the day. This is a great blanket to have if you're looking for relief for your child, and a whole lot of fun.
Many teething surfaces provide different textures
Lightweight and easy for baby to grasp
Attachment loop for on-the-go use
Provides relief to the gums
– Anthony Dawson
Best Overall Baby Teething Relief
Boiron Camilia
When painful gums and irritability are plaguing your baby, Boiron Camilia teething relief can help with the irritability and discomfort. Boiron is known for being one of the best brands of homeopathic relief on the market, and their medicines are sold over the counter, effective, and completely free from side effects. That's because homeopathic medicine works with the body instead of fighting the body. The Camilia teething relief drops are easy to drop onto your child's gums without any fussiness. The drops help to calm the child down, and some moms even report that it helps to settle the child's tummy at the same time. As we all know, it's difficult for a child to eat when their gums are hurting, so the Camilia drops help to add relief to the gums, so it's easier for your child to eat more food. One of the main ingredients here is German Chamomile, which is famous for its ability to soothe and calm inflammation.
Benzocaine free, non-toxic
Homeopathic remedy relieves pain and irritability
The most trusted name in Homeopathic medicine
Contains German Chamomile
– Anthony Dawson
Best Budget Baby Teething Relief
Hyland's Homeopathic
These teething tablets offer a lot of relief for restless and irritable children who are cutting teeth. You simply dissolve the tablets under your child's tongue up to 4 times a day, for a maximum of 7 days. It's not uncommon for children to fall asleep after taking these tablets because they finally find the relief that they need. They're incredibly effective, and because it's only recommended that you use them for up to 7 days in a row, you should really have these in your arsenal for when the symptoms are at their worst. They're designed to relieve the redness and irritation of the gums, and because they dissolve so quickly, your baby experiences relief almost instantaneously. They're also 100% all natural and safe to use. Hylands is a trusted name in baby care products, and these tablets should be in every mom's cupboard for the incredible relief that they provide in no time. No child should have to suffer during their teething years, and Hylands tablets go the extra mile to make sure your baby is comfortable.
Quick-dissolving tablets provide fast relief
All natural formula
Free of Benzocaine
Sublingual remedy
Can be used up to 7 days in a row
– Anthony Dawson
Baby Teething Relief Buying Guide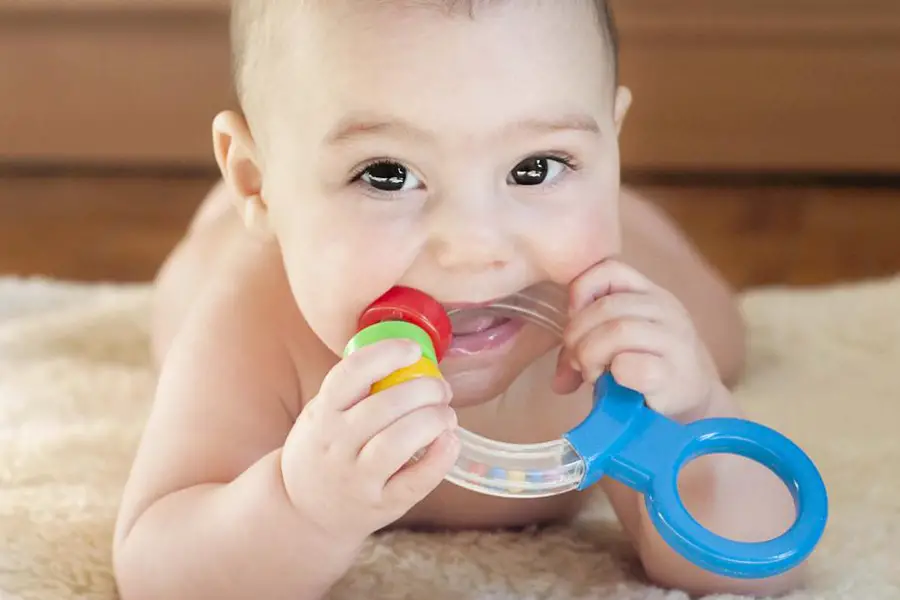 Even though we love our children dearly, they do put us through a lot of stress and sleepless nights. However, is doesn't all have to be doom and gloom as there are some things you can do to make your life a bit easier during certain stages of your child's life. Baby teething remedies are a must have if you value your sleep and don't want to be up all night trying to calm down your crying baby. There are a range of products and other remedies that will help relieve the pain of teething and we'll discuss more about this below.
How to Relieve the Pain of Teething
Using Cold Things to Ease the Pain
Just like how cold compresses can ease the inflammation and swelling of an injury, cold foods or other items can ease the pain of your baby's sore mouth and gums. There are many things you can use for this method, the practicality of those will depend on various factors including your child's age.
Your first step of action would be to wrap a washcloth up in a plastic bag and place it in the freezer for an hour or so. One you have removed the washcloth from the freezer, remove it from the plastic bag and your baby will enjoy chomping on it as not only will the cold pressure relieve the pain, but the ridges in the fabric material will also enhance the relief.
If your baby is old enough and has started to eat solid foods then you can try to offer him/her frozen fruit or cold foods. Try freezing their favorite food and see they how respond.
Apply Pressure
If the above procedures fail to work then you should try to apply some sort of pressure to your baby's gums. This may help relieve the pain as it helps the baby to focus more on the pressure being applied, and will take their mind away from the pain of teething.
There are many teethers available on the market today with different features – some even vibrate – which will allow your baby to have something to chew on, essentially applying pressure to their own gums. An alternative to this would be to apply pressure to your baby's gums with your own finger, try rubbing your finger on the gums to create friction.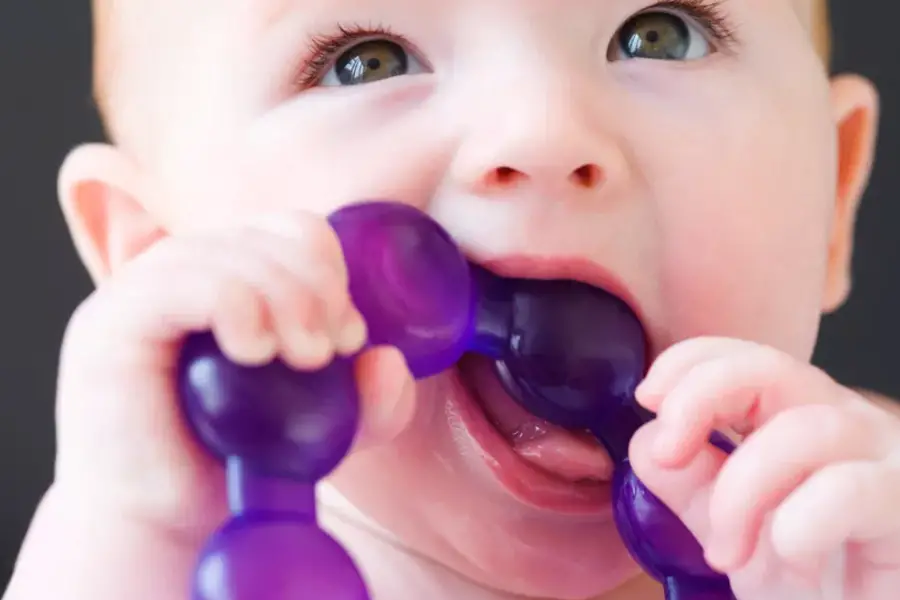 Pain Medication
This is often a last resort but it's important to mention nonetheless. You should always see a doctor before putting your baby on pain relief medication to help with teething pain. There are a few over the counter medications that your doctor may recommend such as acetaminophen or ibuprofen which can also help reduce inflammation in the gums, however it is only suitable for babies over the age of 6 months old.
If pain medications have failed to work and the symptoms have persisted for longer than 24 hours, you should consult your pediatrician.
Conclusion
In conclusion, there are various ways in which you can relieve your baby's teething pain, ranging from simple home remedies to last resort pain medications. Always check with your doctor before giving your baby any pain relief medication as failing to do so could cause more harm than good.