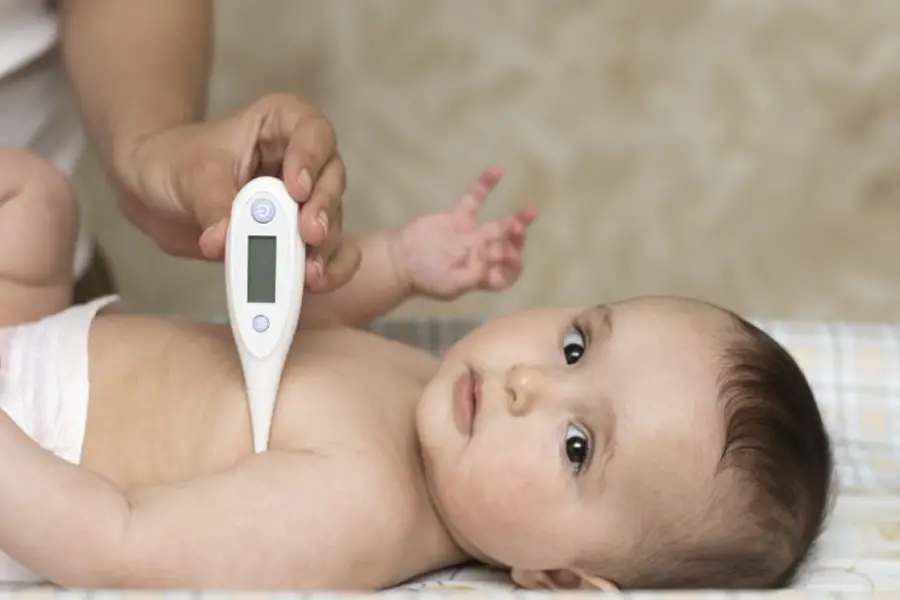 Baby Thermometer Reviews
Newborn babies are so incredibly susceptible to illness and infection, and a warm forehead can only tell you so much. It's essential for every new parent to have a baby thermometer nearby so they can get the full story when they expect that something is not right. It's important to find a version that is easy to use, and different models are more appropriate for different age brackets. Some thermometers are convenient in that they allow you to test your child in more ways that one; for instance, under the tongue and under the arm pit. Whereas others only allow you to test in one location. Keep in mind that the most accurate thermometers for newborns are used rectally, but these can often be quite uncomfortable for the baby. You want to look for one that has a flexible, soft tip that only needs to be limitedly inserted. All thermometers these days are digital, and very easy to read. If you don't want to spend too much money your local drug store is the best place to find one.
Most Popular Baby Thermometer
Braun
Braun is an ideal thermometer for young children, thanks to its easy-to-use ear insertion and ExacTemp Technology, you're getting incredibly accurate results with a lot less discomfort for the child. In fact, this device is used in doctors offices more than any other infrared thermometer on the market, so you know that it can be trusted. The pre-warmed tip not only improves the accuracy even more, but it increases the comfort that your child will feel. The innovative guidance system instructs you step by step how to get the best reading, and within seconds you'll get the results from the test. The average baby gets 7 fevers a year. That's a very daunting statistic for new parents to hear. It's good to know that you have a simple and effective thermometer nearby just when you need it. New studies show that ear thermometers are even more effective than rectal thermometers, and that's why this device from Braun should be in your medicine cabinet.
Position is confirmed by flashing light and beep
Used in doctors offices
Memory function stores past readings
ExacTemp Technology
Accurate and comfortable ear device
– Anthony Dawson
Best Overall Baby Thermometer
Santamedical
This non-contact thermometer from Santamedical is quite unique and innovative. Not only do you not need to put anything onto the baby's skin or into any orifice, but the device is programed to guide you along the way, so that you can find the right surface temperature areas to get an exact reading. The large black LCD screen displays what the temperature reading is in Fahrenheit or Celsius, which means that you can see these numbers even if you're in total darkness. The genius behind this product is that you can check your child's temperature while they're sleeping, and the lights are turned out. No one wants to wake a sick baby to get the latest temperature numbers, and this Santamedical device allows you to let your baby rest, while still gaining the vital information that you need to know. Also, because there's no threat of contaminating the thermometer, there's no need to sanitize it before using it on other family members. So when you've got two sick kids, your job is going to be a whole lot easier.
Intuitive guidance system helps you with each step
Audio alarm indicates high temperatures
AA batteries
Records up to 32 temperature readings
Low energy consumption
– Anthony Dawson
Best Budget Baby Thermometer
Safety 1st
The Rectal thermometer is designed to get the most accurate reading with the highest level of comfort. It's widely known that rectal readings are more accurate than any other locational readings, but they can be uncomfortable for the baby. The Safety 1st takes care of all that by being the fastest on the market. In just 8 seconds you'll have the precise reading that you need, and thanks to the secure grip, it's easy for the parent to use. Pediatricians recommend this kind of reading, and that's why even when it's challenging, it's important to know how to check your baby's temperature in this fashion. Many of the multi-purpose thermometers have a number of different buttons and instructions to choose what method you're going to employ. There's a great simplicity to this product because you're really only dealing with an On and Off switch. If your baby is sick, there's no time for second guessing, and that is what makes the Safety 1st thermometer such a smart buy.
Speedy 8 second reading
Flexible tip for ultimate comfort
Memorizes last reading
Beeps when done
Long life battery
– Anthony Dawson
Baby Thermometer Buying Guide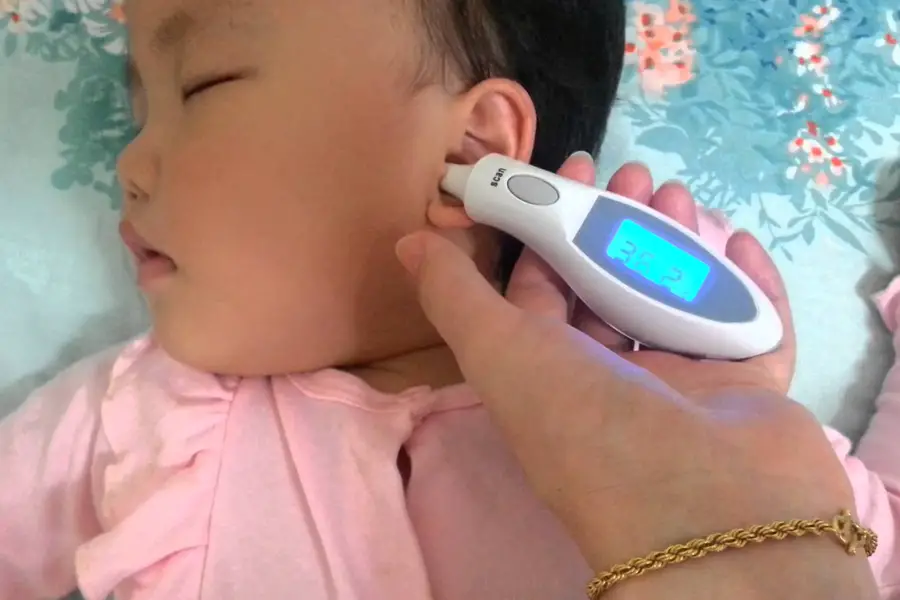 In the past few decades, baby thermometers have gone from the basic old-fashioned kind to the high-tech and state-of-the-art. Once upon a time, checking your child's temperature was a cumbersome and challenging mission. But today, thanks to advances in technology, doing so has never been easier or more accurate. Choosing which thermometer is right for your child doesn't have to be a complicated task, however. Today, we'll explore some of the options and also how to use these new choices.
A World of Choices
The first step to getting a new baby thermometer is to choose which one is best. Please keep in mind that if you still have one of the old glass ones around the house, it'll be best to dispose of this one properly. Next, you'll need to know that thermometers can range in price, from the relatively inexpensive to the pricey.
Standard Digital Thermometers
This option is often the cheapest, but the least accurate. However, they're easy to read with their large LCD numbers and can be purchased at most drug stores. They do still provide an adequate reading, and for many parents, this will be an ideal choice because of the price point. Good for children 3 months or younger, but can be used on any child.
Pacifier Thermometer
Boasting an extremely convenient method of taking temperature, these thermometers are as simple as popping them in your baby's mouth. Your child will never even know you were checking! However, they don't give as accurate a recording as standard models. Good for any child that uses a pacifier.
Ear Thermometers
While still digital and using an infrared ray, these models are less invasive than others. They are a little harder to use, however, and may need practice to get an accurate reading. Good or children 6 months or older.
Forehead Thermometers
By using an infrared scanner, they gauge the artery located in a child's forehead. Best for children 3 months or older.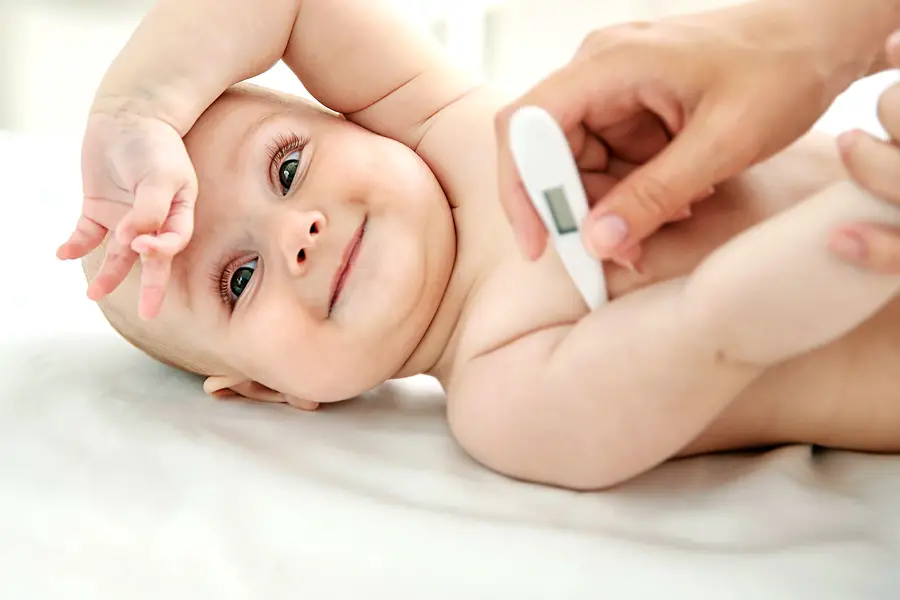 Getting Started
For standard digital models, you'll want to choose where you'll take the child's temperature. Even if the thermometer claims to give instant readings, checking for 20 to 60 seconds is ideal to get an accurate one. For the rectum, adding a tiny bit of petroleum jelly to the end before turning the device on is helpful. While the baby is laying on their back, lift their legs, and insert about .5in to 1in. The thermometer should beep when it has attained a reading. For measuring using the armpit, petroleum jelly is not needed. Place the device under your baby's bare, dry armpit and wait until it you hear the beep indicating a reading has been attained. This is the least accurate method for attaining a reading. Checking via the mouth with a standard digital model is not recommended for children under 4 years old because a child must be able to hold the device in their mouths.
To determine your baby's temperature by ear, check the device's instructions for the correct depth to place it. You'll also want to be sure you're pointing the tip toward the opening of the ear canal and not the wall of the ear. After putting it in their ear, hold it carefully until you hear it beep, indicating it has recorded a temperature.
For using a pacifier thermometer, turn the device on and pop it in your baby's mouth. The main thing to remember is that you'll want to keep the device in the baby's mouth for a full 3 minutes. Also, it's recommended that you add a half degree if you're using a Fahrenheit model.
Using a forehead thermometer is as easy as sweeping it across your baby's forehead. It is able to attain a reading fairly quickly. Whichever method you use or whichever device you go with, be sure to seek medical advice if your baby has a fever.