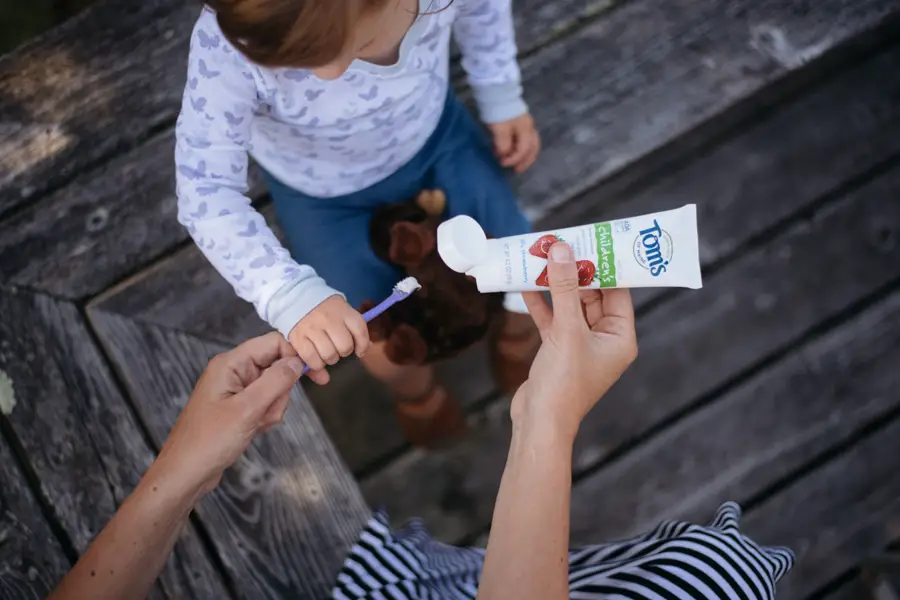 Baby Toothpaste Reviews
As your baby grows and develops, the products that you need to clean their teeth will change end evolve. In the earliest months, a simple damp cleansing cloth will do to massage the gums. However, once the first tooth arrives, using an age-appropriate toothbrush and baby toothpaste is required. There are a number of toothpastes that are specifically formulated for each stage of your baby's development. The package should indicate which age bracket the product is suitable for. One thing to look out for is sodium lauryl sulfate, which is found in most adult toothpastes, and is not suitable for a baby's mouth. The ingredient is just too harsh for them. Natural toothpastes are ideal in these early stages, and simple ingredients are the most safe. Look for fun flavors that your child will find tasty and interesting. There is also fun packaging with delightful characters and designs that add to the allure of the toothpaste.
Most Popular Baby Toothpaste
Tom's of Maine
Tom's of Maine is one of the most trusted brands of all natural hygiene products on the market, and they're conveniently located in most health food stores and drug stores. Their specially-designed fluoride-free toothpaste for children comes in a delicious strawberry flavor that kids love. This formulation uses natural calcium and silica to clean your child's teeth, instead of harsh ingredients. In fact, it's completely free of artificial sweeteners, chemicals, preservatives, and colors, so you can trust that you're providing your child with a non-toxic way of cleaning their important new teeth. It should also be noted that Tom's products are never tested on animals, and their packaging is much better for the environment than some other brands. This is a great choice when you're looking for a toothpaste to get your child in the habit of brushing consistently. It tastes great without being too sweet, and mom can clean her teeth with this paste as well if she's sensitive to harsh ingredients and fluoride.
Delicious strawberry flavor that kids love
Cleans thoroughly and gently
Convenient stand-up tube
A little goes a long way
– Anthony Dawson
Best Overall Baby Toothpaste
Tom's of Maine Anticavity Fluoride
Tom's of Maine makes some of the best fluoride toothpastes on the market, and moms everywhere love the all natural ingredients and pleasing flavors. This particular kind is Outrageous Orange-Mango, and kids just love the tropical sweetness and pleasing scent. There's a reason why Tom's is the #1 natural toothpaste brand on the market. They consistently provide kids and parents a product that is completely safe and all-natural, without the harsh ingredients you find in some other brands. Backed by the ADA Seal of Acceptance, there are no preservatives, artificial flavors, chemicals, or colors used in this brand. When your child is finally ready for a fluoride toothpaste, this is a great way to start. It should be noted that with all the hype behind whitening toothpastes these days, people are experiencing greater sensitivity with their teeth. You absolutely want to make sure none of these harsh ingredients are in your child's toothpaste, but you still want to get those teeth as clean as possible. Tom's can help you do it.
ADA Seal of Acceptance
Prevents cavities with fluoride
Stand-up tubes
Delicious Orange Mango flavor
– Anthony Dawson
Best Budget Baby Toothpaste
NUK
This Infant Tooth and Gum Cleaner from NUK is completely fluoride-free, tastes good, and is safe for the child to swallow. It works really great in conjunction with the Infant Finger Toothbrush as well. The toothpaste is a wonderful start to your child's habit of proper oral hygiene. Because the main cleaning agent in the formula is Xylitol, which is perfectly natural and safe for your baby, you can rest assured that nothing toxic is going into your baby's mouth. This ingredient is fantastic at fighting tooth decay, and effortlessly cleans up excess sugar and bacteria in the mouth. Xylitol is a sugar alcohol that comes from trees, and has a nice, naturally sweet flavor. You can be confident that when the toothpaste is swallowed, and it most certainly will be, there will be no health or tummy problems that follow. NUK has designed a fantastic product for your baby's dental health, and for you peace of mind.
Cleans baby's teeth and gums
No fluoride and safe to swallow
Contains Xylitol to prevent tooth decay
All natural with no SLS
– Anthony Dawson
Baby Toothpaste Buying Guide
As your child starts to develop teeth, they will certainly need to be brushed to remain cavity-free and healthy. Some parents use the same brand of toothpaste and toothbrush for their children that they use for themselves. However, children require a different set of dental products than adults.
The market today has many brands of toothpaste made for children, but do all these products meet the best quality standards? It can be hard to determine. This makes choosing the ideal toothpaste for your child, especially newly toothed babies, complicated. It's essential to note that children's mouths continue to develop, thus the need to start oral care early.
The American Dental Association (ADA) advises parents to start dental care for their kids only a few days after birth. In the initial days, parents should use a washcloth or a moist towel to wipe their child's gums. If you practice this habit, then you set the right pace for healthy teeth for your child. Additionally, you've created a routine that your kid will proceed with as they get older. Let's look at what to consider when choosing a quality toothpaste for your child.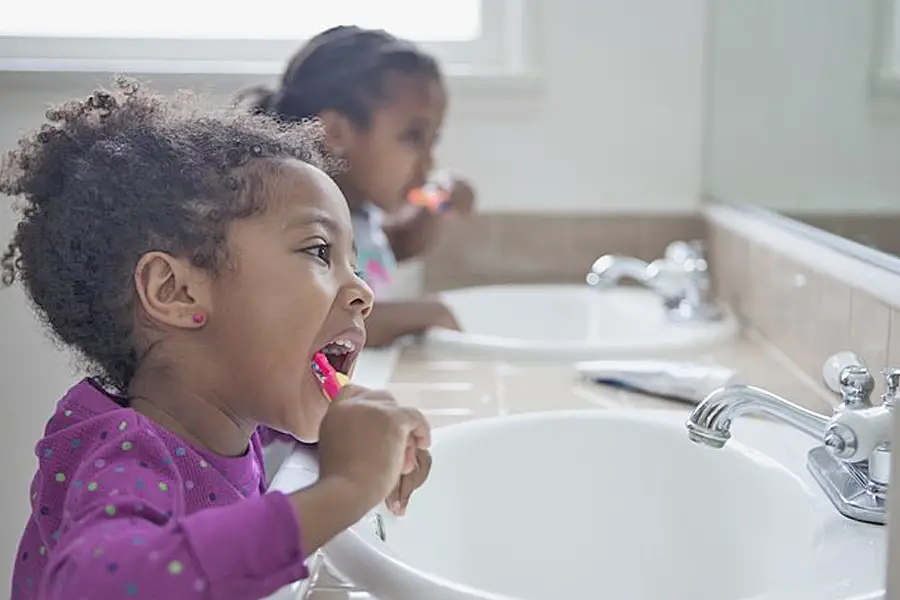 Points to Consider while Choosing
Fluoride content
According to the ADA, the role of fluoride in dental care can't be underestimated. Fluoride is a compound that exits in nature that assists in remineralizing teeth and preventing tooth decay. Ordinarily, we get our supply of fluoride by drinking fluoridated water. The fluoride in the water is absorbed and made available to the developing teeth via the bloodstream.
Although fluoride is vital for healthy teeth, ingesting excess fluoride, especially at the tender age, may result in teeth discoloration and enamel mottling; this is a condition medics refer to as fluorosis. Most dentists advise parents to use fluoride-free toothpaste until the child reaches three years old. At this age they can spit the toothpaste out instead of swallowing. When the child starts to use fluoride toothpaste, they should only use a pea-size amount.
ADA Seal
Due to the risks of fluoride toothpaste, parents need to use brands that have been recommended by the ADA. When shopping for kids' toothpaste, look for the ADA seal on the package. This seal may be present on the tube or the box. When you use ADA certified toothpaste for your child, you are assured of its safety.
Age
Young children are unable to spit toothpaste after brushing; instead, they swallow the remains. This practice can be risky, depending on the type of toothpaste. From the ages of 3 years old, a child can learn to spit toothpaste. Therefore, it's essential to ensure you use safe-to-swallow toothpaste until your child is old enough to spit it out.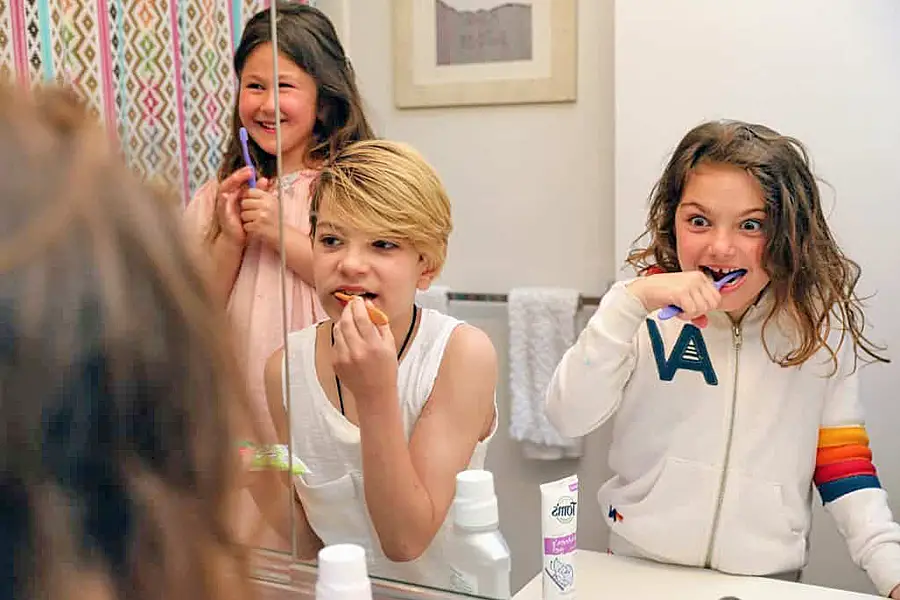 Flavor
Although the flavor choice should not supersede protecting your kid's teeth, it's vital to choose a kid's toothpaste with a mild flavor to encourage your child to enjoy brushing their teeth and develop it as a good habit. It's most important to avoid strong flavors for the very young kids, such as cinnamon and mint. Kid-friendly flavors include bubble gum and fruits. The best way to ensure the kid likes the flavor is to let the child choose their favorite flavor.
Sulfate-free
Sulfates such as sodium laureate sulfate (SLES) and sodium lauryl sulfate (SLS) are suspected to be carcinogenic, although the ADA has not proved these claims. These chemicals are approved for use in many cosmetics, and some parents believe they can harm their kids. Therefore it's advisable to avoid toothpaste that contains such compounds.
Paraben-free
Paraben is an artificial preservative. This compound has been established to have similar properties to the female hormone estrogen. Although most kid's toiletries are paraben-free, it's essential to ensure you check the toothpaste ingredients before purchasing. Parabens are harmful to animals though no effect has been established in humans.
Avoid Harsh Abrasives
A majority of toothpaste, especially those branded as "whitening," contains abrasive that can lead to damages to young tooth enamel. To be safe, you should avoid any baby toothpaste with abrasives.
Choosing a baby's toothpaste can be challenging but the best way is to start with a training toothpaste then later switch to advanced formulas. Training toothpaste will clean your child's teeth and gums without the risk of harming them. Even if the child swallows the toothpaste, it's safe. The above points will assist you in getting the best toothpaste for your child.