Baby Training Toothbrush Reviews
Even before you see that first tooth coming in, it's important to brush inside your baby's mouth so they can get accustomed to the feeling. Those first teeth are almost always in the bottom front after about 6 months. It seems like a long way away, but if you consistently brush your child's teeth until they're 7 years old, at which time they should be able to do it themselves, you will have instilled a habit that your child will benefit from for a lifetime. There are a number of training brushes out there that are ideal for your baby's sensitive teeth and gums. Soft brushes are a must at this early stage, as well as round-ended bristles and a small, angled head. The package will usually state what age-range the brush is appropriate for. There are some very cute designs and colors out there that make the brush even more appealing to the baby. Choose eye-catching, fun designs that the child will find interesting and attractive.
Most Popular Baby Training Toothbrush
Baby Banana
The charming baby banana brush is flexible and easy to use, and its delightful banana shape and soft texture make it a pleasurable introduction to the practice of brushing ones teeth. Because it was designed by a mom-hygienist, you can be sure that it comes from someone who knows first-hand what makes for a good training toothbrush. This brush can be used as early as 3-4 months old. Made from the highest quality silicone, the brush is durable and incredibly safe, meeting the highest government standards. Also, its increased flexibility virtually eliminates any possibility of mouth injury. The easy-to-grasp banana peel handles make it easy for the child to hold-on and manipulate the brush with ease. It's perfectly dishwasher safe, and the silicone design is soothing on baby's gums. This little brush is a great way to get your child on the right track to oral hygiene. Its cute design makes it something that is fun, and brushing time becomes an activity to look forward to.
Both an infant teether and toddler toothbrush
Easy-to-grip "peel" handles
100% medical grade silicone
Dishwasher safe for easy sanitizing
– Anthony Dawson
Best Overall Baby Training Toothbrush
Baby Buddy
Many pediatric dentists suggest to have your baby on an oral hygiene regimen even before their first tooth comes in, so that they can become accustomed to the feel of a toothbrush. This Baby Buddy toothbrush is an excellent way to massage those gentle gums and newly emerging teeth. The brush is designed by dentists, so you know that its effectiveness is backed by expertise. Simply wet the brush and let baby bite down on the 6 soft bristle surfaces. It makes for a wonderful teething toy, and is made from 100% food grade silicone that is completely free from phthalate, lead, and BPA. Because of its unique design, the brush helps to wipe away sugars and bacteria dwelling in the baby's mouth. There are a number of fun colors to choose from. This is one of the best selling infant toothbrushes on the market, because pediatricians recommend it the most. It's easy and fun for the baby to chew on, and puts the child on the right path towards oral health.
100% silicone
Free from harmful phthalate, BPA, and lead
Pediatric dentist created
The most recommended among pediatricians
Easy and fun for baby
– Anthony Dawson
Best Budget Baby Training Toothbrush
MAM
The MAM training brush was created with the help of dentists to provide a design that would make the oral care routine fun and easy for a small child. Once your child is 6 months or older, the MAM brush makes it easy to clean those new teeth. Because of the delightful array of colors and shapes to choose from, you can be sure that the MAM brush will hold your baby's interest and make brushing time a fun time. It is necessary for mom and dad to instruct the baby on the proper brushing motions, and encourage them to practice. Once your child is old enough for toothpaste, fun flavors and designs only add to the pleasure they'll get from brushing their teeth. When a child becomes ingrained with this habit at such a young age, it's almost guaranteed that they'll continue this important practice with great consistency for the rest of their lives. Pick a color that perhaps is your child's favorite, and watch how proud they feel after every time they brush.
Easy-to-hold, extra long handle
Massaging head soothes gentle gums
Developed by dentists
Round head perfectly fits baby's mouth
Comes in pink, blue, or green
– Anthony Dawson
Baby Training Toothbrush Buying Guide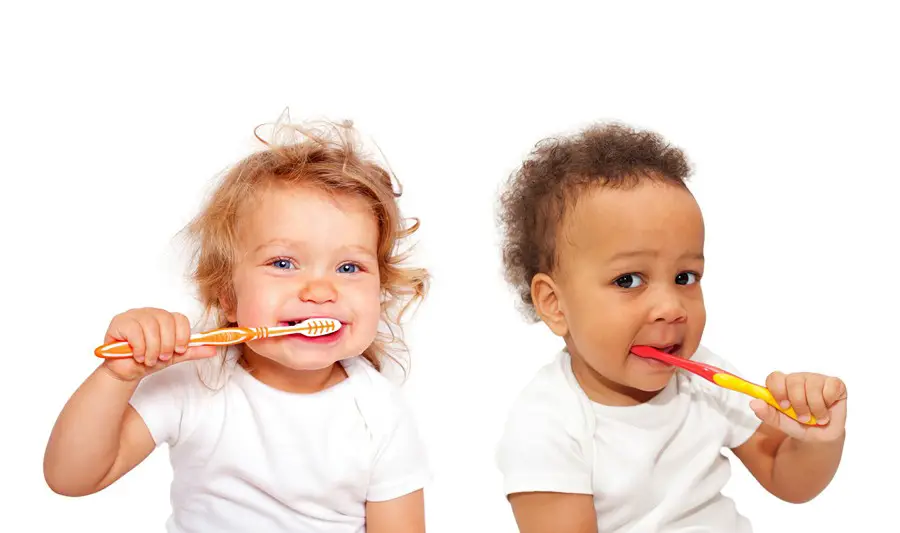 Selecting the right baby training toothbrush can be akin to finding a needle in a haystack. There are so many different types that it can be difficult deciding on the correct shape and style for your little one's mouth.
Of course, children at that age can be very picky so it does the chore of deciding on a possible toddler toothbrush only that much harder. Below is a collection of tips on how to choose which toothbrush is the best fit for your child. This eliminates the hassle of having to take him or her to the store with you to decide.
Firm Bristles or Soft
Unlike adult toothbrushes, there isn't really a wide variety of choices when it comes to the texture of the bristles. There's pretty much a set standard for that. They have to be soft since many babies may not even have all of their teeth yet. Just be sure not to push down too hard. Even soft bristles can injure a small child if not properly handled.
Colors
Baby toothbrushes come in a wide variety of colors, patterns, and styles. Many of them have pictures printed on the handle or popular cartoon characters. This particular decision boils down to personal choice. Whatever your child is most interested in, be it a solid color or a favorite character, choose the one that seems like one your child may like. If you're not sure, have your child pick out the toothbrush they want to try. It may take a few purchases but eventually they will find the one they like the most.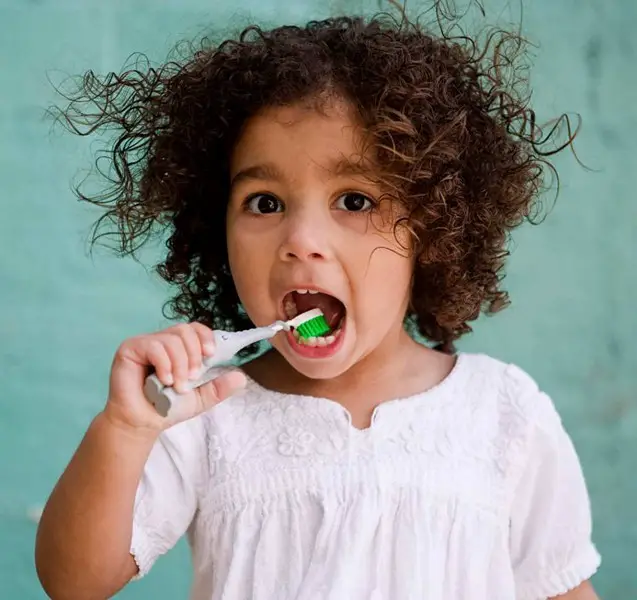 Wide Handle Vs. Standard
There are really only a couple of choices when it comes down to selecting the correct style for an ideal toddler toothbrush. Choose between the standard slim style and the more modern wide handle that is easier for little hands to grip. The only problem with the wide handle toothbrushes is that they don't fit in standard toothbrush holders. To resolve that issue, there are now wider toothbrush holders that can be purchased for a reasonable price so that the toothbrush doesn't accidentally get bumped and knocked into the bathroom sink.
When to Brush
For a small child, aim to brush at least twice per day, even if your child does not have many teeth yet. Daily brushing will help your child to adjust to it as being a normal part of his or her normal routine. Of course there will be times when brushing just won't happen with younger toddlers. If your child does not allow you to brush his or her teeth, you can always try again at a later time the same day (maybe after a light nap).
Choosing the correct toddler toothbrush is a challenge but if you keep the above tips in mind when selecting a toothbrush for your child you will have won half the battle. The only other challenging part is choosing what toddler toothpaste to use. Select between fluoride-free versions, organic, and non-organic. The tubes are small and you won't have to worry about your child accidentally swallowing the fluoride-free versions.
It's the fluoride you want to avoid as it is a known carcinogen and too much of it can poison a small body. Too much fluoride can also stain teeth. Be sure to encourage your child to rinse his or her mouth thoroughly so as not to swallow any of the toothpaste. This way when they begin to start using "big kid" toothpaste, they won't have a habit of swallowing any fluoride.
Additionally, avoid chemical sweeteners and other chemical additives as small children can have adverse reactions to strong chemicals.