Best Baby Video Monitors
The early stages of a baby's life are critical to their well being. Parents always want to ensure that they can see their babies at all time to ensure a timely response in the event that there is an accident with their baby. Being able to see them is of course impossible to do at all times especially at night while sleeping. Owning a baby monitor will allow you to hear and see everything that is going on with your baby from any room in your home. Below are our three preferred monitors.
Infant Optics 2.4 GHz Digital Video Baby Monitor (DXR-5) with Night Vision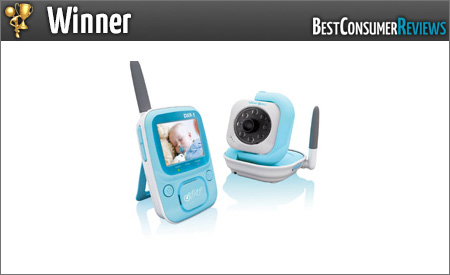 Editorial Rating
Value (9.8 of 10)
Quality (9.9 of 10)
Popularity (9.7 of 10)
Consumer Details
Under $100
Over 2100 Reviews
3.9 of 5 Star Rating
Infant Optics 2.4 GHz Digital Video Baby Monitor (DXR-5) with Night Vision
This baby monitor is ideal, reliable, and valuable to all parents. You can be assured that you will be able to monitor your baby from anywhere in your house with zero interference and clear visibility in its 2.4in color screen. This monitor is wireless and comes with a rechargeable battery. This monitor was built with your baby's safety in mind as well as the comfort of the parent. Therefore, it has a voice activated microphone that will allow you to have a restful sleep while ensuring you wake up when your baby needs you. The night vision (Infrared) will automatically turn on as it gets dark in the room.
Features
Automatic voice activation power saving mode
Automatic night vision (Infrared), A/C Power: 6 V 1 A DC adaptor
Encrypts data using FHSS
2.4 GHz and works up to 800 feet in open areas, or 150ft in enclosed areas
2.4 TFT screen with super sensitive built in microphone
Motorola's Remote (Wireless) Video Baby Monitor (MBP36) with 3.5-Inch Color LCD Screen, Night Vision (Infrared) and Remote Tilt, Zoom and Pan, 3.5 Inch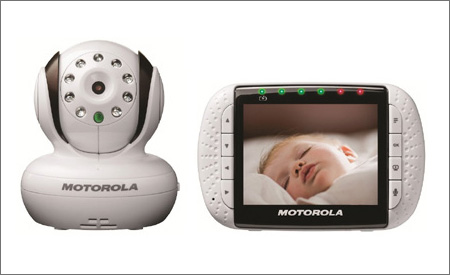 Editorial Rating
Value (9.7 of 10)
Quality (9.5 of 10)
Popularity (9.6 of 10)
Consumer Details
Under $240
Over 900 Reviews
3.8 of 5 Star Rating
Motorola's Remote (Wireless) Video Baby Monitor (MBP36) with 3.5-Inch Color LCD Screen, Night Vision (Infrared) and Remote Tilt, Zoom and Pan, 3.5 Inch
With its color 3.5" screen you can monitor your baby from anywhere in your home. You can rotate, tilt, and even zoom all from a simple click of the built-in buttons on the monitor. Motorola has even taken this baby monitor to a different level by giving you the two-way communication feature so you can catch your baby's attention, and play lullabies from afar. The infrared vision allows you to see them slumber peacefully. It also allows you to see the battery life so you know when to recharge it, and it can be connected to your television or computer for a bigger screen visibility.
Features
2.4ghz With FHSS
One year warranty
Up to 200 meter range with "out-of-range" warning
Night Vision (Infrared) room temperature monitor
5 music settings, extra camera features, remote camera adjustment
Samsung Baby  Video Monitor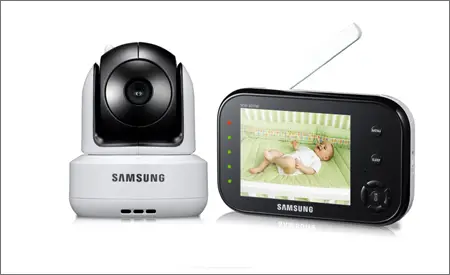 Editorial Rating
Value (9.6 of 10)
Quality (9.7 of 10)
Popularity (8.8 of 10)
Consumer Details
Under $200
Over 500 Reviews
3.9 of 5 Star Rating
Samsung Baby Video Monitor
Built with the latest technology this baby monitor has a screen that allows you to customize the settings and viewing options. Its two way communication option allows you to appease your baby as well as communicate with whoever may be in the room. Parents are guaranteed peace of mind with this must have monitor.
Features
Works within 900′ range
A station for docking charges easily and has a battery indicator
Two way communication feature
Zoom, scan and pan in digital format
Display that is 3.5″ wide
On Baby Video Monitors: A Buyer's Guide
A baby video monitor is slowly becoming a go-to gadget for most parents nowadays. While attention to your baby is still best given in person, there will be times where you being there won't be possible, unless you have a maid or a caregiver to act as a stand-in. Even then, you'd still find a need for a baby monitor to help you with your child. Here's a guide on how to find the best one for your needs, as well as a brief introduction on what baby monitors are.
Introduction to Baby Video Monitors
Baby monitors have been around for quite a while. They started out as audio monitors, which reacted to whenever the baby cried or made any sort of sound. The system worked for most parents, but the lack of information they provided proved to be more than what parents were willing to sacrifice. By the turn of the century, baby video monitors were popping out, which gave both audio and visual information that most parents wanted.
There are three types of baby video monitors, each having pros and cons:
Analog baby video monitors operate on the old system of transmitting signals. It works by breaking up the audio-visual information received and transmitting it through a series of pulses over radio waves. A receiver tuned to the same frequency then gets these signals and puts it back together for the mother to see. While this is good for those on a budget, it can be very inconvenient thanks to an effect known as cross signals.  The monitor works in a certain frequency, anything else that's tuned to that same frequency will be able to pick up the signals from your baby monitor and have it shown on theirs. This is especially problematic in densely populated areas where several people use similar, if not the same, make and model.
Digital baby video monitors solve the problem of analog monitors by encoding the signals sent from transmitters so that the only device that can receive and decode the signal is its designated receiver. This means that no matter how many people use the same kind of baby monitor you won't get that same problem of having other people receive signals from your own transmitter, since every digital baby monitor encodes their information differently. However, this does not mean that you are safe from interference. The frequency that most digital baby monitors use, 2.4 gigahertz, happens to be the same frequency that other wireless gadgets use, like cordless phones, wireless routers, and microwaves. Static then becomes a problem, unless you have multiple channels to use for your baby monitor.
Wireless baby video monitors are recently becoming more and more popular among parents thanks to ISPs providing more affordable options. This type of baby monitor no longer requires a dedicated receiver, since it uses your home's current wireless network to send data from the transmitter. Any device that can be connected to the internet, be it computer or smartphone, can then be used as a receiver for your baby monitor. At its core, it works similar to how security cameras work. Like security cameras, there's a server (in this case, web-based) set up by the manufacturer where you can access the feed and keep tabs on your baby. It works wonders for parents who hate carrying so much stuff around, but it's also a bane for anyone who wants it but does not have an existing wireless network. As with anything online, it may also be prone to hacks, depending on how secure the server is.
What to Look for in Baby Video Monitors?
Now that the basic types for your baby video monitor have been laid out, here are the things you need to consider before you buy one:
Analog, digital or wireless. As mentioned before, it really depends on what you need more than what you want. If you're in a community that does not have too many people using the same kind of baby monitor, then it's okay to go analog, especially if the homes have enough distance between them. However, if there are a lot of people with babies that use similar models, get a digital monitor. If you have an existing wireless network, it would be better to get a wireless monitor.
Battery indicator. As with anything portable, you need to have an indicator on your receiver if it's running low on juice. You don't want to have to rush back to your house to charge or go out and buy a battery, regardless of the kind of baby video monitor you get.
Security. If you want to be safe with your video monitor, it's best to get one that's digital so your data can be encrypted. If you can get your hands on one that has a digital lock, then do it.
Frequency. Be mindful of the frequency your monitor operates in. Look for those that work on a frequency of 1.9 gigahertz, since there are not that many devices that work on the same frequency.
Image quality. A video monitor is useless if you can't tell whether your baby's asleep or not. Be sure to check the quality of the image it produces, like if you can clearly see your baby's eyes even if the transmitter is a few feet away. Also take into account night vision capability, especially if your nursery is too dark to produce a good image.
Multiple transmitters/receivers. If there's an option for you to look through multiple eyes, you'd do it, right? The same holds true for baby monitors. If you can get the more transmitters of the quality that you need at the same price that you can buy one high-end transmitter, do so. It helps if you have more than one angle to look at. Multiple receivers also means you can have more than one person looking at the child, so if you're pre-occupied with something else, your husband or caregiver can still look after the baby.
Special features. Although most people look for the basics to lessen the costs, a host of special features, such as voice-activated sensors, temperature monitors and sound-activated lights on the receiver can help you take better care of your baby even though you're away.
These are a few of the things to consider when buying a baby video monitor. However, the most important factor to consider is still the price. Video monitors can cost anywhere between $75 and $300, and not all the high-end models loaded with features do the job well enough to earn that price. At the end of the day, the actual need for a monitor still needs to be factored in, as most people who get baby monitors live in a small space where you can actually go and see if your baby needs attention. If your house isn't that big to begin with, a baby monitor, whether video or audio, is not all that necessary.