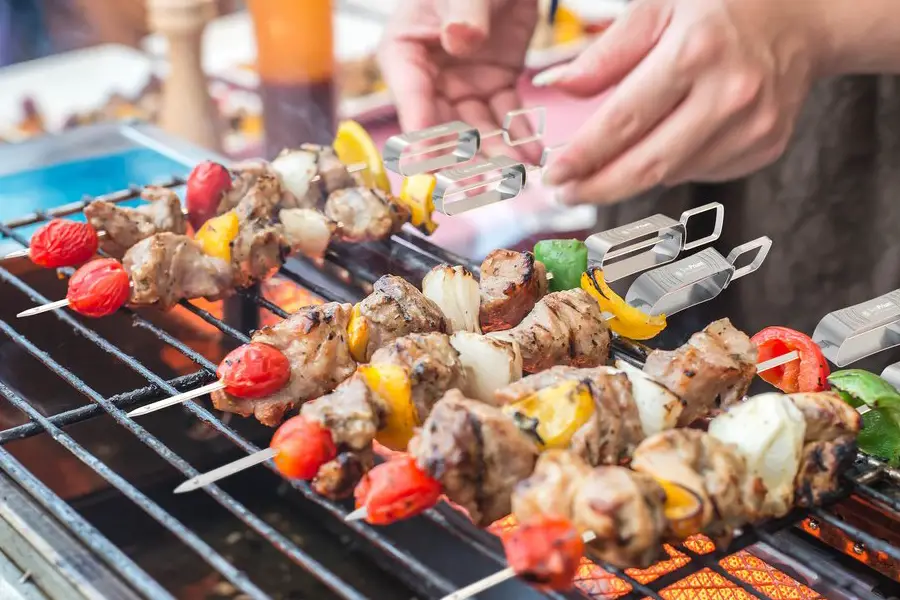 Barbecue Skewer Reviews
Shish kabobs are a tasty grilled item that many people love and not enough get to experience. One of the things that make shish kabobs much more enjoyable to serve is having the right skewers to cook them. There's just something about having those long skewers full of meat, mushrooms, onion and tomatoes that makes people's mouth water. There are many different types of barbecue skewers available although stainless steel and wooden skewers are the most common. The barbecue skewers listed below are all wire or steel and won't ruin your kabobs by splintering or burning. They are all easy to clean and are long lasting too, so you don't have to keep buying more. If you're looking for something different and delicious to serve at your next cookout, get some of these barbecue skewers and have an awesome shish kabob cookout. Finish up the evening with yummy toasted marshmallows which you can also use your skewers for. Your guests will love it.
Most Popular Barbecue Skewer
DelightBox
This 12 pack of barbecue skewers is just what you need for the perfect shish kebab cookout. Each one measures 12" in length and has a ring on the end for easy handling. The oval, slightly flat blade secures the food better so there are no "casualties" from food falling into the fire or onto the grill and the food won't spin either. They are made of durable steel construction for long lasting cookouts. No burning, melting or rusting and they are easy to clean! Perfect for skewering meats, vegetables, fruits and marshmallows.
12 per pack
12" in length
Slightly flat, oval blade for easier skewering and flipping
Re-usable and long lasting
Ring tip handle for easy holding
– Anthony Dawson
Best Overall Barbecue Skewer
Barbecue Stainless Steel
When the host of the popular cooking series, Barbecue University and author of the Barbecue Bible Cookbook comes out with a set of barbecue kabob skewers, you know they have to be good. These skewers are extra wide and flat making food more stable and easy to flip when you're grilling them. Each one is 18" long, allowing plenty of room for delicious pieces of meat, vegetables or fruits. Stainless steel construction is heavy duty and durable and will last you a good, long time with no flaking or rusting. Clean up is easy and they are dishwasher safe as well.
6 skewers in set
18" long x 3/8" wide
Flat skewers prevent food from spinning
Won't rust or flake
Stainless steel construction
– Anthony Dawson
Best Budget Barbecue Skewer
Fire Wire Stainless Steel
A truly unique and efficient way to grill kabobs that you will love. The stainless steel flexible skewer enables you to utilize all the space on your grill. Put the burgers or steaks in the middle and the flexible skewers can "wrap" around the outside of the grill, loaded up with delicious vegetables and pieces of meat. Once you put the food on the Fire Wire Skewer, it won't fall off or spin. Easily turn your skewered food by leaving one end of the skewer draped over the end of the grill and turn it when it's time. The ends stay cool due to the stainless steel construction.
If you love to marinade your food, the Fire Wire Skewers will keep your pieces of meat and vegetables secure. Put them on the wire, slip into a bag and stick in your fridge or cooler, saving space for other food and drinks. These Fire Wire skewers are made from 100% stainless steel and they won't rust or flake. Due to their length, you can put twice as much food on them as the straight skewers. They are also dishwasher safe! Perfect for all your outdoor shish kabob grilling needs. Once you use these, it's doubtful you will go back to regular straight skewers.
Utilize unused space on your grill easily
Put twice the amount of food on each one compared to a straight skewer
Great for marinating
100% stainless steel
Will never rust or flake
– Anthony Dawson