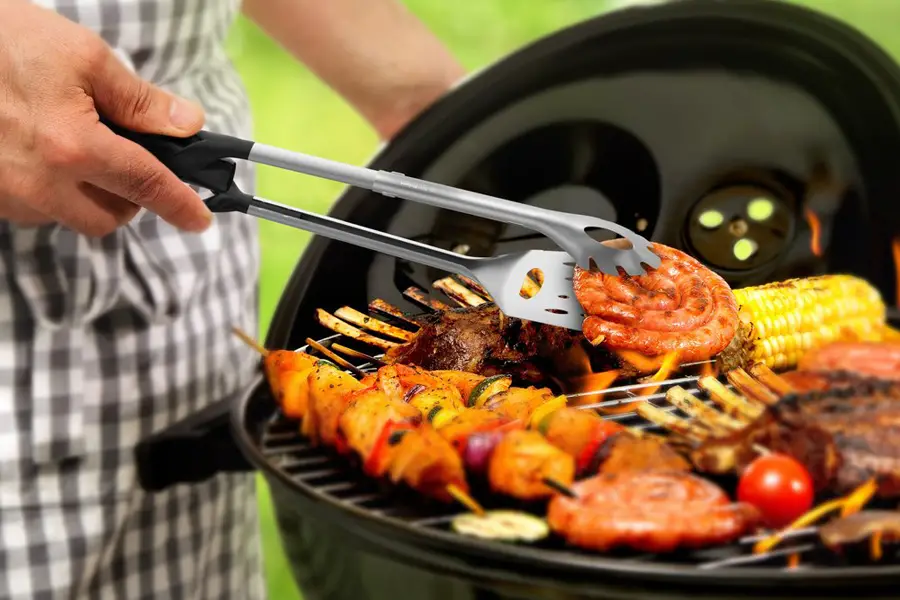 Barbecue Tongs Reviews
Barbecue tongs have many uses when it comes to grilling food on the grill or over an open flame. They are great for turning large steaks or pieces of chicken and are also useful for removing ears of corn and other larger items from the grill when they are done. Barbecue tongs come in all styles and designs and can be made from a combination of wood and steel, made of all steel or made of silicone, which is a newer and increasingly popular material used for making cooking implements as people realize how beneficial and easy it is to clean and use it. No avid griller should be found without a great set of tongs. The ones listed are all great quality and highly regarded and any of them will be great additions to your barbecue supplies.
Most Popular Barbecue Tongs
OXO
These super long 16" tongs from OXO Good Grips are the perfect tongs to use for your cookouts and tailgating parties. They are made from durable stainless steel and will last a long time. There is a loop on the handles that makes them easy to hang or lock them closed for easy storage in a kitchen drawer. Handles have nonslip, flexible grips ensuring comfort and stability during use and won't slip even if your hands are wet. The design of these tongs put less stress on the hand making them perfect for anyone who suffers from arthritis. Easy to use and easy to clean, these tongs could very well end up being your favorite barbecue tool to use, when you cookout.
Constructed of durable brushed stainless steel
Large loop for convenient hanging
Locks in a closed position for easy transport or storage in a drawer
Comfortable cushioned handles are great for those with arthritis
Dishwasher safe
– Anthony Dawson
Best Overall Barbecue Tongs
GRILLHOGS
The #1 best seller of barbecue tongs, this Mr Grill tongs will have you grilling in style. You won't have to worry about burning your hands with the 16" long handle which will keep your hands and fingers away from the heat and fire of your grill. The solid oak handles give you a solid and comfortable grip while you're cooking. These tongs are made from stainless steel and solid oak which means you'll cook in style. Long lasting and durable, you'll have these tongs for years to come with the proper care. Barbecuing can be messy business but these Mr Grill tongs are easy to clean with warm soapy water. Dishwashing isn't recommended due to the oak handles. Comes with a 1 year guarantee.
Stainless steel and solid oak construction
Long lasting and durable
No hot handles while cooking
Comfortable to hold
Easy to clean with warm soapy water
– Anthony Dawson
Best Budget Barbecue Tongs
StarPack Home
Heat resistant to 480 degrees, you won't have to worry about damaging them when using them with any grill. There are no removable parts which mean no places for bacteria to grow. The ring pull lock gives you a place to hang them up on a hook in your kitchen if you desire. These tongs will last years, with no rusting too, making them an excellent investment no matter how often you like to grill, you won't be able to wear them out.
Heat resistant to 480 degrees
100% Food grade silicone
BPA free
Stain and odor resistant
Non-stick friendly
– Anthony Dawson
Barbecue Tongs Buying Guide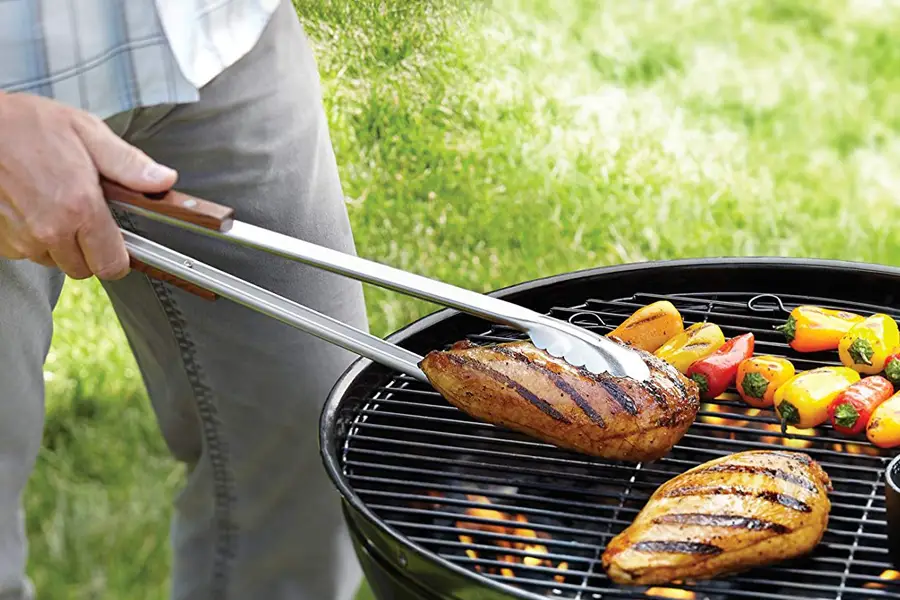 Tongs are truly among the many kitchen staples.Kitchen tongs are useful not only for turning bacon and sausages while frying, but are also excellent for draining water from pasta quickly even without the use of a strainer. Tongs come in a range of finishes and sizes that are suitable for use on both stainless steel and non-stick cookware. This simple guide will help you on your way to selecting and purchasing the best tongs for your kitchen.
Factors to Consider Before Buying
Going on a trip to the grocery store entails seeing different kinds of products you might want to buy for your kitchen. However, before purchasing the first kitchen tongs you see, make sure you are getting the right one. Below are a few things you should consider.
1. Materials
Just like other kitchenware, tongs are made from a variety of materials. The most common are bamboo, metal, plastic, stainless and steel; there are even tongs made using a combination of metal and plastic. Metal and stainless steel are the most commonly used. However, there are some people who prefer using wooden types because those seldom leave scratches on the insides of their pots and pans.
2. Locking Mechanism
Most tongs come with a locking mechanism to keep the edges of the tongs from prying apart. In stainless steel tongs, this is often a piece of metal curved around the area nearest the apex. There are locks that can easily be opened using one hand, while there are others that would need both hands. This is usually all about personal choices, so choose which works best for you.
3. Ideal Length
Kitchen tongs can be as short as 5 inches and as long as 18 inches. If you plan to use it for deep frying, choose a long-handled one for you to avoid getting your hand near the hot oil. On the other hand, you can use shorter tongs for a variety of things such as taking pickles out from the jar or taking bread from a toaster. You can even use tongs for handling ice cubes.
4. Head Style
The head style pertains to how the ends are molded. The most common head style — which also happens to be the most versatile — is the "scalloped edge." However, this type does not make very good ice tongs as the hollowed design will only make your ice cubes slide around. For this one, you might want to try tongs that have teeth-like heads. There are even tongs that are specially designed for turning pancakes over.
5. Closing Style
There are two main closing styles when it comes to kitchen tongs the normal sprung-open type and the scissor-like type. The scissor-like type's performance is often dependent on where the pivot point is. However, people who use this type of tongs might tire easily since grabbing stuff with it entails opening it wider. On the other hand, the normal sprung-open type is the ideal one when it comes to its versatility. All you have to do is slide your hand towards the working end for a tighter grip or towards the pivot point to open it wider.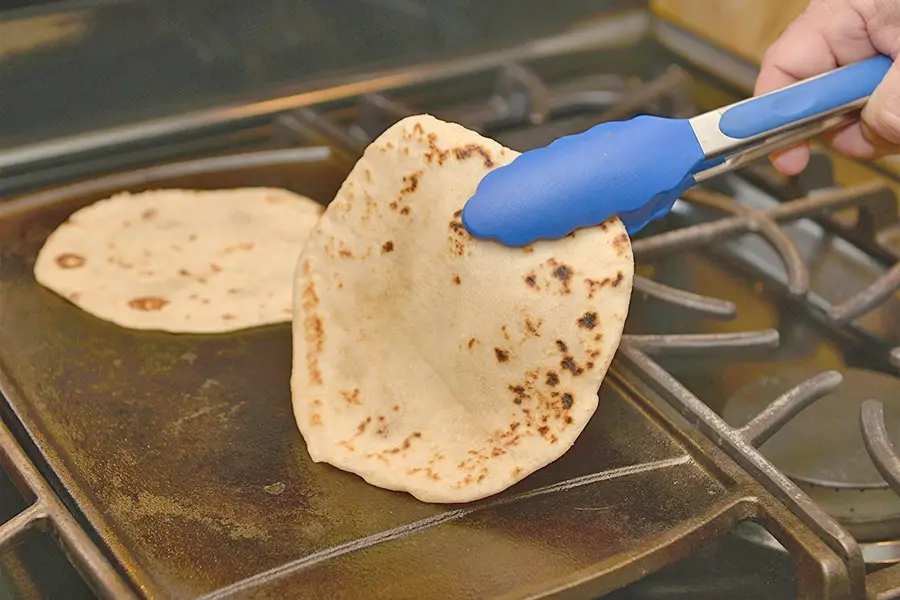 6. Grips
Most people avoid the scissor-like type of tongs because they find it harder to maintain its grip on food and other things they use it on. For sprung-open types, there are models that would have textured areas near the handle. Some even have pieces of rubber attached for a better grip. Wooden ones are sturdy but might pose problems with people whose hands are too small.
7. Hanging
Although this is a minor detail, you might also want to think of how you are going to store your tongs when not in use. If you want them stored inside a drawer, you can just look for one that you like regardless of whether or not you can hang them up. However, if you want to store your items on a hanging rack, you might want to choose one that can easily be hanged. Tongs that can be hanged often have some sort of a loop at the pivot point.
8. Comfort
The most important factor you should consider when buying tongs for your kitchen is the comfort. You will be using your tongs for a long time, hence it is only sound that you choose one that fits in your hand comfortably even while lifting food and other things with it. Give it a test run before proceeding to the counter to see if it doesn't cause any unnecessary strain on your hand.
Tips to Remember
A pair of kitchen tongs is your best weapon inside the kitchen. You will be using this handy kitchen equipment for a long time which is why you should make sure you are buying the right one. Here are some great tips to remember:
If you want tongs that will not scratch your non-stick cookware, choose one with silicone tips. This is also handy for handling slippery items such as pasta. Those with nylon tips also work great for non-stick cookware but might melt if left near the heat.
Tongs that have rubber and silicone grips protects your hands if the tongs get hot. This is especially useful if your hands are greasy or wet.
For comfort and easier maneuverability, there are spring-loaded tongs that are more flexible compared to scissor-like tongs. They even have tabs that can be pulled up to close the tongs for easier storage. These locking tabs can also have holes useful for hanging.
Tongs that are shorter means more control, and longer ones are more useful for high-heat cooking. If you want to grill outdoors, choose the longer one.
Although it might seem a simple and minor task to do, making sure you are equipped with the right information before buying your kitchen tongs ensures you will be purchasing nothing but the best. Consider which of the factors above matter to you most and from there, you will be able to select the right type of tongs for your kitchen needs.