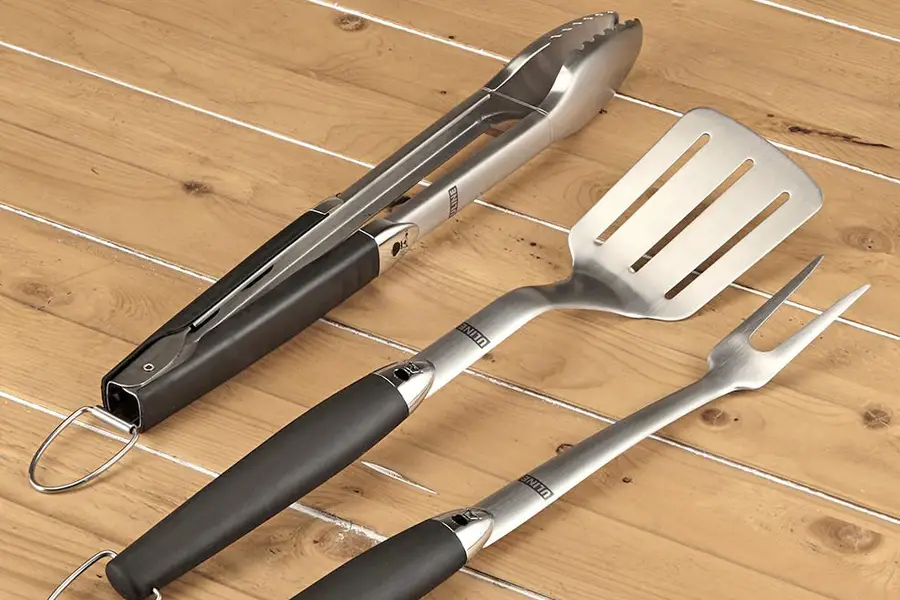 Barbecue Tool Set Reviews
Barbecue tools make grilling out much easier and enjoyable because there are no struggles to flip those big burgers or remove large, juicy steaks. There are several standard barbecue tools that you don't want to be without, especially if you do a lot of grilling or tailgating. Every barbecue tool set should include, at the very minimum, a set of quality tongs, a long handled barbecue turner and a prong fork. These three tools will handle prey much every grilling job you could encounter, from flipping to turning to removing finished food from the grill. Most barbecue tools are made of stainless steel and are durable and last a long time with the proper care. Some have wooden handles and others are stainless steel throughout as one long piece. It is really personal preference in terms of which kind you want. One thing that remains the same regardless of the set of tools you decide on is that they will make your grilling jobs much easier and reduce the risks of burns that you can sustain from using regular sized cooking utensils. There are other barbecue tools that you can get in addition to the main three, but having those basics will give you a great grilling foundation that you can expand on later.
Most Popular Barbecue Tool Set
Alpha Grillers
If you're looking for a great 3 piece set of tools that will make cooking on the grill easy and efficient, you will love these professional grade stainless steel barbecue tools. You'll get an 18" barbecue turner, lockable tongs and an 18" 2-prong fork. The long handles safely keep your hands away from open flame and the heat of a grill. The loops on the end of each handle are great for hanging up and storing them out of the way. All of them are dishwasher safe. The slotted design in the barbecue turner allows the grease to run out. The one piece designs are durable and strong and virtually indestructible.
Durable and long lasting stainless steel construction
Includes a barbecue turner, 2-prong fork and tongs
Dishwasher safe
Loops on the end of handles provide easy storage
Great for use with all types of grills and even open flame fires
– Anthony Dawson
Best Overall Barbecue Tool Set
KALREDE
This 8 piece set of barbecue tools from KALREDE that will make you the grill master of your house. Included in this great set by KALREDE is a set of tongs that lock, a long handled barbecue turner that is slotted so grease runs off, a dual-sided cleaning brush with a scrub side and a scraper side, and a 2-prong fork. These four tools allow you to do any grilling job with safety and ease. All four pieces have high quality non slip handles for easy use and the handles are long too, keeping your hands well away from the heat and open flame while you're grilling. Each piece has a loop on the end so hanging and storing out of the way is easy and convenient. Clean up is simple, either by hand or using the dishwasher.
Stainless steel construction
Non slip handles
4 tools for grilling ease
Dishwasher safe
Long lasting and durable
– Anthony Dawson
Best Budget Barbecue Tool Set
BBQ Grilling Tools Set
This professional grade, heavy duty stainless steel barbecue tool set will take care of all your barbecuing needs. They are made with 20% thicker stainless steel than normal grill sets are made with which means they will literally last a lifetime because they won't bend at all with even a lot of use. Included in this set is a barbecue turner/spatula, a meat carving, two-prong fork and a set of oversized tongs. The extra long handles protect your hands from fire and heat from the grill. You can use these stainless steel heavy duty barbecue tools over an open fire or with any type of barbecue grill. All three are dishwasher safe and rust proof.
Heavy duty stainless steel construction throughout
Includes 2-prong fork, large barbecue turner/spatula, and an oversized pair of tongs
Dishwasher safe
Rust proof
20% thicker stainless steel than other normal barbecue sets
– Anthony Dawson