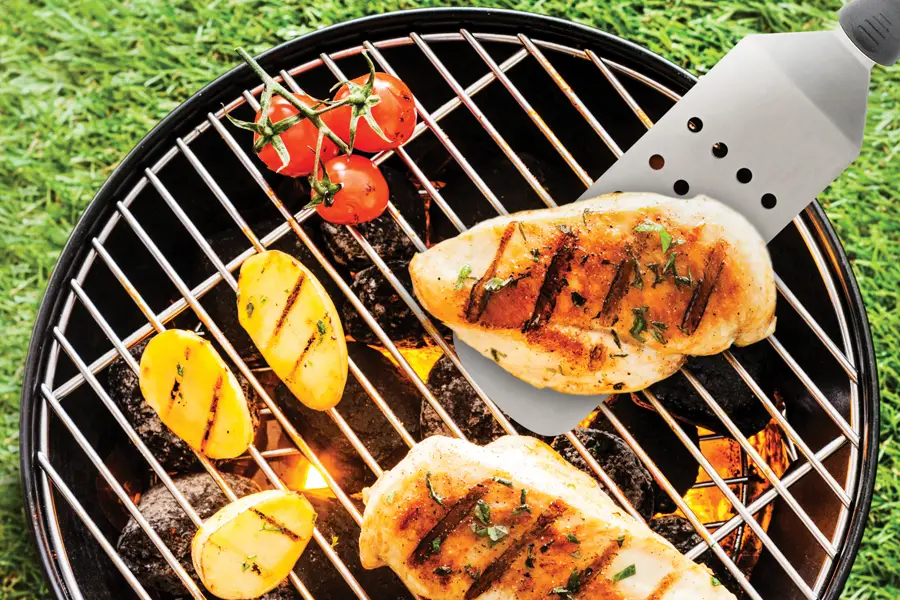 Barbecue Turner Reviews
Having a good quality barbecue turner for your cookouts makes grilling much more enjoyable. Regular size turners, or spatulas as they are sometimes called, can get your hand and arm too close to the flame of the grill and make it much easier to get burned. Barbecue turners come in all sizes and styles. You can get stainless steel, a combination or wood and steel, and even cast iron. When you look for the right one for you, take into consideration the type of grilling you do on a regular basis and decide which type will fit your needs the best. Most people have several barbecue tools they use, but a food turner is one of the most important due to how often hamburgers, chicken and other flipable foods are grilled out. Barbecue turners make excellent gifts for the grill lover in your life because they are typically very serious about their cooking out abilities. Giving them an excellent quality barbecue spatula/turner can be a great addition to their grilling tools and make cooking out even more enjoyable for them.
Most Popular Barbecue Turner
NCAA Michigan
Get all kinds of attention at your next tailgate party with this incredible NCAA Sportula Barbecue Turner. The unique laser-cut design puts your favorite college team in the spotlight. Attractive, hard maple handle has brass rivets to keep the blade securely attached. Has a convenient, built in bottle opener and heat stampled lettering on the handle too. Choose your favorite college team and grill their logo right into your burger with the unique logo cut out that is right in the spatula face! Durable and long lasting, these barbecue turners are easy to clean; just hand wash in the sink with warm, soapy water. Dishwashers are not recommended.
These make incredible gifts for anyone who loves to cook out and loves college basketball too!! Do you have loved ones in the Marines, Navy or Coast Guard? You can get them a special barbecue turner/spatula with any of those laser-cut into the blade for a truly unique and special gift.
Stainless steel construction for long lasting durability
Laser-cut design into the spatula face
Built in bottle opener
Heat stampled lettering on the handle
Beautiful hard maple handle with brass rivets for strength and stability
– Anthony Dawson
Best Overall Barbecue Turner
Weber
Handle any grilling job with ease with this 18" barbecue turner/spatula from Weber. High quality stainless steel spatula face gives plenty of room to turn even the largest burger. A solid oak handle looks stylish and is comfortable and easy to hold while you're grilling. A unique feature of this barbecue turner is the built in bottle opener conveniently located inside the spatula face. You can easily enjoy a drink without even having to put your spatula down! This barbecue turner comes with a 1 year guarantee, but with proper care and keeping it clean, you can have it for years. Easy to clean, just hand wash in the sink with warm, soapy water. Not recommended for the dishwasher.
Stainless steel construction for durability
Built in bottle opener
1 year guarantee
Solid oak handle for comfort and style
18" long from end to end
– Anthony Dawson
Best Budget Barbecue Turner
Update International
Be the grill master of your neighborhood with this extra-large commercial grade barbecue turner that can handle small and large food with ease. The blade of the spatula is made of durable and long lasting stainless steel that has been secured to the handle with rivets for stability and strength. The tapered smooth wood handle is comfortable to hold. One edge of the turner's blade has the ability to cut the food during the grilling process. This feature alone puts this barbecue turner leaps and bounds over others. With proper care and cleaning, this 16" long by 4" wide barbecue turner will last a long, long time.
Large stainless steel spatula face for easy turning
Handles large and small portions easily
Strong, smooth wooden handle for added strength
Riveted handle
One edged side acts like a knife for cutting during the grilling process
– Anthony Dawson