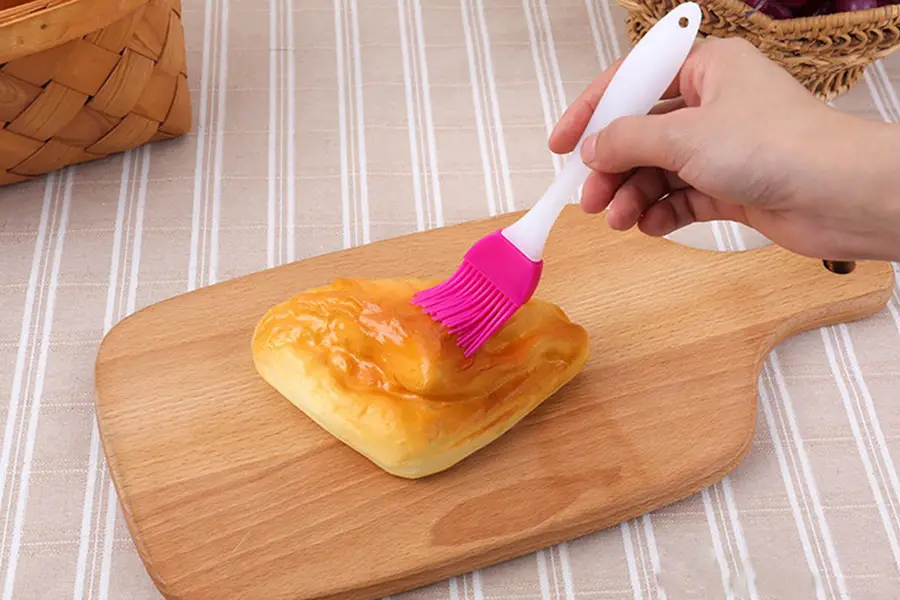 Basting Brushes Reviews
Basting is a cooking process that adds liquid to food to increase flavor and keep the food moist during the cooking process. The most often used kitchen tool for this basting process is the basting brush. Basting brushes are typical long handled brushes with bristles made from natural or synthetic materials. Silicone basting brushes are really popular now and most cooks seem to prefer them due to how well they work, how long they last and how easy they are to clean. Using a basting brush is a great way to control where the basting goes and how much of it gets applied. Most of the time basting brushes are used for glazes, marinades, and sauces but they are also very popular as pastry brushes. When you are looking for good basting brushes to add to your kitchen tools, look for several different sizes so all of your cooking needs can be met. If you're using silicone bristled brushes, you will not need to have separate brushes for pastry and basting due to the fact that they can be thoroughly cleaned to avoid contamination of any kind.
Most Popular Basting Brushes
Silicone Basting Brush and Pastry Brush for Kitchen
Kitchen Joy's silicone basting and pastry brush is rated #1 and cooks everywhere love using them. The attractive clear design and turquoise accents add color to your kitchen tools and make all basting jobs easy and simple. You get three of these wonderful basting brushes to use for all your basting, pastry and barbecuing needs. Heat resistant to 450 degrees without melting, discoloring or shrinking, and they are also stain and odor resistant. The lightweight handle gives you a great comfortable grip. The Kitchen Joy basting brush is made of 100% food grade BPA free silicone making it easy to clean. You won't need any other basting brush once you have the best in your kitchen drawer. Includes a 1 year money back guarantee that is no questions asked. If you're looking for a great quality basting brush that can do it all, you will love Kitchen Joy's basting brush.
Heat resistant up to 450 degrees
Ergonomic handle for easy, comfortable grip
Lightweight and easy to use
Attractive clear design with turquoise accents
Built to last and Strong enough
– Anthony Dawson
Best Overall Basting Brushes
GrillPro 41090 Basting Brush
This 2 piece silicone basting brush set by GrillPro is the perfect addition for any cook's kitchen and you don't have to be a professional to use them. They will ensure that you get your sauces and marinades on in just the right places. You get a 15" brush with an angled head and an 8" straight brush. Both are made of silicone and are heat resistant up to 500 degrees. These two brushes will take care of all your basting needs and can be used as pastry brushes too. Dishwasher safe for easy cleanup. If you're looking for a unique stocking stuffer for a loved one that loves to cook, these basting brushes fit the bill.
2 basting brushes included
Made of easy to clean silicone
Heat resistant to 500 degrees
Safe for the dishwasher
Two convenient sizes
– Anthony Dawson
Best Budget Basting Brushes
Basting & Pastry Pinceles
Three different sized basting brushes cone in this useful set. The lengths of the brushes are 7.5", 8.5" and14.5" covering every basting job you may have. Each brush is about 1.5 inches wide. Silicone heads are removable for thorough cleaning and are great to use with any type of marinade and sauce due to the fact that the sauces won't get clogged up in the brushes. The silicone in these brushes, are heat resistant and dishwasher safe too. Great for basting, barbecuing and as pastry brushes too and because of the silicone, you don't have to use separate brushes for these jobs as long as they are cleaner properly between uses.
3 brushes included – 7.5", 8.5", and 14.5".
Silicone heads snap on and off for thorough cleaning
Heat resistant
Dishwasher safe
1.5" wide brushes
– Anthony Dawson