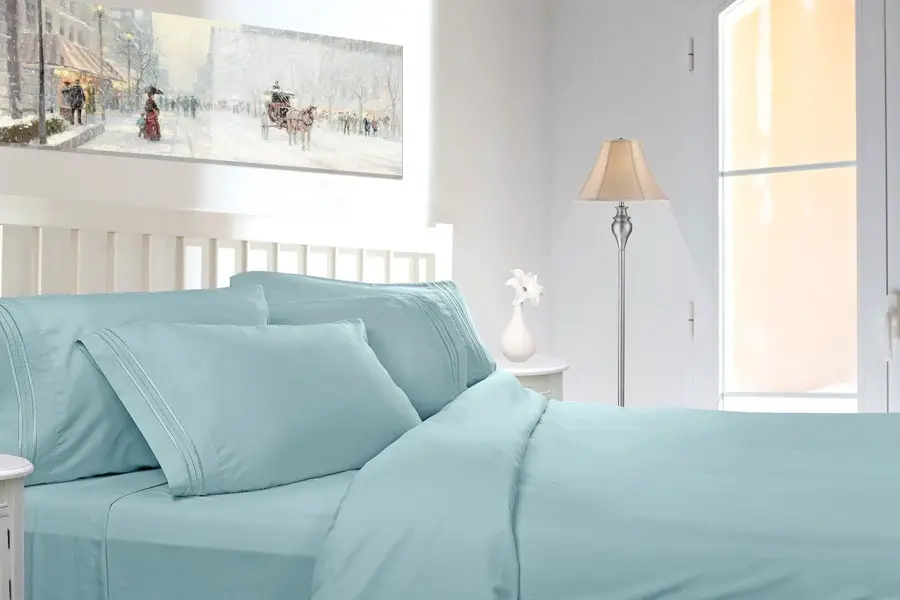 Bed Sheet Set Reviews
A Bed sheets set is a bundle of bed necessities including the flat sheet, fitted sheet and pillow case. Often other bed coverings are including in sets or sold separately. Duvet covers and shams are often available in coordinating colors or designs. Bed sheets can be made from a number of different materials including cotton, Egyptian cotton, micro fiber, polyester, silk and satin. Additionally, sheet come in many different colors and designs and may have additional features such as wrinkle free, resistance, embroidery, decorative stitching and high thread counts. We have brought together all of the Bed Sheet Sets and narrowed the list down of the ones we think are the best.
Most Popular Bed Sheet Set
Pinzon
The Pinzon Hemstitch 400 ThreadCount Sheet Set (100% Egyptian Cotton) is imported and made from 100% Egyptian cotton. Egyptian cotton is used to make some of the highest quality linens in the world, and these 400 threadcount Sateen Pinzon sheets offer luxury through a smooth understated, lustrous surface. The Sateen is flexible and airy with lovely, elegant, chain effect stitching and is also available in sham sets that are coordinating. The Pinzon Hemstitch 400-Thread-Count 100% Egyptian Cotton Sheet Set can be paired with both solid and patterned bedding and additional pillowcase sets to give your bedroom a designer, luxurious look. The Pinzon Hemstitch 400-Thread-Count 100% Egyptian Cotton Sheet Set is comes in a variety of sizes and colors. There is snug fitting elastic on the fitted sheet which will expand to 18" for tall mattresses. 6 inch hems are sewn on the flat sheet edges and on the pillowcase. Additionally, the flat sheet and all pillowcases feature six" hems.
Imported, 100 Percent Egyptian Cotton
Comes in a variety of colors
All sizes available
400 ThreadCount
Fitted sheets fit on deep mattresses
– Anthony Dawson
Best Overall Bed Sheet Set
Clara Clark
The name "Clara Clark" screams high quality and upscale living yet is affordable. This complete 7 Piece Bed Sheet and Duvet Cover Set is just what your bedroom needs to turn it into a room you will never want to leave. The Clara Clark Complete 7 Piece Bed Sheet and Duvet Cover Set are made soft, comfortable and attractive while being easy to care for; machine washable, wrinkle-free and fade-resistant. The Complete 7Piece Bed Sheet and Duvet made of brushed microfiber has a tailored look and a cool, lustrous feel. Each piece is very soft and silky to the touch and the beautiful embellished stitching on the pillowcases pop with class and style. The fitted sheets have deep pockets which are fully elasticized which guarantees a secure fit for mattress depths from 16″. The brushed microfiber is strong and durable and ranks high with expensive cotton. Microfibers are a great alternative to the more expensive fabrics and is extremely durable and will not pill.
Variety of high-fashion colors
Twin, Full, Queen and King (Cal & Split) available
Easy Care
Fade Resistant
Wrinkle Free, No Ironing Necessary
– Anthony Dawson
Best Budget Bed Sheet Set
SandersCollection
The JS Sanders Wrinkle Resistant – 1200 Series Silky Soft Luxurious 4-Piece Sheet Set has deep pockets which fit up to 16" high mattresses. These deep pockets are fully elasticized so a secure fit is guaranteed. The JS Sanders 1200 Series Silky Soft Luxurious 4-Piece Sheet Set is fantastically wrinkle resistant which means a soft and elegant look without the ironing. The sheet set is soft brushed microfiber which is made from durable polyester and has the comfort, feel, luxury and softness of 1200 thread count Egyptian cotton. Many sizes and colors are available and the sets include 1 fitted sheet, 1 flat sheet and pillowcase(s). You'll be treating yourself to the ultimate luxury at a reasonable price. Enjoy a variety of sets in different colors to mix for matching your décor. A great way to experience true, relaxing luxury.
Deep pocket to fit extra thick mattress
Wrinkle Free
1200 Thread-Count Feel
Many Size and Colors Available
Ultimate Luxury, softness and comfort
– Anthony Dawson
Bed Sheet Set Buying Guide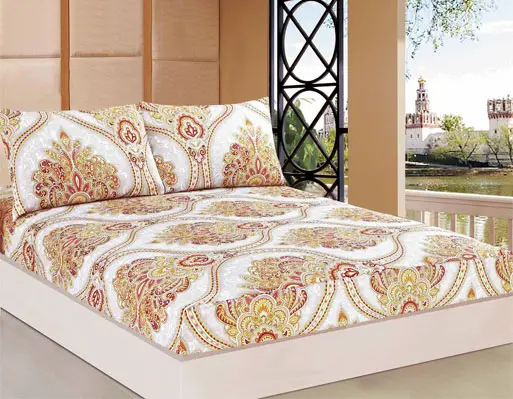 After a long tiring day at school or at work, the number one thing that we usually crave for is not food, but our bed. Nothing is better than lying on a soft and comfy bed, burying yourself in soft fluffy pillows and just drifting into a long sleep. Most of us spend the longest time of their day under their covers, so it's really necessary to have a good quality bed sheet set. We often buy bed sheets that have attractive designs on it, but you should know that it's not the sole criterion for picking the best bed sheet for your bed. So what's a great pick when it comes to bed sheets?
Purchase Consideration
1. The Right Size Bed Sheets
Of course, it is important to buy the right size of sheets for your bed! You should buy appropriate sheets for single, twin, double, queen, king, wide double, olympic queen, super king, california king and king long bed sizes. You should know that sizes are not limited to small, medium and large! You should know the specific size of your bed so you won't have to go back to the store just to switch sizes.
2. Bed Sheet Thread count
Thread count is the number of threads per square inch. 200-400 thread count sheets are usually soft and lightweight they are the standard quality. 300-400 are slightly greater in quality than that of the former. 400-900 are more expensive, but are soft and silky in texture. And for the luxury-feel type, 1000 or higher thread count are in. They are usually very soft, but finer thread also results to more fragile and non-durable sheets. So as to not sacrifice the texture, price and its durability, it's best to settle to 400 to 900 thread count.
3. Ply
Ply, as in tissues, is the number of twisted fibers that are woven into the sheets. They are the so-called "number of layers" of fibers. So this means that the higher the number of ply, the heavier is your sheet and the more durable it is. Sheets with around 600 thread count are usually only a single ply, so if you prefer thicker and durable sheets, it is best to opt for 1000 or higher thread count.
4. Weave
A weave is the intersection of the threads perpendicularly over each other. There are three types of weaves: (1) percale weave, (2) pinpoint weave, and (3) sateen weave. Percale weave is just like the standard weave where one thread is woven over the other but this weave is slightly tighter. It usually results to a smooth sheet. Pinpoint weave is where two threads are woven over one. It is not soft as the percale weave, but it is greater in quality. Sateen weave is where four threads are woven over one. This usually results to a soft and silky sheet that is of high quality.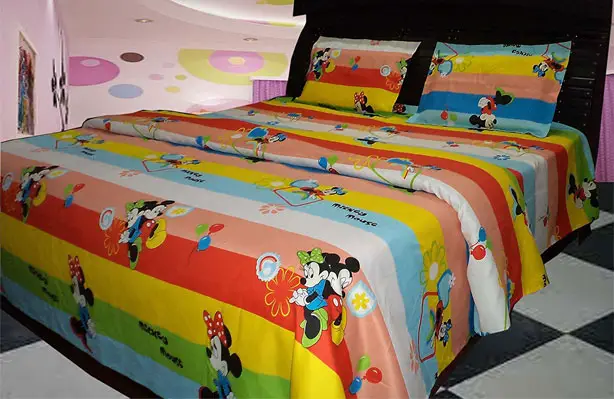 5. Suitable fabric
Not all fabric used in bed sheets is cotton. Referring to the fabric as only "cotton" is appropriate for there are many types of cotton.
Pure Cotton Bed Sheets – Transmit coolness on the skin and undeniably soft and lightweight, but it is also prone to wrinkling. When you have kids at home, these kinds of sheets are hard to maintain for kids tend to play on beds and the bed sheets are almost always disoriented.

Combed Cotton Bed Sheets – These are sheets wherein the short fibers are eliminated. Therefore, it will feel smoother than that of the pure cotton.

Egyptian and Pima Bed Cottons – These are one of the best fabrics that can be recommended for these kind of cottons contain long fibers, thus it will not only result to smooth sheets but also silky and cool. They can definitely be listed to the roster of high quality sheets.

Organic Cotton Bed Sheets – They are the most practical sheets that you can buy from the local stores. The fiber used in weaving this kind of sheet is obtained from the plants that are usually planted around the country. With this kind of sheet, you'll feel that you're closer to your environment and you'll feel safe being in contact with it because its origin was not exposed to pesticides and the likes.

Cotton-polyester Bed Sheets – These are less smooth and soft than that of the pure cotton, but it is more durable and not prone to disorientation for the polyester material helps in creating a strong bond with the cotton fabric.

Flannel bed sheets – It is a soft fabric, but less soft and smooth than the pure cotton. With this kind of sheet, the person that will be in contact will feel enough warmness that is perfect for a cold weather.
6. Finishing
Most sheets, except for the organic cotton sheets are usually treated with chemicals to prevent disorientation or wrinkling. This is ideal for some because fixing and straightening sheets from time to time are troublesome and time-consuming, but it could affect our health by tendencies of having a skin allergy from them. Pure-finish sheets are the sheets that are not treated with any chemical. For sensitive people, this kind of sheet suits best. Who would want a high quality sheet but will give you itch all night? Of course, none! So it's best to have pure-finish sheets and just be patient in fixing the sheets after use.
7. Pattern or Design of Bed Sheet
Last but not the least, of course, the pattern of the sheets! Who would want a plain boring sheet? It's always better when it's patterned! So, how to pick the perfect pattern? It should go well with your wall painting. If your walls are painted with a single color, it's best to have patterned sheets so your bed will be the center of attraction of the room for it will be emphasized more than your walls. If the wall color is dark, go for light-colored sheets while if the wall is light, opt for dark-colored sheets. It's all about opposition! On the other hand, if your wall is heavily-patterned, plain light-colored sheets suit best while if the pattern is only light, you can go for plain dark-colored sheets. But, the choice will always be yours! No one can judge you for picking sheets that you think suit your room well, as long as you'll always have a good night sleep.