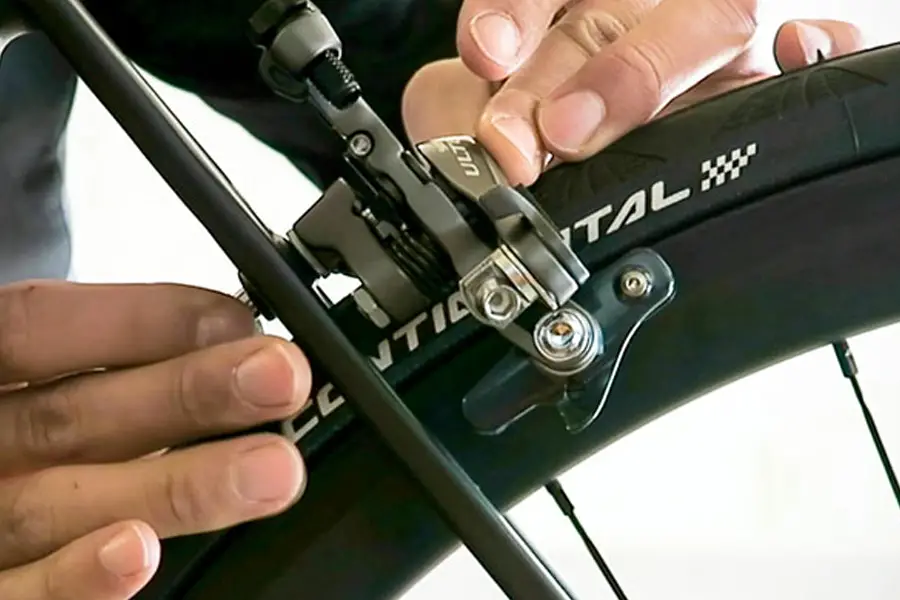 Bike Brake Reviews
When you're looking to buy new breaks for your bike, you're probably asking yourself if you should go with rim brakes or disc breaks. This is an important question, but most cyclists have a simple answer: rim brakes. I know what you're probably thinking; that everyone is hailing disc breaks as the latest and greatest, but rim brakes remain the only tried and true solution for BMX, cyclocross, road bikes, city bikes, and lower end mountain bikes. Because they work so well for so many different kinds of bike, they seem to still be the go-to solution on the market. The rim brakes of today offer tremendous stopping power with a lightweight design. That being said, there are cantilever brakes, and these are perfect if you're a cyclocross racer. They're also light, and won't clog up. Lastly there are V-brakes, which are perfect for commuter bikes and low-end mountain bikes. These breaks are incredibly easy to maintain and super simple to set up.
Most Popular Bike Brake
SRAM Apex Road
The dual pivot stopping power of the SRAM 2014 Apex road breaks is turning heads and making waves. Not only are these puppies designed to perform, they are also intended to just plain look cool. When these breaks are activated, you get an immensely powerful response thanks to the external centering adjuster and the proprietary pad compound. The sleek, black gloss finish really make these brakes stand out. It's very rare that you find a high-performance break that actually looks nice on the bike. This model wasn't meant to disappear on your bike as an afterthought, but to stand out as another awesome feature on your bicycle, which you can be proud of. The high quality quick release is just another feature that makes this brake work with the best of them, and perhaps even better. The weight of 308g per pair is admirable, and this model works with 28c tires as if they were made for one another.
Awesome black gloss finish
Convex washers
SRAM/Swiss Stop Compound pads for ultimate breaking power
308g weight per pair
– Anthony Dawson
Best Overall Bike Brake
SRAM Red Aero
There's nothing glamorous about brakes. In fact, when it comes to cycling, it's all about the need for speed, and therefore the mechanism the diminishes this speed is often overlooked. However, these SRAM red brakes are just about as flashy and awesome as you can get, with even more improvements on the original Red Caliper. What the new design has done is reduced the weight of the calipers while improving the breaking power, all without compromising the aerodynamic quality of that front tire. This is all thanks to the AeroLink arm, which they're in the process of obtaining a patent for. These brakes will last you forever, and will not be worn down by the bad weather that cyclists so often face. This is thanks to the quick release lever that is easier to access than ever, as well as the four-position indexed release. With all these features, you would think the SRAMs wouldn't stand up to the wider tires that are so popular today, but they stand up to them with ease.
Indexed 4-position quick release
Lightweight, sleek, and aerodynamic
Aero barrel adjuster
Improved modulation on AeroLink arm
– Anthony Dawson
Best Budget Bike Brake
SHIMANO
With tremendous breaking power and unsurpassed control, the Shimano Acera mountain bike breaks are powered by their 107mm arch that offers better clearance than ever before. You can tell right out of the box that the quality construction of these breaks is just unreal. Built to make it easy to create and release tension, they also have a marvelously intuitive design that kind of makes you wonder why no one had thought of it before. The small pads have an enormous surface area for fantastic breaking power. When you're riding down some loose terrain, there's nothing more important than your breaks. Speed and acceleration may be coveted on the road, but mountain biking puts a much greater emphasis on the importance of breaks. Not only do the Shimanos work like a dream but they are also pretty much dirt cheap. You owe it to yourself, and your safety, when riding your bike off roads to have breaks that you can rely on. Harsh weather will not wear these down, and the durability of these little guys is going to make them last a long time.
Amazing breaking power and superb control
107 mm arch for fantastic clearance
Small in size, with tremendous surface area
Intuitive design that is easy to install
– Anthony Dawson
Bike Brake Buying Guide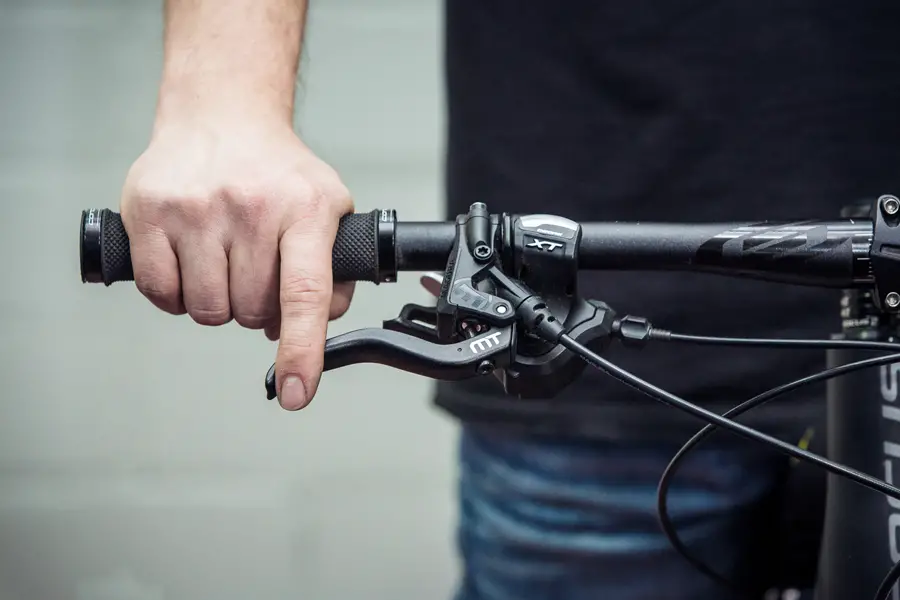 Purchasing new brakes for your bike is perhaps one of the most important maintenance tasks you will perform. There are many different brands, types and models to choose from. This can make narrowing the selection down to the best brakes for your particular bike difficult. That is why this guide has been created to help you to understand how to go about identifying which brakes will provide you with the best performance and safety when using your bike. The tips and recommendations you'll find will make the choices available to you much clearer and will help you to make your purchase with a greater sense of purpose and confidence in your choice.
Things to Consider When Choosing Bike Brakes
There are a few things that need to be taken into consideration when deciding which brakes will be the best option for your bike. The first is the type of bike that you own including the brand, size, model and current brake setup that you have. If you are satisfied with the performance of the brakes you've been operating with then your choices have just been narrowed down to one option. If you need more in terms or reliability or performance, then it's time to take a look at the different options available.
Types of Bike Brakes
Caliper Brakes
These are popular because they are easy to setup and maintain. Many professionals go with this option because they provide an excellent means of controlling the braking along with fast stopping power.
This type of brake comes in a variety of styles, the most common being the dual pivot brake with consists of two main parts. If you are looking for more aerodynamic gains, the direct mount brake fittings which work the same way that dual pivot brakes do is available. The main difference is that these brakes are mounted on the seat or chainstay and the fork legs with two fixings, as opposed to the central pivot mounting bolt.
V-Brakes
They are great choices for mountain bikes, cyclocross bikes and also, more recently recommended for road bikes. They mount onto the frame and forks via the bosses. The benefit of V brakes is that the stopping power is tremendous and additionally they offer exceptional clearance for mudguards and work well when used in off road environments.
Cantilever Brakes
They are commonly used in cyclocross bikes. Each leg of the brake mounts to a boss on the forks/frame and they work by means of a center pull cable that hooks into a straddle cable which is then connected to the brake legs. These brakes are some of the most lightweight. They are best for use in cyclocross racing because not as much braking power is required. They only provide moderate braking power and their setup can be extremely difficult.
Disc Brakes
These are among the most popular and common type used in all types of bikes from road bikes and cyclocross, to commuter bikes. The disc brake is mounted to a hub and the brake caliper affixes to the fork. The cable type may be hydraulic, cable or a combination of each. They offer the best braking power in wet conditions.
There are advantages and disadvantages for each option available for bike brakes. What makes a particular style the best choice is dependent upon the type of bike that you are using and the uses that are intended for the bike.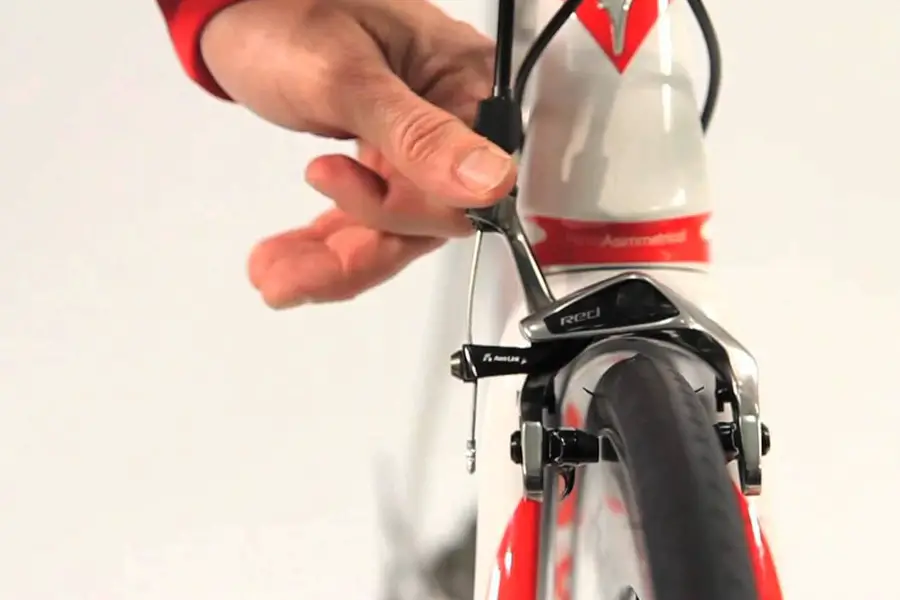 What to Look for in Bicycle Brakes
This depends upon the type of bike and the ways you will be using it. If you are into cyclocross, then you won't need to have superior braking power and cantilever brakes will provide a lightweight means of having just enough stopping power to suit your needs without adding unnecessary weight to the bike. V brakes are also a popular choice for cyclocross.
Commuters may find the benefits of disc brakes as they provide the best stopping power when conditions are wet, such as can happen when commuting in light rain and it does happen even if you don't plan on this. Disc brakes are also a good choice for mountain bikers who go off-road and encounter moisture from mud and the elements.
Mountain bikers will find that the V brake setup will accommodate the mudguards with adequate clearance and provide the level of stopping power and control over the brakes that is necessary for the activities being performed.
These are a few examples of the scenarios that could prompt you to make one choice or the other, depending upon how you will be using the bike and the type of bike you are using. In the end, the choice is yours. The best choice in bike brakes is the one that will provide the safety features and enhancements in performance that you wish to obtain.
Now that you've narrowed down the assortment of choices, look for bike brakes that are moderately priced. Comparison shopping can help you to find the best value for your money. Find the brakes that are in line with what you have budgeted to spend on them. If you are unsure about the quality of a certain brand, take a few moments to check the online customer reviews. This will tell you what other people have experienced in terms of overall quality, performance and whether or not they would recommend them for purchase to others.
Conclusion
It is true that there are several different types and styles of bike brakes available. Although the choices can seem overwhelming at first, one quick look at the type of bike you own and the kinds of biking you will be doing will give you the information that you need to match the activities with the brake setups that will give you the best in safety and performance. This makes having a wide variety of choices a good thing. By absorbing the information provided and learning how each specific type of bike brake functions with their pros, cons, strengths and weaknesses, you are better able to match them with your unique needs and goals.