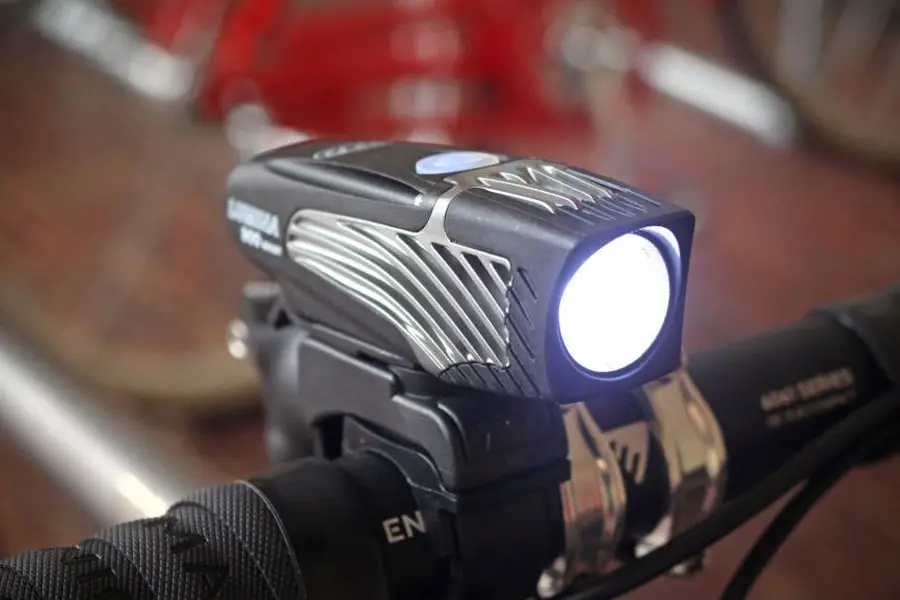 Bike Light Reviews
In order for a bicycle to be street legal for nighttime riding, it has to adhere to Road Vehicle Lighting Regulations (RVLR) standards. Those standards require that any bicycle ridden at night to have a front-facing white light, a rear-facing red light, a rear seat reflector and four pedal reflectors. While the reflectors come standard on most bikes, front and rear light are aftermarket accessories that the cyclist is responsible for if he/she intends to ride at night or in dim light. Bike lights have been around for a while and have featured a variety of bulb types. These days, the LED light is becoming the preferred bulb of choice as it provides the brightest and most consistent light emission and the longest battery life. One thing to keep in mind when choosing bike lights is that they are intended to help you be seen by vehicles, other cyclists, and pedestrians; they are not meant to help you see.
Most Popular Bike Light
Cygolite Metro
Rechargeable and capable of emitting 420 lumens of light, the Cygolite Metro Bicycle Headlight is not only environmentally friendly, but also designed to brighten up your environment when cycling in low light and at night. The light uses a super bright 5-watt LED light powered by a single lithium-ion battery that can be recharged using a USB cable to the wall, computer, or car outlet. The upfront cost may be high for some, but the Cygolite Metro will more than pay for itself when compared to the cost of replacement batteries. The light has 5 different settings: low, medium, high, day flash, and steady pulse. The new steady pulse mode offers 2-in-1 functionality by flashing to alert oncoming traffic to your presence while continually lighting the path in front of you. At only 110-grams, the light is lightweight and compact and easily mounts to most handlebar setups. The light is also water resistant, so you don't have to stay off the road just because of a little rain.
Uses Cree X Lamp LED that offers 5-watts of power to product 420 lumens of ultra bright light
Charges with a USB as so save cost of replacement batteries and cut down on unit weight
New 2-in-1 pulse mode simultaneously broadcasts constant headlight and flashing lights
One charge lasts up to 25 hours
– Anthony Dawson
Best Overall Bike Light
Xtreme Bright
Sometimes you see a product that advertises its abilities in all capital letters and exclamation points to grab your attention and get you to buy. It's rare that these products live up to their punctuation and grammatical effect. That's not the case with the Xtreme Bright LED Bike Light, advertised as the brightest LED bike light available on Amazon. While that may be a stretch, users are raving about the light's performance, especially when it only costs a fraction of the price of name brand competitors. When you purchase a bike light you're buying a safety product, but it never makes you feel good when it takes over an hour to install and you find yourself going back and forth to the toolbox. Fortunately, the Xtreme Bright Bike Light installs in mere seconds with no tools required. The light is waterproof to allow for use in all riding conditions. Powered by 3AAA batteries, the light only offers about 130 lumens, but its plenty bright enough to shine a path up to 500 feet in front of you, allowing you to see where your riding and others to see you coming. The light can shine in full bright, half bright, and flashing modes to adjust to different levels of light and riding conditions. A big plus to purchasing this product is the inclusion of a bonus tail safety light, giving you a one-stop shop to adhere to the front/back accords of the RVLR. Additionally, the light easily removes from its mount to double as a normal flashlight, with more power than most at that.
High, low, and flashing light modes available
Bonus taillight included with purchase of headlight
Backed by full refund if dissatisfied with product
Rated as brightest LED bike light on Amazon
– Anthony Dawson
Best Budget Bike Light
Cygolite Hotshot
There is a common theme among the Cygolite lineup of bike lights: they are bright, compact, and rechargeable…qualities any cyclist can appreciate. The Hotshot Taillight offers up 2-watts of LED light, powered by a USB rechargeable lithium-ion battery that takes away the cost associated with replacement batteries while also helping to reduce the size and weight of the product. The Hotshot has 5 lighting modes: steady (stays on), zoom (full bright), triple (3x flash), single (1x flash), and random (random flash pattern). The light can run nonstop for up to 500 hours on a single charge depending on the mode its set in. Fortunately, you don't have to decide before you embark on your ride which mode you prefer, as the Hotshot is On-Site Programmable (OSP) that allows you to adjust flash speed settings while on the move. The light comes with a mount for direct attachment to the seat post and has an integrated clothing clip for attaching to your messenger bag, backpack, or seat-mounted tool pouch.
OSP technology allows for light mode adjustment with the push of a button while on the move
2-watt LED light powered by USB rechargeable cable lasts up to 500 hours
Five unique flash modes
Integrated clothing clip and included seat post mount
– Anthony Dawson
Bike Light Buying Guide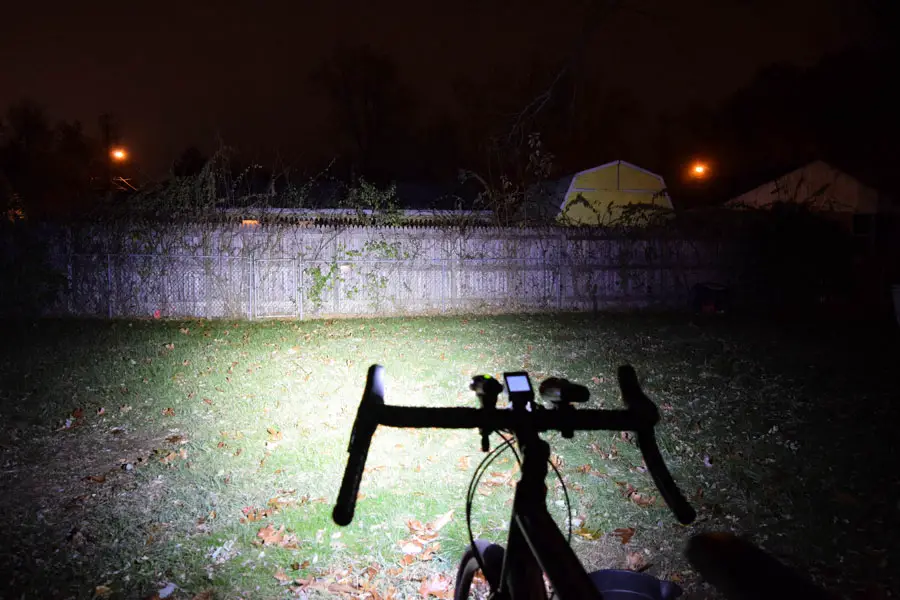 Regardless of the type of biking or cycling that you do, having a set of bike lights that is reliable is vital to your well being and safety when traveling in poor lighting or darkness. Even if you don't plan on being out in the darkness, you never know when circumstances could call for the need to ride in these conditions. There is a vast array of different brands, models and intensities of bike lights available. With so many to choose from it may be difficult to know where to begin. This guide is designed to provide you with useful information about what to look for in bike lights for any type of riding that you do. The tips and recommendations can help you to understand which lights will be the better choice to meet your needs and suit your personal preferences.
Establish Your Needs
The type of bike that you have and the kind of riding that you do will have a big influence upon which bike lights will be best suited for you. Whether you enjoy mountain biking and enjoy the view of the stars at night while riding the trails or are a commuter that is cycling through cities or rural areas to make it from point A to point B2 in the dark. The main goal is visibility so you can both see where you are going and can be seen by others to avoid having an accident.
Some other things that you should take into consideration are the distance that you will be travelling, the lighting conditions at the time of travel and ength of time that you will be using the lights per day. This can help you to figure out how much power you will require to keep the lights functioning at the optimal levels.
Types of Bike Lights
Front lights are usually attached to the handlebars, but there are options for lights that attaché either to a helmet with the use of special mounting brackets.
Rear lights are mounted to the seat post of the bike or can also be attached to a backpack or clothing. The location of the placement is a matter of personal preference.
General Purpose Lights
General purpose lights come in a variety of different types. While they are not generally high powered beams which illuminate the road for a distance, they are often enough to allow you to be seen by others and navigate your way at slower speeds more safely.
High Performance Lights
High performance lights differ from general purpose lights in that they provide a more powerful beam. They employ the use of more advanced technology that offers lightweight LED lighting with longer running times from battery power sources. They are recommended for night time commuting or night time trail riding as they help provide a greater degree of safety in terms of lighting the path in front of you. Some models provide a beam that is more focused and others provide a wider spread.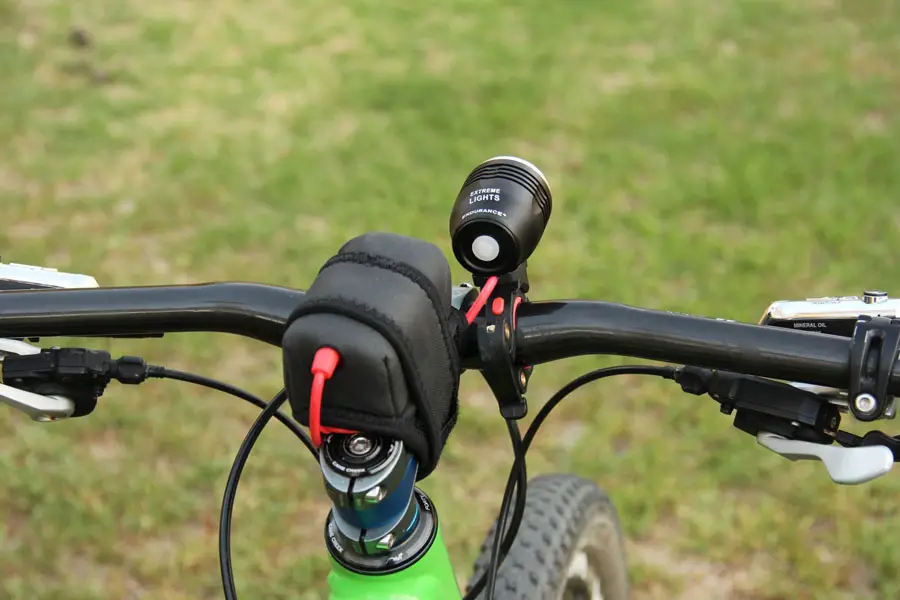 Bulb Types
The most common bulb types are halogen, and more recently and rising in popularity, LED types. Halogen bulbs produce a bright light but LEDs have won the bid for the most effective types for night time illumination.
What to Look for in Bike Lights?
Look for bike lights that mount in the area that will make you the most visible to other traffic and provide the most effective type of lighting to illuminate your pathway. The beam must be strong enough and project for the distance that is equal to the speed that you are traveling so you can see far enough ahead to avoid hitting pedestrians, other vehicles or obstructions in the road.
Lights that offer a variety of different modes such as continuous light options with the availability of signals and strobes can be helpful in emergency situations. Check to make sure that the lights you select offer peripheral visibility so you can be seen by others who may be at a crossroads.
Select lights that will provide the necessary features and intensity of light with power sources that are rated for the time that will be required for your commute. You don't want to be partway through your journey through the darkness and experience a power failure. Check the battery specifications on the unit and compare it with what you believe you will need with regard to battery life.
The units that you select should come with a reasonable warranty offering. Manufacturers of quality products are confident enough to stand behind their products. If a reasonable warranty is not offered, it may be because the product has not been known to hold up under rigorous use.
Take a few moments to read customer reviews and bike light ratings online. This can give you valuable insight into the quality of the product as users who have purchased and used the products relate their experiences. If the majority of reviewers would recommend the product for purchase to others then it is probably a safe bet. If most of them relay negative comments, it is best to steer away and look for a different brand or model.
Finally, settle on a set of bike lights that is moderately priced. You don't have to purchase the most expensive to get the high quality products that will best meet your needs. The cheapest set may not be your best option either, but rather, somewhere in the middle price range.
Conclusion
Bike lights are a necessity for anyone who rides any style of bike during dusk or dark hours. They not only help to light your way, but they also help others to see where you are. They can save your life. Finding a set that is reasonably priced and will adequately meet your needs is not a difficult process when you know what to look for in bike lights. By following the tips and recommendations provided in this guide, you will have the knowledge to make your choices armed with the information that will help you to make the best selection.