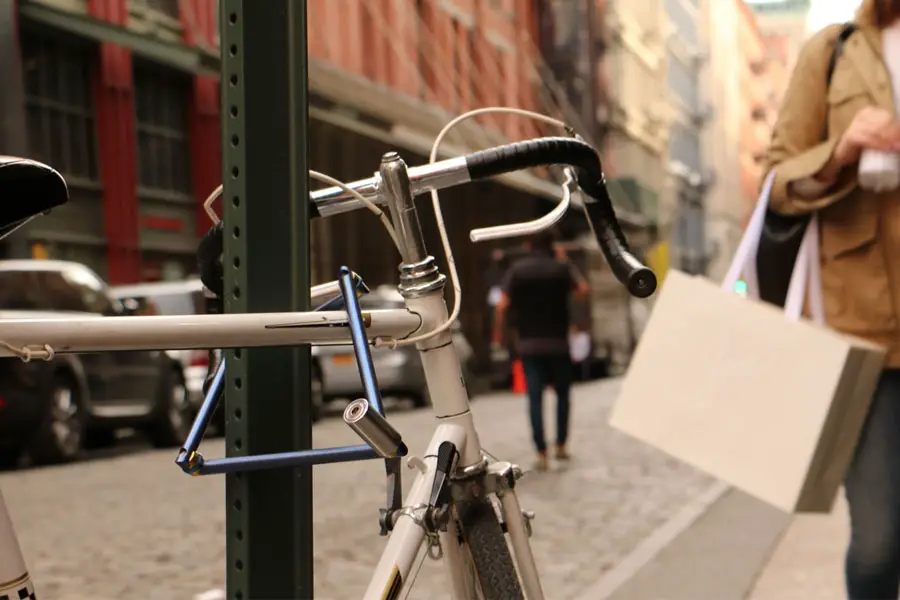 Bike Lock Reviews
Unfortunately, a bicycle is not like a motor vehicle, in that you can't just press a button attached to your keys to lock and unlock it; perhaps because there are no keys to start a bike either. However, if you're a cyclist and intend to leave your bike unattended at some point throughout your day, you too will need some kind of lock to secure your bike while it remains out in public. There are several varieties of bike locks to choose from that employ the use of various chains, cables, and padlocks, but perhaps the most effective type, and one of the most widely used varieties, is the U-lock. Like the name implies, U-locks take the shape of the letter "U" with a bar that crosses the opening to lock in place. They are quite sturdy theft deterrents and have a locking mechanism that is resistant to break-ins by chisel or hammer. The closed horseshoe design restricts the amount of movement or leverage a thief could work with, which also helps limit potential damage caused to the bike. U-locks are usually opened with a key at the base, or flat top bar, of the lock.
Most Popular Bike Lock
KryptoLok Series 2
With the Kryptonite Kryptolok Series 2 bike lock, you get a 2-for-1 package that includes both a U-lock and cable, offering total security for your entire bike. The U-lock has a 13mm hardened steel shackle that's built to resist any attempts at cutting or leveraging the lock open. It employs Kryptonite's high-security Bent Foot design with a disc-shaped cylinder, which helps garner the Kryptolok Series 2 a $1500 anti-theft protection and 8/12 security rating. The lock opens with two "I" shaped keys that allow for easier entry, so long as you're the only one with the keys. In addition to the U-lock, you get a 4-foot flex cable that serves to weave between the wheels and frame of the bike then connected to the U-lock from the two eyelet-opened ends. The lock also comes with Kryptonite's Transit FlexFrame bracket that enables you to mount the U-lock directly to the frame of your bike when not in use. It features 360-degree rotation to fit with your individual bike's geometry, which includes 25-80-milimeter wheter, triangular, oval, square, or round frame tubing.
Package includes 13mm steel shackle U-lock, 4-foot security cable, and Transit FlexFrame mounting bracket
Uses pick and drill-resistant disc-style cylinder lock for high security
Transit FlexFrame bracket mounts to most bike frame tubing shapes/sizes
Two, easy to use I-shaped keys included
– Anthony Dawson
Best Overall Bike Lock
Kryptonite New York
As you'd probably assume, the Fahgettaboudit U-lock from Kryptonite gets its name from the indistinguishable New York accent. This 18mm U-lock gets its name from its ability to stand up from the sneakiest of New York City bike thieves, but don't let that stop you from using it anywhere else in the world. The Fahgettaboudit is constructed of 18-milimeter hardened steel that's resistant to attempts at gaining leverage and the use of bolt cutters. The lock has an oversized steel sleeve over the crossbar to give it an extra layer of protection against cutting, and it uses a double deadbolt locking mechanism for increased security. It also features a protective vinyl coating and sliding dust cover that helps extend the life of the cylinder mechanism, and also gives the lock its bright yellow base. This lock is great for cyclists who live or commute in areas of high thief activity, as it garners a 10 out of 12 on Kryptonite's security comparison scale. The Fahgettaboudit comes with three keys, including one that has a high-intensity bulb to make it easier for unlocking your bike in the dark.
Designed to stand up to tough NYC thieves with 10/12 security ranking
High security features include 18mm hardened steel shackle and, disc-style cylinder, and hardened steel crossbar sleeve
Double deadbolt locking system opens with 1 of 3 keys, one of which features a night light
– Anthony Dawson
Best Budget Bike Lock
OnGuard
The OnGaurd PitBull DT U-Lock looks tough, and that's because it is tough. With the PitBull, not only do you get a double-teamed steel U-lock, you also get a 4-foot braided steel cable to increase security protection and give you a more versatile, and customizable, locking option. The PitBull uses OnGaurd's X4P Quattro locking mechanism for complete, four-sided protection. The U-lock features a tough, 14mm hardened steel TriRadius shackle that resists any attempts at cutting, prying, or leveraging with a crowbar, bolt cutter, or sheer human force. The lock includes five laser cut, extra grip keys, one of which has a white micro-light for assisted opening in the dark. With an 83/100 security rating, you can trust the combination of U-lock and steel cable that is the OnGaurd PitBull STD will keep your bike safe and sound where you left it nearly any city or town.
Dual U-lock and steel cable design increases security and versatility of locking
TriRadius steel shackle is resistant to cutting, prying, and leverage
Includes 4 extra grip keys and 1 micro-light key
– Anthony Dawson
Bike Lock Buying Guide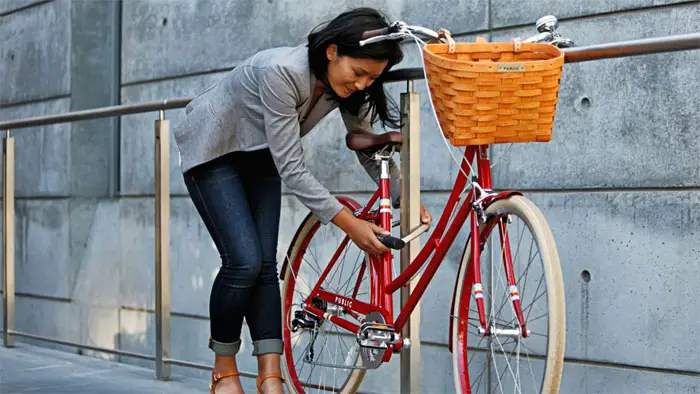 Bike locks are an absolute necessity if you are a commuter or store your bike unattended at any time where there are people around who you do not know. Theft is a major problem when it comes to unattended bikes. When not properly secured they appear as treasure on wheels to a criminal. Before you make your purchase for a bike lock, there are a few things that you should take into consideration. Not all bike locks are equally effective in deterring or preventing bike theft. The right bike lock is the best at keeping your valuable safe.
This guide will provide you with useful information on how to choose the best bike lock to meet your needs. By following the tips and recommendations included you will have no problem identifying a bike lock with the best possible features to keep thieves from taking what is yours.
Three Cardinal Rules for Purchasing Bike Locks
The first rule is that inexpensive locks give you a lower quality of protection. The old saying you get what you pay for is very true. While any lock can serve as a deterrent to some thieves, there are some who know the difference between a high quality lock and one that is easy to beat.
The second rule is that cable locks are usually fairly easy to break. When used alone, they are just a step above having no protection from theft whatsoever. There are savvy criminals out there who are well aware of this fact and may actually be happy to see the cable lock as a standalone security method because they will know that this is their lucky day. Cable locks are great for securing accessories when used jointly with a U lock, but by themselves they offer little protection.
The third rule is that the heavier the lock, the better the protection. Even though the weight may be burdensome to carry around, heavier bike locks provide more security that the lighter versions which are more susceptible to breakage. While there is no lock that is one hundred percent foolproof, the more difficult that it is to dismantle and the more time and effort that a criminal has to extend, the less likely they are to hang around until the job is finished.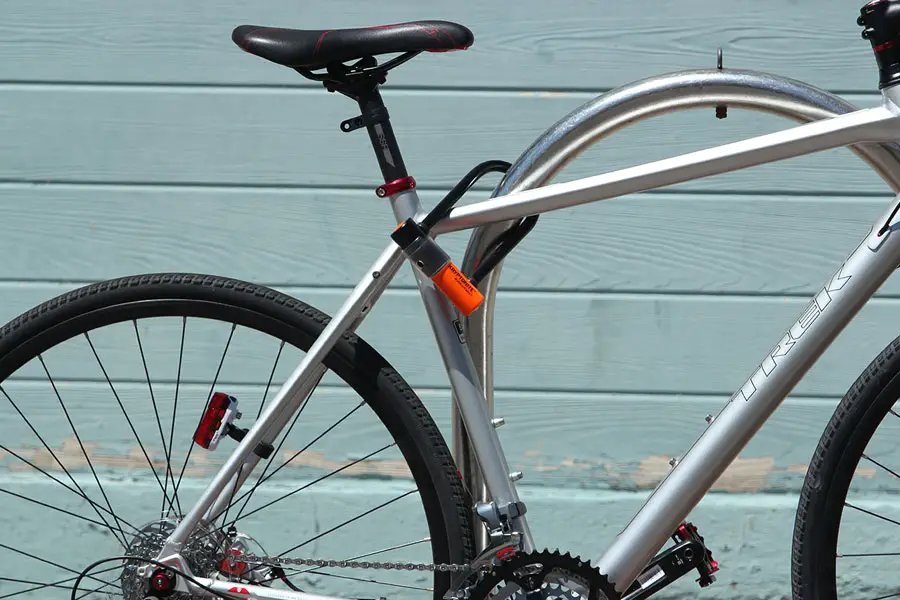 Types of Bike Locks
D-lock
The D lock type shackle lock is also referred to as a U lock. This is the most secure type of bike lock that is the equivalent of a high powered padlock that secures the bike to a solid structure within a heavy duty hoop. The better D locks will have armored shackles with heat treated U sections which are extremely difficult to break through. The solid bar feature is what provides the strength and safety factor for this type of bike lock. The downside to D locks is that they are bulky, rigid and heavy, making them the most difficult to carry.
Heavy chain and padlock
This provides good protection against theft and will certainly serve as a deterrent against thievery, however; it is not as secure as the D lock type. The chain is easier to saw through if a thief is truly bent on beating the security system, but it will take them time to accomplish.
Cable locks
Cable locks are better than no protection, but they provide the least amount of protection from bike theft. In general, they are one of the easiest lock methods to foil for savvy thieves who know how to beat them.
What to Look for in Bike Locks
The most secure type of bike lock is the D lock. When making your purchase, keep in mind that the less expensive locks are cheaper for a reason. This is because they are most likely more cheaply made with lower grade materials and possibly a lower quality of workmanship. Check the lock for any weak areas prior to purchase. If you can identify weak spots that may be easy to pry apart, move on to another brand or model.
Check the locks for the heaviness. The heavier the lock device the higher chances that they are armored making them more difficult to drill or saw through. Lightweight locks will be highly susceptible to damage.
Make sure that the lock is the appropriate size and shape to fit your bike. You don't want to have any space in between the bike and the lock where a thief can stick a pry bar into. Next, check the security ratings that are provided by the manufacturers. This will give you a good idea of the strength of the lock. A good rule of thumb to observe is that higher ratings almost always translate into a higher price tag.
Look for a lock that offers a reasonable warranty, extended warranty option and an anti theft guarantee. The anti theft guarantee is a type of insurance that provides additional protection for you in the event that your bike is stolen. You'll end up paying a little more for this option, but it can help to cover you in case your bike disappears.
When looking for a bike lock there are several types and brands on the market. Once you understand the level of security from theft that each provides, the choices will become much clearer to you. The chain and padlock type will offer a moderate degree of protection, but the D lock is the superior bike lock offered. If the price tag is too high, you will find more protection with the chain and padlock than with the other types such as cable locks or inexpensive D locks. The choice is yours.
Whatever type of bike lock you decide to purchase, do a quick double check to examine the unit for any potential weaknesses and a good fit for your bike that can help to prevent thieves from successfully foiling the lock. Any type of lock can help to deter thieves who are less experienced at breaking through the locking systems, but it is best to be prepared for encounters with the ones who know what they're doing.