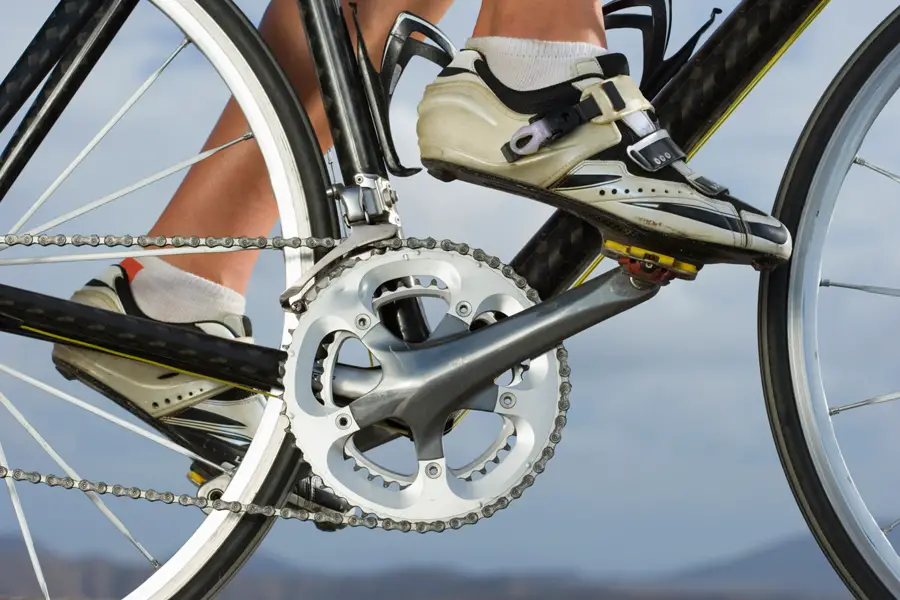 Bike Pedal Reviews
If you're looking for new bike pedals, you're probably either making a switch from flat to clipless pedals, outfitting a new road bike that doesn't come with pedals, upgrading from one system to another, or you simply busted an old pair and you're looking to replace them. Most commonly, those who use platform pedals are tired of seeing other riders whip by them with clipless pedals, and they want that same stability and speed. This upgrade will help to make your riding much more efficient, and less tiring at the end of the day. What you have to keep in mind when you're looking to make this upgrade is that your shoe and the pedal must be compatible, whether you buy them as a set or not. Also note that the word "clipless" is actually deceiving because they really are a clip-in pedals. The binding works in a very similar way to a ski binding, and helps to make it much easier to achieve higher speeds with more ease.
Most Popular Bike Pedal
SHIMANO Clip Pedals
With the Shimano Dual platform pedal, you're really getting the best of two worlds: a platform pedal on one side, and a world-class SPD pedal on the other side. The M530 provides the rare opportunity to allow you to choose, dependent upon what kind of cycling you're doing any given day, and what kind of terrain you will face. Lets be honest; if you're just riding around the corner to get a carton of milk, you don't feel like putting on your MTB dogs. But, if you're going for a nice 10-miler over the weekend, you want better performance than you get from wearing your sneakers. This model provides wonderful versatility for cyclists that use their bikes for many different purposes. Also, the cleat retention adjuster allows you to choose the amount of binding tension. The pedals are incredibly lightweight at 1.17 pounds total. All in all, this is the ideal pedal for those who simply can't make up their mind, and want it all.
Combo clip/clipless pedal for ultimate versatility
Perfect SPD clip interface on one side
Solid aluminum body with barrel finish
Easily adjustable cleat retention
Perfect for multi-purpose cyclists
– Anthony Dawson
Best Overall Bike Pedal
SHIMANO Bike Pedals
These clipless pedals from Shimano are a fantastic choice if you're venturing into the world of cleat pedals for the first time. It's incredibly easy to learn how to get in and out of these pedals, and once you get the hang of it, you're well on your way to improved speed and efficiency on your bike. You can also customize your binding tension and decide how easy or tough you want getting in and out to be. Keep in mind that these pedals are not the lightest on the market, so they may not be ideal for those who race professionally, but for those who really only race with themselves and enjoy consistent recreational cycling, they're a great choice. Because the design is flat and large, it's easy to use this as a platform pedal until you can find the proper place to lock your cleat. All of this, plus a two year warranty, make these pedals a great purchase when you're looking to take your cycling up a notch.
Adjustable cleat tension helps to customize your experience
Sealed cartridge axel unit is low maintenance
Quick engagement thanks to large binding target
Durable stainless steel body cover
– Anthony Dawson
Best Budget Bike Pedal
Tour
With tough magnesium bodies, Cromoly spindles, and MG-1 sealed bearings, these tremendous pedals by Wellgo can stand up to a lot of wear and tear and not back down. The MG-Series is built to last, and add speed and performance to your cycling. This is a great choice if you're looking for the stability of a clipless pedal, but want the convenience and freedom of a platform pedal. Many consumers agree that with the right shoes, it's almost like you're using a clipless pedal, because of the security and connection riders feel to this design. Many cyclists get a little freaked out by clipless pedals, and they're certainly much more of a challenge if you do a lot of trail riding. When riding on loose terrain, you want to be able to bail from your pedal as soon as possible. This design from Wellgo allows you to do just that, without compromising stability and ease.
Tough magnesium body
Powerful Cr-Mo spindle
DU/Sealed bearings
Size: 114.6 x 106.2 x 30.8mm
– Anthony Dawson
Bike Pedal Buying Guide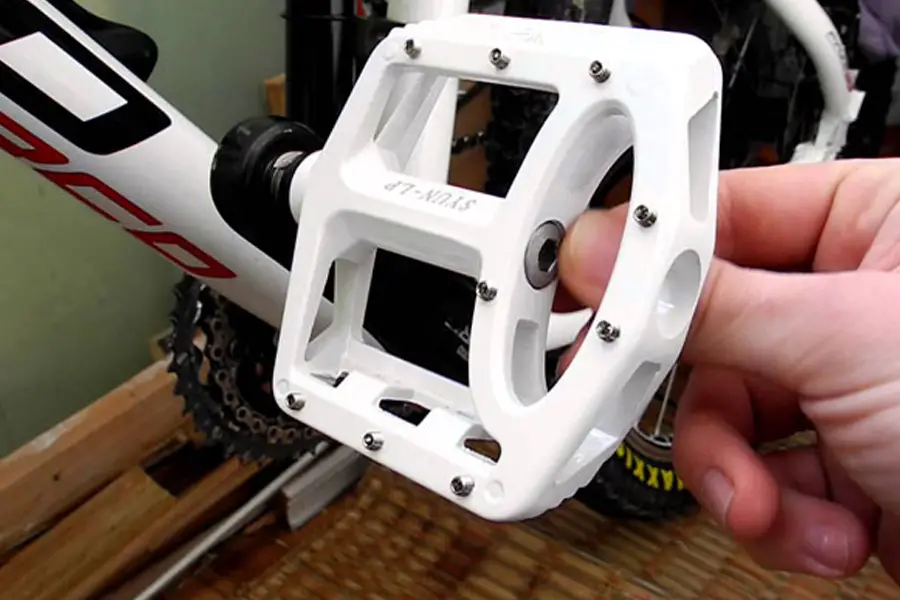 Bike riding and cycling is both a fun and exciting sport and healthy pastime for the less competitive riders. Whether you are a professional rider, commuter or just ride for the pleasure, the equipment which you use makes a difference in the levels of performance and satisfaction that you get from riding. Among the other most commonly targeted upgrades that are made to equipment, cycling pedals often go without a thought.
The type of pedals that are used can help to improve performance and make riding much more comfortable. There are quite a few different types to choose from, so making the best choice may not be an easy task that is unless you know precisely what it is that you're looking for. This guide for purchasing bike pedals is designed to help you easily find the best option for all of your biking and cycling needs.
Establish Your Bike Pedal Needs
The first step is to figure out what it is that you need to change about the current setup your have. Consider the type of riding that will be done, the amount of time you'll spend doing it and the performance improvements that you are hoping to achieve. The type of bike also figures into this. Knowing these things will help you to make the best choice in bike pedals.
For example, do your feet easily slip off of the pedals that are currently on your bike? Are the pedals the right size for your feet? What size would work better? Do you need a stronger grip? As you're riding what are any issues that you've encountered? These are a few of the questions you should ask yourself to help get your inner dialogue going.
Types of Bike Pedals
There are two main types of peddles for cycling. Your choices are flat pedals or clip pedals. Clip pedals are the choice most often made by professional riders. Clip pedals help improve performance by transferring the power exerted by the legs of the peddler to the wheels.
Flat Pedals
They are the most popular choice of pedal for recreational riders and children. There are several different kinds of flat pedals, each with their own contributions for riding performance.
Platform Pedals
These are the most common flat pedal used in downhill mountain biking. Since they tend to have a slippery quality, they can present a hazard for the casual or professional rider. They are good for mountain biking because when needed, the feet come away from the pedals easier, e.g. in the case of a crash. Some riders use shoes with special gripping qualities to help offset the hazard.
Toe Clips
It is also known as toe cages have a cage like look and are attached to the front part of the pedal. The rider places their foot inside of the cage to prevent forward slipping.
Clipless pedals are fitted to the bike and a corresponding clip is place on the riders' shoe. This locks the foot into the pedal. With a twist of the foot, the foot becomes unlocked. These devices help to improve control, energy efficiency and safety while riding.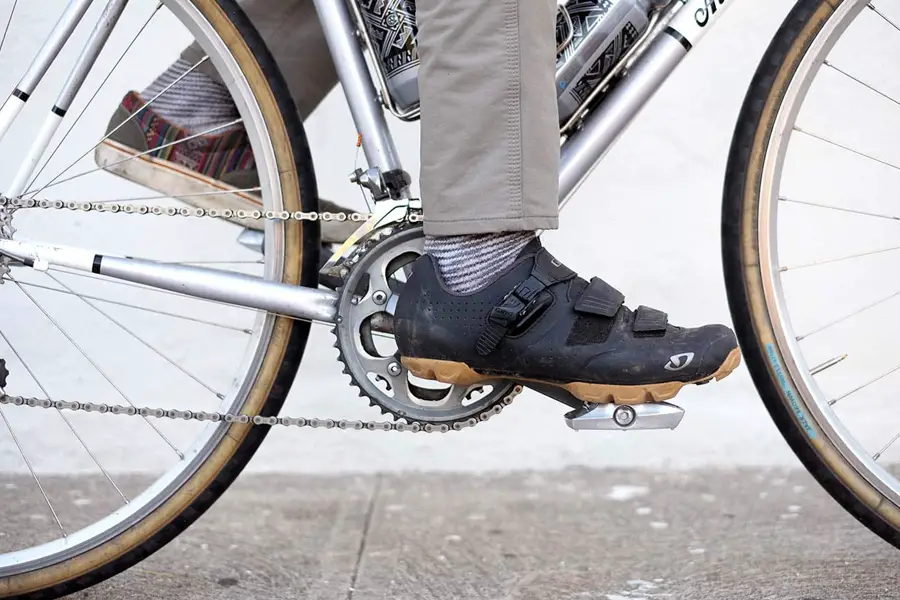 What to Look for in Bike Pedals
The best advice is to look for a type and style of pedal that will bring the results you are hoping to achieve. This is dependent upon the style of riding that you do. Consider where you are at now in your biking or cycling. What are the things that need to change? What type of improvements are you looking for? The answers to these questions, when combined with the attributes of different types and styles of peddles will lead you in the direction of your best choices. When you know what it is that you are looking for, then take a few moments to compare costs among the various brands to find a good value for the price.
Check the construction and materials used in making the pedals for the grade. Some cut corners by using inferior materials with shoddy workmanship as they strive to mass produce a lesser quality product. If they look cheap and feel flimsy, they probably are. Not all manufacturers place quality of materials and workmanship as a high priority and the quality of the pedal can definitely affect the comfort and performance of your bike.
It is always a good idea to read a few of the online consumer reviews for the pedals you are considering for purchase. This is an excellent way to find out what others are saying about the product. Customers who have purchased and used the product discuss their experiences and share their opinions. Feedback regarding the quality, durability, safety, comfort and performance of the pedals is available through these and they can help to guide you away from inferior products that can actually present a health hazard. You can also get a sense of the quality if the majority of respondents recommend the product to others for purchase or if they caution against it.
In addition to this, most reputable and knowledgeable bike shop dealers will give you their opinions about the better options to achieve your performance goals. There is nothing wrong with asking them to explain the differences in similar products.
Conclusion
Bike pedals can make a difference in the comfort level and performance of your bike. Whether you are a professional rider or prefer to just ride occasionally, you can benefit from using the right pedals to meet your needs. Mountain biking, commuting, racing, cyclocross and everything in between can be improved with the right pedal for the job.
By using the tips and recommendations provided, you can gain a better sense of what specific changes you want to make in the performance you get out of your current bike. This cuts down on any confusion over which pedals will work best to meet your needs and goals. Now the last task before you is to compare the different brands including price and quality, which affects the value. The goal is to get the best affordable value that fits within the budget you've set for the purchase.