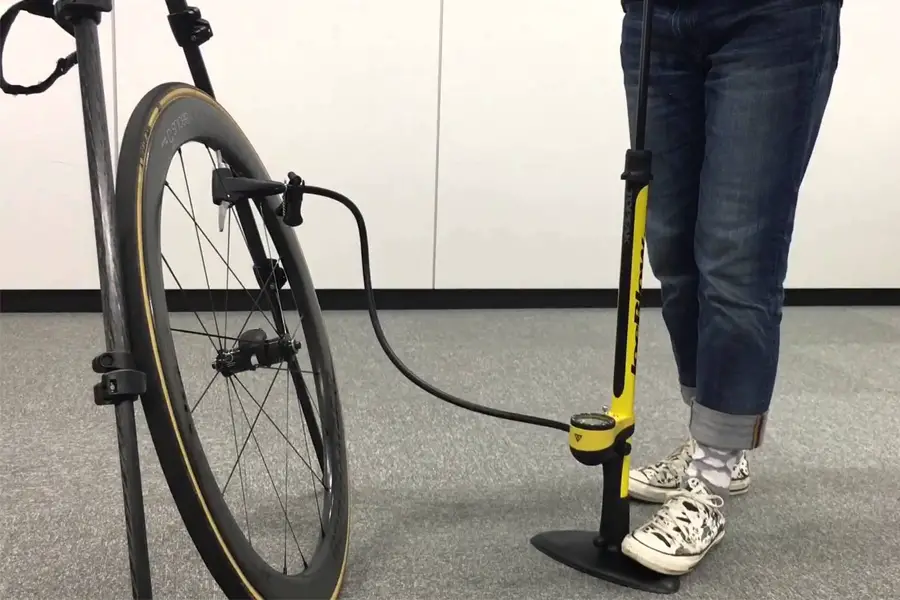 Bike Pump Reviews
If you're a cyclist of any variety, whether its competitive racing or mountain biking, sooner or later you're bound to experience a flat tire. When it happens, you have to face the reality of changing the tube and reflating the tire so you can get back on your bike and enjoy a safe ride. Every cyclist should invest in a quality bike pump, as you'll likely find yourself using it more often than you'd like. Its not necessarily a product you want to have to use, but one you'll always find relief in when it comes to your rescue. There are a variety of bike pumps available, some of which are operated by hand and others by foot, and some that are meant for stationary use and others that are portable. The best choice depends on your style and frequency of cycling. Some people may find comfort in having a floor pump at home in the garage and always carrying a portable one when they ride in case of an accident
Most Popular Bike Pump
Topeak
The Topeak Joe Blow Sport II Floor pump is compatible with Presta, Schrader, and Dunlop valves so you can inflate just about anything. The Topeak Joe Bloe Sport II features an extra-long hose with a 360-degree pivoting head that allows you to find the valves on your bike tires no matter how much they try and hide from you. The heavy-duty steel base offers plenty of stability while you go to work inflating your new set of wheels, while an oversized padded handle ensures a comfortable grip as you pump. The pump features an easy to read chronograph-style pressure gauge that displays both PSI and bar indexes so you know when to stop as to prevent overinflating. At the base of the vibrant yellow steel barrel is a clip-in hose dock to keep the hose safe and tangle-free when not in use, while the rotating connection head helps prevent tangles while in use.
360-degree pivoting hose prevents tangle while in use
Hose dock protects hose and prevents tangles while not in use
Oversized padded handle offers comfortable grip
New chronograph-inspired gauge displays PSI and bar indexes
– Anthony Dawson
Best Overall Bike Pump
Serfas
The Serfas TCPG Bicycle Floor Pump has a cool design that looks great in your garage or workshop, but don't let its looks fool you, the TCPG is designed to make inflating a new bike tube or topping off a weathered one as easy as possible. The pump has a sturdy nylon plastic base with a swiveling hose connection that tapers into the length hose and the simple valve head, capable of accepting Presta and Schrader valve heads. The pump features a simple and easy to read pressure gauge with a red arrow that indicates your level as you pump to help you find the correct desired pressure up to 160 PSI. Built of a sturdy alloy barrel and topped with a durable nylon handle, the Serfas TCPG does everything you need in a bike pump at a fraction of the cost of some competitors.
Quality nylon and alloy construction built to last
Backed by lifetime warranty
User-friendly pressure gaugefeatures red arrow indicator
Long, swiveling hose with simple valve head
– Anthony Dawson
Best Budget Bike Pump
Topeak Pocket
For cyclists that always like to carry a pump on the road or trail along with a spare tube kit in case of accidents, the lightweight and compact Topeak Pocket Rocket Master Blaster Bike Pump is worth consideration in your pack. The Pocket Rocket Master Blaster is constructed of lightweight and durable butted aluminum alloy that helps keep the weight of the pump under 5-ounces as to not weight down your pack. The pump also has an aluminum thumb lock, soft Kraton head, and an ergonomic plastic handle for an increased grip for sweaty and high-stress tire change jobs. The Kraton head has an integrated dust cap that keeps the pump clean of dust and debris when not in use to ensure its ready to work when the situation demands. The Pocket Rocket comes with mounting bracket so you can attach it directly to the frame of your bike and reduce extra weight carried on your back.
Under 8-inches long and fewer than 5-ounces in weight
Butted aluminum barrel with Kraton head pump goes up to 160 PSI
Integrated dust cap helps keep the pump head clean
– Anthony Dawson
Bike Pump Buying Guide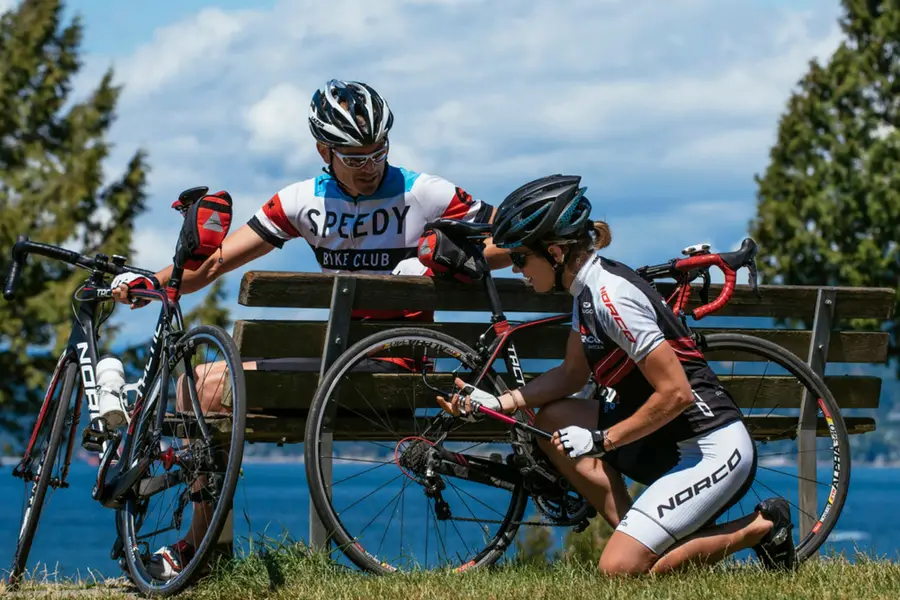 A bike pump is a necessity for every bike owner. Needing to pump up a tire occasionally is unavoidable. A bike pump will come in handy in case you experience a flat or low tire.
4 Types of Bike Pumps
The following are types of bike pumps available today
1. Track Pump
A track pump, also known as a floor pump, is the most common pump in the market. Every garage or workshop should have a floor pump. It has a pressure gauge, a long and flexible hose and a large chamber to fill your tire quickly.
2. Hand Pump
This portable mini pump is typically used in case of emergencies. They take a long time to fill a tire because of their small air chamber. The downside of hand pumps is that they stress the valve, which can damage the inner tube. You can correct the issue by adding a flexible hose.
3. Frame Pump
Frame pumps are more efficient and more extended than mini pumps. They fit in the triangular part of your bike frame which allows the pump to be bigger. You can find this type of pump in touring bikes.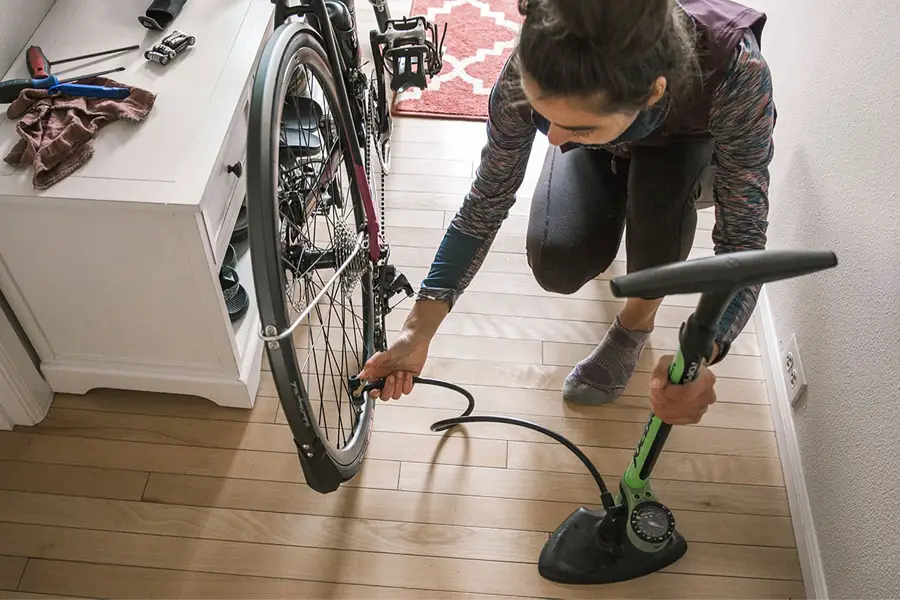 4. Shock Pump
A shock pump is suitable for people who have mountain bikes with air suspensions. This high-pressure pump has perfect precision, enabling you to achieve the right pressure.
Advanced types of bike pumps include:
• Carbon IV oxide inflators that use replaceable cartridges
• Air compressors that use batteries to run. They are expensive and are used by professionals.
Factors To Consider When Buying A Bike Pump
1. Valve Type
There are two types of bicycle valves: Schrader valves found on mountain bikes, and Presta valves used on road bikes. Presta valves are generally found on high-performance bicycles. They are slender and extended and used on high-pressure bikes. A Schrader valve is more secure and wider. It is crucial that you know the type of valve on your bike before you buy a pump. The good thing is that some pumps have two valve heads that allow you to use them on both types of valves.
2. Air Pressure
Tires come with different tire pressure capacities. You should get a pump that can be able to provide the required pressure for your bike. Don't buy a pump that offers a very high or too low air pressure. You should note that high-pressure pumps can come with inaccurate gauges or lower pump volume. You should ensure that you balance all the features.
3. Size and Weight
Large pumps like floor pumps or electronic pumps are for home usage since you can't travel with them. Buy a small pump such as hand pumps if you frequently cycle on rough terrains. However, small pumps take long to fill the tires. Therefore, you should buy a pump depending on how frequent you travel. You can have a large pump at home and a small and portable one when travelling.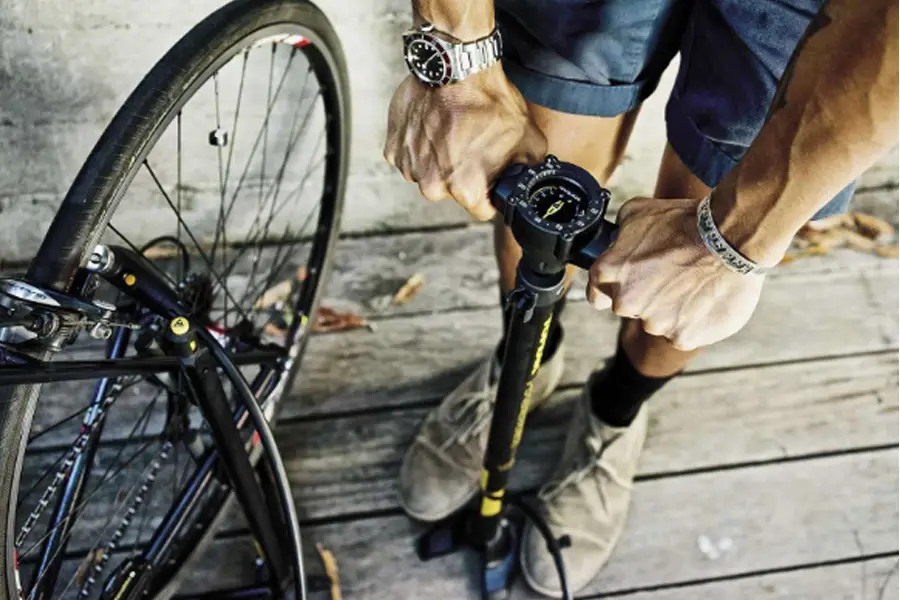 4. Gauge
Small pumps typically don't have a gauge, unlike the larger ones that have gauges. Consider buying a gauge that is easy to read and interpret and can display the amount of pressure used. Digital gauges are easy to read and accurate but come with a hefty price tag. Gauges are essential because they ensure that you to pump the correct pressure into the bike tires. Too high or too low air pressure can significantly reduce the life of your bike.
5. The Quality of Material
Expensive pumps are made of costly materials. Cheap bike pumps are usually made of plastic that doesn't last long. Metal pumps are more durable and don't wear quickly. Go for a pump made of high-quality materials and can last long.
6. Hose type
Floor pumps come with flexible hoses. Some mini pumps don't have flexible hoses and can damage the valve or even the inner itself. Therefore, you should buy a pump with a flexible hose to avoid such accidents.
Conclusion
Your needs will dictate the type of pump that you purchase. Buy a light and compact pump if you cycle regularly. There is no need to buy a sophisticated pump if you don't go cycling regularly. The bottom line is to ensure that you buy a durable pump that suits your needs. These tips will help you purchase an ideal pump.