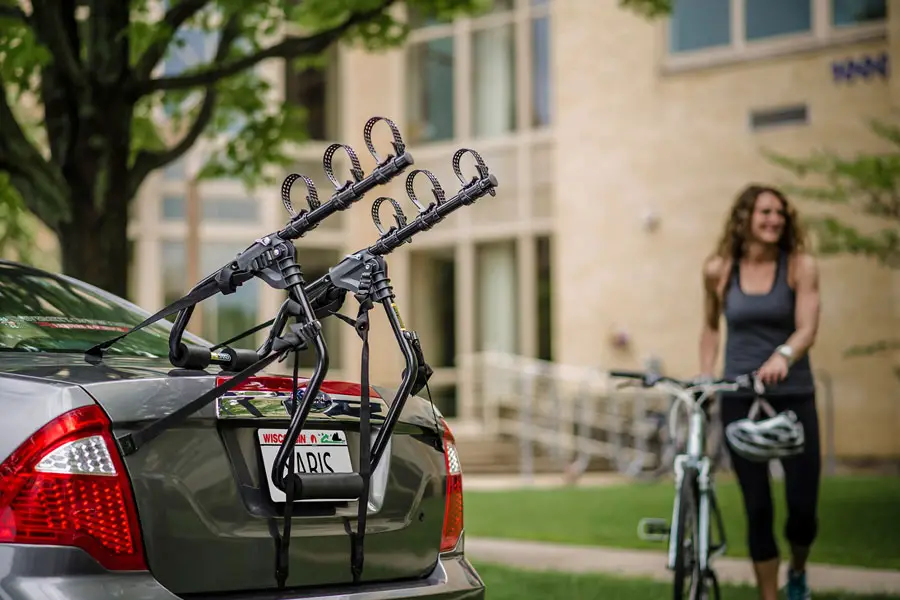 Bike Rack Reviews
When searching for a bike rack, the most important thing to keep in mind is that size is key. A rack that is ill-fitted to your car is not only dangerous, but it could also damage your vehicle as well as your bike. Not only that, but it ups the chances that your precious bike could be stolen or lost. When choosing the appropriate model, you're going to be confronted with Hitch racks, Roof racks, Trunk-mounted racks, Pick-up racks, Spare-tire racks, specialty racks and many others. With all the selection, you might feel overwhelmed, but consider a few things before you begin shopping. First of all, how would you like to use the rack? Take note of your bike specs and vehicle specs, how much safety is a priority for you, and what you're willing to spend. If you intend to use the rack frequently, then dishing out the extra money for a top-quality model is well going to be worth the extra expense. This is especially true if you also plan on traveling long distances with your bike.
Most Popular Bike Rack
Thule
The Thule 970XT Helium hitch carrier fits on the back of your vehicle, and can support two bikes that weight up to 35 lbs each. Perfect for cycling couples that like to go on trips with their bikes, as well as for small vehicles that have very little towing capacity. For families who love to cycle together, the simplicity of installation is great on this rack. You most likely don't want to worry about any elaborate or complex hitch racks, and this model provides the safety and ease that people really love. Because the hitch switch folds up its arms when it is not in use, it's easy to get this rack out of the way to get into the trunk of your car. It's also a great design to use on hatchback vehicles. With the rack, you get everything that you need for installation, as well as high-quality T3 cradles for the ultimate in stability. The No-Sway cage keeps bikes from clanking into one another.
Carries up to 2 bikes weighing under 35lbs each
No-sway cage provides patented prevention of bike-to-bike contact
Arms fold down when not in use
One secure lock to attach bike to carrier
– Anthony Dawson
Best Overall Bike Rack
Allen Sports
Finding a good rack that will carry three bikes at the same time with security and ease seems like an impossible task, but the Allen Sports model 532RR Deluxe has got the answer. Their hitch mountain carrier is perfect for 3 bikes, and it's perfectly reliable and simple to use. 50 years ago, Allen Sports actually invented the trunk rack, and they've remained at the top of their game ever since. Their know-how and experience make them still today's finest supplier of bike carriers. They also understand about how important it is to not only protect your bike, but also to protect your vehicle. Transporting your bikes is no longer relegated to only your beat-up hatchback. Allen Sports expands your options of how you transport your precious bicycles, without any added complexity. The company owns more than 3 dozen patents and their superb racks are sold in more than a dozen countries across the globe.
Designed to carry 3 bikes with a 1.25 or 2 inch trailer hitch
The patented Allen tie-down system keeps bikes safe
Folding carry arms drop out when not in use
Made of sturdy steel with black powder coat finish
Lifetime warranty
– Anthony Dawson
Best Budget Bike Rack
Yakima
For over 30 years, Yakima has been making safe and secure racks and accessories that allow you to enjoy your adventures, without worrying about your bikes' safety. They're firm believers in the wonderful memories and stories that cycling adventures add to our lives, and they want to preserve those good times by making it as easy and affordable as possible to transport your bikes and gear. Their aim is to allow you to carry as much gear outside of your car as possible, so you can fit many more friends within. Their most innovative feature is the fairing, which is designed to minimize noise to practical silence. Hearing your rack on the top of your car can be alarming, but the fairing moves the air up and over the rack, therefore reducing noise, and making your rack more aerodynamic for better gas mileage. This fairing is available in a wide variety of widths, and is incredibly easy to install.
Noise reduction and lower gas mileage
Includes everything you need for quick installation
Works with every Yakima tower and Crossbar
Can be safely positioned anywhere on the roof of your vehicle
– Anthony Dawson
Bike Rack Buying Guide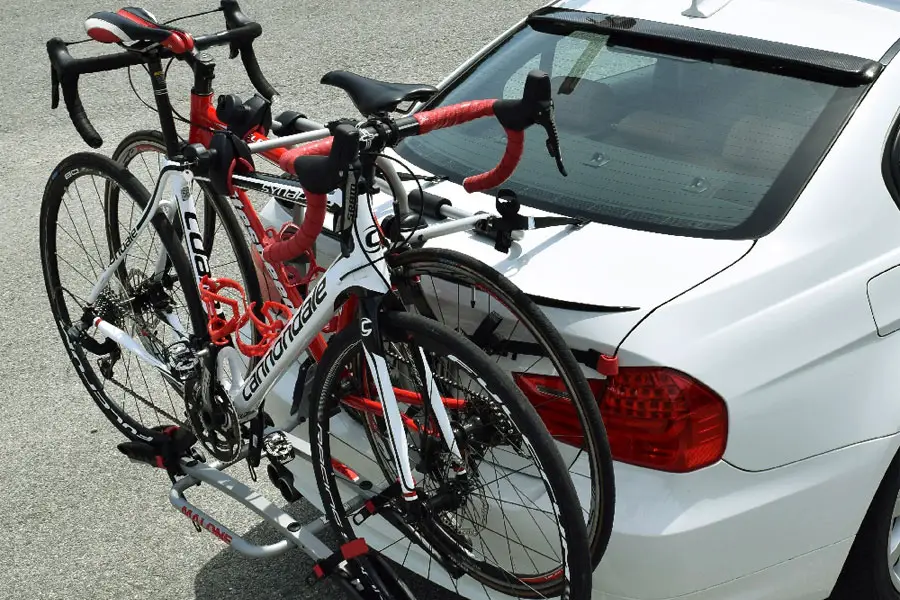 Regardless of the type of biking that you do there are times when you need to transport your bike safely to the location that you're going to start your journey. While some people fold their bikes up and throw them in the back of a vehicle, this option is not the best when it comes to properly caring for the bike. The best option is purchasing a car rack that will provide safety and security for transporting the bike in a convenient location that doesn't take up space that may be needed for other things such as people, groceries or whatever else is needed. There are several different brands, sizes and styles available which can make choosing the right bike rack a bit overwhelming. This guide provides the information about what you need to consider prior to your purchase of a car rack for bikes, along with what you should look for when searching for the best option that will meet your needs.
Consider This When Choosing Bike Racks
Some things to think about are the size and type of bike that needs to be stored, how the bike needs to ride and the type of car that you will be using. Some bikes are larger than others. Some fold into more compact sizes and others are more difficult to break down. How many bikes will you need to accommodate with the rack? They come in a variety of holding capacities. By establishing these things, you will have a better idea of the type of car rack that you need to safely transport your bike.
Roof Top Bike Racks
These racks are designed to be mounted on the roof of your vehicle. They come in a range of styles that can accommodate between one and three bikes. In addition to this, there are variations for bikes that will have the front wheel removed or those which are designed to holding both wheels of the bike securely in place. In addition to accommodating bikes this type of car rack can also hold snowboards paddle boards, cargo boxes, surfboards, small boats and skis.
Pros of roof top bike racks are that they are one of the most versatile systems. The offer the best in security and stability while allowing access to the car doors and other area which may need to be accessed such as the trunk or hatch. The cons include the fact that the items must be lifted up to be placed on the rack, effort is required to place and remove the items, they cause more wind resistance when traveling and height clearance may be an issue in some.
Trunk Mounted Bike Racks
This type of bike rack is used specifically for transporting bikes. The racks are mounted on top of the trunk area. The pros of using trunk mounted bike racks is that they can be transferred from one vehicle to another, they are less expensive and portable for storage, they provide easier access for loading and unloading the bikes, and they can be easily removed from the trunk when not in use.
The downside of trunk mounted racks is that they significantly interfere with trunk access and there is a tendency for the bikes to bump into one another during transport. They are a less secure means of transporting bikes.
Truck Racks
Truck racks can be conveniently mounted to tool boxes and they are the type of bike rack that are the best choice for accommodating a heavier load. When using a truck for transportation, they are also one of the most practical options. They make it easier to load, unload and access the bikes. The cons associated with truck racks are that they can take up a lot of space in the truck and limit storage capacity within the truck bed.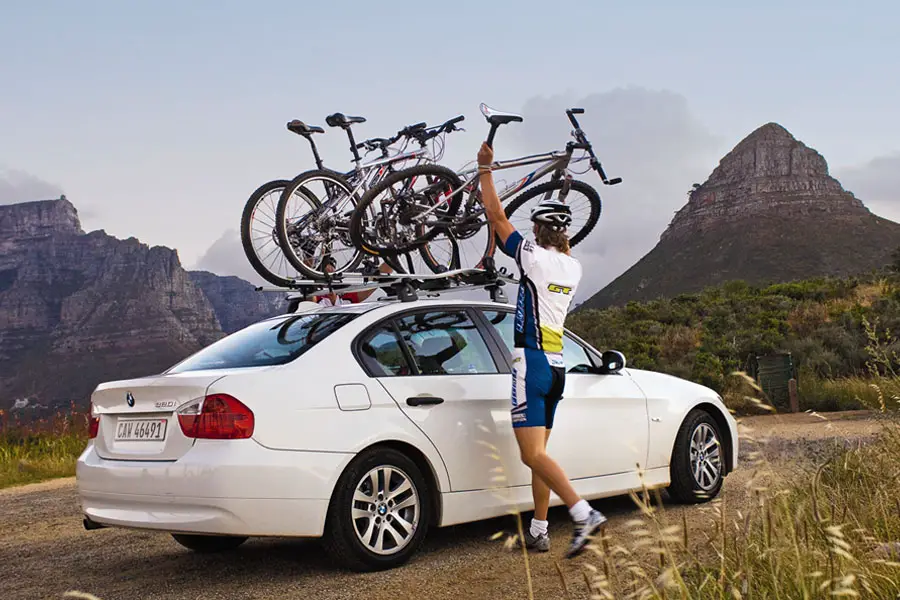 Hitch Bike Racks
Hitch bike racks are easy to install. There are a few different models and some allow clearer access to the rear door than others. They are capable of accommodating bikes and can also be adapted to carrying snowboards, skis and cargo holders. They are good choices when you need bike racks that will get frequent use.
The downside of hitch bike racks is that some of the more advanced models are expensive while the less expensive and basic models can present a significant interference with accessibility to the trunk and rear cargo areas. The bikes are also less secure with this type of bike racks as the bikes have a tendency to sway.
Spare Tire Racks
Spare tire racks are easy to load and unload the bikes from. They also provide clear access to the rear door and trunk areas. This type of rack can be adapted for carrying snowboards or skis as well, so they are versatile in their capabilities. The cons associated with spare tire racks is that they can only carry a maximum of 2 bikes and the size of the rack depends upon the size of the spare tire. The bikes are not as secure with this type of rack as some of the others as there is a tendency for them to sway back and forth during transport.
What to look for in bike car racks
The best choice in car racks to transport your bikes depends upon the type of vehicle you will be using to transport them. Select a type that will accommodate the number of bikes you need to haul with the features that will allow for the most secure fastening of the bikes to the rack to avoid damage. Choose the type, style and size that will satisfy your requirements.
Conclusion
Once you figure out what you need in a bike car rack, the selection process becomes much simpler. There are a lot of brands, sizes and types out there, but you won't have any trouble honing in on the best choice. Now that you know what you're looking for, shop around to compare prices and get the best value for the cost.