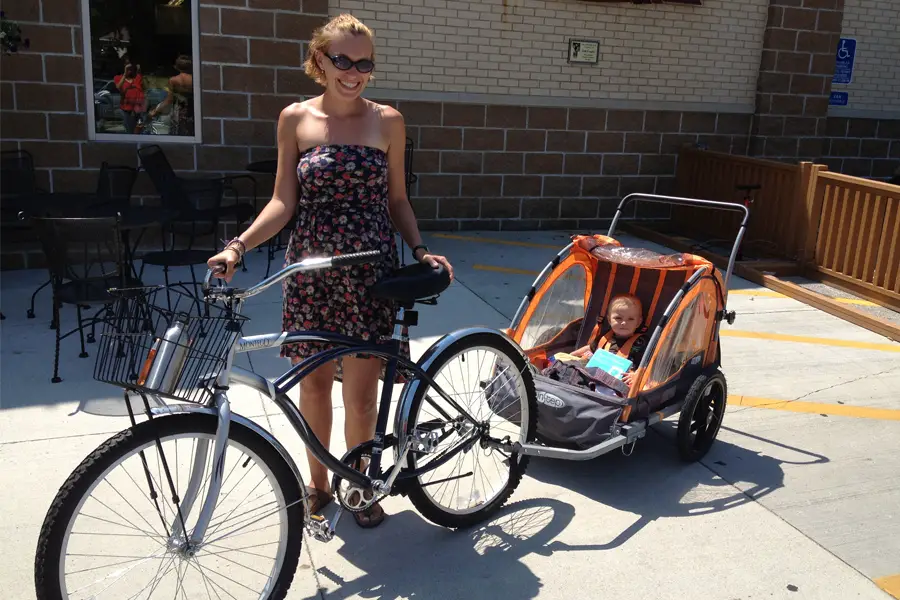 Bike Trailer Reviews
Bike trailers are preferred by the AAP and consumer reports over mounted seats for their safety. Children being carried in trailers are much less likely to experience injury than on a mounted seat. Because trailers ride so low to the ground, it makes them much more protective for children, and even pets. When looking for a bike trailer, there are a few things that you should keep your eyes out for. One important sign is the ASTM sticker, which means that the trailer is certified for American Safety Testing Materials. You also want to make sure to find a full metal roll-cage, which means that should the trailer role onto its top, it has a sound structure to protect the little passenger within. Next, it's advised that you look for 16 or 20″ inflatable tires, because they work best on uneven surfaces. Another fantastic feature to be found on a trailer is a rolling hitch. This allows the trailer to stay upright even when the bike rolls over or is laid on it's side. Lastly, look for a brand that comes with a safety flag. This makes the trailer more visible.
Most Popular Bike Trailer
Burley Design
If you're looking for a trailer on a budget, but you want top-of-the-line in terms of safety, then the Burley Bee is a fantastic choice. The Bee keeps your little passenger comfortable and secure at all times. The padded, hammock seat, aluminum frame, and five-point harness belt make this trailer ultra secure and cozy at the same times. As an added bonus, there's a UV inhibitor that keeps your little friend safe from the sun. There's also a handy storage pocket within that is great for storing snacks, extra layers, and water bottles. The folding frame makes this trailer incredibly easy to store, and the wheel guards, safety flag, and water-repellant cover that is resistant to mildew make this one of the most finely-featured trailers on the market. This design from Burley not only meets all requirements of the American Society for Testing Materials, but also exceeds them.
Can fit 1 to 2 children, up to 100 lbs
Made of 600D polyester
Handy interior pocket for storage
Hammock-style seat with 5-point harness
All-weather cover
– Anthony Dawson
Best Overall Bike Trailer
Aosom
This unique bicycle trailer from Aosom comes complete with stroller wheel, two-part axel hitch, jogging arms, and safety flag for the best in safety and versatility. The innovative Combi-cover provides not only protection from bugs, but also defense against inclement weather. There's a separate seating area for each child, so you don't have to worry about stuffing them into one space together. The extra-low center of gravity on this trailer makes it stand apart for its safety. The spacious rear storage space makes it easy to carry along what you need for the day, like snacks, beverages, and change of clothes. It also quickly folds for easy storage. The clear, roll-up front window makes it convenient to allow the kids breathing space during fair weather, as well as protection in the elements. The tinted side windows also add extra defense when the sun is harsh. All in all, this is a fantastic trailer for those who are on a budget but want the ultimate in protection and coziness.
Padded headrests for ultimate comfort
5-point harnesses
Immense rear-storage provides space for everything you need to take along
Weather cover protects from the elements, and mesh cover allows air to flow
– Anthony Dawson
Best Budget Bike Trailer
InStep
The InStep Quick N EZ trailer is the perfect way to take your kids along on a biking adventure that is safe, dry and cozy. The simplified design easily folds down for easy storage, and the 16″ molded rim tires work on even the most rugged terrain. The fantastic canopy provides not only a bug screen, but also a tough weather shield that keeps the little ones protected and comfortable. This wonderful trailer works with pretty much any bike. You also get an innovative stroller kit that allows you to quickly transform the trailer into a double stroller in seconds. There's an 80 pound weight limit for this model. The design of this trailer is ideal for adventurous, outdoorsy families that are constantly venturing into the wilderness, and also need the convenience of easy storage and versatility. The product is also quite durable and can last your family for years.
Ideal for recreational cyclists who are family-minded
Easy to store with fold-down design
16″ pneumatic tires for ultimate performance
Weights 33 lbs
Stroller kit allows for quick stroller transformation
– Anthony Dawson
Bike Trailer Buying Guide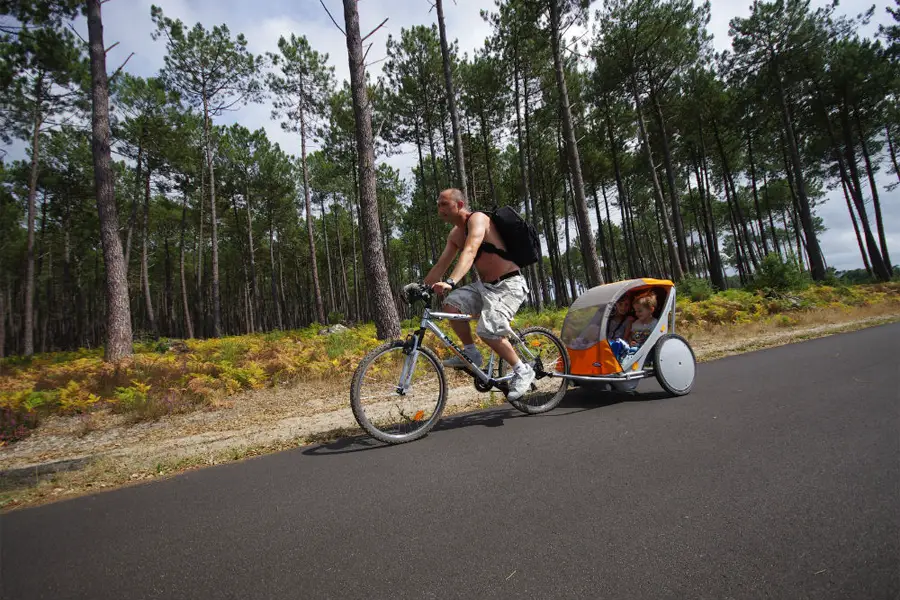 Bike riding provides an outstanding opportunity for parents to take the kids on an outdoor adventure. For children who are either too small to make the trek on bike, or who may not be physically able, bike trailers are a great solution. There are several different brands, styles, models and sizes, so finding the right one could be a bit of a challenge. If you are looking for a bike trailer to purchase, there are a few things you should know before you settle on the final choice. We've prepared this guide to help you identify the bike trailer that will best suit the needs of you and your family for hours of outdoor fun with added safety features.
Things to Consider Before Purchasing a Bike Trailer
Bike trailers are intended for children over the age of one because this is when they are able to safely wear a bike helmet. All children in bike trailers should wear a . Some helmet things to consider are: how many children between the ages of one and six will be riding in the trailer; what are the body weights of the children;
Types of Bike Trailers
Bike trailers have the appearance of tiny sidecars that are attached to the rear axle or the frame of a bike. They are intended for children between the ages of one and six years. Depending upon the model, they have passenger weight limits of between 85 and 125 pounds.
Single Seat Bike Trailers
Single seat bike trailers are made to accommodate one child safely. The weight limits can vary depending upon the model. The pros to single seat models are that they are easier to pull and to maneuver. The down side is that they are lighter and subject to swaying if care is not taken when pulling.
Double Seat Bike Trailers
Double seat bike trailers have a higher weight limit and are designed to safely carry two children safely. These models are wider than the singles which is a plus for the comfort and space for passengers. The cons of this type are that they require more effort to pull and they are more difficult to maneuver.
Features of Bike Trailers
Bike trailers come with additional features such as zippered enclosures to help shield children from wind, inclement weather, excessive amounts of sunlight and any road debris which could pose a hazard. Some are designed with partial or full cages in the event that the trailer tips over. Some have plastic windows for viewing the scenery with either clear plastic or tinting to help reduce the temperature of the interior during warm days. Some of the better models include mesh panels which help to keep the interior of the bike trailer well ventilated. Some can be converted into hiking strollers with the addition of a separately purchased conversion kit. A few of the more expensive bike trailers feature an alloy frame which is durable but more lightweight than the steel materials.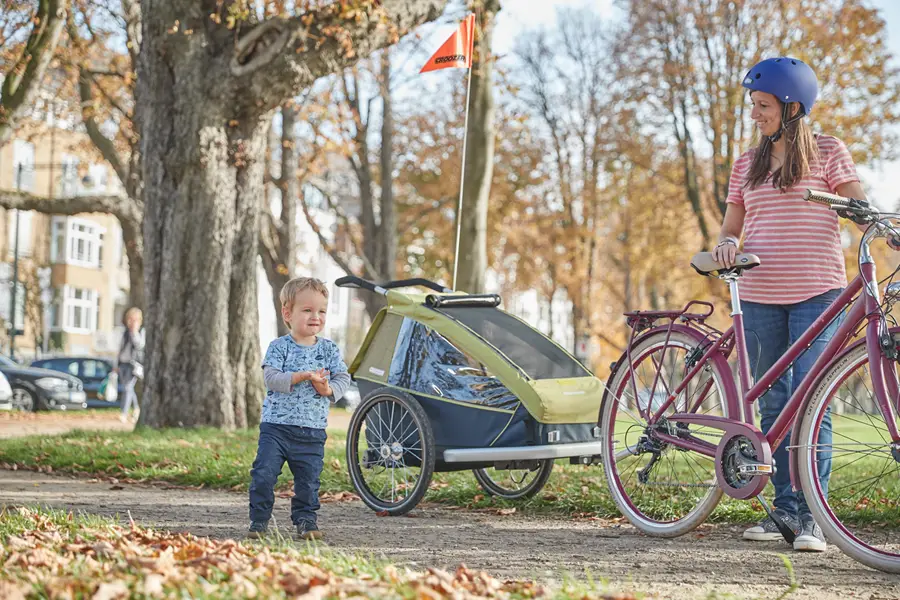 What to Look For In a Bike Trailer?
Size and Accommodation Requirements
When you go to purchase a bike trailer the first consideration is the size that is required. You want to make sure that there is adequate room and accommodation for the number of children who will be riding inside.
These units come in single and double seat models. It is unwise to place 2 children in a single seat model for safety considerations. Each child should have their own separate padded seat and 5 point harness. Ideally, there will be a padded divider in between the seats for added comfort when riding.
Safety Features
In addition to the 5 point harness for each child, the padding should be substantial enough to provide not only comfort, but also protection from potential accidents and spills. The addition of a full roll cage built into the frame construction is recommended to prevent the trailer from being crushed in on the child in an accident.
Sturdy frame construction from high quality materials and excellence in workmanship should be observable. The fabric should be high grade, durable and of a texture and thickness that provides protection from road debris and the elements. A rotating hitch is an additional safety feature that can make a difference in a spill that could allow the trailer to remain upright if the bike suddenly turns or falls. Wheels should be constructed of either steel rims or sturdy aluminum.
Mesh ventilation panels help to prevent the interior from becoming too stuffy or overheated. Tinting on the clear portions of the plastic windows can also help to keep the trailer cooler on warm days. Check to ensure that the zippered fabric flaps are well made with quality materials.
Final Bike Trailer Checklist Items
After you have settled on the bike trailer that meets your requirements for space, safety and quality, do a double check. Take a few moments to review the online customer reviews and ratings to find out what others have to say about the product. People who have previously used this bike trailer can help to give you an idea of what to expect based upon their personal experiences. If the majority would recommend it to others for purchase, then it's most likely a quality product. If most of the reviews are negative then it may be a good idea to move on to another brand.
The last consideration is to compare prices from a variety of vendors who are selling the same products. You may be surprised at the price variations and it's always nice when you can save a little cash on a good deal.
Conclusion
Purchasing the right bike trailer involves being aware of the most important considerations such as space and weight considerations, the effort it will take to pull them and safety features which should be included. Although there are several different brands and models available, by following the tips provided in this guide, you'll have a better idea of what you are looking for. Take the time to shop around to make sure you get the best possible deal on the model that provides the features you will need to maximize the safety of your child while in transit.