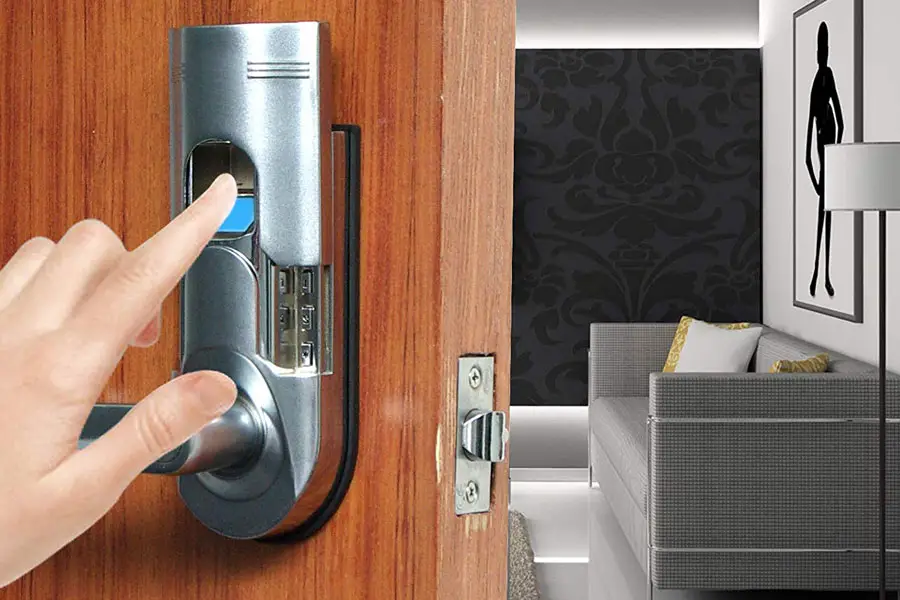 Biometric Door Lock Reviews
Biometric Door locks provide more security for your home than a traditional deadbolt lock. The biometric door locks provides keyless entry and is nearly impossible to pick, providing customers with a stronger sense of security. The locks allow for only you and your invited guests to enter your home. No more searching for keys in your purse, or being locked out of your own home. Technology is advancing rapidly with regard to securing our homes. The following biometric locks will provide your family with the additional security and convenience needed to protect your home and your family members.
Most Popular Biometric Door Lock
iTouchless
The iTouchless Bio-Matic Fingerprint Door Lock for Right Hand Door and has a very sleek design that will aid your homes security performance. The biometric door lock can be bought in either silver or gold allowing you to buy this product that will match your home décor. With the fingerprint option you, your family and your visitors will have secure access to the home. However, with the 150 fingerprint user feature you will be able to allow your family, friends, neighbors, etc., to enter your home with your permission. You can easily delete or add fingerprints to this biometric door lock. The iTouchless Bio-Matic Fingerprint Door Lock allows up to 78 pass code users to optimize use for the door lock while keeping your home secure. There are two backup keys for your convenience in case you forget the passcode code or do not have an established fingerprint. This device has a low battery power warning alert with a sliding cover to protect the UV sensor that is water resistant.
Two different colors available
Fingerprint device
150 finger print users
Up to 78 pass codes
2 backup keys
– Anthony Dawson
Best Overall Biometric Door Lock
Samsung
The SAMSUNG EXON Fingerprint Digital Door Lock SHS-5230 will allow you, your loved ones, and your belongings to be secure in your home. This biometric door lock is able to combine pin and fingerprint access giving you confidence that you are controlling access to your home. If you need to let your children or guests into your home, you can delete the fingerprint requirement and only use the pin feature. The fingerprint feature sensor is heavy duty using white light technology. The power supply for this biometric door lock is a 1.5V AA Alkaline battery and is made with fiberglass and reinstated plastic. The SAMSUNG EXON Fingerprint Digital Door Lock SHS-5230 comes with 2 emergency keys. The pin feature can range from 4 to 12 digits allowing you to secure your home with an easy to remember pin or a more complicated pin based on your needs. You can also register up to 100 fingerprints providing access to all family members and frequent visitors, like house cleaners.
Pin and fingerprint technology
Can easily add and delete fingerprints
Sensor is heavy duty using white light technology
1.5V AA Alkaline battery
Made with fiberglass and reinstated plastic
– Anthony Dawson
Best Budget Biometric Door Lock
Anviz
The Anviz L100 Fingerprint Biometric Door Lock will protect your home or business without complicated technology. This biometric door lock has a high-impact lock body, making it nearly impossible for intruders to break the code and have entry to your home without the proper key or code. With the state of the art nanotechnology surface this device is bump proof. The Anviz L100 Fingerprint Biometric Door Lock is constructed of high quality steel allowing the device to be durable and secure. The user management is flexible depending on your wants and needs. The biometric door lock comes standard with an RFID Key-tag entry system allowing to easily enter your home with the touch of a finger. This product will replace keyed locking mechanisms with a fingerprint sensor which recognizes who is and who is not authorized to enter. Once your fingerprint is registered you will be able to enter your home without having to find a key or even remember a pin number.
High impact lock body
Nanotechnology surface
Constructed of high quality steel
Comes standard with RFID Key-tag entry system
Fingerprint recognition for easy entry
– Anthony Dawson
Biometric Door Lock Buying Guide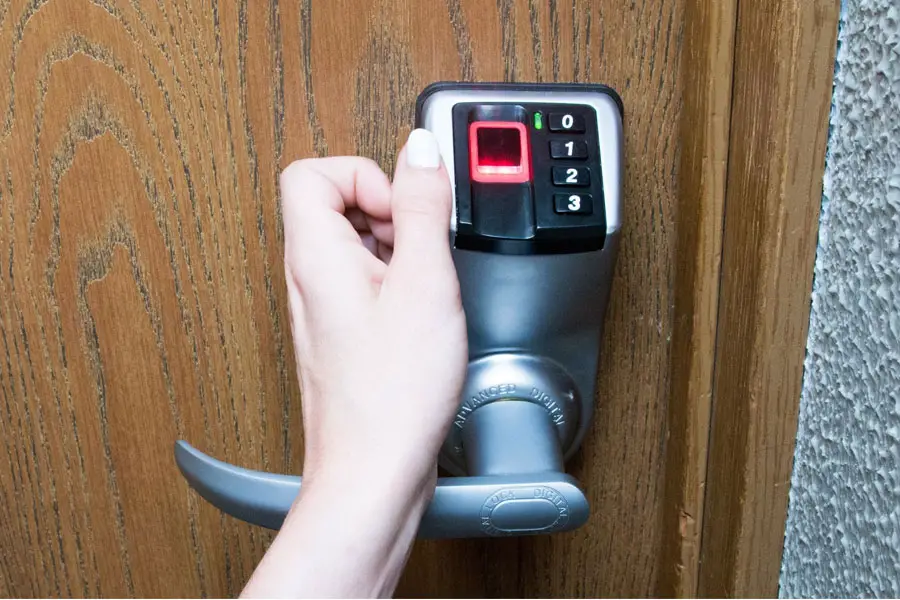 Having an utmost feeling of security especially when we are inside our own homes is an important factor that needs to be seriously considered. Our homes are our own comfort zones and personal havens. It is in our homes where we start and end every single day of our lives, spend quality time with our families and loved ones, and relax after a very stressful and tiring work day. We invest a lot of time, effort, and money in order to get a mortgage for a new home or perhaps secure an apartment unit.
Unpredictable factors like theft, robbery, and burglary are just some of the most common domestic crimes everybody has been very wary about these days. Essentially, protecting and ensuring utmost security for our own homes and families should be on top of every common household's priority list.
Technological advancements and breakthroughs have paved the way for more innovative and systematic inventions and techniques that upgrade and enhance our way of living. Traditional ways and methods are rapidly being replaced by modern creations which make life easier and more convenient. Home security issues from two decades back were answered with the usage of deadbolt locks and common door locks. Yes, these steel mechanisms can truly provide the answers that will stop public scrutiny over their own home's safety and security, yet with the fast paced world of advanced technology, a modern and comprehensive approach to home security issues has been formulated and invented. Thanks to advanced biometrics technology and nanotechnology, the answer to home security and protection worries is here – the biometric door lock.
The biometric door lock is the long awaited answer to everyone's issues and questions concerning modernized home security. It replaces the traditional deadbolt lock, adding protection and improving security for our homes. This newly introduced mechanism offers an advanced feature known as keyless entry. Keyless entry replaces the traditional use of metal keys allowing a more convenient and hassle free way to enter and exit the premises. It would nearly be impossible to pick and mess up this digital door lock. It would only be you, your family, and invited guests who could enter the door of your house. It would surely stop your worries about losing your house keys or getting yourselves locked out of your own homes. A biometric door lock will definitely perform the job for you with the highest accuracy and precision, leaving you with tremendous peace of mind.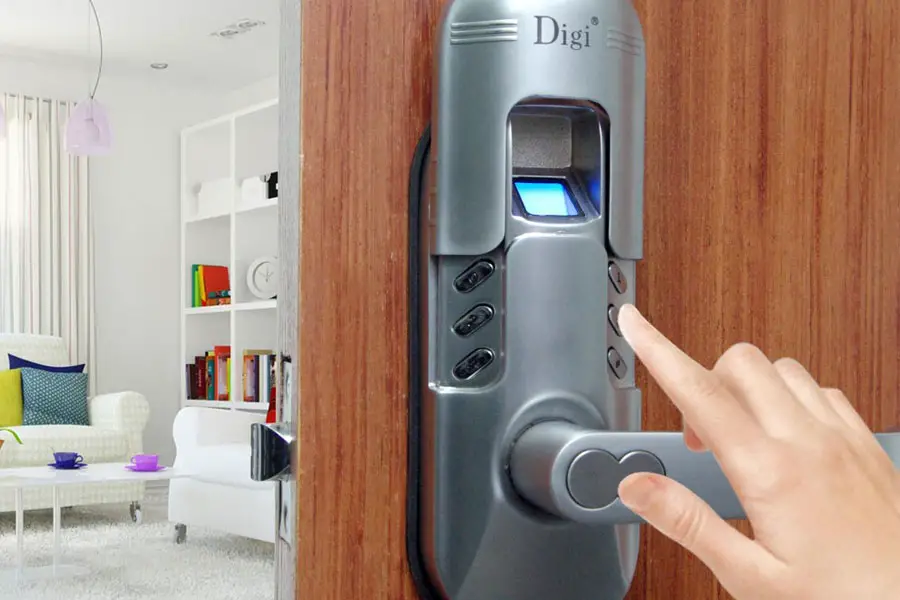 One of the best and most popular biometric door locks available today is the Samsung Exon Fingerprint Digital Door Lock SHS-5230 It was awarded the winner on Best Consumer Reviews when compared to other biometric door locks. The Samsung Exon Fingerprint Digital Door Lock SHS-5230 combines PIN and fingerprint authentications in a very user-friendly digital device. This amazing modernized home security technology is made up of fiberglass and reinstated plastic and runs on 1.5V A.A. Alkaline battery.
The heavy duty fingerprint sensor uses white light technology. It is fully equipped with the most state-of-the-art features and the most helpful benefits. The digital door lock has a wide touch pad screen providing more space to ensure a more accurate fingerprint authentication. It has an automatic sliding door giving an ease of access. When it recognizes the need to have its batteries replaced, you will hear a beeping sound indicating low battery power.
The upper portion of the door lock contains the numeric keypad for the PIN authentication, while the middle portion of it contains the wide touch pad screen for the biometrics access system. In case of emergency situations, mechanized override keys are provided for one's own convenience.
There are many biometric door locks available in the market today. What makes the Samsung Exon Fingerprint Digital Door Lock SHS-5230 the best among its competitors is the way it enhances and strengthens security. Most of the biometric door locks use fingerprint authentication for security enhanced identification.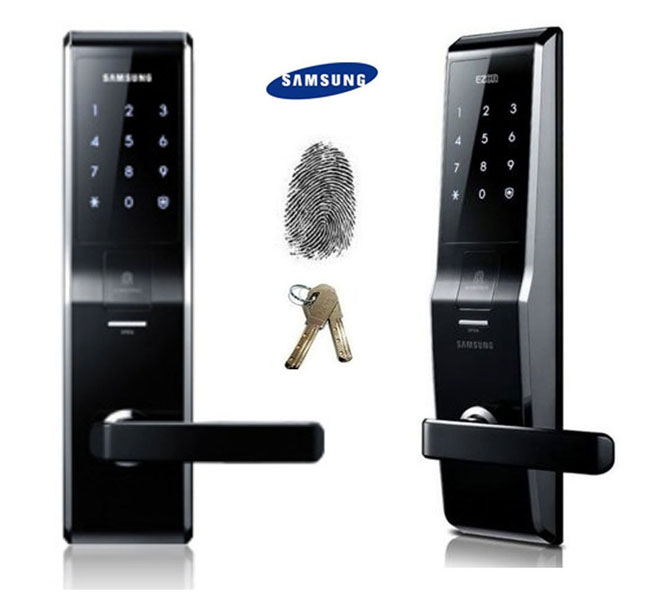 Samsung Exon Fingerprint Digital Door Lock SHS-5230
It Is combines biometrics access system and PIN to ensure doubled security for every owner. You can delete the fingerprint requirement and activate only the PIN feature for your children and other guests depending on the condition or situation. The PIN feature ranges from 4 to 12 digits, and you have the authorization to create a unique identifier, from a simpler one like 1234 to a more complex one like 123412312. You can register up to 100 fingerprints, from your family, friends, distant relatives, up to house cleaners and baby sitters. Worried about the fingerprint marks left on the touch pad screen? Worry not for the device has its own intelligent way of preventing intruders from obtaining left fingerprint marks. When you are about to leave the house, you can set up an anti-theft feature simply by pushing a button on the biometric door locks. Any attempts to access and tamper with the device will automatically cause it to make a loud alarm wail.
Conclusion
Home security has never been this advanced. Tina Spikes, an account manager, was once a victim of household theft a few years back while she was out of the country for a vacation. She used to have the traditional deadbolt lock installed on her door and a burglar alarm system for security. She was left in great awe and disappointment upon finding out how the thieves were able to destroy the door lock, enter the house, and steal all her belongings without the burglar alarm giving out any warning of the impending danger. Police reports revealed that her burglar alarm system was no longer functioning properly anymore and, worse, without her knowledge at all.
Do you need to wait for thieves and burglars to get inside your own home, steal your belongings, and even become a threat to your family's security without you even doing something and thinking ahead about it? Stolen belongings can be replaced, but the psychological effect that these incidences can leave you and your children's minds is unforgettable and can even cause nightmares. You should not wait for these unfortunate events to happen before you take action. Ensure and strengthen your home security by installing a biometric lock.