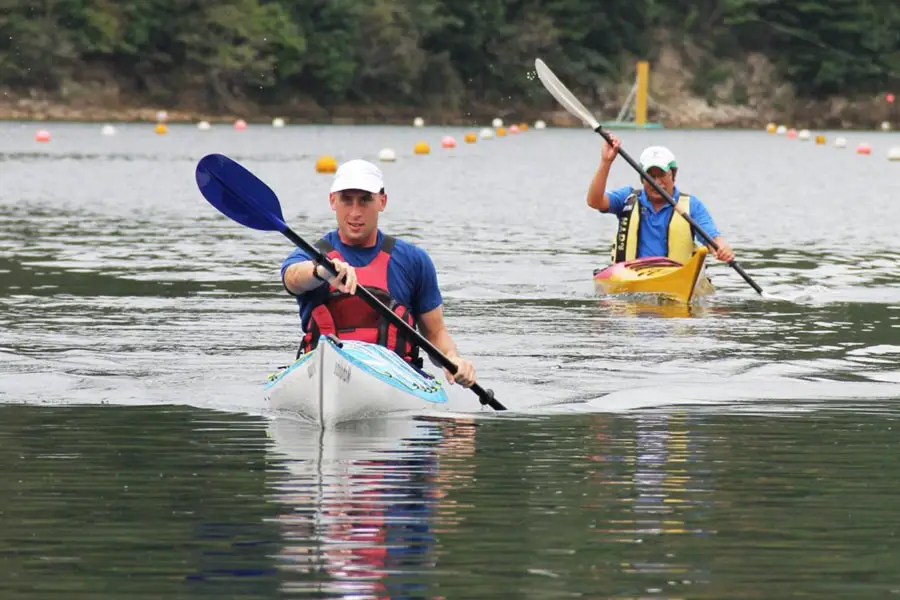 Boat Oar Reviews
If you're a recreational boater or fisherman who prefers to propel his boat with the power of muscle to the power of an outboard motor, then it's important you choose a quality oar. However, oars aren't just for canoes and flat-bottomed freshwater fishing boats, they're also required to be onboard boats with motors as a precaution in the event of engine failure. Before motors existed, the earliest boats were powered by hand carved oars. The Native Americans, Vikings, and Polynesians all used oars to propel their boats across great bodies of water. Today, boaters and fishermen still use oars to paddle their boats across the water and in and out of narrow inlets and streams. Oars must be of the right length, weight, and rigidity in order to have the most efficiency. If they are too long, heavy, and hard to pull they are less likely to clear the water on your backstroke, which induces drag and reduces speed. If your oar is too short, you won't be able to penetrate deep enough into the water to get enough leverage for propulsion. The narrower the boat, the shorter the oar can be. However, selection is largely dependent on the individual rower's size, reach, stroke style, and personal preference.
Most Popular Boat Oar
Carlisle
The Carlisle Wood Economy Boat Oar is slated for rowers who want a classic look and feel from their oar. Both the shaft and blade of the oar are constructed with laminated wood for maximum strength and just the right amount of flex for its weight. As to prevent rotting and expansion, the wood is sealed with a protective, water-resistant urethane finish that also gives it a brilliant, glossy finish. The Carlisle Wood Economy Boat Oar is available in lengths from 5-feet up to 7-feet, with a weight starting at 52-ounces. With a wooden oar like this one, you are able to experience a more natural feel as the oar goes in and out of the water. Wood also serves well to absorb shock, and also has more heat management value than aluminum or composite-handled oars.
Wooden boat oar has natural feed and look
Strong with right amount of flex
Wood construction serves to help keep hands warmer longer
– Anthony Dawson
Best Overall Boat Oar
Sun Dolphin
Whether you're rowing from the center of the boat or the rear, or if you have two rowers sitting tandem, the Sun Dolphin 6-Foot Oar Assembly will help take you where you need to go.The set includes two aluminum-shafted oars and two oar eats for easy integration into most boats. Whether you're looking for manual steerage for a 20-foot inboard/outboard or an 8-foot dinghy, the Sun Dolphin Oar Assembly kit has exactly what you need for an enjoyable day out on the water. Lightweight, durable, and resistant to rust and rot, these oars make a great stowaway on any boat.
Durable, lightweight aluminum construction
Can be used from rear or center seat (or both)
Suitable for any size/type boat
– Anthony Dawson
Best Budget Boat Oar
Shoreline
The 6-Foot Aluminum Oar from Shoreline Marine is designed to make rowing a cinch. The length is ideal for the average sized rower and average sized boat, and its light weight allows the rower to maximize his/her energy without tiring easily on long days on the water. The aluminum shaft is study as to standup to collisions with the side of the boat, branches, and rocks in the water, and is designed to prevent corrosion from constant contact with the water. The top of the handle is straight inline with the rest of the shaft, though a foam, padded grip is added to increase comfort and stability. The oar's blade is about 21-inches long and 7-inches wide and curved to optimize the flow in and out of the water. Fortunately, the Shoreline Marine 6-Foot Oars do float, so you can rest assured that you'll have a solid chance of recovering it in the event it falls from your grip into the water.
6-foot in length and lightweight to allow for use by paddlers of all ages and skill levels
Aluminum shaft is corrosion resistant and won'trust after years of use
7-inch wide curved plate designed to maximize propulsion
– Anthony Dawson
Boat Oar Buying Guide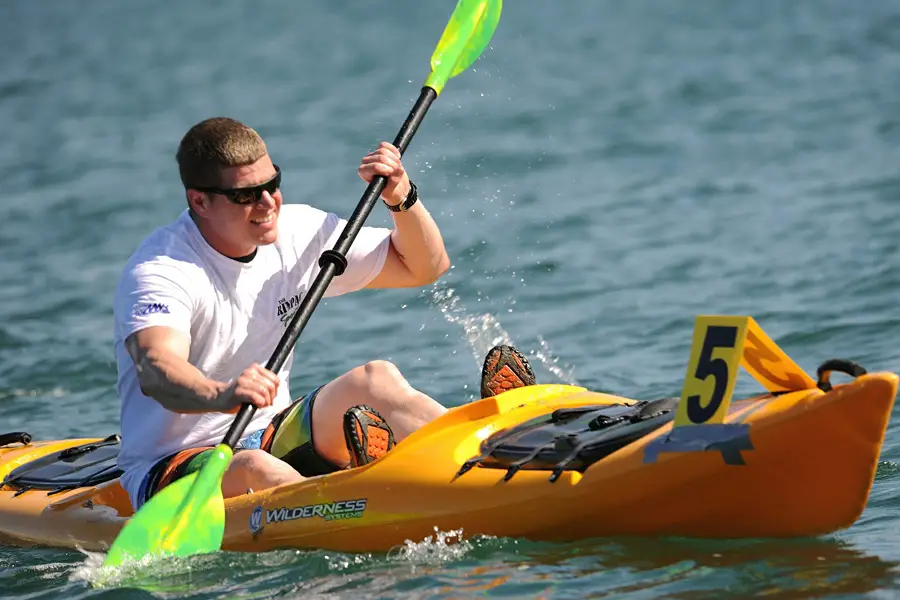 If you fish or are a recreational boater who prefers to propel their boat manually, then it is important you pick an excellent boat oar. Oars are not only for flat-bottomed boats and canoes; they are also necessary to have on boats with engines. This is a safety measure in case of engine failure. Before engines were invented, the oldest boats were driven by hand carved oars.
Today, boaters float throughout the water in and out of narrow inlets. For this, oars must be of the ideal length, weight, and rigidity to offer maximum efficacy. If they're long, thick, and difficult to pull, they will not help you move quickly and will cause drag and reduce rate.
In case an oar is too short, you will not have the ability to penetrate deep into the water to get sufficient grip for propulsion. The thinner the boat, the briefer the oar should be. However, the choice is mainly determined by the rower's dimensions, stroke mode, and personal taste.
Materials to Consider When Purchasing an Oar
You will find an assortment of materials to select from, each with their benefits and drawbacks. Wood, aluminum and carbon fiber composites are a few of the materials you can select from.
Wood
The benefit of wood is the fact that it flexes to absorb the jolt slightly. Wood additionally captures the water moving so that you could "sense" your paddle strokes. It can retain heat greater than its aluminum counterpart. And wood appeals to the traditionalist because of its attractiveness and its own direct lineage to the history of paddling.
Wood's downfall is the heavier weight. It is something that you might not notice straight away, however the longer you paddle on a specific day, the more you are going to feel fatigued on your arm.
Carbon Fiber Composite
This substance is among the lightest on the industry. All while keeping its strength, which makes it the definitive choice for a strength-to-weight ratio. As it's the lightest option, you will have the ability to paddle longer with less exhaustion.
Aluminum
This substance is relatively light and is the cheapest of the three making it a good option, particularly for the beginning paddler. Also, it keeps its potency over time. Aluminum's downfall is it might feel cold to the touch in cold temperatures. You can easily handle this issue by wearing neoprene gloves.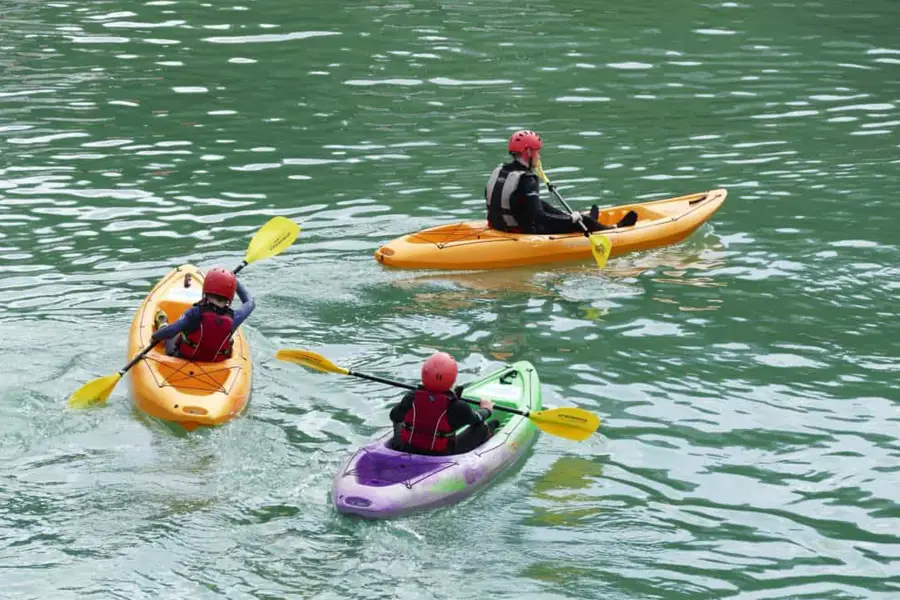 Shaft Designs
One piece or two?
A one-piece paddle essentially has more complete strength than those that break down into pieces. But if cargo storage and space are a problem, a two-piece provides a fantastic alternative since it divides into a manageable size that fits easily within a trunk.
Two-piece paddles are present in various styles, such as a push-button take-down model as well as the telescoping model. The take down version contains a three-click hole configuration which lets you ditch the blades for simple cutting through the air with minimum resistance.
A telescoping handle enables you to choose a specified length, to decide if it will be longer or shorter. Simply pick the length and turn it into position. This can be a benefit if you are going to be utilizing one paddle for many different boats, or if you've got various-sized paddlers sharing the same paddle.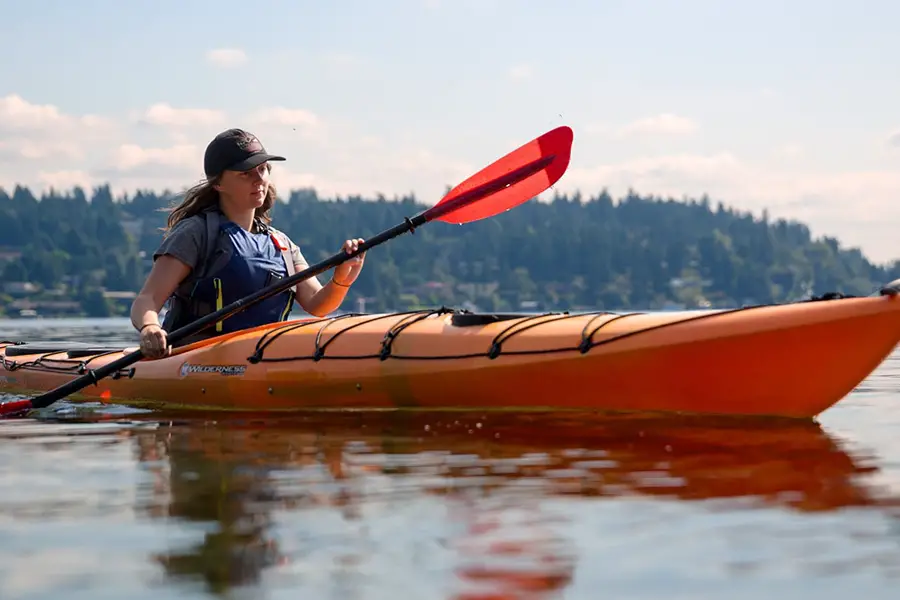 Selecting Blade Shapes
The skinny on square, oval, narrow and wide.
When contemplating blade contour, consider the areas that you will be navigating. A broad blade allows for stronger bursts of energy and pushes your boat quickly but is much more exhausting at the long haul. Generally, recreational boats utilize a thinner blade because it is easier to pull the water and also affords you easier paddling so you're able to cover more water on your float.
Oval blades are asymmetrical or concave just like a spoon. Or, they could be squared off to the floor. The spoon silhouette helps you keep stability as you push the water along with the asymmetrical form. This is comparable to a plane wing in the way that it creates a smooth draw throughout the water.