Booster Car Seat Reviews
As your child continues to grow out of their car seat an upgraded booster seat is needed. The laws vary by state but typically when a child reaches 49 inches or ranges from 40 to 100 pounds a booster seat is needed to keep them safe in the car. The following reviews are top quality booster car seats with high crash ratings and easy installation. Proper use of booster seats save children's lives every year. Ensure that you have a top rated car seat for your precious cargo.
Most Popular Booster Car Seat
Graco Highback TurboBooster
The Graco Highback TurboBooster Car Seat comes in two different colors including: Spitfire and Mosaic. This car seat will help you carry your baby safely from one location to the next. The car seat can carry children ranging from 30 to 100 pounds. The Graco Highback TurboBooster Car Seat exceeded crash tests for United States safety standards. The booster seat was created with the customer in mind enabling it to be converted to a backless booster allowing the car seat to be used for years. The Graco Highback TurboBooster Car has an adjustable headrest and armrest that allows your child to be secure as they continue to grow. The cup holders are a very convenient feature. Your children can keep their beverages close without having to hold them in their chair or getting them all over their seat or your car. The cup holders can hide away when they are not in use.
2 colors available
Exceeded United States safety standards
Transforms to backless booster
Adjustable headrest and armrests
Hide-away cup holders
– Anthony Dawson
Best Overall Booster Car Seat
Graco 3-in-1 Harness Booster
The Graco Nautilus 3-in-1 Forward Facing Car Seat comes in three different colors including: matrix, garnet, and Valerie. The car seat will allow you to transport your young one from place to place safely. The Graco Nautilus 3-in-1 Forward Facing Car Seat is a 3-in-1 car seat meaning you can use this car seat from infancy until they are 100 pounds. This combination seat will make it so you do not have to continually upgrade car seats as your young one grows. The Graco Nautilus 3-in-1 Forward Facing Car Seat has a 5 point harness for children that weigh 20 to 65 pounds. In order to protect children over 65 pounds, the car seat has a high back belt booster for children 30 to 100 pounds. The car seat can also be transformed into a backless booster for children ranging from 40 to 100 pounds. The car seat is reinforced with a steel frame to allow for durability.
5 point harness
Transforms to backless booster
3-in-1 car seat
High back belt
Steel frame
– Anthony Dawson
Best Budget Booster Car Seat
Graco Backless TurboBooster
The Graco Backless TurboBooster Car Seat comes in 10 different designs including: galaxy, groovy, violet, bakers, butterfly kisses, fly away, frenzy, jeweled princess, star sketch, and world of cars. Instead of having solid colors the graphic designs are more fun and allow your child to have a personalized car seat that matches their personality. The Graco Backless TurboBooster Car Seat will help you safely carry your young one from place to place. This booster seat is meant for children ranging from 40-100 pounds and up to 57 inches tall. The Graco Backless TurboBooster Car Seat is a top rated booster seat by leading consumer magazines and publications. The booster seat was crash tested to exceed US safety standards. The crash test process was done thoroughly in order to provide confidence and alleviate safety concerns for conscientious parents. The Graco Backless TurboBooster Car Seat has a seat cushion that is detachable and machine washable to make washing and cleaning an easy process.
Up to 10 different graphic designs
Crash tested to exceed US safety standards
For children 40 to 100 pounds
Detachable seat cushion
Machine washable cover
– Anthony Dawson
Booster Car Seat Buying Guide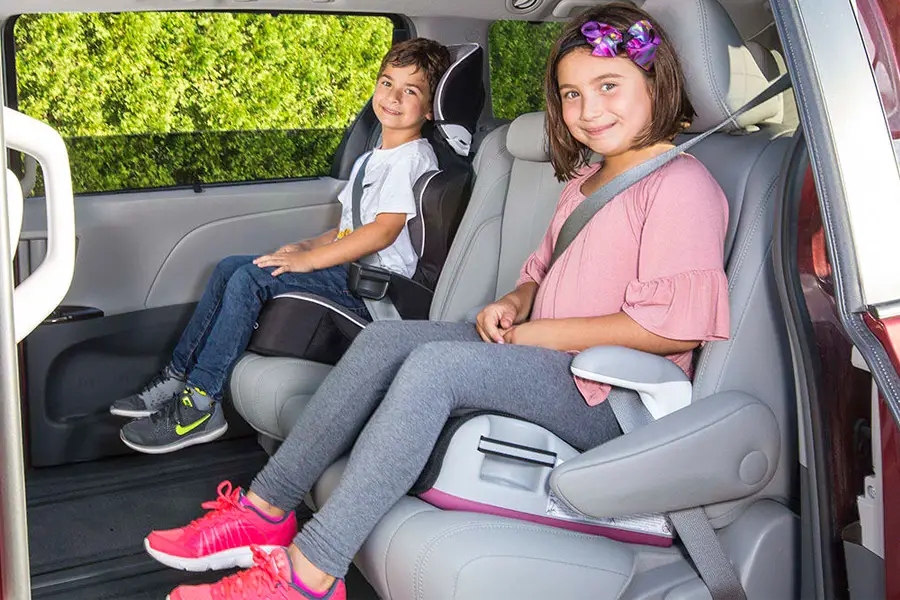 Many parents feel that their children are safest with them, held in their arms. However, this doesn't apply to particular cases, like when parents travel with their child using a private vehicle.
Studies have proven that the safest position in a vehicle for babies is the backseat, facing the rear of the vehicle. For toddlers and older children, the safest position in a vehicle is the backseat facing the front.
Some people might think that buying this kind of product is as simple as going to the store and paying for one. Putting a child in any car seat doesn't mean that the child is as safe as possible for the duration of the drive. There are some matters that parents need to consider in buying and using such products.
Types of Car Seats
There are several types of car seats. The differences between these variants of the product lie in their flexibility to accommodate children of various sizes and the level of comfort they provide.  There are also some types that offer additional convenience in terms of handling, transport, and storage.
Once parents start traveling with their infant, they will need to get an infant car seat. According to studies, small babies are safest in the backseat facing the rear of the car. Infant car seats help parents secure their babies in the backseat. Most of these infant car seats can be detached from the installed base in the car. Parents can carry the detached infant car seat and take it wherever they need to go, or put it in a compatible stroller where the product can fit securely. Parents don't need to worry about this feature because, once the lock is snapped into the installed base, it's secure. Babies can use this type of car seat for approximately 3-4 months, sometimes even less. Once a baby grows too big for the product's suggested weight and size capacity, it's time to replace it with something more appropriate.
It might seem costly to have to buy different types of products, especially when a baby grows rapidly. This issue is addressed by convertible and 3-in-1 car seats.
These car seats are larger and heavier, so it stands to reason that they cannot be removed from the car. While they're not portable, children can use these car seats for many years.
Convertible Car Seat
Convertible car seats can be positioned facing the rear or facing the front of the vehicle. On the other hand, 3-in-1 car seats can be positioned facing the rear or the front, and can be converted into a booster seat that boosts a child to safely wear the vehicle's seat belt. Babies may be positioned facing the front once they reach 2 years old or they reach the height or weight limit for the rear facing position indicated by the car seat manufacturer.
Combination Car Seat
Another type of car seat is the combination car seat. This is for infants who used the portable infant car seat instead of the convertible or 3-in-1 types. This type of car seat positions the child to face forward and has its own safety harness. Once the child exceeds the height or weight limit indicated by the car seat manufacturer, parents can convert this car seat to its booster seat setup.
Booster Seat
Booster seats are for children who have outgrown their convertible type car seats and those who have more specific requirements. By its name, a booster seat boosts a child's position in a car so that he or she can use the seat belt properly.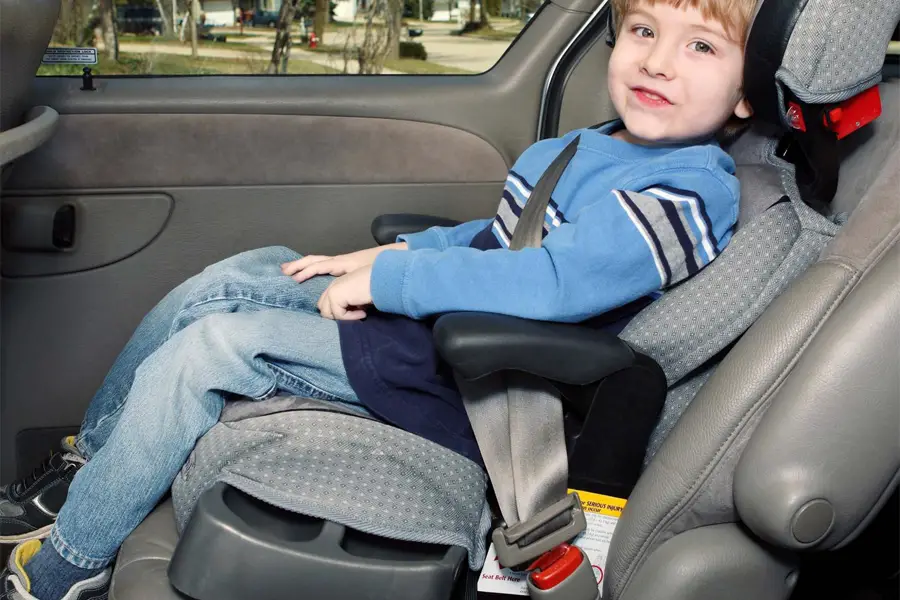 There Are Two Types of Booster Seats – Backless Boosters and High-Back Boosters
Backless Boosters Seat – Just boost a child's sitting position. This is for vehicles that have ample backrest or headrest for support. It's cheaper than a high-back booster, but it's only safe to use provided that the headrest is adjustable or tall enough to support a child's head.
High-Back Booster Seat – On the other hand, is heavier and more expensive. It supports a child's rear, torso, neck, and head.
Children should use booster seats until they're big enough for a vehicle's seat belt to fit them properly. They should reach near five feet in height. For families that use more than one car, parents should consider that their children might not need an elevated seat in one car and might need one in another.
Ensuring a child's safety while traveling does not end with choosing the right product. Parents who invest in car seats want their children to be as safe as possible but, oddly enough, 3 out of 4 car seats are not installed properly. Incorrect installation of car seats definitely does not help keep children safe.
New parents might ask their friends or family who have experience with installing car seats, but it's best to follow the installation instructions and safety measures that are provided by the manufacturer. It's also best to make sure that the product fits the vehicle before buying instead of relying on features alone. Testing the product with the child in it will show if it's the right fit and that it doesn't tip over. This applies especially to parents who are interested in buying the backless version of the product.
Aside from correct installation, proper use of the harness or seat belt has to be observed. Some parents are hesitant to tighten the straps around their children, so they let the straps fit loosely to allow some space for movement. Doing this is not advisable, because the harness is supposed to secure a child in place. The harness should fit the child comfortably, yet there shouldn't be any allowance for the straps.
Conclusion
New parents have to be 100% committed to ensuring their children's safety and welfare.  These are aspects that they should take very seriously.  Even when everyone recognizes their importance, statistics still sadly show that police and paramedics encounter incorrectly installed car seats everyday when they respond to vehicular accidents. Parents must make sure that their child is secure in a car seat every time they use it.  Having a car seat is not a guarantee that their child is safe.  There are other safety precautions that they should take even with the use of a car seat.