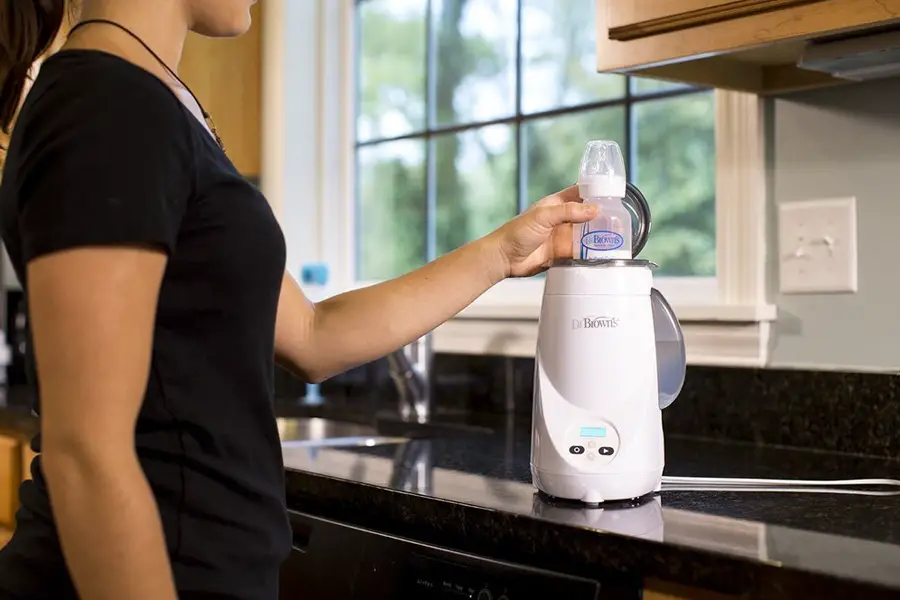 Bottle Warmer Reviews
Feeding your baby is one of the most important duties of a new parent. When it comes to bottles there are often questions about how to store formula correctly, how to mix it and at what temperature should it be when feeding the baby. The bottle warmer takes the temperature question out of the equation. It protects the bottle, warms the milk to the correct temperature and protects the nipple. If any of these factors are not done correctly the feeding can burn the baby. Warming a bottle incorrectly can also damage the bottle and/or the nipple. Before you have your baby, you can read that warming your baby's bottle incorrectly can be harmful. By heating your baby's bottle the wrong way, the bottle's nipple could burn your baby's mouth or you can add harmful substances in your baby's beverage. With these factors in mind, it is important to find a method that warm's your baby's bottles correctly. The following reviews are bottle warmers that are made from top quality companies and products that take care of your baby's bottles with the care that you take care of your baby.
Most Popular Bottle Warmer
Kiinde
The KiindeKoziican warm your baby's bottle safely and easily. This bottle warmer creates a flow of warm water that will quickly and gently thaw and/or warm breast milk based on CDC and USDA recommendations. The KiindeKozii is very simple and does not require you to add water after each use. For your convenience, the bottle warmer has an easy to use timer that will let you know how much time you have left before the meal is ready. This will help you know that your baby's bottle is at the right temperature every time. When the KiindeKozii's time is up, the warmer will automatically shut off completely removing the heat source from the bottle. This feature prevents the bottle from overheating and becoming uncomfortable for your baby. The KiindeKozii will easily warm up breast milk, formula, storage bags, liner bottles, plastic, glass, food jars, and more.
Quickly thaw and/or warm baby's beverage
No need to add water every time
Easy to use timer
Automatically shuts off when timer goes off
Safely heats up nearly anything
– Anthony Dawson
Best Overall Bottle Warmer
Philips AVENT
The Philips AVENT Express Food and Bottle Warmer can heat up bottles and baby food jars quickly and evenly. The device prevents dangerous hot spots that can occur when using the microwave for heating. The Philips AVENT Express Food and Bottle Warmer are designed with the customers in mind because this device can heat up any size bottle or jar. The unit is very compact and can be plugged in almost anywhere due to its small size. If you needed to, the bottle warmer could sit right next to your bed as long as there is an outlet nearby. The Philips AVENT Express Food and Bottle Warmer is a fast and safe way to warm up your baby's beverages and baby's food without the worry of the potential harmful effects. The Philips AVENT Express Food and Bottle Warmer is only 1 pound and ismade in the USA.
Can heat bottles and baby food jars
Prevents dangerous hot spots
Heats up any size bottle or jar
Plugs into any 110V outlet
Only 1 pound
– Anthony Dawson
Best Budget Bottle Warmer
Dr. Brown's
The Dr. Brown's Natural Flow Deluxe Bottle Warmer warms bottles and baby food jars of many different sizes. For your convenience the bottle warmer has a refillable water chamber that will warm several bottles before you need to refill the water chamber. The Dr. Brown's Natural Flow Deluxe Bottle Warmer has an LCD control panel that is easy to read. No matter your eye level, this bottle warmer will allow you to see the controls easily. When the bottle is ready an audible alarm on the LCD display will alert you. The bottle warmer is built to memorize heating time and the cycle memory will continue to repeat your preferred heating time as you continue to use the bottle warmer. The Dr. Brown's Natural Flow Deluxe Bottle Warmer is a great bottle warmer and will provide precise temperatures for your baby's food and beverages.
Warms baby food and bottles
Warms many different sized bottles or jars
Warms several bottles before you need to add water
LCD display easy to read
Audible alarm will alert you when ready
– Anthony Dawson
Bottle Warmer Buying Guide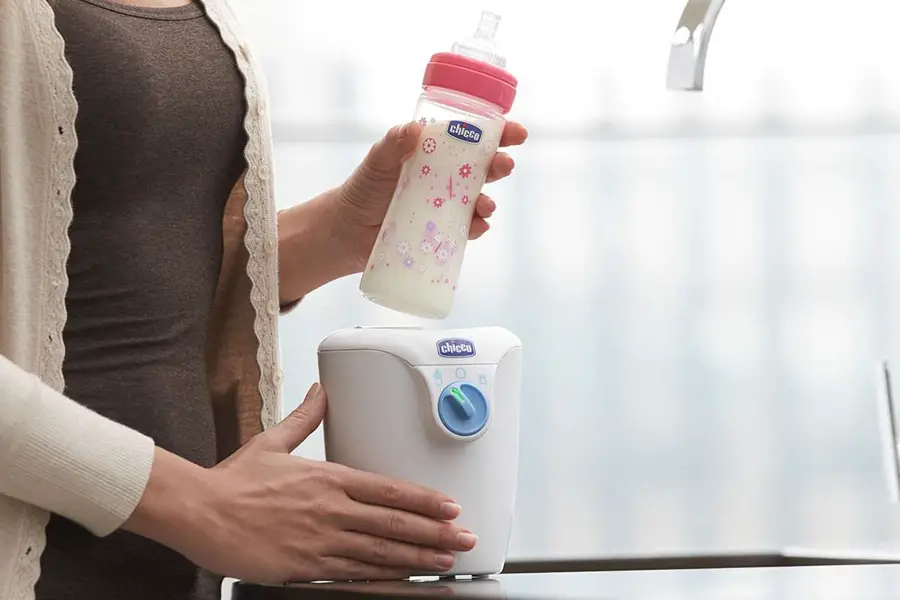 Taking care of a baby especially for first-time mothers is not that easy. You take a lot of things into consideration and think about what your precious little angel needs, so you could provide him/her comfort as much as you can.
But you should also consider how you could make your life as a mom easier while your baby is having fun. You probably thought that you are ready with the basics even before your baby comes out from your womb, but some necessities arise after giving birth and you realize these just when you thought you are completely equipped.
One thing that may come into your mind is the bottle warmer. You may be considering the benefits that come with it such as the convenience of heating your baby's milk quickly and with right temperature. This is in contrast with the traditional method in which you need to immerse the bottle in a jug with warm water for a few minutes, then test the milk's temperature so you could do adjustments, if needed.
However, before sinking into the thought of buying that warmer, you might want to weigh out some factors first. Ask yourself beforehand if you really need a bottle warmer. A warmer isn't necessary at all if you are using formula because it needs to be freshly prepared every time you feed your baby. On the other hand, if you have really made up your mind in buying that warmer, then this article will provide you with the guidelines you need to make the right decision.
Here Are Some Things That You Might Want To Consider In a Bottle Warmer
Size
You might want to look for a bottle warmer which can accommodate different shapes and sizes of bottles. This will prevent you from having a hard time shifting from one bottle brand and size to another.
Equipped With Timer
Consider buying a bottle warmer which does not only heat up quickly and evenly, but also comes with a timer. It will help you know how much time the bottles have been inside the warmer. A warmer with automatic shut-off feature will also do in case you forgot that you turned the warmer on. It will prevent the bottles from getting too hot that may ruin the milk.
Food Jar Accommodating
Choosing a bottle warmer that enables you to warm jars of baby food is not a bad idea. But you will need an adapter for this feature, which keeps the jars accessible when you need to remove them instead of reaching down to the warmer.
Heating Process
Decide if you want the bottles heated by a warmer with surrounding heating elements that maintain the right temperature, or a warmer that uses steam to heat milk.
Thermostat
Try to look for a bottle warmer with a thermostat that will keep the water at a constant temperature. Also, find one with an indicator light which will notify you that the desired temperature has been reached in warming the bottles.
Extra Features
Some bottle warmers have coolers that can keep the bottles of milk cool until they are ready for warming and feeding. There are also warmers that have an extra basket for sterilizing pacifiers using steam.
Portability
If you are always on the go, then you might need a compact warmer that is easy to carry around. This will lessen the hassles involved when traveling with a baby.
Safety and Durability
Try to consider buying a bottle warmer with an audible alarm or light, which will alert you when the warming process is already done. Also look for a warmer that you can use for a long period of time so that it will be worth your investment.
Cleanliness Is a Must
A warmer with lots of compartments is considered bulky. But food and fluid can also leak into those compartments that are sometimes inaccessible to cleaning. Look for a warmer that has simpler interiors so it would be easier for you to clean it.
After learning about some of the things you need to look for in a bottle warmer, you may also want to research about the different types of warmer available in the market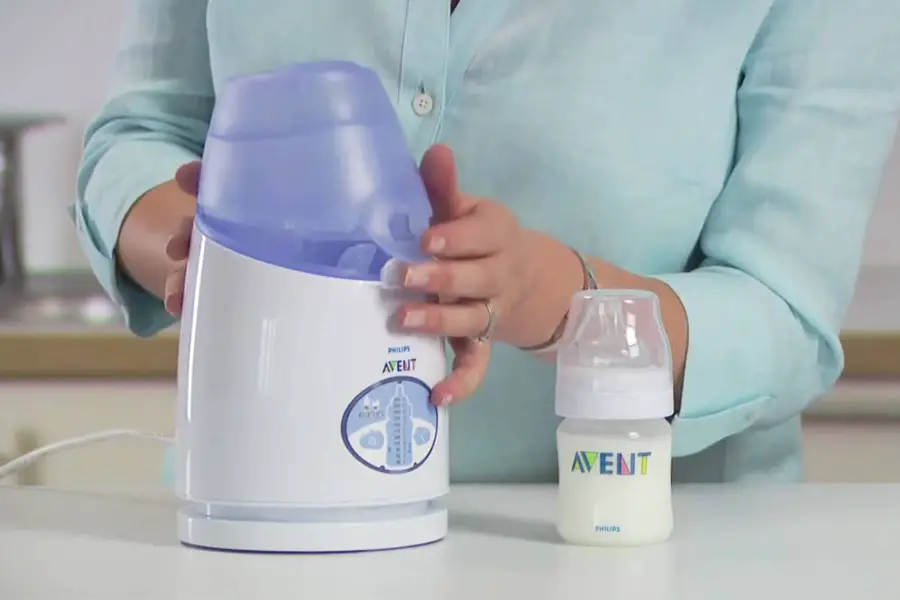 Here Are a Few of the Different Bottle Warmers on the Market
Standard Bottle Warmer
This is the most common type of warmer that can accommodate only standard bottles and heats up one bottle of milk or a jar of baby food. The bottle is placed in the central vessel of the warmer which is filled with water. An element in the warmer heats the surrounding water, which in turn heats the bottle.
Feeding-System Bottle Warmer
This type is more sophisticated compared to the standard type. Although this heats milk in the same way, it has a cooler which can keep a couple of milk bottles chilled until they are needed for warming.
Portable Bottle Warmer
This is the simplest type of warmer. It can warm up a bottle when you're out, but will generally take a longer period of time to warm up compared to the other types.
Car Bottle Warmer
This type of warmer can be plugged into your car's power socket and is equipped with a webbing strap or wrap that will hold the bottles or jars. You need to plan ahead if you will be using this type because it does not warm up easily just like the portable one.
Flask Bottle Warmer
This type has two sections: an inner flask and a lid which is deep enough to hold a bottle. Before going out, you need to fill the flask with boiling water then attach the lid. If you already need to heat up the milk, you must remove the lid, put the bottle inside it and then fill it with hot water from the flask. It only takes a few minutes for the milk to heat up and the water should remain hot enough to warm the bottle for a few hours.
Conclusion
No matter what type of bottle warmer you choose and the features it has, it is still best to think about what is most suitable for your needs and where you will be using it. Also remember that you don't have to spend a lot of money on a single item. Quality doesn't always require that you sacrifice your budget. So, plan and decide carefully and you will surely be glad in the end especially if you have chosen the right one.