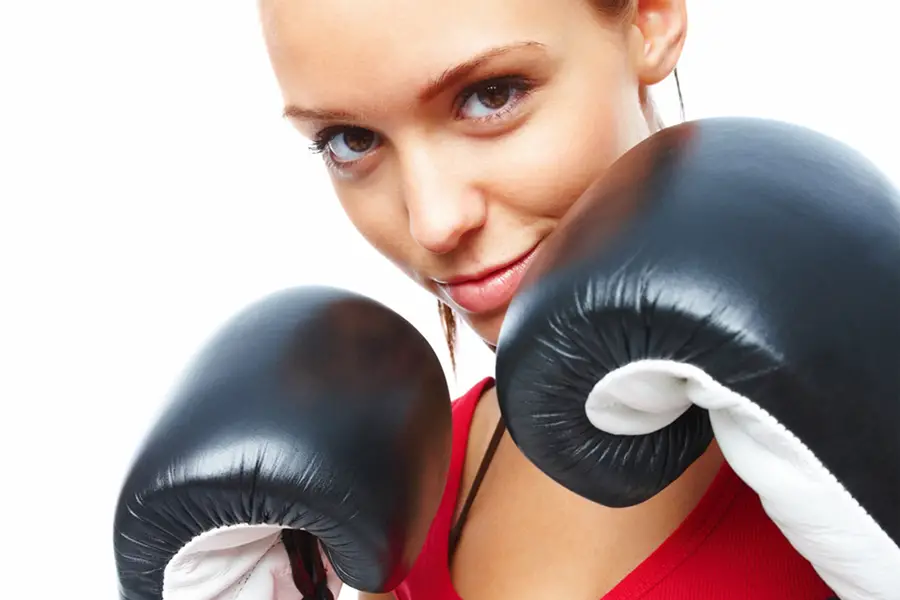 Boxing Glove Reviews
If you are boxing regularly, then it is important to invest in the correct boxing gloves because it will not only help you develop you technique, it will also guarantee that you are getting the proper protection. It is essential to ensure you are using high-quality gloves for your sparring sessions and especially for regular boxing matches to prevent serious injury which can have long term negative effects on your performance in the ring. In choosing boxing gloves, always make sure that you choose the right weight, feel and style. If your gloves are too light or heavy this will change your endurance, technique and game plan in the ring.
Most Popular Boxing Glove
Venum Challenger 2.0 Boxing Gloves
Venum is a popular brand, not only in the field of boxing, also in the field of MMA and they are known to sponsor popular athletes like Lyoto Machida and Jose Aldo. Venom is also quite popular because of its extremely stylish design and attractive logo. Venum is a known manufacturer of various fight gear including mouth guard, shorts, rash guards and many more.
Venum Challenger Boxing Gloves 2.0 use Polyutherane leather to make them smooth and slick. This kind of leather also allows for more powerful punches while still providing adequate protection for the fighter's knuckles. The interior is triple-layered, so it can absorb high-impact shocks from punching bags. Truly, you can expect nothing less than high-quality craftsmanship from Venum Challenger Boxing Gloves 2.0.
Stylish design with a very attractive logo
Triple layered inner foam for added protection
Made from Polyutherane leather to make punches smooth and slick
Durability and high-quality craftsmanship from a respected brand
Maximum protection for knuckles, fingers and wrists to avoid sprain and other injuries
– Anthony Dawson
Best Overall Boxing Glove
Cleto Reyes Extra Padding Training Gloves
If you are looking for quality and craftsmanship, then Cleto Reyes boxing gloves might be the perfect choice for you. This specific style and make is particularly good for sparring and it provides extra padding for protection of the wearer. You can expect distributed padding, especially in the knuckle area. This product is made in Mexico, and it is trusted by boxers all over the world.
Cleto Reyes boxing gloves will definitely make you feel like a true boxing champion. They are made with long-lasting leather and a stylish appearance which is truly unmatched. Cleto Reyes boxing gloves promise durability and quality. It is the choice of many athletes in the world of boxing and once you choose Cleto Reyes boxing gloves, you will understand the famous reputation of Cleto Reyes products.
Made from high-quality leather
Extra padding for protection around the knuckle area
Durable and long-lasting
Can endure punishment from bag work and sparring
Ideal for everyday training sessions
– Anthony Dawson
Best Budget Boxing Glove
Everlast Pro Style Training Gloves
Everlast is undeniably one of the most famous brands of boxing gear. It is well-known for providing quality training and sparring products including punching bags, boxing mitts and of course, boxing gloves. Whether you are a beginner in the sport or an expert knockout artist, Everlast surely has products for you. Everlast has built and attained an unmatched reputation in the field of boxing and training gear.
Everlast Pro Style Boxing Gloves are made from synthetic leather and promise excellent construction that provide high-durability. Everlast boxing gloves are ideal for punching bags, mitts training and even sparring. They have unique anti-bacterial qualities that fight odor and bacteria-growth. They also have a unique mesh design that promises comfort and breath ability. Truly, Everlast smoothly combines functionality and comfort.
High durability and excellent craftsmanship
Made from long-lasting, synthetic leather
Functional and comfortable
Ideal for punching bags, mitts training and sparring
Has a unique anti-bacterial design to fight odor
– Anthony Dawson
Boxing Glove Buying Guide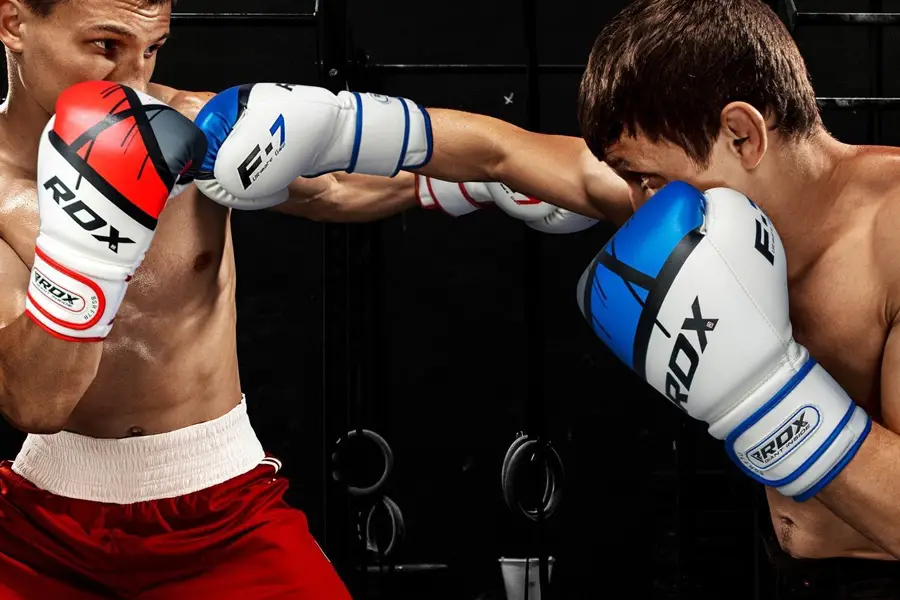 Purchasing boxing gloves can be a nightmare when you don't know how to choose the right one. Gloves come in different sizes, colors and functions that it's hard to just pick one off the shelves. Before you go ahead and pick one of the shelves, its best to get educated about picking the right one first. We'll go through this guide by discussing the different types of gloves that are commercially available.
Bag Gloves
Whether you are training at home or at the gym, you will need a good pair of bag gloves. In contrast to other pairs, bag gloves are compact and smaller in size. In terms of foam lining, bag gloves contain a thinner lining since they are used for minimal impact on punching bags. These types of gloves are both advisable to use when sparring since they can lead to serious injuries due to the thinner foam lining.
The important thing to look for in a good pair of bag gloves is that they provide adequate wrist support. Some brands often leave the fingers uninvolved. Usually, bag gloves are the cheapest type of gloves you will find.
Types of Competition Gloves
Amateur
There are two types of competition gloves, amateur and professional. First, we'll tackle all about amateur gloves. As the name implies these gloves are used in amateur competitions. They often come in two colors – red and blue. Both of which are striped with a white lining across the knuckles area. This line helps to determine when awarding points based on the punches made by a boxer.
In terms of the weight of the gloves to be worn, this would depend on the implementing institution and competition you are joining. In most cases, boxers that are training for a competition often use gloves that are heavier than their competition gloves in order to create more resistance and add on to weight training.
Professional
In contrast to amateur gloves, professional gloves have more lenient rules in terms of usage. Depending on the implementing institution, boxers are given a list of allowed brands from which they can choose the gloves they prefer. Unlike in amateur matches, the color of the gloves is not significant. The weight of gloves used in a professional setting often fall within the range of 8-10 oz.
Professional gloves are also more expensive compared to amateur ones. This is mainly due to the material used on these gloves which is leather. This particular material ensures a snug fit on the user's wrist. In addition to this, it is a strict requirement for professional gloves to have laces to ensure that they do not come off anytime during the match. Once the laces are tied, these are taped up and the commissioner signs them to ensure no bias or alterations.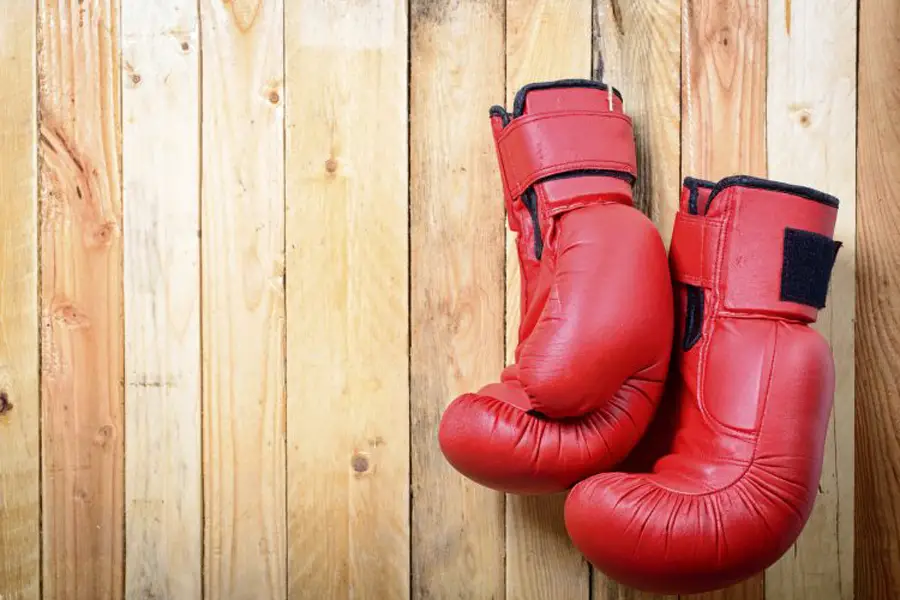 Fitness Gloves
Fitness gloves are basically gloves that are commonly seen on the shelves of sports shops. These are affordable and are easy to use. They provide adequate knuckle and wrist protection even for beginners. If you're someone who is looking for a good pair of gloves to invest in for your regular trips to the gym, this might be a good point to start from. They also come in a variety of sizes to ensure that you get the right fit.
In terms of the weight, fitness gloves offer a variety of weights as well. For first time boxers its best to start with a fairly light weight pair. You can move up to heavier ones as you get used to working out.
Take note that fitness gloves are not made for heavy duty boxing. They can take a fair amount of work and are quite durable but they can only provide minimum protection. Fitness gloves are designed with thin foam lining so they won't withstand high impact workouts. If you are planning to work out with high intensity routines, it's better to invest in heavy duty gloves. Make sure to get good quality gloves so that they last longer.
Sparring or Training Gloves
Training or sparring gloves are a lot more durable compared to fitness gloves. These are designed for high intensity workouts and can provide enough protection for your hands and wrist to avoid injury. If you work out on a regular basis, you should own a good pair of training gloves aside from your regular fitness gloves.
If your routine includes working on a heavy bag, you should consider having your own pair of training gloves. Professionals often have three pairs of gloves when they do regular training – fitness, sparring and bag gloves. This ensures that you get adequate protection for each workout and your able to get enough resistance in terms of weight by wearing the right kind of gloves.
Training gloves, like professional gloves are secured with laces for a snug fit. But if you don't have the budget to spend on these type of gloves, there are cheaper ones that are secured with a Velcro strap. Like fitness gloves, they come in a variety of weights and sizes.
Getting the Perfect Fit
The most important part when buying boxing gloves is to make sure that you get the right fit. Ensure that you get the appropriate type of gloves for the kind of workout that you'll be doing. Make sure to invest on a good pair of gloves from the start otherwise you might find yourself spending hundreds of dollars because of an avoidable injury. If you find yourself confused on which brands to choose from, you can always look it up and do research. Another option is to  ask your trainer for some assistance. For first time boxers, you don't need to buy all types of gloves for your first lesson. You can start with fitness gloves and work your way from there.
No matter what kind of glove you are looking for, make sure to always try them out and get a few punches before you pay for it. That way you can also get a good feel for the punch and see if the pair is right for you.