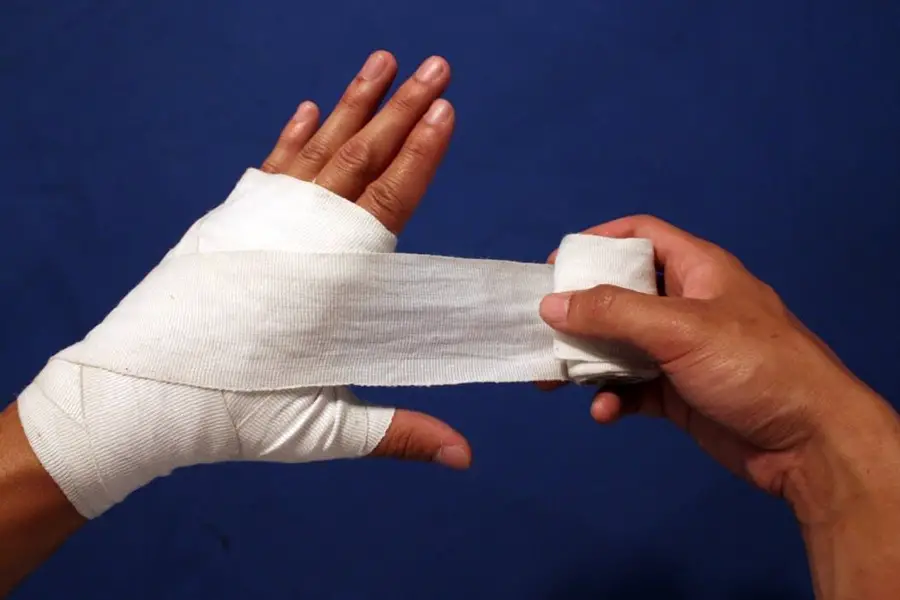 Boxing Hand Wrap Reviews
Injury is quite inevitable in any sport. In a contact sport like boxing, injury is even more common because it involves a lot of punching with full power intended. It is therefore the task of any boxer to do anything and everything to keep the training and competition environment safe for his or her teammates and competitors. Keeping a safe sporting environment can mean investing in the correct gear that will decrease the chances of injuries and accidents. In boxing, a pair of gloves is usually considered the most important investment. However, underneath the gloves, another layer of protection should be present. Boxing wraps or wrist wraps are used by boxers to protect the knuckles, the fingers and the wrists from any sort of high-impact during training and sparring. It is a long strip of cloth wrapped around the hand in a special way. Before you invest in gloves, you should invest in wraps first.
Most Popular Boxing Hand Wrap
Meister MMA
You will surely be captivated by the wide range of colors available in the Meister MMA collection. These high-quality hand-wraps are made from superior quality material. They promiseto provide comfort and protection for the user. It is also cost-effective, but it still gives its users nothing less than the best.
Meister MMA hand wraps offer a lot of advantages for its users. The hand wraps can be wrapped tightly around the hand since it is made with a slightly elastic material. The material does not wrinkle up easily even after several washes. It is very breathable and comfortable since it is made from high-quality cotton. For both beginners and boxing experts, Meister MMA boxing wraps are truly worth the investment. It will give its users a better boxing experience.
Available in a variety of stylish colors
Soft material that gives comfort to users
Easy to use and wrap around the hands
Functional and durable
Does not wrinkle up easily even after several washes
– Anthony Dawson
Best Overall Boxing Hand Wrap
Hayabusa
Hayabusa is a superior brand when it comes to fight gear. Their products include jiu-jitsu gis, gloves, bags, headgear and others. They take pride in their commitment to deliver only the highest-quality fight products. This brand is used by famous athletes all over the world including George St. Pierre.
Hayabusa Perfect Stretch hand wraps use high quality material that feels soft and comfortable. Hayabusa's boasts of an ultra-soft design with 100% optimal breathability and promises to help support small joints in the fingers and wrist to allow maximum protection of the fighter. This product allows for both protection and comfort. This wrap is comfortable to use because it is very soft and it will not restrain your movement during training sessions and sparring.
Promises a unique combination of protection and comfort
Used by top athletes in boxing and MMA
Soft and stretchy to allow for maximum movement
Made with quality materials with durability in mind
Provides maximum protection for small bones in the wrist and hands
– Anthony Dawson
Best Budget Boxing Hand Wrap
Revgear
Revgear boasts of the loyal customers that it has gained over the years. Many boxing and MMA enthusiasts keep using their products because they offer great craftsmanship and quality. Revgear offers various kinds of boxing and MMA gear readily available on the market today.
More than anything, Revgear Elastic Hand Wraps promise durability. It boasts of an ultra-lock hoop closure to ensure that the loop is attached to the rest of the wrap. Several users claim that years and years of use do not even erase the logo and the wrap is truly easy to use even for beginners who have not yet mastered the skill of wrapping hands for training. Revgear provides the comfort and protection needed to ensure that the boxers will still be safe in spite of hard training.
Wraps that lasts for several years because of high durability material
Unique ultra-lock hoop closure
Soft and comfortable. Easy to use even for beginners
Ideal for punching bags, mitts training sparring, and any other sort of hard training
Available in a wide range of design, styles and colors
– Anthony Dawson
Boxing Hand Wrap Buying Guide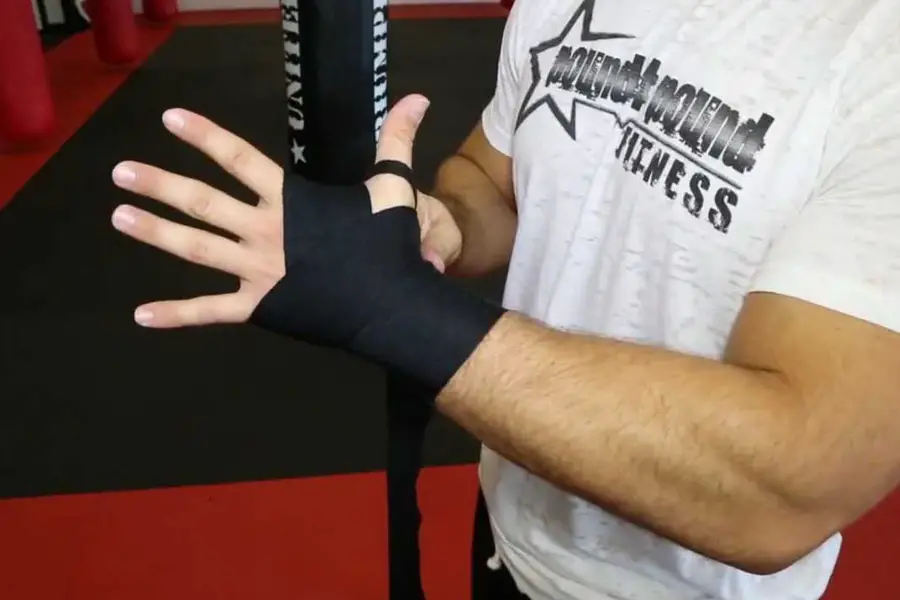 For all the sport buffs out there, the right combination of training and execution goes hand in hand in achieving that ever sweet word called "Victory" and of course with all the spoils that goes with it. However, it is also a common fact that injury comes with the territory, and with that truth in place, it is imperative to make sure that the sport that you love so much will not also be the reason of your physical breakdown in later life. Safety is the name of the game when it comes to achieving that perfect balance between health and disaster. This is where hand wraps come in.
Boxing hand wraps are a must-have for anybody who practices full contact or combat sports.  In the sport of boxing for instance, how often do we encounter people, both young and the not so young, talking about the many different injuries they suffer both during gym training and when competing? During competition, it is expected of course that many times in the ring, you will have your fair share of getting some "hits" as well as shelling out some of your own. In boxing, the primary part of the body that gets the most stress is, of course, the hands — and that includes the fist, the knuckles and the fingers, the very parts of your body that you use to dispense the hurt to the other guy, so to speak.The importance of the hands is obvious and needs no explanation, so it is perfectly good judgment for anybody to protect them as much as they can. Hence, using the right kind of hand wrap is a smart way of ensuring that.
In choosing that perfect hand wrap, one must exercise sound judgment and to some extent, a meticulous mind. Here are the questions that you, the wearer must first ask yourself before shelling out your hard-earned dough in buying your hand wrap.  There are a few of things to consider when buying hand wraps.  Below are some of them:
Buyer's Checklist for Hand Wraps
Cotton – For the traditional folks, cotton hand wraps have been around for the longest time. It also has Velcro for a secure fit.
Some people prefer cotton herring bone, which are reusable and can stay with you for a long time if taken good care of.
They are also very cheap.
The downside is its lack of elasticity and might be a little uncomfortable.
Price Range : Less than $15
Mexican/Elastic – The next style of wrapping is the elastic type, which is gaining popularity nowadays due to its flexibility and added comfort. Like the cotton herring bone wrap, this cotton/spandex amalgam is also reusable.
Comfortable and, as the name suggests, very elastic and fits easily with the contours of the hand.
They are equally as inexpensive as the cotton variety.
Compared to the cotton wrap, elastics are known to have shorter life spans
Estimated Price – Less than $15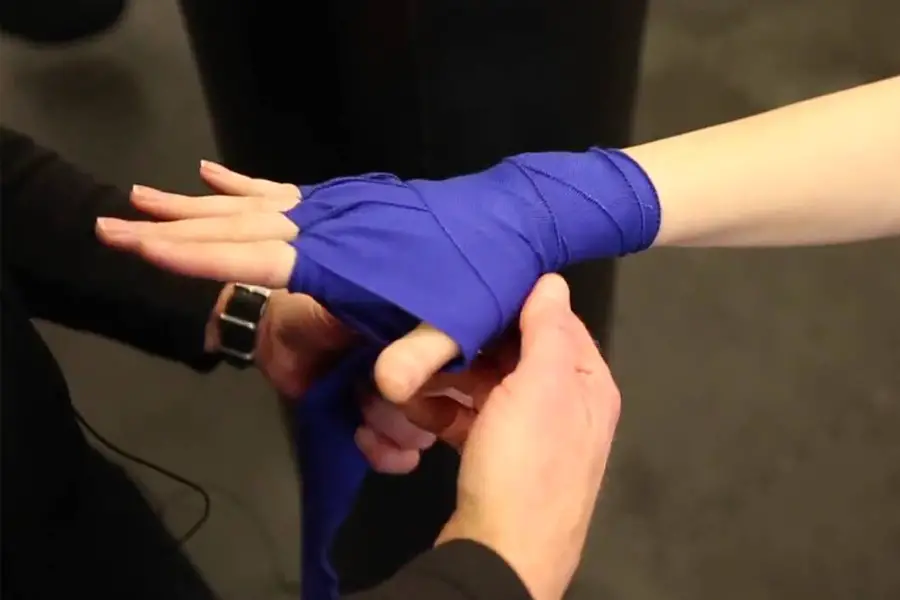 Gel – One of the most recent developments in the world of hand wrap technology is the introduction of the gel hand wrap.
It offers wearing convenience and additional knuckle protection.
Instead of being wound around the wrists like the cotton and Mexican variety, it is slipped on like a glove.
These wraps do not cover the fingers and traditional hand wrap users complain that it does not give adequate wrist support.
Estimated Price – $20 to $50
Gauze – The last type is the gauze-bandage type. This type of wrap is rarely used in training camps and health clubs but are used mainly by professionals.
Like the traditional cotton and Mexican types, it relatively molds well with the user's hands, allowing ample flexibility and support to the wrists.
Many hand wrap users tend to view this type as impractical due mainly to the fact that it is disposable.
Estimated Price – Less than $10
Hand Wrap Length/Size
Usually to answer this question you will also have to take into account the size of your hand/fist in relation to the boxing gloves that you will be wearing. The size of your hand will also determine how much or how little wrap you will need for your fist to fit comfortably with your boxing gloves. Another point is also the style of the hand wraps— it is important to note that each of these styles has its own pros and cons.
In choosing the right hand wrap, it all boils down to taste and sometimes, with your style and your movement. Some people prefer comfort over effectiveness, while others want tightness; they want their knuckles as close to the mitts/gloves as possible.
Most people nowadays prefer to use 180″ hand wraps over the 108," mostly because the 180″ wraps provide more protection and are longer so they can cover the hand and the knuckles more. Another issue is the matter of availability, as there are occasions when one has difficulty finding a hand wrap that is shorter than 180″ for adults.  However, there are 108″ hand raps available for women and juniors.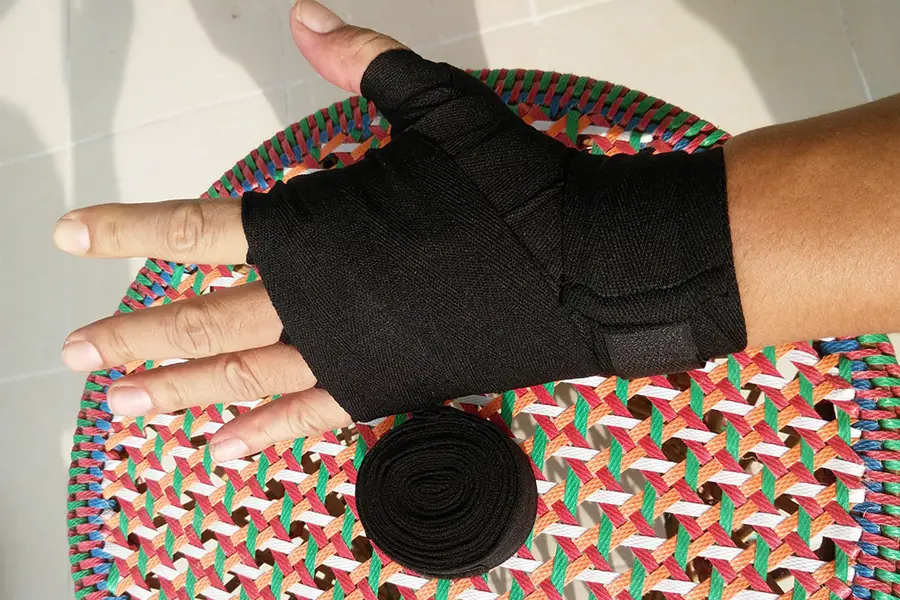 Hand Wraps for Women/Juniors
For both women and juniors, protection of the wrist and knuckles is of primary importance. Typical women have smaller wrists compared to men so the 108″ is the usual standard but there are also 180″ hand wraps available. Also, the longer the hand wrap, the bulkier it gets, and for a lot or women and juniors, it does not provide the hands the mobility and freedom that the shorter ones provide.
Depending on your preferences, watch out for other features that can assist you in choosing a product, such as its fabric/material (anti-microbial treatment, breathable, machine-washable, durable, etc.) and other must-have features (thumb strap, hook and loop closure, velcro straps,  etc.)
Other Things to Consider
Are Hand Wraps Enough To Protect My Hand?
The answer to that question is—it depends. If you want extra protection for your knuckles aside from the hand wrap, you can do that but always remember to not wrap your hand too tight, and make sure it fits inside the glove.
Other Tips
If something does not feel right, it probably is. Your hands should feel free and relaxed when you open it, and tightens when you turn it into a fist.
If you feel like you are cutting some circulation from your hands, you probably wound it too tight. Focus on the protection of your hands. That is way more important
Depending on the user's fighting style or whether he is a southpaw or a right, there are a couple of ways of wrapping the hands.
A lot of people like to throw straights thus, concentrating the wrapping on their wrists.
On the other hand, there are boxers who prefer sneaky uppercuts and hooks and tend to apply less on the wrists.
Hand wrapping professional boxers are handled a little differently. Most of them, if not all, use longer wraps and extra padding on the knuckles.
Added protection not just because they will need to punch harder, and more frequently, but also because of the length of time they have been in the sport.
Cleaning Hand Wraps
If you prefer to use reusable hand wraps, here are some tips that might prove useful in maximizing its use.
If you are using colored wraps, always wash them separate with the whites because their colors tend to bleed out.
Machine washing the hand wraps should be fine; however, using a dryer is discouraged because it could shrink the wraps. Hanging them to dry using hangers will fix this.
Hand wraps have thumb-hooks that could get tangled with the rest of your clothes and might even damage your wash tub.
Having a wash bag where you can put your hand wraps is a good way of cleaning them without causing problems with the rest of your laundry.
Your boxing hand wraps come with washing instructions. Just read it and you'll be fine.