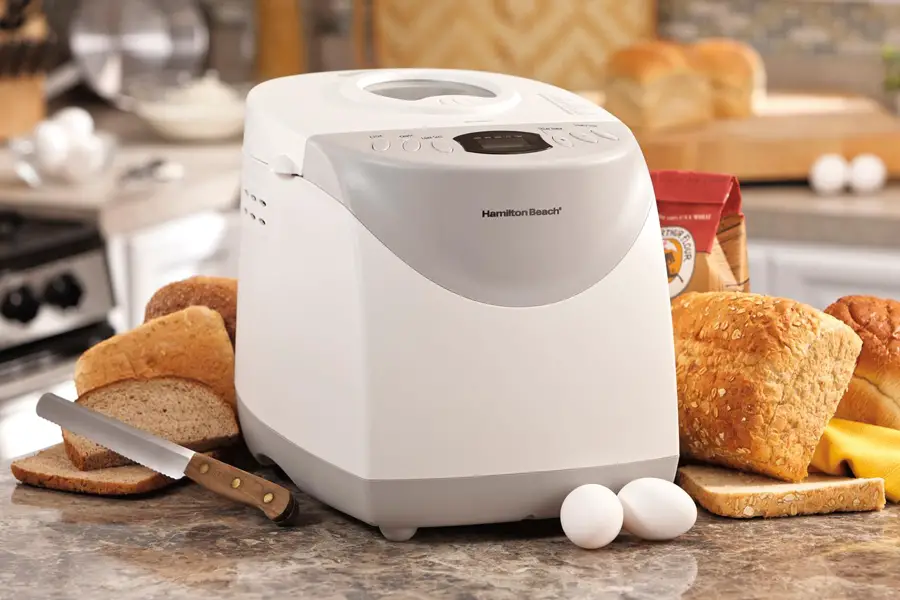 Bread Maker Reviews
There is nothing better than the smell of freshly baked bread. Bread machines not only produce that fresh bread aroma but are for more than just making bread. Any yeast based product can be made in a bread machine. The machine mixes, allows time for rising, beats down and mixes again. All automated with a push of a button. So next time you want to make pizza dough, sticky buns, bread sticks, baguettes, or focaccia think about using your bread maker. With so many bread makers available on the market today, we have rounded up the best of the best to make your search for the perfect bread making machine easy.
Most Popular Bread Maker
Panasonic
The Panasonic SD YD250 Automatic Bread Dispenser is an automatic bread making machine that makes the cumbersome task of bread making as easy as pressing a few buttons. Set the kind of bread you want to make, what color you want the crust, and what time you would like it to be ready. Come back when it is done and enjoy freshly made bread.
The Panasonic SD YD250 comes with a 550 watt motor. It mixes, kneads, rises and bakes fresh bread. You can also mix, knead and rise without baking. This is perfect for things like pizza dough, bread sticks and even cakes and other non-yeast breads. The Panasonic SD YD250 can make three different loaf sizes and adds yeast at the perfect time, through a dispenser on the lid. Choose from 5 different settings which include, white, whole wheat, multi grain, French and quick breads. There is also a 13 hour delay timer, which enables you to have the bread ready at exactly the time you need it. Set it before you go to work and come home to freshly made bread that is still hot for dinner.
550 watt motor
Mixes, kneads, rises and bakes
13 hour delayed timer
3 different crust options and 5 different bread options
Can make quick breads, pizza dough and baguettes without baking
– Anthony Dawson
Best Overall Bread Maker
Cuisinart
The Cuisinart CBK 100 2 Pound Programmable Breadmaker is fully automatic so you can wake up to the smell of freshly baked bread in the morning. Just add the ingredients, adjust the settings for the type of bread you are making, and set the timer (there is a 13 hour delay timer). It is that simple.
The Cuisinart CBK 100 2 Pound Programmable Breadmaker makes three different loaf sizes. You can make a 1 pound, 1 ½ pound or a 2 pound loaf of bread. It has three crusts setting for light, medium and dark and includes a removable lid, pan and paddle for easy clean up. The Cuisinart CBK 100 allows for last minute mix-ins. If you are making a fruit cake or want to add nuts to the bread, there is a spout to add the mix-ins late in the kneading and rising process. The pan also allows for the making of jams and other liquids. One other nice feature is that when the mixing and rising is complete the machine beeps, allowing you to remove the mixing paddle. This makes it so there is not a hole in every loaf of bread you make.
3 loaf sizes 1 lb, 1 ½ lb, and 2 lb
12 menu options and 3 crust settings
13 hour delay start timer
Allows for the addition of mix-ins before baking
Allows you to remove the paddle for better looking bread
– Anthony Dawson
Best Budget Bread Maker
Oster
The Oster CKSTBRTW20 2 Pound-Expressbake Breadmaker is a great bread machine for busy families. It will serve all of your basic bread making needs. It makes a loaf of bread up to 2 pounds. The Oster CKSTBRTW20 2-Pound-Expressbake Breadmaker comes with 9 settings for bread options and 3 crust options including light, medium and dark. There is also an express setting which allows you to make bread in under an hour. For meal planning the Oster CKSTBRTW20 2 Pound Expressbake-Breadmaker includes a 13 hour delay start timer, allowing you to serve fresh baked bread whenever it fits your schedule.
The Oster CKSTBRTW20 2 Pound Expressbake Breadmaker is easy to use and fully automatic. It comes with a recipe book that gets you started. Simply add the ingredients, making note about how to add the yeast. Then select the settings that will produce the type of bread you are making and press start. A few hours later you have freshly made bread and your home will smell heavenly.
Makes up to a 2 pound loaf of bread
9 settings and 3 crust options
13 hour delay start timer
Express setting for bread making under an hour
Easy to clean removable parts
– Anthony Dawson
Bread Maker Buying Guide
There is nothing like the smell and taste of a freshly baked loaf of bread. Most people don't realize that it is a simple thing, thanks to technology. That's right, you can make fantastic baked goods with the help of a technological advancement known as the bread maker. Buying bread makers may not be the first thing on your mind, but it is definitely one of the best ways that you can ensure you get that fresh taste in your home. For those naysayers that think this is not a good route, consider the cost of a fresh loaf of bread from a distinguished bakery. You will find that the cost analysis points to a much more cost effective option with the purchase of a bread machine. Consider the following tips and tricks for purchasing one of these delightful appliances.
How Much Bread Do You Want To Make in Your Bread Machine?
The absolute first question that you should be asking yourself is a simple one, how much bread are you planning on making? Seriously. This may sound a bit pretentious, but don't feel that way. Seriously ask about the notion of quantity. This will save you time and money. If you have a small family, or you're by yourself, then you don't need to buy a giant bread machine. Instead, focus on smaller loaves and options. If you have a big family and bread doesn't last more than a week or so, than you will want something larger to accommodate for this. Do not proceed forward without a realistic idea of how much you're going to be making and consuming.
What Kind of Bread Are You Going To Make in Your Bread Maker?
Here is the second major question that you're going to have to ask yourself. If you are going to go with sandwich bread and items that are not necessarily fancy, then you don't need bells and whistles. It's just not that important overall. The key factor is making sure that you understand what type you want to create on a regular basis. If you're thinking that you're going to be making specialized items, sugary sweets, cakes, and more, then don't go with a basic model, because it won't suffice. However, if you're just going with normal, run of the mill breads, then you may look into a basic solution.
Kitchen Counter Space Considerations for Your Bread Machine
Aside from the size of loaf and style you want, you're going to find that bread makers come with a variety of sizing options. Even machines that bake small loaves can be cumbersome. It's with that in mind that you should measure your open space and ensure that you have enough room. If you do not have enough room, than you will end up taking up too much space, or you will not use your machine often enough. If you have the room, then this becomes a moot point.
The Ease of Use of a Bread Maker
One of the things to look for is the ease of use of any machine. No matter which option you're looking at, make sure that it has a basic cycle that goes through the whole process for you. For instance, you will want it to knead the dough and let it rise within the bread maker, then bake the bread as well. If it can't do all the steps, or it only focuses on some of the steps, you will have to make up for whatever it doesn't do. That's not a good thing, as it could turn the convenience of bread makers upside down. If you don't know what the other uses are on any given option, or you see a lot of bells and whistles advertised on the box, make sure that you know what they are and how they will affect your bread making, or else you could find yourself with an option you have no real use for.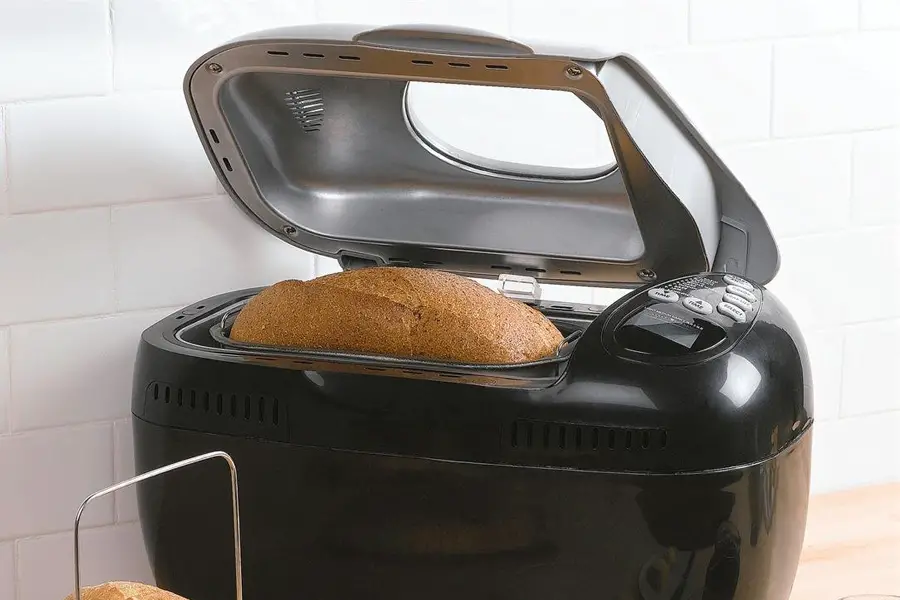 Bread Machine Warranty Information
There is nothing worse than having a new bread machine less than a few months, and having it break down. This happens to a lot of consumers, and companies are not quick to refund, replace, or fix items that are not under warranty. It's with that in mind that you should look into the warranty information of any major brand that you're going to be looking at buying. You don't need to have a lifetime solution, but a standard 1 year option should suffice. You'll know within a year's time whether or not this investment is definitely worthwhile for you.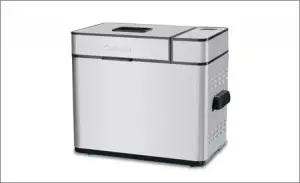 There is nothing that tastes quite as good as delicious home-baked bread. It's way better than buying bread from the store, you get a softer, fresher, and more nutritious option that you can make right from home if you have your own bread maker. Millions of people bake their loaves every day in their break makers, opting instead for a home-touch for their bread instead of picking it up from the market. You'll never have to buy bread again from the store when you choose to invest in your own bread maker for your home.
Never bread makers with digital displays and automatic yeast releasing mechanisms make it a lot easier to make bread at home and to do it even if you aren't that good at baking. It's easy to follow a bread recipe, pop the ingredients into your bread maker, and wait until you have a delicious and fluffy finished product. Some even allow you to choose the sizes you want for your loaf and crust, this allows you to customize your bread to your own tastes and that of your family. With some, like with a variety of Panasonic models, you can even select the color of your crust that you would like for it. Making your bread can be a fun and rewarding experience when you have an efficient bread making tool to help you get it done.
Bread Maker Models
For bread makers, you have a variety of great models to choose from like Panasonic, Oster, Cuisinart, Sunbeam, Breadman, Zojirushi, T-fal, Hamilton Beach, and others. Depending on how often you want to use your bread maker and how much bread you want it to make, this will play a big part in which bread maker you should go with. It's easy to invest a lot of money into a quality bread maker that is going to work for you for years to come. However, there are plenty of affordable bread maker models that are going to be just as efficient in creating a delicious loaf for you.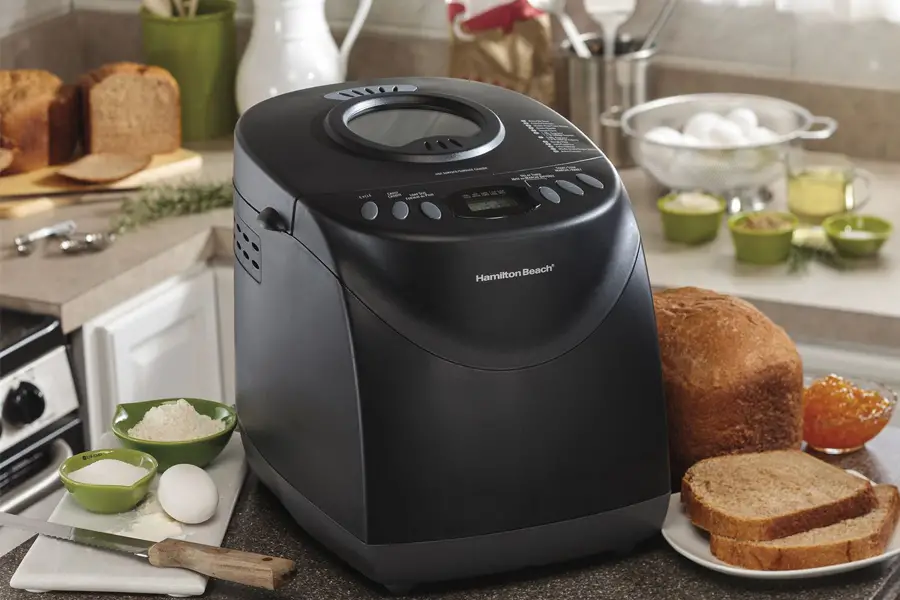 Making Delicious Bread For The Family
When you want to choose a bread maker, look online for the various options and decide how big of a bread maker you want to begin with. This will play a big part in how much bread you can make. If you are a family that eats a lot of bread, it is probably a better idea to go with a bread maker that can make more, one that will last for years to come. Invest your money into something that you can rely on, a machine that will make delicious bread for you every single day.
Bread Machine Consumer Ratings and Reviews Can Help Narrow Down Solutions
One major key to making sure that you are getting the right choice overall is to look into what people are saying about specific brands and options. You'll find that there is a wealth of knowledge available on the web. Just look for any major brand and see what others are saying about it. You'll find that good, bad, and middle of the road reviews are being posted on a regular basis. Finding your next option could be as simple as reading the right review. Take your time and make sure that you read through new and old reviews, just in case there are certain developments that you need to focus on.
Bread Machine Reviews
In the end, there are a lot of things that you want to do before you put money down on bread makers. You'll want to weigh out whether or not you'll even use this item on a regular basis. Many people purchase units and then never really use them. Don't allow yourself to spend money on something that you're not going to end up working with for a long time. Making bread is an arduous process if you don't get a good, high quality bread maker. The modern machines range from low cost to high end, but there are definitely middle of the road options that can deliver on the promise of warm, fresh, and tasty bread. It's just a matter of doing a little homework, and reading the instruction manual. With a little bit of effort, and a few trial runs, you'll have the best bread, and with none of the work, thanks to the wright machine.
Conclusion
Whether you want to make basic bread, whole wheat, french, or some other variety, the bread makers all differ in the settings that they provide and the type of bread that they will make. Looking online for other reviews of the bread makers is a great way to see how the bread makers actually perform at their duties and how other people have enjoyed the bread.