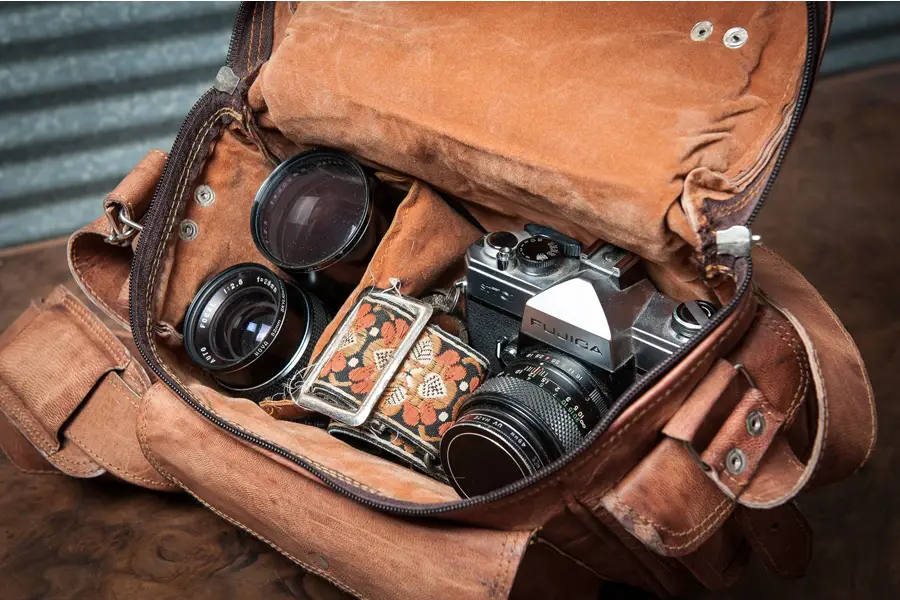 Camera Bag Reviews
Some people love to buy bags for no particular reason aside from bag lust. If you're a photographer, you know that buying a bag for all your equipment has not a whole lot to do with vanity. You need a bag that not only carries a lot of different devices, but also keeps them safe and secure when traveling. There are tons of bags on the market in many different formats; from backpack to duffel bag, hip packs to messenger bags. The bag that will be right for you depends upon how much equipment you have, what size it all is, and how much you're willing to spend. You may need multiple bags to carry various shapes and sizes, and if you are a photographer who also happens to have bag lust, you may want your bags to be matching in color and style. Considering how many options are out there, with a little research, you should be able to easily find the perfect bag for your gear at a price that seems right.
Most Popular Camera Bag
i-graphy
G-raphy has made an elegant, soft-textured bag made exclusively of pure cotton water canvas. The structure is so simple, with the added touch of external vice bags, making the G-raphy stylish and durable. Great for daily travel or long trips, the canvas makes it very safe and secure, so that your precious equipment can withstand the elements. With its two separate packets, you can store various objects above, and put all of your more heavy duty camera equipment below. There is also space for daily necessities, like clothing, snacks, and travel items. There's also the option of removing the pack below and converting it into a casual shoulder bag; if that makes more sense for your day. Thanks to the included rain cover, there's no need to worry about a little drizzle. All accessories and fasteners are made of high quality cowhide and metals that are incredibly durable. All in all, this bag is a tremendous marriage between style and performance.
Dimensions :45cm x 28cm x 21cm
Liner: 24cm x 21cm x 15cm
Works for most DSLR cameras
Beautiful canvas exterior
– Anthony Dawson
Best Overall Camera Bag
Case Logic
Case Logic makes some of the best bags on the market, and the DCB line is no exception, thanks to its versatility and stylish design. The textured materials used to make these bags, as well as the fantastic hairline, give it just the right accents to make it appear of the highest quality. There are nine different sizes to choose from, and that means you should be able to find the right fit, whether you have a point-and-shoot, or a massive DSLR with a boatload of accessories. This is a sling bag which sits comfortably on the shoulders, and the design allows you to simply pull the sling forward when you're ready to shoot. This easy access to your camera is great when you catch a potential shot and want to capture it quickly. There is a whopping 25 year warranty attached to this bag, so you know its going to last you the long haul. The workmanship is unsurpassed, thanks to the use of durable 840-weave nylon.
Wide range of storage sizes and possibilities
Side-entry for quick access to your camera and accessories
Adjustable divider allows you to customize how you organize your bag
Zippered pocket on side flap is great for filters, cards, and lens cloths
Weather hood included
– Anthony Dawson
Best Budget Camera Bag
Nikon
This is a very nice case from Nikon, made of high quality Cordura Nylon that is not only durable but aesthetically pleasing. The reinforced handle makes this bag extra safe, and it comfortably holds your camera, along with all your necessary accessories. The slip resistant shoulder strip is just another added touch that makes this bag incredibly protective of your precious equipment. With its many zippered pockets, you'll definitely be able to find a comfortable storage place for all your things, no matter what shape or size. A small exterior pocket makes it easy to grab things in a flash like memory cards or batteries. Removable velcro dividers inside the bag make it easy to customize how you organize. All in all, this is a wonderfully durable and versatile bag that looks great, and will last you a number of years before it shows any signs of wear and tear. There is room enough for your 35mm or Digital SLR, as well as zoom lens and up to 3 extra lenses. And even with all that, there's room for a flash.
Removable padded dividers allow you to customize the interior
Easy access to multiple pockets
Wear-resistant nylon construction
5 year USA warranty
– Anthony Dawson
Camera Bag Buying Guide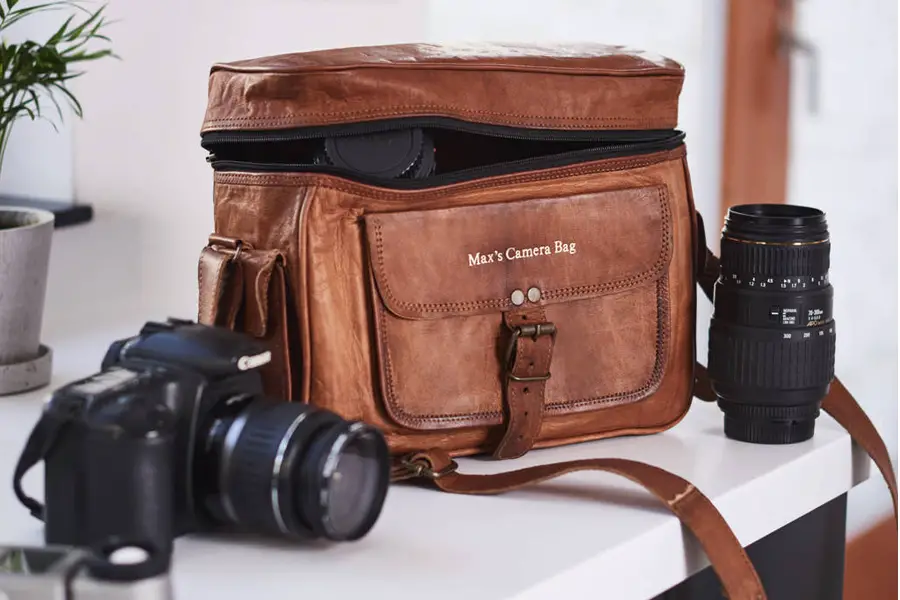 Camera bags serve multiple functions. In addition to keeping your valuable DSLR camera safe from jolts, the elements and scratches, it also helps to prevent theft by making it less accessible. Some of the better DSLR camera bags also come with added features that make it easy to carry all of your camera gear, plus a few extras in convenient storage compartments. There are several different brands, types, sizes and styles available, so this can make choosing the best one a more difficult task. We know a few tricks that save time and effort when searching for the perfect DSLR camera bag. The guide we've provided is designed to give you information on what to look for in a DSLR camera bag, plus some tips on how you can more easily find the best bag to suit your needs, with little effort.
What Do You Need From Your DSLR Camera Bag
The first step in identifying the type of camera bag that you should purchase, there are a few things that you must take into consideration. The size of the camera is important as the bag should feature a compartment that will snugly house the camera itself and protect it against shock and damage from accidental drops. The next thing to think about is the gear that you may want to store with the camera.
Any additional lenses, tripods, straps or other equipment that you routinely use when photographing should have convenient storage areas that are the appropriate size. If you plan to take the camera with you to remote locations while hiking or doing any kind of traveling on foot, you may want to consider the bag style and how it will be carried. By figuring out what you will need to put in the bag and where you may be carrying it, you are well on your way to determining which size and style of bag will best suit your needs.
Types of Camera Bags for DSLR Cameras
Backpack Style Camera Bags
They are designed to be worn on the back with convenient shoulder straps that keep the weight on your back and allow freedom to use the arms and hands for other things. These types come in a variety of different sizes from compact to full size for carrying extra equipment and gear.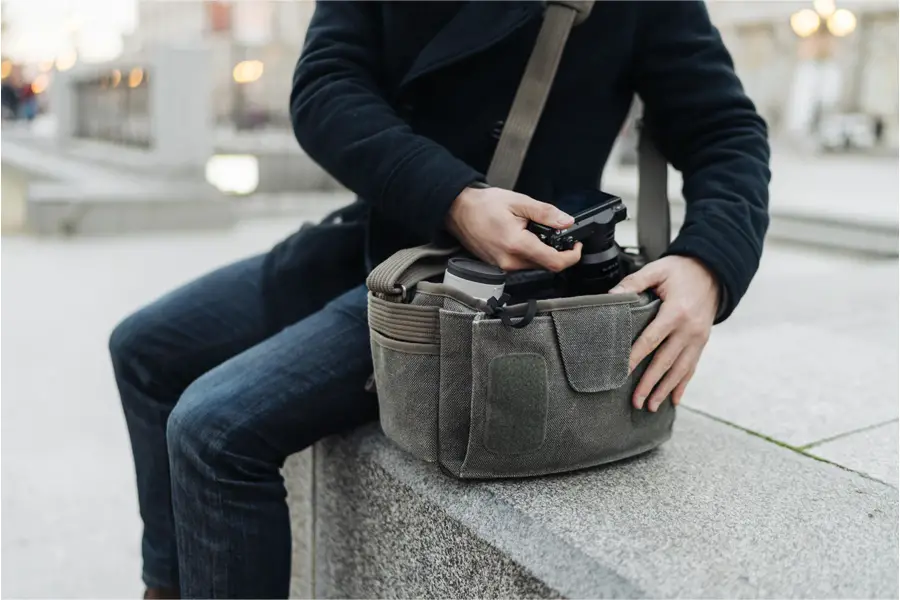 Shoulder Bag
This type camera bags come in different sizes and styles such as messenger bag or traditional shoulder bags. This style is more for casual transporting of the camera and equipment and not recommended for hiking across rugged terrain.
Pouch Bags
They are usually limited to a single compartment with heavy padding and either open and close at the top via a drawstring or have a zippered flap for access. These are some of the less expensive styles available. Although they come in a variety of sizes, they offer little in terms of organizing capacity or easy access to stored items.
Features of DSLR Camera Bags
DSLR camera bags come with a variety of different feature options. Some of the backpack type rucksack style bags have a variety of rigid compartments with a small amount of padding to store additional lenses and other gear. This comes in handy when you have several different accessories that need to be transported safely. It also provides an excellent way to keep the accessories well organized and easily accessible. Some packs feature exterior loops and ties for affixing additional equipment to be carried on the outside. For those who will be taking the bags out into the elements, waterproofing is also a useful feature.
Camera bags are also made with a variety of different materials and fabrics. Canvas is a popular and durable material as well as some nylon and nylon blends.
What to Look For In A DSLR Camera Bag
The type and style of bag that you select should be one that fully accommodates your photography storage and transportation needs. For example, if you are hiking into a remote location and require the addition of a laptop for downloading shots, you will want to select a style that has a compartment that will securely hold whatever size laptop you are carrying, plus all of the equipment you will be packing as well.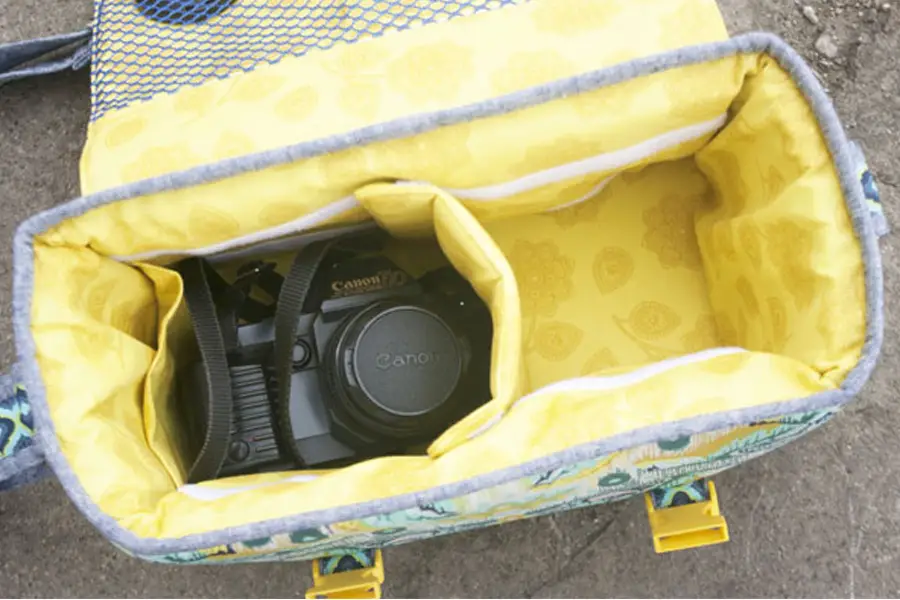 Make sure that your camera fits snugly into the area designated, as a loose fit could result in damage to the camera. Look for all of the features that you will require when making your selection.
Check the bag to make sure that it has been constructed of high quality materials and that the workmanship is up to snuff. Check the straps for fraying or improper stitching and tug lightly to make sure that all of the sewing is tight. If it looks like it's cheaply made then it probably is. It's worth a few extra dollars to ensure that your bag will hold up under the intended use for a while.
After you've found the type, style and size that will work best, compare the prices of a few different brands to get the best deal. Keep in mind that the most expensive may not necessarily be the best bag. If you settle on a lower priced bag, take a few moments to check the online customer reviews for the product. This will give you a good sense of how the bag has held up for others, and whether or not the majority of previous users would recommend it to others.
Conclusion
Finding the best DSLR camera bag can be challenging unless you know precisely what you're looking for. As long as you establish what features you truly need, you should be able to narrow down the search to a few different bags. By following the tips and recommendations that we've provided, you're able to make the best choice based upon accurate information instead of guessing at what might work out for you. You'll also avoid paying too much by taking a few moments to compare similar brands and then checking a few customer reviews to ensure that the bag is durable and will hold up under use.