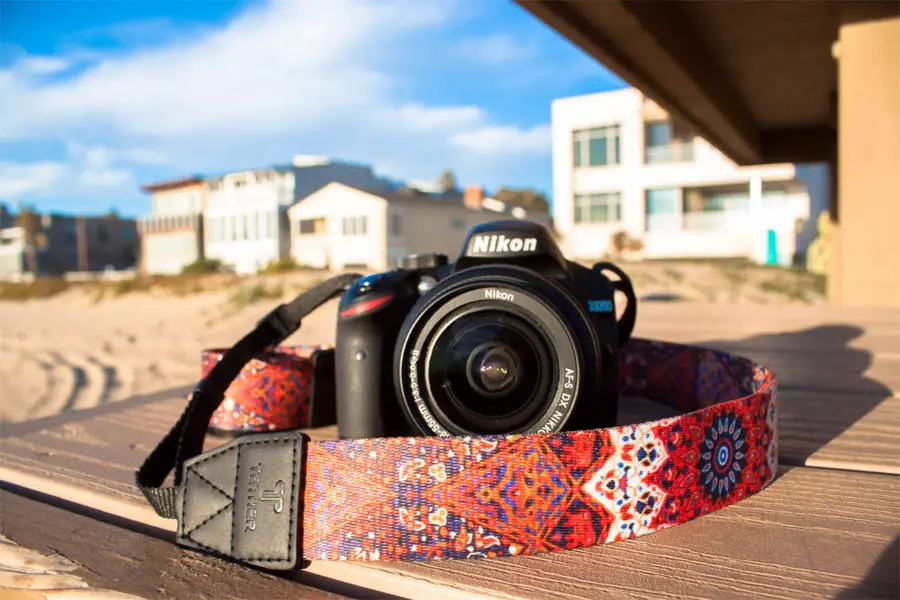 Camera Strap Reviews
Some professional photographers recommend to never use the strap that comes with your camera. This can be especially important if you have a heavy one, because the included straps are often a bit weak. Another factor that people overlook is that big brand straps often say the type of camera you have in large letters. This may be fine if you're shooting in your backyard, but while traveling, this is telling a lot of criminals exactly how much your camera might be worth. So, if you're in the market for a new strap, there are a number of factors to consider before discovering the right one for you. First of all, the material is important, because when the strap is slung around your neck you don't want unnecessary chafing or strain. Padded straps are nice, but you also have to make sure it's quite durable and strong to comfortably hold your camera in the right position. Consider the weight of your camera, and the size of your neck, when you're looking for the perfect strap.
Most Popular Camera Strap
BlackRapid
The BlackRapid Curve is great when you're looking for a simple and versatile strap, that's also tough and has a nice ergonomic curve. With its special attachment points, you're able to customize the strap to accommodate your storage choices. Ballistic nylon is what it's made of, which sounds like some sort of military material, but it's really an ultra-tough form of nylon that is regarded as high in durability. The design is geared towards finding that perfect fit around your shoulder to prevent any discomfort, and distribute the weight of the camera in the most ideal way. Because timing is everything in photography, it's built to quickly shift or lift the camera with ease from a resting to an active position. Because this is an R strap, it's meant to sit on one shoulder, with the camera resting on the hip. Be sure to not use this strap around your neck, as that's not what it's designed for.
Unparalleled comfort and ease
Customizable for your choice of storage
Ballistic nylon for durability
Ergonomically sound
Comes with FasterR-3
– Anthony Dawson
Best Overall Camera Strap
Capturing Couture
This is a wonderful, and very fashionable strap, that allows you to look good carrying around your camera, without advertising in bold letters the brand of your camera. The Bohemian is nice and wide, and has great padding to ensure neck and shoulder comfort. It's also a fantastic choice for cameras that are a bit more on the heavy side. Also, due to the nice length of this strap, it's possible to wear it sling style, as opposed to around the neck, which makes it even more comfortable and ergonomically sound. There's a real sense of quality to this Harmony strap, and it seems to be built really well, and what this means is that it is going to last you a really long time. Because it's aesthetically pleasing and built with comfort in mind, this is no doubt a strap that will be a part of your photography arsenal for a number of years.
Bohemian jacquard decorative style
Comfy neck pad with soft, plush velvet surface
Customizable metal logo rivets
Durable nylon webbing
UV/abrasion/mildew resistant
– Anthony Dawson
Best Budget Camera Strap
VintageStrap
If you're in the market for a speed strap that can also accommodate some of your other camera accessories, then this version from Rainbowimaging could be a great choice. This strap simply will not give, under the heaviest of circumstances. Go ahead and attach your camera, battery pack, quick release plate, lens kit, and more. You're going to find that this strap is incredibly tough, all while sitting comfortably on your neck and shoulder. To get started, you simply have to screw the plate into the camera, which is a solid metal piece about 1/4″ thick. Once that's done, you're ready to hook up your camera and all your other goodies. The pleasant, simple look of this strap is great for those who don't want anything that is going to be an eye sore. Also, the strap works with a number of camera models, such as Pentax, Panasonic, Sony, Canon, Nikon, and Olympus.
Extremely comfortable
Easy to adjust the length of strap
Holds lenses and binoculars as well
Includes tripod connection plate
Nylon strap, and metal hook/plate
– Anthony Dawson