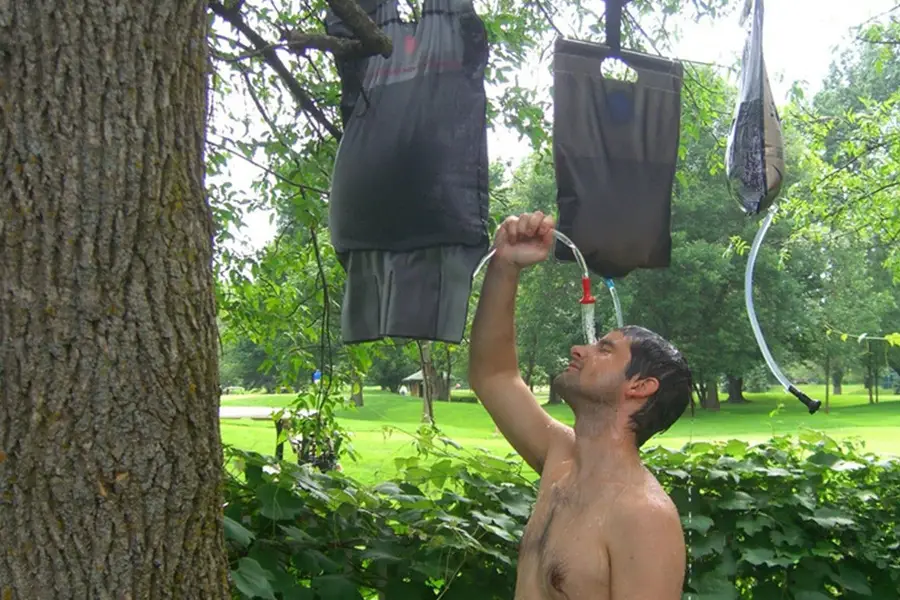 Camp Shower Reviews
The great outdoors is a nice place to enjoy various recreational activities such as camping, hunting and fishing. While engaging in these activities it is also good to be mindful of your personal hygiene. The traditional cleanup methods such as using a bucket do not really inspire one to take a bath. This is exactly the reason why you might need a camp shower. Camp showers are those portable showers that you use on camping trips. Camping showers come in a variety of sizes and designs, your choice will depend on your budget and functionality. There are the really simple ones that are simply buckets with a hole in the bottom plugged with some kind of stopper to regulate flow of water. There are also more advanced showers that make use of a car's electrical system and propane tank to heat the water. There are also others that make use of solar power to heat the water. It is truly up to you to choose which variety that you like.
Most Popular Camp Shower
Nemo
The NemoHelio Pressure shower is a great camp shower. It is great since unlike the regular ones it is actually placed on the ground and it then uses pressure to transmit the water above your head. The pressure it produces is good for cleaning hair, pets, dishes and other activities. It has a portable tank of 11 liters and a 7 foot hosemade of neoprene. It comes with a ventilated, rugged carrying case and features a foot pump which is easy to use and does not overinflate. The tank is warmed by the sun. The entire kit weighs less than one liter of water making it extra portable for you. To prevent any accidental opening when in operation the tank has a safety tap over the port for filling it.
Great foot pump that works amazingly well
It provides great pressure
The product is really easy to use
It is made of really durable material
It has easy package and its highly portable for those camping trips
– Anthony Dawson
Best Overall Camp Shower
ADVANCED ELEMENTS
This Advanced Elements shower is a 5 gallon shower as indicated in the title. It is solar powered which is great for environmental conservation. This shower features a four ply construction with an insulator panel as well as a reflector panel, the two panels are there for additional durability. It has a filling valve which is extra-large as well as an easy to use on and off showerhead. The shower weighs in at 1lb, 4Oz. It has Velcro straps and the shower has a pocket on the side for shampoo as well as soap. It also features a gauge for measuring the temperature of the water. The package is quite lightweight and will be easy to carry along on your next camping trip. It is quite pocket friendly.
You just need a couple of hours under the sun to get a comfortable temperature for showers
It is easy to use and is also quite durable
It is good especially for washing hands
The pocket on the front is great for holding soap
Very comfortable carry handle
– Anthony Dawson
Best Budget Camp Shower
Seattle Sports
This Seattle Sports camp shower has a 5 Gallon Capacity just as the title suggests. It is a camp shower that is designed for showering right at the camp site or cleaning dirty feet and hands. It is made of very durable PVC and has a filling cap which is separate. It also has an on and off valve as well as a carrying or hanging handle. It weighs in at just 4Oz and is designed to be solar heated. All you have to do is leave it in the sun and the water placed within it will get heated up ready for use. Generally speaking it is really a great tool for washing off when in the great outdoors.
It is offered at an amazing price
Valve and spray work amazingly well
Heats up the water quickly
It is quite easy to use
It has a good volume of water for use at 5 Gallons
– Anthony Dawson