Best Camping First Aid Kits
Family camping trips are not complete without a quality first aid kit nearby. Not just for innocuous cuts and scrapes, but more serious injurious while trekking in the wilderness need tending to immediately. There are many kinds of first aid kits out there, and all of them have the basics, but some are much more deluxe and offer features that can be lifesavers. You need to begin by asking yourself how many people the kit will accommodate. If you and your spouse are going on a camping trip, then a modest-sized kit will do, but if you're going with a larger group of people then you'll need a bigger kit that comes equipped with more bulk supplies. Also, the kind of trip you're taking is going to dictate what you need inside the kit. A simple camping trip in the mountains is different than a cross-country ski trip at high elevations.
Top Rated Camping First Aid Kits
Coleman Expedition First Aid Kit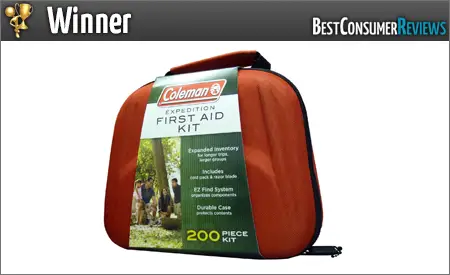 Features
Comprehensive kit contains 200 pieces
Small enough to fit in a backpack
Perfect for longer trips and larger groups
EZ Find System for incredible organization
Coleman Expedition First Aid Kit
The Coleman Expedition first aid kit is designed for large groups that are going on outdoor trips that are extended in length. Everything you need is packed within the semi-hard case that can fit nicely within any standard sized backpack. With three different sizes of plastic bandages, as well as butterfly bandages and knuckle bandages, no cut or scrape will be left unattended. There are also gauze pads and 5 yards of bandage tape for very large wounds to be covered and treated. You get two finger splints for the dreaded sprain or broken digit, as well as scissors, tweezers, safety pins, and latex-free gloves. All very minor surgeries can be accomplished with ease and safety. And, of course, by minor surgeries we're talking about splinters. Antibiotic ointment is provided to keep everything sanitary and to prevent infections, as well as sting-relief wipes and antiseptic towels. To round the well-stocked assortment out, there are cold packs, antihistamine tablets, pain relievers and an emergency snaplight light stick.
Adventure Medical Kits Adventure First Aid 2.0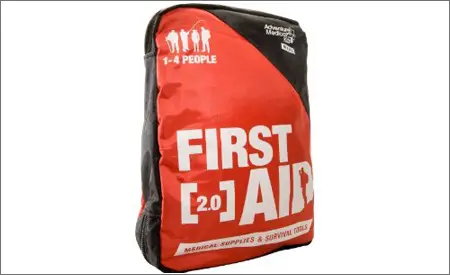 Features
Perfectly organized kit that can treat most minor ailments
Great for small parties of up to 4 people
Designed for shorter trips
Great instruction cards help to treat the most common injuries
Adventure Medical Kits Adventure First Aid 2.0
The Adventure First Aid 2.0 kit is ideal for treating the most common illnesses and injuries that can happen when venturing into the outdoors. Wandering into the wilderness often is accompanied by allergic reactions, headaches, sprains, fractures, cuts, and scrapes, and this kit has something to treat it all. Perfect for shorter, day-long outings, the kit will have enough supplies for up to 4 people. Great for families, small Boy Scout troops, or couples, the Easy CareFirst Aid System makes this kit incredibly well-organized with problem-specific instruction cards so anyone can confidently administer first aid whenever it's needed. We all know that stuff just happens when you go on an adventure into the outdoors, and having a kit that is this comprehensive and easy to use is a must. And even if you're convinced that you have a bullet-proof family, it's always best to be prepared just in case the unexpected takes place.
Lifeline Trail Light Dayhiker First Aid Kit – 57 Pieces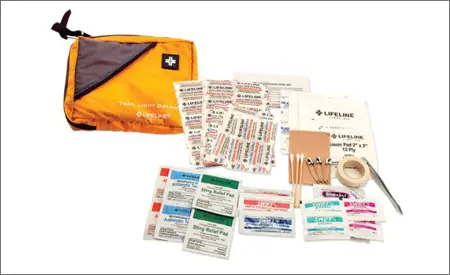 Features
Easy-to-carry, soft-sided case
57 pieces in total
Everything you need to treat all minor injuries
Lifeline Trail Light Dayhiker First Aid Kit – 57 Pieces
For those who love to hike, it's important to have a first aid kit on hand for the unexpected, but you also don't want to carry around something that is large and cumbersome. This kit from Lifeline is ideal because it's lightweight and supplies everything you need to treat most minor injuries. The kit is designed to supply up to 3 people for one day, and is small enough to throw into a backpack without taking up too much space. It comes with a handy first aid guide that will instruct you on how to treat the most common problems that arise on a day of trail hiking. You get essential items like tweezers, safety pins, cotton-tipped applicators, gloves, bandages, antiseptic wipes, iodine pads, tape, and so much more. There is medicine for pain relief and allergic reactions as well. Some people falsely assume that a simple day of hiking won't pose any problems, and that there's no need to have first aid available. Make sure that you're always prepared with a comprehensive, lightweight kit like this version from Lifeline.