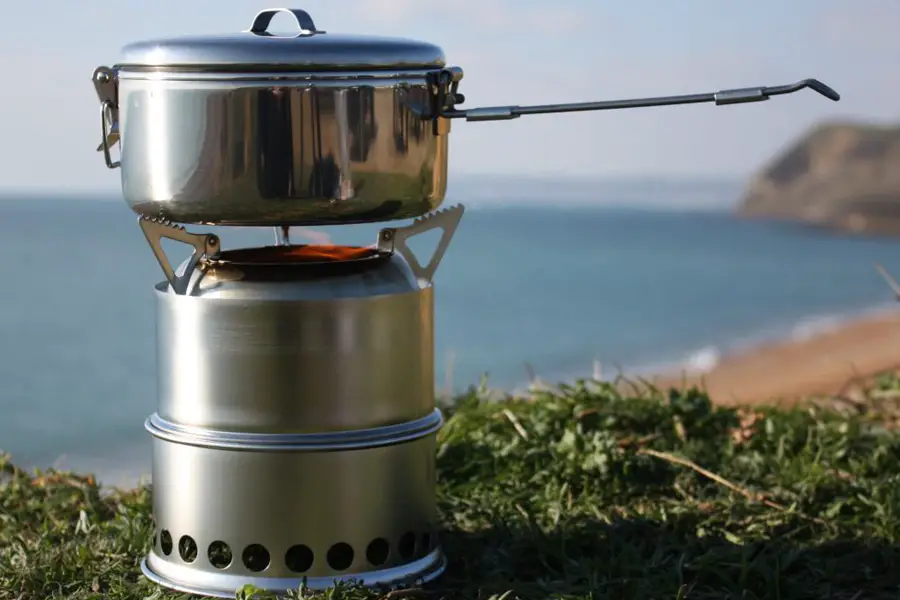 Camping Stoves Reviews
When it comes to weekend camping trips and backpacking excursions, a camping stove presents a handy and convenient addition to your outdoor gear. This is especially important given the fact that many backcountry areas strictly prohibit open fires because of possible forest fire dangers. There is also the scarcity of firewood in most areas, which means a camping stove is your only option. For many backpackers there are basically two major options to choose from when it comes to camping stoves: liquid fuel and canister fuel, although there is also a growing popularity for alternative fuel options. Your decision will mainly depend on the specific function you are looking for. Most backpackers prefer to have a stove that is capable of boiling water rapidly in order to rehydrate dried and frozen meals. On the other hand, others prefer to look for simmering control, especially those who still want to enjoy fancy style of cooking even when outdoors.
Most Popular Camping Stoves
Etekcity
If you are looking for a backpacking camp stove that only weighs 3.9oz, then this one is your best bet. Featuring the use of propane/iso-butane canisters, now you can enjoy heating and cooking food and water with greater ease without the unnecessary bulk that usually comes with towing a stove around.
Boasting quality construction with stainless steel and copper metal frame, you can look forward to getting a fully functional and dependable stove at a fraction of the price from other bigger, established brands. This stove can also be used for simmering water and comes with an adjustable flame.
Aside from adding this to your camping gear, this stove can also present a great alterative as a backup or emergency stove when you need a spare one anytime and anywhere. This product measures 7 x 7 x 7.5cm.
Lightweight and compact stove with efficient heating/cooking capability
Capable of boiling water at sea level in a minute
Offers really great value for money
Adjustable flame for convenient cooking
– Anthony Dawson
Best Overall Camping Stoves
Coleman
Whether you are planning to stay in a tent, cabin or right under the blanket of stars, this Coleman liquid fuel stove that features a 2-burner stove makes a great, compact and highly reliable companion.
Featuring a 6,500 and 7,500 BTU burners, this is perfect for cooking meals and heating food or water in minutes. In fact, this stove is known to boil water in 4 minutes or less.
The stove can be operated using unleaded gas or the Coleman fuel, which will typically give you approximately two hours of burn time. Despite its great function, the stove is lightweight and only measures 17.75" x 11.5" by 4.875" and comes with a limited lifetime warranty.
Durable and long-lasting stove designed to last for years
Can be used to heat large pots
Efficient heating capability
Functional design allows easy, no-fuss storage
Perfect for camping and as a backup stove as part of your emergency kit
– Anthony Dawson
Best Budget Camping Stoves
jogr
Another ultra lightweight portable canister stove, this one also weighs 3.9oz, which makes it an ideal option for hiking and camping. Unlike its counterparts from bigger brand names, this one offers no-nonsense function at a fraction of the price.
If you are looking for a dependable cooking companion while on the go, this one is perfect for simmering water and cooking food in the most efficient way possible. The flame is fully adjustable, which means you can temper it to suit to your specific heating needs.
Aside from presenting a great, compact camping stove, you can also use this one as a spare or an emergency stove around the house or for just about anything. Made with durable material, you can look forward to enjoying and relying on this little guy for years to come.
Features a large burner ideal for heating frying pans
Very compact and lightweight perfect for camping and hiking
Can be dismantled to smaller pieces for easy storage
Offers great value for moneyBottom of Form
– Anthony Dawson
Camping Stoves Buying Guide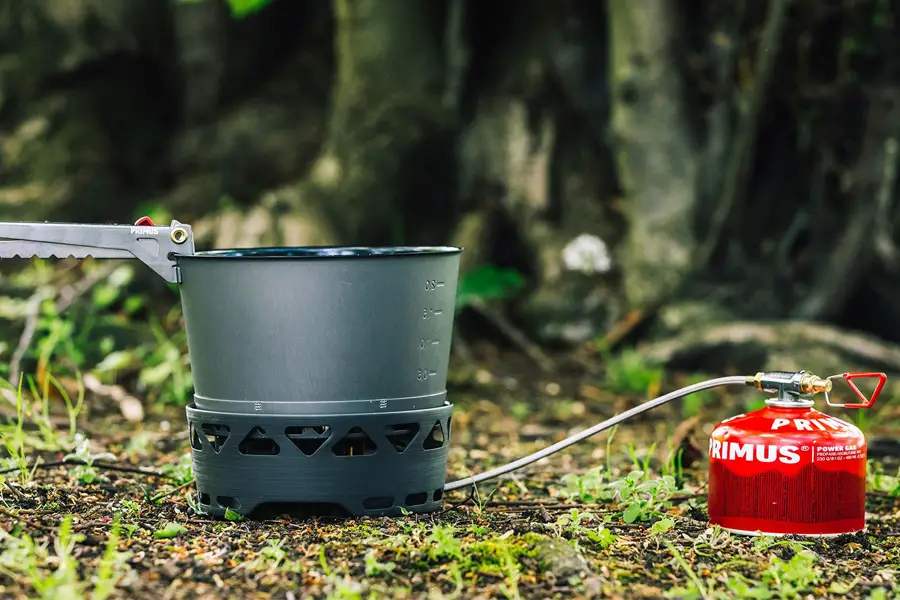 Whether you are an avid camper, hiker, backpacker, hunter or just plan to spend a few nights in the great outdoors, a camping stove can be one of the most important modern conveniences that you take along with you. There are several different sizes, types and brands available. Finding the camping stove that will best meet your needs can seem overwhelming if you don't exactly know quite what it is that you are looking for. This guide is prepared to help you identify the type that will best suit your purposes and serve you well for many years to come. The tips that are found here will help you know just what you're looking for, before you hit the shops.
Determine What You Will Be Using the Camping Stove For
The most relevant question is what are you intending to use the stove for? Of course, preparing meals when away from an electric range is the main intended purpose. But there is so much more that figures into making the best choice. For example, if you are a backpacker or plan to hike into a remote area, you will want to consider the size and weight of the stove as some of them can be heavy to carry. Another consideration is the amount of food that you will be preparing at one time. In the traditional camping setting with large groups of people present, you may need a larger model that has features to accommodate larger portions of food for preparations. With this in mind, let's look at the different types of camping stoves that are available.
Different Types of Camping Stoves
1. Cartridge Camp Stoves
Single burner cartridge stoves are lightweight and are the most logical choice for hikers and backpackers because they are easiest to transport from one location to another. Most of these are extremely lightweight and compact. The maintenance on them is low and the fuels used are clean burning. The most popular model of cartridge stove consists of a fuel canister with a small burner that simply screws to the top when used. There are few parts to carry or be concerned with. Some models have hoses that connect to the cartridge and they are slightly more cumbersome, but they are also more stable in terms of tipping over when in use.
Pros and Cons of Single Burner Cartridge Stoves
The pros include being a lightweight unit that is easy to transport by foot, easy to setup and use for cooking meals and require relatively little maintenance. One of the largest drawbacks to cartridge stoves is that when the wind blows, they tend to lose their flame easily, so it's best to use them in a sheltered or semi-sheltered area away from wind whenever possible. The second con is that only one item can be heated at a time. They are most useful for small parties of people if only one unit is used.
2. Liquid Gas Stoves

Liquid gas stoves generally rely upon a supply of white gas to operate. They are relatively inexpensive and are designed to operate in all weather conditions. The sizes range from single burner models to deluxe editions that feature 3 to 4 burners for accommodating larger amounts of food. These are great for traditional camping parties with both small and large numbers of campers. Some liquid gas stoves can accommodate multi-fuels such as kerosene, unleaded gasoline or alcohol. The fuel is placed in tanks that can be attached and removed from the burners for ease in transport. The larger models can be heavy, so they are not recommended for backpacking.
Pros and Cons of Liquid Gas Camping Stoves
These units are great for cooking meals for both small and large parties of campers or hunters. There is a large selection of sizes and features such as multiple burners and fold out wind guards to prevent the flame from being extinguished. Most gas stoves come with adjustable heat settings for turning the flame up or down when cooking. Lighter models tend to be more expensive than the heavier ones.
Drawbacks to liquid gas camping stoves are that they tend to be bulkier and are not ideal for transporting by foot. Most of these need to be pumped up or primed prior to use. This can be an inconvenience as the tank must be pressurized prior to usefulness. When compared to canister stoves, they require more time and effort to operate.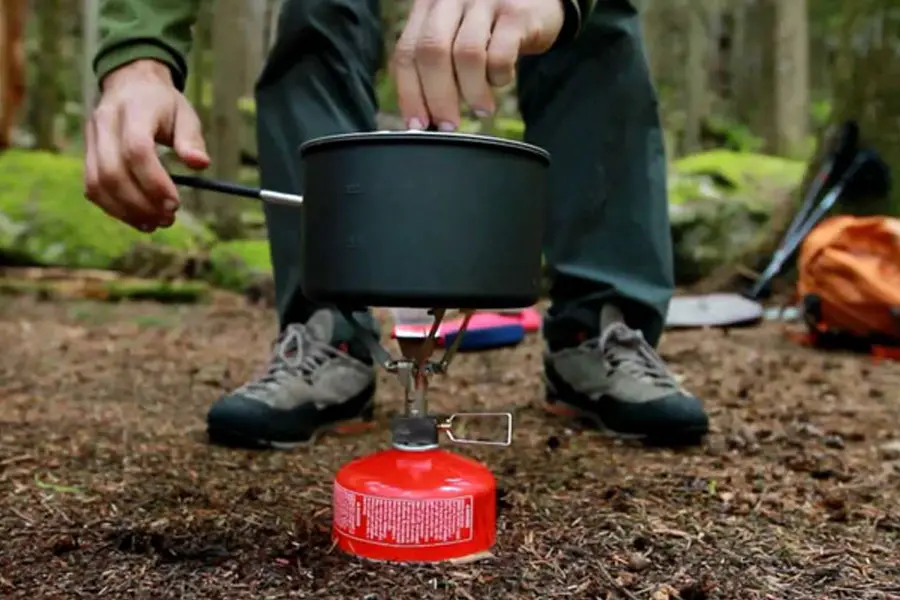 3. Canister Stoves
Canister stoves use refillable canisters of fuel. They are lightweight and easy to take to remote locations when on foot. They come in upright and low profile styles. The main drawback to this type of camp stove is that they do not work well when used in freezing temperatures and can result in frustration for the hiker in colder conditions.
4. Bio Burner Stoves
Bio burner stoves are ideal for those who don't want the hassle of carrying camp stove fuel with them. They operate on the burnable elements found in nature. Small twigs, pine cones, etc are added to fuel the fires used for cooking.
Pros and Cons of Bio Burner Stoves
This style of camp stove can be great if the environment is conducive. There has to be dry materials present where you are camping in order to operate. If the materials are wet, or if there is a lack of burnable organic matter present, then you will have trouble finding fuel for the fire needed. On the pro side, they are a good way of keeping carbons out of the environment and a more green option for those who are concerned about protecting the environment.
Conclusion
The best choice when shopping for a camp stove, is to select one that will best meet your outdoor cooking needs. If you plan to transport it on foot, a compact and lightweight model will be the best choice for you. For more traditional camping that includes several hungry campers or hunters, it is probably best to purchase one of the larger units that features multiple burners for cooking larger meals at once.