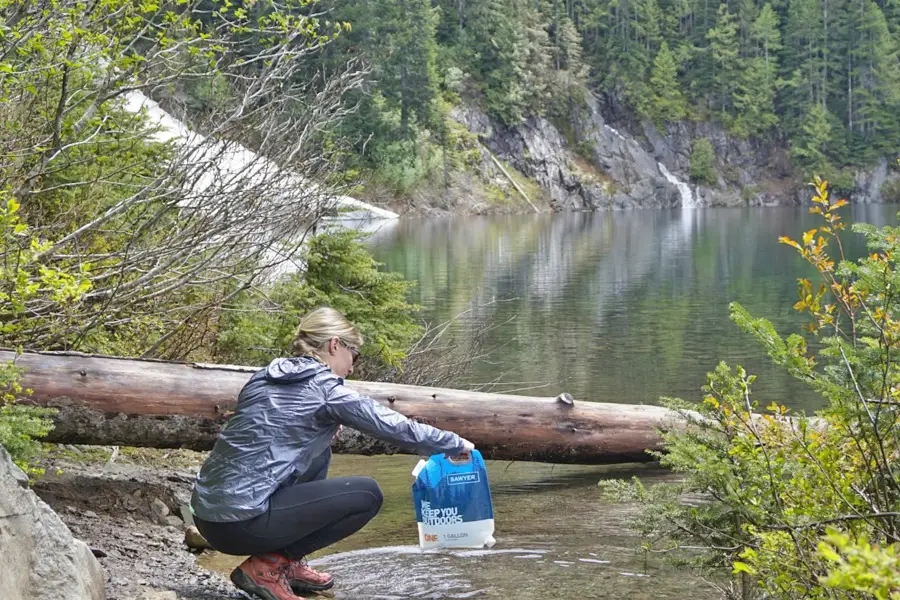 Camping Water Reservoir Reviews
For adventure seekers, sports enthusiasts and travel lovers, a water reservoir presents a lifeline for staying hydrated while on the go. This becomes especially important if you do not have ready access to clean, potable water or you are unsure of the quality of water in a certain area. Aside from the benefits of bringing your own water for safety and health purposes, a water reservoir also presents a practical and environmentally responsible investment in order to ditch the need for disposable water bottles. Now you can enjoy the peace of mind knowing you always have ready access to clean water anytime and from anywhere, even right in the middle of the wilderness. A camping water reservoir is therefore a must have for active people. The great news is there are a lot of great, highly innovative options available when it comes to water reservoirs. In fact, you will be surprised at how this seemingly simple outdoor gear has evolved into a sophisticated travel companion over the years.
Most Popular Camping Water Reservoir
CamelBak Omega Water Reservoir
For people looking to invest in the ultimate delivery system for clean, potable water, the Water Beast is one of the best and most popular options in the market today.
With proven durability, this reservoir features a wide mouth opening and is made with heavy duty material to ensure reliable water delivery even in highly intense and demanding operational situations.
The water reservoir is constructed with a patented Big Bite Valve that is made with medical-grade silicone material, which allows you to enjoy steady water flow. It is also designed with a HydroGuard™ Technology that is specifically designed to inhibit bacterial growth on tube surfaces and reservoir.
Unlike other water reservoirs, this one comes with a multiple later Pure Flow tube for drinking which has been tested and proven to keep water fresh and with no unpleasant plastic aftertaste.
Made with heavy duty and quality material that inspires confidence
Comes with a nice neoprene cover on its tube that provides great insulation
Delivers great pure water taste
Comes with quick release connectors for optimum convenience
– Anthony Dawson
Best Overall Camping Water Reservoir
Osprey Hydraulics Reservoir
Designed to give other water reservoir brands in the market a serious run for their money, this Osprey Hydraulics Reservoir is designed to offer a groundbreaking alternative in all respects.
This one is designed to carry and deliver great tasting water all without compromising fit, stability and comfort in a single pack. Specifically designed to offer maximum convenience with minimal handling, it features a hands-free hydration design, which is just perfect for active people operating in less than ideal environments and conditions.
With its exceptional technical features along with ready to pack integration, this is the ultimate outdoor companion you need to complement your performance and support your thirst for adventure.
Reservoir comes with a magnetic bite regulator along with a sternum strap. It is constructed with a low profile design in order to keep the water weight close to the body and keep it steady.
Wide mouth opening allows easy refilling
The twist-lock valve comes with a magnetic clip making it easy and convenient to attack to the daypack
Comes with highly durable, quality bite valve that prevents leaks
Compact and lightweight, which makes it easy to carry and use
Made with high quality material designed for heavy duty use that ensures durability
– Anthony Dawson
Best Budget Camping Water Reservoir
Source Outdoor
Designed to offer the ultimate hydration system for active people, this kit is capable of holding 3 liters of water. It is equipped with a Helix drinking valve along with the Dirt Shield valve cover, hose, a magnetic clip and a universal tube adapter.
In particular, the universal tube adapter is designed to allow you to conveniently refill the bladder all without taking it out from the daypack or backpack. This of course makes a great, convenient feature especially for people who have to deal with less than ideal outdoor conditions.
The design construction also allows easy cleaning and maintenance, as it can be easily drained completely without leaving any residual water.
Requires very minimal maintenance
Offers great water quality without any unpleasant chemical or plastic aftertaste
Heavy duty and can easily withstand even rough handling
– Anthony Dawson
Camping Water Reservoir Buying Guide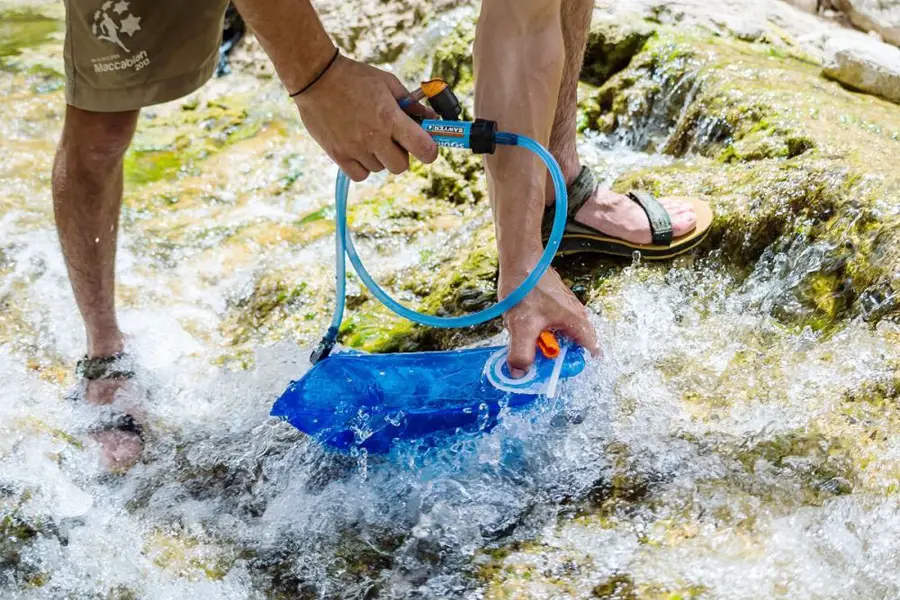 Water reservoirs for camping are a good choice for ensuring that you have plenty of fresh, clean water for drinking and cleaning tasks. It takes away the necessity of boiling stream water or using other methods of purification which can be expensive and change the taste of the water. There is a huge selection of different types of water reservoirs available, so figuring out which one to purchase can seem overwhelming. This guide is prepared to help you to isolate the best reservoirs that will meet all of your hydration needs for camping, without costing you a fortune. The tips that we've provided will help you to shop with confidence when you decide to make your purchase.
Identify Your Needs
By considering what kind of camping you are going to be doing, you can determine the size of the reservoir that you will need to buy. For example, if you are backpacking or hiking into a remote location, a smaller unit that is light enough to pack in will be required. For camping with large parties, a larger container that will hold more water is recommended, particularly, if there is room to haul a decent sized container. Reservoirs come in all sizes from portable to very large.
Determine How Much Water You Will Need for the Camping Trip
The length of the trip or number of days you will stay is important in considering the amount of water you will need to carry with you. In addition, the number of people in the group and what tasks will be performed requiring the use of pure water are considerations. Of course, drinking water is the number one priority. Some campers use their water reservoir to take showers, wash dishes and clean the RVs as well. Whether you are using a tent, tent trailer or motor home, you will still need pure water for sanitary reasons as well as drinking.
Different Types of Camping Water Reservoirs
The number of brands, styles and sizes of water reservoirs is immense to say the least. We'll begin with the smaller versions
Hydration Packs
Hydration packs are ideal for backpackers and hikers as they are more portable for carrying. They come in 1 to 3 liter sizes. They provide a handy means for storing enough water for one person for a day and are best used when near a water source that is either safe for human consumption, or with a water treatment tablet.
Pros and Cons of Hydration Packs
Hydration packs provide a convenient way to pack water into a remote area when space is a consideration. There are several drawbacks to using them for camping because they cannot hold enough water to meet the needs of one person for any length of time. There will be a need to be near a water source for refilling. Also, for their size, hydration packs tend to be heavy.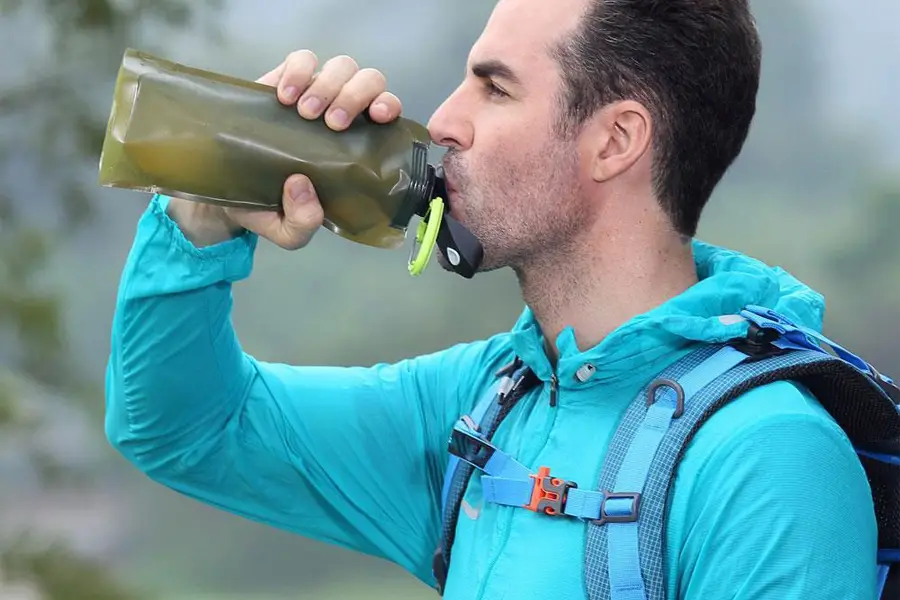 Collapsible Reservoirs
Collapsible reservoirs are made from durable plastics and come with a few convenient features. Most have an easy pour spigot at the top or near the bottom for easy dispensing when camping. They come in sizes ranging from 1 gallon to 20 gallons. The larger capacity sizes can meet the needs of a small to medium sized group for a few days' time, depending upon the ways that the water is used.
Pros and Cons of Collapsible Reservoirs
These convenient containers are space savers as they decrease in size as the water level goes down. They come in an assortment of sizes so there will be less or no need to replenish the water supply while camping. Pure water can be stored without the need for treatments to make the water safe for drinking. A significant feature is that most of these containers can easily be frozen prior to use, making them a great source for cold water dispensing in hot weather. The drawbacks include the fact that these containers, especially the larger ones, are extremely heavy when filled with water and this makes them difficult to move from one location to another.
Rigid Walled Reservoirs
Reservoirs with rigid walls are best for when you need higher amounts of water for extended stays or large groups of people when camping.
Pros and Cons of Rigid Walled Reservoirs
Larger tanks are available in rigid walled reservoirs and they are good for long trips and/or meeting the needs of more people in the group. The drawbacks include the fact that they are bulky and take up a lot of space, they are extremely heavy when filled, and you will need a heavy duty vehicle that can handle the weight of hauling them. In addition, they are difficult to move from the vehicle when full so you may need to plan on leaving them in the rig and getting your water from this location.
What You Should Look For In a Camping Water Reservoir
One of the first considerations is finding the right size of tank. Select a model that will provide enough water for the number of people, duration of the stay, and that will support all of the activities that require use of the water. Next is portability. If you're camping in a remote location, you'll need a container that will be light enough to transport to your camping spot. If there is a water source nearby, you may be able to get by with a smaller reservoir that can be refilled.
Select a size of tank that you will have room to store. Space is a consideration when choosing the size. Will you be storing the tank in an RV or outdoors in a camping location? How will you be transporting the reservoir to the camping site? Make sure that you get one you'll have room to haul and setup when you arrive. Also consider whether you will be filling the reservoir prior to leaving for the trip, or upon arrival. Larger tanks are extremely heavy and bulky. You may need a heavy duty rig for transportation of the reservoir.
Conclusion
Whether you need to store small or large amounts of water for camping, there is a reservoir that is designed to meet every need. By following the tips about first determining how much water you will require and what you can successfully transport to the camp spot, you have an idea of the size that will work best. Look for the features that will add convenience to your experience and a price that fits your budget. With this in mind, you can shop with confidence and start looking for the best deals on your new camping water reservoir.