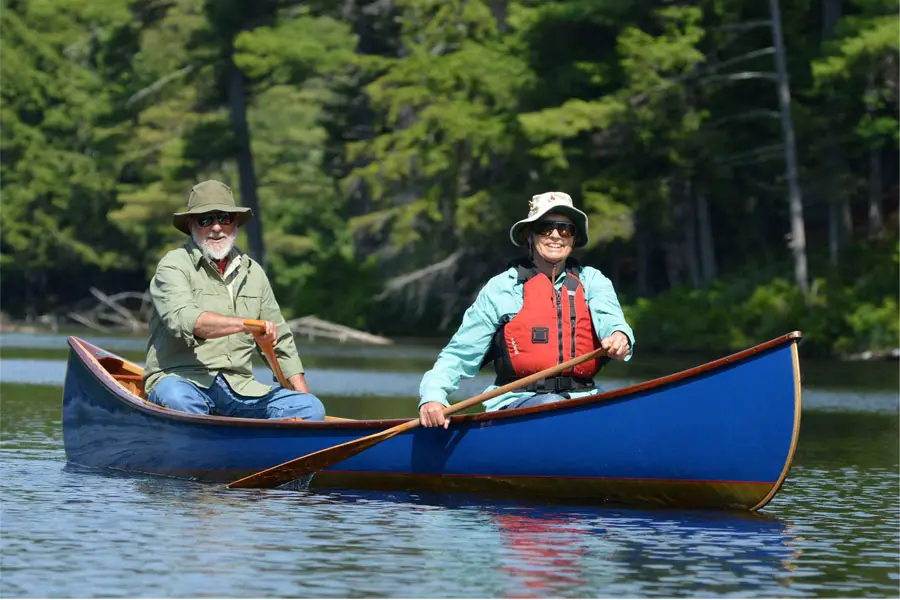 Canoe Reviews
When you take time off and spend time near the water, having your own canoe can allow more relaxation, quality family/friend time, and save you money on rentals. If you enjoy time in the water, a canoe is a great way to get around. You can use a canoe for your fishing adventures, paddling around the lake or transporting yourself to nearby islands. The following canoes are durable and will last you year after year for you to enjoy water close to home or while you are on vacations. The following reviews are made of top quality materials and are the most reliable canoes on the market.
Most Popular Canoe
Grumman
The Grumman Assembled Canoe, Green is a durable canoe that will last you for years allowing you and your family/friends to enjoy the water. This canoe has aluminum gunnels with a protective sleeve. The Grumman Assembled Canoe has three molded bench seats providing comfort for those riding in the canoe. This canoe also has a vertical rod holder for angler fans. This canoe is a very nice canoe that is light enough for one person to handle and transport, while being large enough to accommodate a few of your friends. This canoe will hold up in many different conditions including river, rocks, and sandbars. You can even use this canoe in shallow water without any problems. The Grumman Assembled Canoe is very stable and can handle a lot of movement, which small children may cause.
Aluminum gunnels with protective sleeve
Three molded bench seats
Vertical rod holder for fishing
Holds up in many different conditions
Stable, can move around without worry of tipping over
– Anthony Dawson
Best Overall Canoe
Old Town Canoes & Kayaks
The Old Towne Saranac 160 Canoe is great for family outings or getaways. The thermoplastic hull on the canoe is durable and provides high abrasion and impact resistance while enjoying a peaceful environment on the water. This canoe has a contoured comfortable bow and stern seats with molded cup holders and an integral center bench seat with storage inside. The dry storage seats will allow you to carry your cell phones, cameras, wallets, keys, along with other valuable accessories. There are molded storage trays on all three seats allowing all of your family and/or friends to place their accessories in a secure place while enjoying the water. The Old Towne Saranac 160 Canoe has an end cap feature that with comfortable molded handles with a flush mount rod holder or anchor system mounting point and line easy-cleat. The rod holder provides a great opportunity for anglers to enjoy the water and cast a line on any trip. The maximum weight capacity for this canoe is 800 to 850 pounds.
Thermoplastic hull
High abrasion and impact resistant
Contoured comfortable bow and stern seats
Maximum weight capacity is 800-850 pounds
Flexible
– Anthony Dawson
Best Budget Canoe
Sun Dolphin
The Sun Dolphin Square Back Canoe, 15.6-Feet, Green is a great canoe that is 15.6 feet in length and has a maximum weight capacity of 800 pounds. This canoe is a three-seater with a built-in cooler and dry storage built into the center seat. The dry storage can hold wallets, sunglasses, cell phones, cameras, and more. This canoe also has a Rugged UV-stabilized Forti flex polyethylene hull 40-inch beam which has drink holders that are molded into every seat. The Sun Dolphin Square Back Canoe is backed by a two year warranty. This canoe is a hybrid, square backed canoe which is great for paddling as well as the use of an electric trolling motor. This canoe is 95 pounds in weight and can easily be carried over your shoulder. The Sun Dolphin Square Back Canoe will steer and maneuver like a traditional canoe but also includes the square back enabling an electric trolling motor to be added if desired.
15.6 feet in length
Maximum weight capacity of 800 pounds
Dry storage built in
Built-in cooler and cup holders
Rugged UV-stabilized Fortiplex polyethylene hull
– Anthony Dawson
Canoe Buying Guide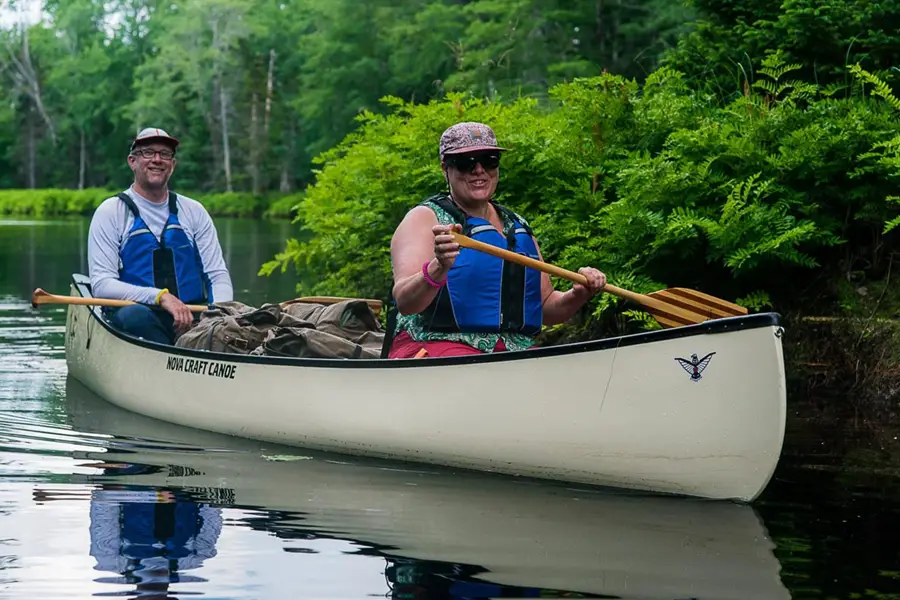 A canoe offers an easy and fun approach of experiencing the outdoors. It's a versatile boat that can handle different lake and river conditions, although its shape, design features and materials used can influence how it performs. When shopping for a canoe, you should first think of where you want to paddle, the time-period required and the possible conditions you're likely to encounter while paddling on the water. Below are some characteristics you should look for before purchasing a canoe:
Purchase Consideration
1. Speed
Speed is an important aspect when choosing a canoe. Speed determines the efficiency of a canoe. This efficiency will tell you the amount of energy needed to move from one point to another. Depending on the purpose for which you need the canoe for, you'll choose the one with an appropriate speed. For instance, racing canoeists need canoes with a much higher speed compared to touring and recreational canoeists.
2. Displacement Capacity
A canoe is able to displace an equal water amount to its overall weight plus any load. For instance, if you load 400 pounds into a 40-pound canoe, the overall canoe's displacement will be 440. However, it's essential to select a canoe with a freeboard that's six or nine inches. Ensure you estimate the average weight of paddlers and gear you'll carry and make a comparison to the capacity given of the canoe.
3. Seaworthiness
This describes how well a canoe performs especially in rough conditions. Usually, more seaworthy designs come with more flare. However, although the flared hulls provide enough seaworthiness, the paddling process tends to be harder because the hull sides are wider. In cases where intense seaworthiness isn't required, canoes tend to have downsides and straight ups. Generally, you can decide to sacrifice seaworthiness for day trips or flat water touring for efficiency and comfort. On the other hand, seaworthiness is of great importance during the windy days.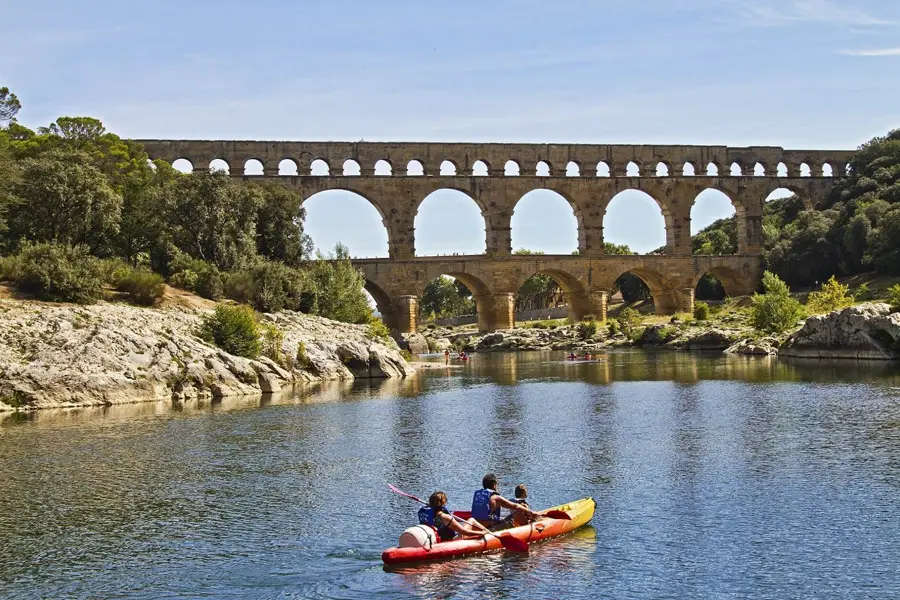 4. Control Ability
This can be described as how the canoe handles on the water. Therefore, most paddlers are only interested in two critical aspects of control ability which are tracking and maneuverability. These two aspects play a key role in understanding how well a canoe goes straight. Apart from these two critical aspects, there're other canoe design aspects you can check to determine how it'll perform as follows:
Symmetrical vs. Asymmetrical Canoes
Most modern canoes have asymmetrical hulls. This means that if you look down on the canoe from an above position, you'll notice that the back half has a different shape compared to the front half. On the other hand, a symmetrical-style canoe has similar back and front halves. Although both designs have advantages, the asymmetrical hulls present several positive characteristics because they're able to track and maneuver very well.
Rocker
This explains the amount of curve along the bottom of the hull of a canoe. It's normally indicated in inches, and it's the distance between the lowest part of a canoe to a certain point before the stem. A canoe with a less rocker has a better track whereas a canoe with more rocker will turn better.
5. Aesthetics
This is the general look of the canoe. The look doesn't in any way affect the actual performance of the canoe. Canoes have 2 types of appearances namely; the modern canoes that have low stems and the traditional canoes with recurved stems and high ends. These high ends have a significant effect on the canoe in winds.
6. Stability
You may think of purchasing a stable canoe to avoid encountering some issues while in water. However, the truth of the matter is that when waves kick in, your canoe may not be stable as you thought. Normally, canoe stability comes in two forms which are the primary and secondary stabilities. The primary stability is the stability of the canoe when you're sitting upright whereas secondary stability describes the stability of a canoe when you lean on its side or as waves push it against one side. Flat bottom canoes tend to have more primary stability compared to round bottom canoes. However, when leaning on a flat bottom canoe will make it less stable compared to a round-bottom one.
In conclusion, these are some of the top characteristics you should consider when choosing a canoe. Others include the cost, maintenance, durability, and materials used in the construction.