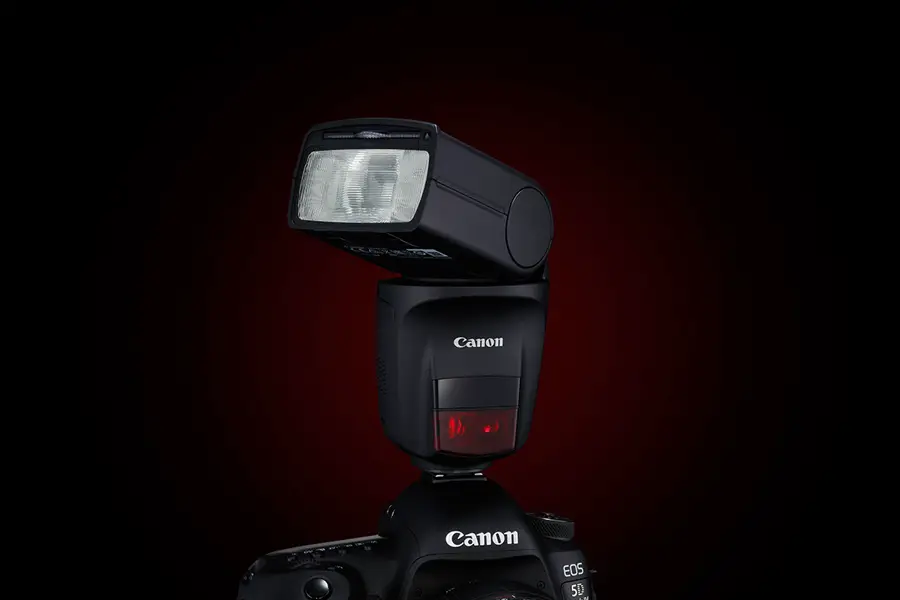 Canon Flash Reviews
There are many things to consider when you're looking to buy a flash for your camera. You need to first ask yourself if you'll just be using the flash for family photos and vacationing, in which case a simple automatic would do, or if you're looking to take some more professional shots that will require a powerful flash. Note that larger flashes are more heavy and cumbersome, so you definitely don't want to bring one on your vacation to Hawaii; unless, that is, you're going to take professional shots that you'll mount on your wall when you get home. In general, smaller flashes work great to illuminate faces indoors, whereas larger flashes are geared toward night shots and things outdoors. The very first step to getting the right flash is making sure your current camera will accommodate whichever flash you're interested in. If your camera does not have a shoe on top, which is that metal bracket that attaches the flash, then you won't be able to add one.
Most Popular Canon Flash
Canon 320
The Canon Speedlite 320 EX is a great, multipurpose flash. The LED on the front of the flash nicely illuminates things that are in dim light. This flash is the best for video, but can also be used as a modeling light. Also, with a device that has Speedlite transmitters, you're able to use this Canon as a remote light, set off-camera and angled as you choose. Thanks to the flash release function, you're able to use this device wirelessly, with a two-second delay. The light quality on the Speedlite is really its best feature. With its rich bounce functionality, you're getting smooth, professional performance, and exceptional quality that you can see. When it comes to flashes, it is this quality of light that is the most important, and Cannon really delivers here. Whether you have a professional studio, or are just getting into camera and video set-ups, the Canon Speedlite is a great place to start when you're looking for good equipment.
LED light illuminates nearby subjects in dim lights
Vertical and Horizontal bounce capability
Wireless performance with the Flash release function
Up to 4 hours of lighting with AA batteries
Wireless Slave function allows flash to be positioned off-camera
– Anthony Dawson
Best Overall Canon Flash
Canon 100
The Canon Speedlite 100- is perfect for those who are EOS enthusiasts, and love a fun, lightweight flash that performs with ease and precision. This flash can only be used with EOS DSLR cameras from Canon that have the master function built-in. The Speedlite is a versatile and enjoyable wireless slave flash, and works well with smaller digital cameras that have the flash shoe on top. It adjusts wonderfully to the outdoors thanks to the Tele/Wide function, and this makes it a great little flash to take on diverse locations. In fact, it could be said that the Speedlite is one of the best flashes for traveling, because of its compact size and ability to adjust to diverse locales with ease. Do take note again that this is only compatible with cameras from Cannon. It's not uncommon for people to make the mistake and think this is compatible with another brand.
Super-compact design for lightweight, superior performance
Vertical bounce up to 90 degrees
Flash coverage switchable from normal to max
Wireless capability with slave function
Flash release allows wireless functionality
– Anthony Dawson
Best Budget Canon Flash
Neewer
This TT560 Speedlite is used by pressing the M key, which stands for Mode, and placing the device on the hot shoe to trigger the flash. Once you're all set up, there are a number of different modes that the Speedlite can operate under, making it tremendously diverse once you learn all the ins and outs of adjusting it. Under S1 Mode you'll find the slave function allows you to create a number of different beautiful lighting effects. When in this mode, it fires at the same time that the master flash fires, giving a very dazzling look to your photo. As an added bonus, there's a fantastic power saving function built in to this flash. Once it's idle for about 30 minutes, it will go into stand-by mode, thus lengthening its life. All in all, this is a great studio flash for the price, and users find it quite easy to use once the basics steps are learned. Those who are proficient with other flashes will pick up the basics of this flash with ease.
Works with Canon Digital EOS and Nikon DSLR
Once switched on, the flash will start charging with built in Power Management
Test button used for test flashes
Red charger lamp indicates low battery
LED lighting indicates power output control
– Anthony Dawson
Canon Flash Buying Guide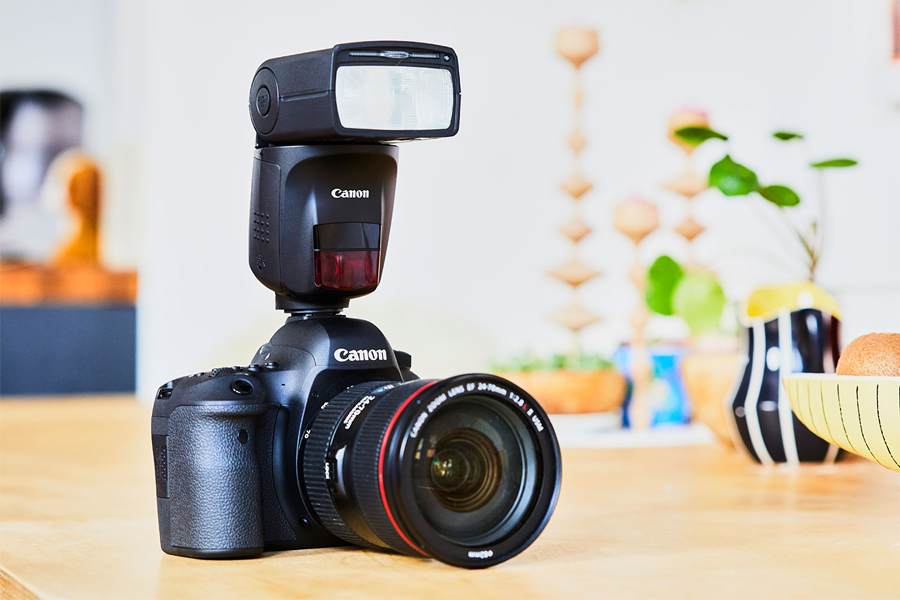 Having the right type of flash for your camera can make a big difference in the quality of pictures that you are capable of taking with your camera. Some of the most interesting shots are enhanced by the type of lighting that is used. Some which would have otherwise been keepers, may have the quality degenerated by the effects of a flash that either bathes the subject in too much light, or does not provide enough, nor in the right places. These are a few of the reasons why it is important to have a flash for your camera that will help you to achieve your goals when taking pictures or videos.
Figure out What Your Camera Flash Needs Are
By determining what it is that you are hoping to improve in your photography or videos, you'll be closer to knowing what kind of flash would best suit your needs. For example, if the flash is not strong enough, you will need one that provides more light. Consider what kind of pictures you will be taking. The type of lighting that is in the room, or perhaps your photography will be taken outdoors, or a combination of the two with a variety of lighting environments.
Standard Built In Flashes
The majority of newer cameras come with a built in flash. Many of them are too weak to do a good job in low light environments. Some are not adjustable and offer little control over the amount of light that is being projected. The addition of a new flash can help you to gain more control over the amount of light that is produced by the flash, whether more is needed, or less.
Built in flashes also tend to illuminate only one side of the subject of the photo, leaving the other side in darkness and often providing too much light that can have a washout effect and distortion of the image and the colors and other fine details. Much of the quality of the photo can be lost due to improper lighting.
Types of Flashes for Cameras
There are two main types of flashes that are popular. They are smaller units that attach directly to the hot shoe of the camera and larger flashes that come in floor unit types.
External flashes that are mounted to the camera are run via battery packs and are generally placed at the top of the camera.
Since they are detachable, they are easy to carry and will fit into most camera bags for transport. Additionally, depending upon the model selected, they allow for more control of the intensity of the flash and some varying effects can be employed. Adjustment in the angles of light distribution is a definite improvement over the standard built in flashes which are standard in most cameras.
The cons associated with camera mounted flashes is that they can make the camera much heavier to use and can interfere with the stability of the hands unless a tripod is used. The fixed models do have some limitations as to the lighting effects that can be generated.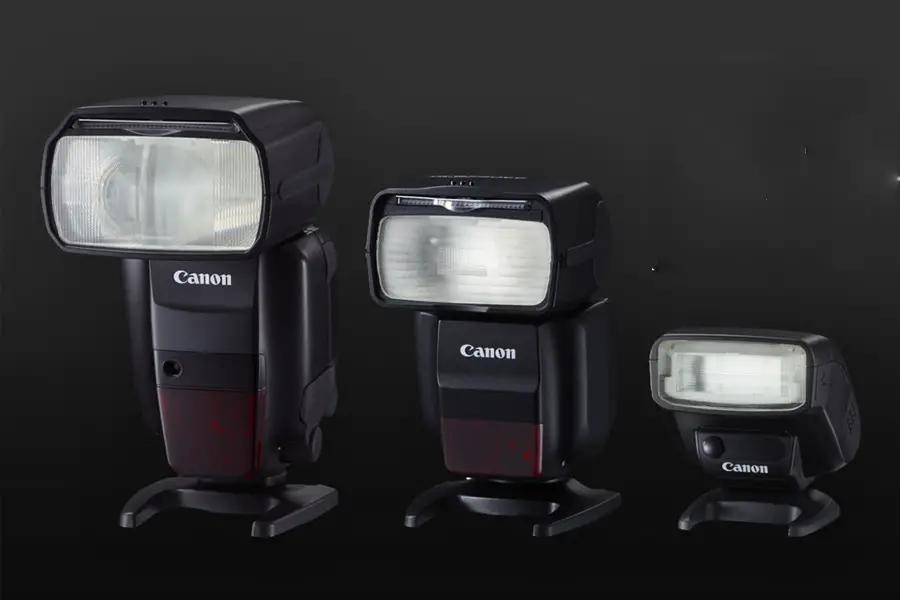 Floor Type Flashes
Floor flashes are not attached to the camera. This makes them more portable and they can be arranged to distribute the lighting in a variety of different ways to achieve different effects. They are most often used in portrait work. Some of the floor flashes can be adjusted to provide a flash or continuous lighting. These are most often used in studio photography.
The drawback to using this type of flash is that they generate much more heat than the camera mounted flashes, they are heavy, not as easy to transport as they are much bulkier and not recommended if you are taking your photos on the go.
In weighing the pros and cons of floor flashes, the control over the amount of light and the angles at which it is maneuverable makes them a better choice when you don't have to make considerations for transporting them from one location to another.
Accessories Available For Floor Flash Units
The floor flash unit also provides for the use of a wide variety of accessories that can serve to enhance the quality of photographs which are being taken. An example of this is the addition of Softboxes, which can be used to reflect the light for different effects, boom stands used with the softboxes can bring the light from different angles such as from the top down, the bottom up or side to side. The versatility of this type, however; must be compared with any need for portability for travel and shooting in remote locations.
What to Look For In Camera Flashes
With such a wide variety of camera flashes which are available, the choices can seem overwhelming, but the best place to start your search is by checking out the flashes that are produced by the same manufacturer as the camera. You may find the flash that will best suit your needs by reviewing the offerings that they provide. If you are still not satisfied, just make sure that the flash you choose is compatible with the camera that you are using, if you go with the camera mounted type.
If you decide to go with the floor flash type, then base your choices upon the size of the area you will be working in and the amount of light that you estimate you will need. If you are fairly inexperienced in working with lighting effects then it is recommended that you start out small and work your way up as you begin to master lighting techniques. Begin with a unit that will provide more options for achieving new and different types of effects as this will keep the art of photography exciting and rewarding for you.
Conclusion
The addition of a new flash, whether mounted on the camera or in the form of a floor flash model will bring you new possibilities to enhance your photography techniques. By following the tips and recommendations given in this guide, you'll have a better sense of what it is that you're looking for.