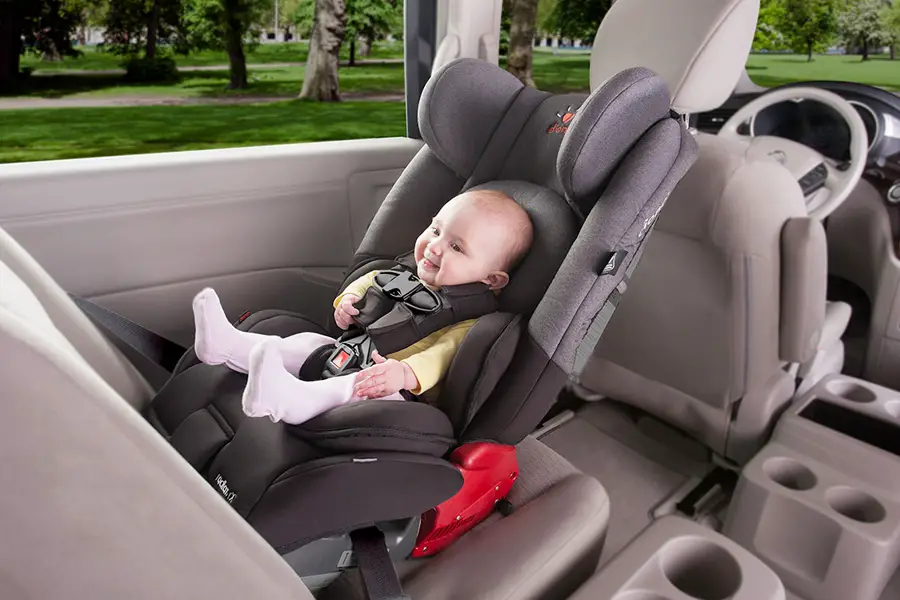 Car Seat Reviews
Children are so important to us, and with the high rate of accidents finding a car seat that you can be confident in is a challenge. You need a car seat that provides safe passage for your precious cargo every time you get in the car. Also finding a car seat that is easy to move from one vehicle to the next is an important consideration. The following reviews are great investments that provide many features to make them extremely safe. You can never be too safe when it comes to young ones. The following car seats are known for their safety features and are made with parent's safety concerns and children's comfort in mind.
Most Popular Car Seat
Graco Nautilus 65 LX 3-in-1 Harness Booster Car Seat
The Graco Nautilus 3-in-1 Forward Facing Car Seat comes in garnet, matrix, and Valerie. The 3-in-1 car seat is a great investment because it allows you to purchase one car seat and use it for all your child's car seat years. The 3-in-one adjusts from an infant seat, to a standard car seat, to a booster seat and adapts as your child grows. The car seat will carry your child safely until they reach 100 pounds. This car seat has a 5 point harness for children 20 pounds to 65 pounds. The harness keeps the child safely in their seat without you having to worry about then slipping out or being safe in a crash. The Graco Nautilus 3-in-1 Forward Facing Car Seat also has a high back belt for your child as they grow and is best for children 30 pounds to 100 pounds. This convenient car seat then changes into a booster seat for children 40 pounds to 100 pounds. Instead of having to continually purchase new car seats, your child can grow with the car seat. The Graco Nautilus 3-in-1 Forward Facing Car Seat's frame is made of reinforced steel which keeps the car seat reliable and long-lasting.
5 point harness
High back belt
Backless booster
Frame made of steel
For children up to 100 pounds
– Anthony Dawson
Best Overall Car Seat
Britax Allegiance Convertible Car Seat, Static
The Britax Allegiance Convertible Car Seat comes in four different colors including Azul, Confetti, Prism and Static. The car seat is made of 100% polyester. This polyester is both stain and shrink resistant which is great for car seats. Children can be very messy and knowing the seats are stain and shrink resistant is a great feature to have for parents. The Britax Allegiance Convertible Car Seat has many energy absorbing factors for safety. For instance, this car seat has energy absorbing features that discharge webbing to slow forward movement. HUGS pads also provide the child to resist forward movement if there is a crash. The side compartments are made of deep walls with EPP foam that absorbs energy while keeping the head, neck, and body safe. The safecell technology is also created to lower the center of gravity and offsets the normal propelling forward motion of the car seat in the case of a car accident.
100% Polyester
Safecell technology
HUGS (Harness Ultra Guard System)
EPP foam
Reinforced with steel bars
– Anthony Dawson
Best Budget Car Seat
Graco Tranzitions Harness Booster Convertible Car Seat
The Graco Tranzitions 3-in-1 Harness Booster Convertible Car Seat comes in two different colors including: Basin and Kyte. This car seat is a 3-in-1 convertible car seat, which allows the car seat to be used for a longer period of time. The car seat has a removable infant insert and head rest. The infant insert and headrest are to keep the infants head round and secure. The Graco Tranzitions 3-in-1 Harness Booster Convertible Car Seat is for children up to 65 pounds and up to 45 inches in length. The car seat has a LATCH with an easy to read level display for simple installation. The LATCH system was created to make it easier to install car seats without using seat belts. The Graco Tranzitions 3-in-1 Harness Booster Convertible Car Seat is made of EPS. EPS is energy foam that absorbs impact if there were to be a car accident. This car seat is a great investment keeping children safe and comforting while riding in a vehicle.
2-in-1 convertible car seat
LATCH technology for easy car seat removal
EPS foam for crash safety
Made for children up to 65 pounds
Removable infant insert
– Anthony Dawson
Car Seat Buying Guide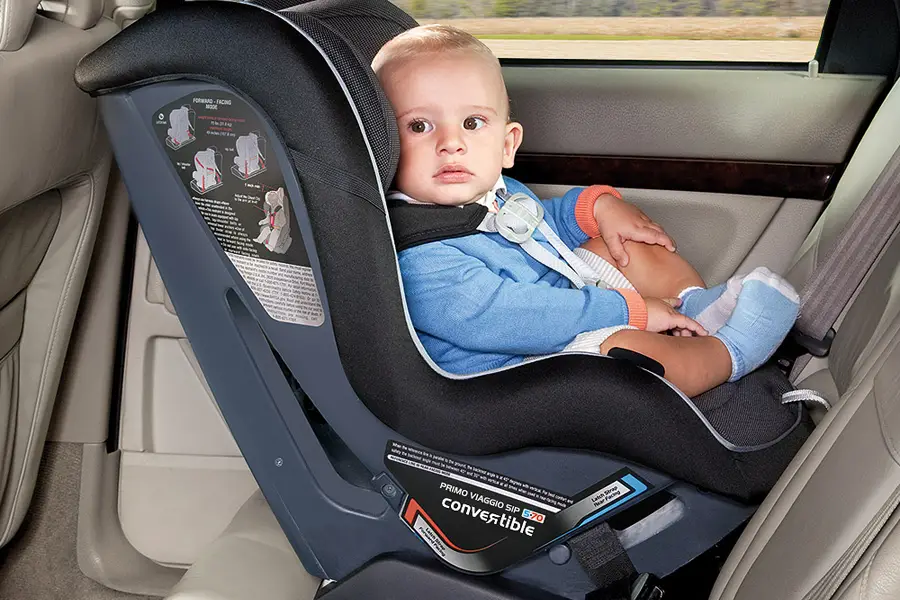 Taking a baby outside the house is not as easy as bringing a 5 year old kid to a mall. Aside from the fact that babies are not yet able to walk, a strict adult supervision is also needed to keep them safe. A lot of families get a car once a baby is on its way because eventually, a car will come handy when taking the whole family to different places. Though some cars have special seating features designed for kids, using a car seat is still recommended especially if the passenger is not older than 4 years old.
Shopping for the car seats is a bit confusing not only because it has different styles, but also because cars do not have a uniform measurement of the space where car seats are being installed. Before learning the shopping dos and don'ts, understand first the functions, types, and other facts about car seats.
The Main Function of Car Seats
Car seats are just like ordinary seats, but they are made especially for babies. It has a compact size which is perfect to support the baby's body to prevent it from shaking and moving once inside the car. Baby's bodies are not yet developed and it is normal to expect that they cannot support their own weight, as well. They are actually made up of cushion to add comfort for the baby during long hours of sitting.
Different Types of Car Seats
1. Infant Car Seats – This type is specially designed for infants. It has a handle which allows parents to transfer the seat from one place to another without disturbing the baby's sleep.
2. Convertible Car Seats – This type is recommended for those who have a tight budget. Because it is adjustable, it can be used by both infants and toddlers. Convertible car seats are perfect for kids who weigh 40-6lbs.
3. Booster Car Seats – This type is designed for growing babies who love checking out what is outside the window. Using a booster car seat, the original seat belts of the car can still be used, but of course important adjustments should be done first to ensure better fit and comfort.
Purchasing Considerations
Purchasing a baby car seat is a critical part of making sure your child is protected. This is because infants tend to be vulnerable in cars. They are too small to properly use the basic car seat belts, and having an adult hold them is also a bad idea, as it's easy to drop them when the car brakes. It's also common for infants to become crushed between the dash of a car and an adult holding them. When it comes to the extreme forces exerted by a braking car, it's just not possible to protect a child yourself. You need a car seat to do the job for you. Here are a few things to keep in mind when making a purchase.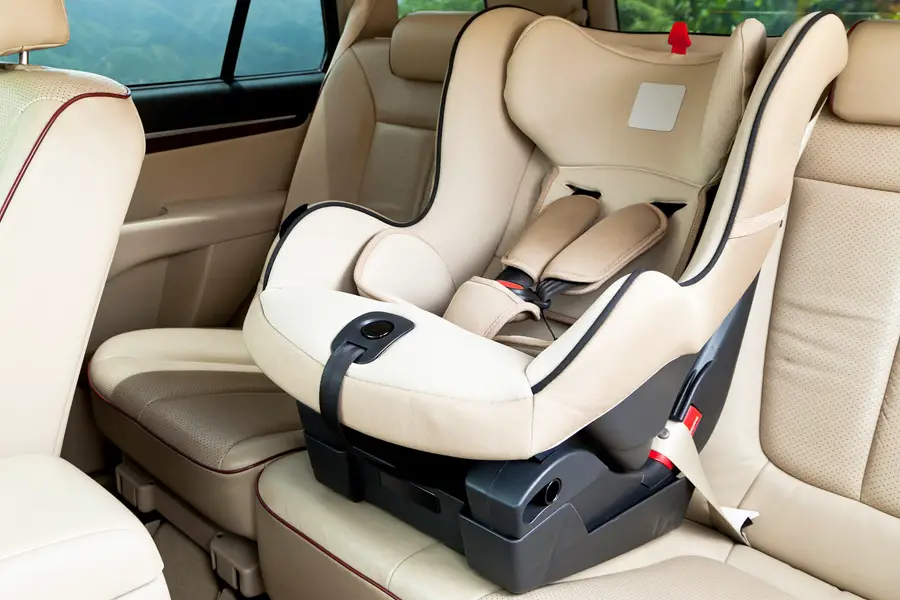 Things to Consider
Read the Vehicle's Manual First
A lot of people just skip the manual of their vehicle, but they really shouldn't. There's a lot of important information in there, including about car seats. For example, there are multiple different ways to install car seats depending on the vehicle. You can use the seat belt to attach it of course, but there's also a system in new cars known as LATCH which is short for Lower Anchors and Tethers for Children. The manual will give you a sense of where these hookups in your vehicle are if your vehicle has them.
Match Up Age, Height and Weight
Car seats are built to different specifications. You need to make sure that you buy a seat that is built to protect your child based on the child's weight, height and age. If you get a seat that's not the right specification, it may be too large or too small. Each of them is often built to a different type. For example, seats that face the rear are often for children who are very small such as infants and the newly born. It's actually a good idea to keep your child in one of these as long as you can. After that there's the forward facing seats where the child is at least two years old or beyond the height and weight capacity of the rear-facing seat. Finally you have booster seats where a child weighs more than forty pounds. Once they reach 8 or so, they may not need the seat anymore and they could just sit in the back like an adult, but they should never sit in the front seat until they are considerably older and capable of taking an airbag.
Make Sure Harness Adjustment Is Easy
One problem with a lot of child seat devices is that it's hard to adjust the harness once the car seat is actually installed in the car. Sometimes the part where you can adjust gets stuck underneath or behind. So it helps to pay attention to this before you choose a seat in order to make sure that it's not going to be a major problem when you're actually using the thing.
Overall, car seats go a long way to make sure your child is secure when you're driving.
Guide to Baby Car Seats
Buying a car seat for your baby is one of the most important purchases you will make for your child. A car seat is a legal requirement for any child travelling as a passenger in a car, as a parent you will want to make sure your child is as safe as possible in the event of an accident. Laws regarding child seats vary, depending on where in the world you live, so it is important to check the legal requirements for your country or state.
Factors to Consider
Buy New
First of all, make sure you buy a brand new car seat for your child, it is worth the investment. Car seats are subject to safety laws, if you buy second hand, that particular car seat may not be up to date with the current safety laws, the same car seat may have already been in an accident, although it may look in good condition it may be damaged and less effective for the job it was designed to do, keeping your child safe!
Choose Between Standard, Booster or Combination Seats
Depending on your child's age, you have a choice between standard, a booster or a combination seat. A standard car seat is designed for a child from birth, usually up to about two years old and is the seat baby would come home in with the carry handle, this seat will have a five point harness to keep your baby secure when travelling, this seat would be placed in a rear facing position in your car, to protect your baby's head in the event of sharp braking.
1. A combination seat is a seat designed to grow with your child, as your child grows this seat will adapt to accommodate, providing many more years use than a standard car seat.
2. According to which combination seat you choose, this may also turn into a booster seat when your child is old enough.
3. A booster seat is appropriate for older children, but can be used from the age of three years old.
Sitting in a booster seat, a child would be forward facing with the safety belt attached to the car seat going across the child's lap, as a child gets older and taller, it is ok to use the car safety belt to secure the child whilst they are sitting in the booster seat.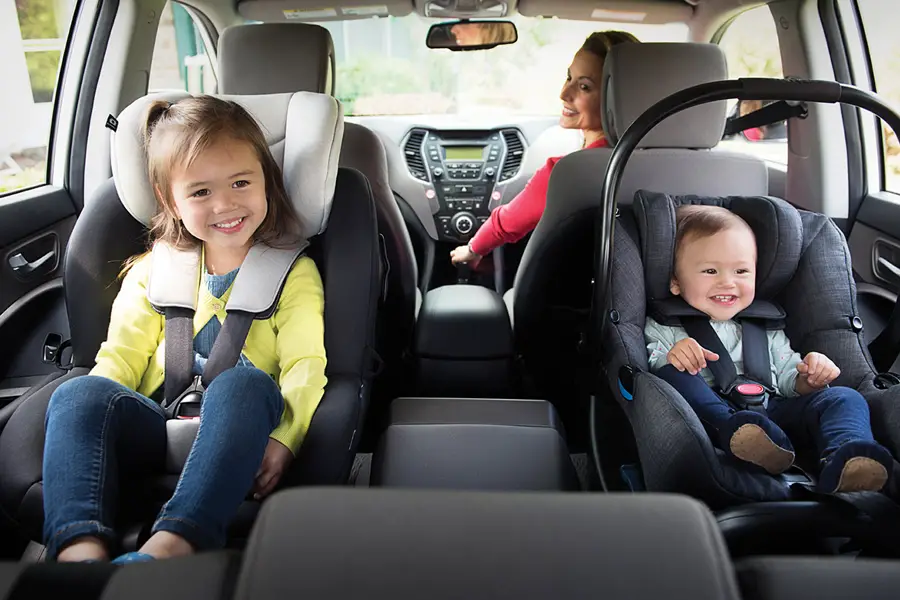 Try Before You Buy
Any reputable car seat manufacturer or anywhere stocking them, should be happy for you to try the car seat out in store, to see whether it is a good fit, the right size for your child and meets your requirements, it might also be useful to get a demonstration if possible, to be sure you are using the seat safely.
Fit the Child Seat in Your Car Safely
In order for the child seat to do its job and keep your child safe, it needs to be fitted in your car correctly. Refer to the manufacturers instructions if necessary ,to be certain of your child's safety when travelling. This should go some way in to helping you choose the correct car seat for your child, now the rest is up to you! Car seats come in a huge range of colours and with various accessories to make travelling fun for you and your child, so choose whatever takes your fancy and stay safe.
Should You Buy Used Car Seats and Brand New Ones
Hand-me-downs and second-hand items are very popular especially if the household only receives an average paycheck. There are cases when mothers keep their old baby stuff so that they can use for the next babies to come. Though it is a practical thing to do, it is not actually recommended when it comes to car seats. Regardless of how good the condition of a car seat is after being stored for a couple of years, it is always better to have the latest models not just for the sake of being updated with the trend, but also because of the safety measures. Manufacturers always make it to a point that every model they release should have a new and advanced feature that will make consumers buy the product. Innovation with a product is always important because it gives the consumer an idea that the new product is better than the old ones.
Here are few examples of car seat innovation that has been introduced in the past few years:
1. Anti-rebound bar – this additional feature limits the amount of baby's movement in case of car accidents.
2. Additional cushion – cushions have the possibility to shrink over the years especially if it has been seated for numerous times. Purchasing car seats with additional cushion will not only provide more comfort for the baby, but also for the next baby to use it in case the owner have some plans of passing the baby seat to the next generation.
Helpful Tips on Buying a Car Seat
Safety and security are the top reasons why people purchase car seats for their kids. Since it provides a lot of convenience and comfort for both parents and babies, shopping for them should not be done instantly. There are a lot of things that should be considered before making a purchase and here are some helpful tips to make shopping easier:
1. Set an amount to be spent in buying car seats. If on a tight budget, go with the convertible car seat. That way, there is no need to purchase another seat once the baby got bigger in years. If infant car seats are preferred, make sure that money will never be a problem. Cheap infant car seats are more likely to malfunction than the expensive ones.
2. Look for a seat that can be easily cleaned and maintained. Babies are expected to make a lot of mess including milk and food spills that is why it is necessary to buy the one that has a detachable seat cover. That way, there is no need to cover the seat with another blanket to avoid stains on its actual surface.
3. In terms of seat belt security, look for a car seat that has two waist straps, two shoulder straps, and one strap between the legs – also known as 5-point harness. These straps will give the parents some peace of mind when leaving the baby without any supervision.
4. Though all car seats that are being released to the market are tested for its quality, always make a habit of looking for approval stamps. Tested and approved car seats should have a JPMA stamp on its packaging.
5. Apart from the JPMA stamp, high-quality car seats should also have a National Highway Transportation Safety Administration's (NHTSA) rating. This said rating refers to the car seat's ease of use. The more stars it has, the more user-friendly the product is.
6. Check the lower anchors and tethers for children, also known as the LATCH system. This allows the owner to install the seat directly to the vehicle without using the seat belt for support.
7. Check the straps of the seat if they can be easily adjusted. Infants will eventually become toddlers and it is necessary that they are comfortable with the belt that will support their movement.
8. Make the baby comfortable with the whole sitting experience. Look for car seats with energy-absorbing foams, providing babies a better ride.
Resources