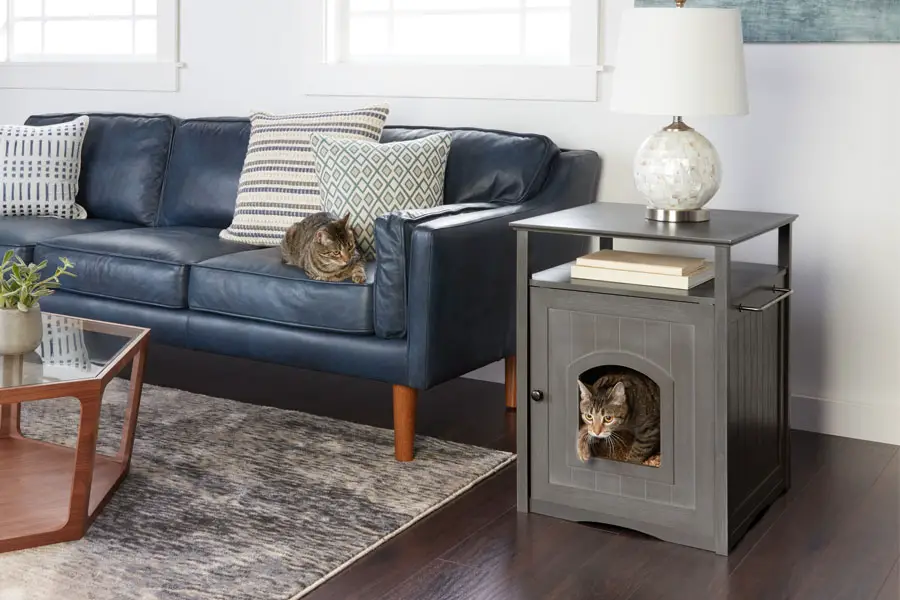 Cat Litter Box Reviews
Everyone has to go, why not have an enjoyable place to go when you have to go. Your loving cat deserves the same privileges. Instead of having a regular litter box you can have a cat litter box that helps contain the smell and keep your cat secure and more comfortable when using the bathroom. The following cat litter Box are the best on the market and will allow your cat to use the bathroom in peace while benefiting you by limiting unpleasant odors.
Most Popular Cat Litter Box
Omega Paw
The Omega Paw Self-Cleaning Litter Box will allow your cat to use the bathroom while feeling like they have their own special place without having to worry about onlookers. For your benefit this cat litter box is easy to use and can be setup in no time. The Omega Paw Self-Cleaning Litter Box is perfect for larger cats or owners with multiple cats. One of the first things you will notice with this litter box is the significant reduction in odor. This litter box is also designed to help control dust and other dirt from exiting the litter box or gathering around the area where the litter box is placed. It has a pullout tray for easy waste disposal. The cat litter box is self-cleaning and will roll to the right and then return to its original position once your cat has left the litter box.
Easy to use
Can be setup in no time
Perfect for larger cats or multiple cats
Reduction in odor
Pullout tray to dispose of waste
– Anthony Dawson
Best Overall Cat Litter Box
Merry
The Merry Pet Products-Cat Washroom and Night Stand will give your cat the privacy they have always wanted. This cat litter box is 18.5 x 16.5 x 18.5 inches in size allowing your cat to have plenty of room while doing their business. The box can be put together within minutes and has a simple setup. The litter box includes all of the materials necessary to put it together along with a set of instructions to make installation even easier. Not only will this product become your cat's litter box, it can also be a spot for your cat to relax and sleep. This cat litter box was designed to hide the litter box with a functional and stylish pet house. This cat litter box is available in three different colors. It comes with a one year limited warranty.
18.5 x 16.5 x 18.5 inches in size
One year limited warranty
Easy installation
Comes with all necessary materials and instructions
Three colors to choose from
– Anthony Dawson
Best Budget Cat Litter Box
Booda
The Booda Dome Cleanstep Cat Box allows your cat privacy while feeling like they can go to the bathroom in a comfortable location. This cat litter box is offered in three different colors. It is 21 ½ inches in diameter and 19 ½ inches high giving your cat all the comfort and room they need to do their business. The litter box is 50% larger than the traditional litter box making your cat more comfortable. It has a staircase that leads into the litter box. The staircase is 9 inches wide and the litter box pan is 6 inches deep allowing your cat to use the bathroom several times without the need to clean the litter box as frequently as usual. The Booda Dome Cleanstep Cat Box has a charcoal filter that will prevent 99% of odors. Due to the design of this cat litter box, you will find that odors will not be contained in the corners but will be eliminated completely.
Offered in three different colors
21 ½ inches in diameter; 19 ½ inches high
50% larger than traditional litter Box
Box pan is 6 inches deep
Reduces odorsby 99%
– Anthony Dawson
Cat Litter Box Buying Guide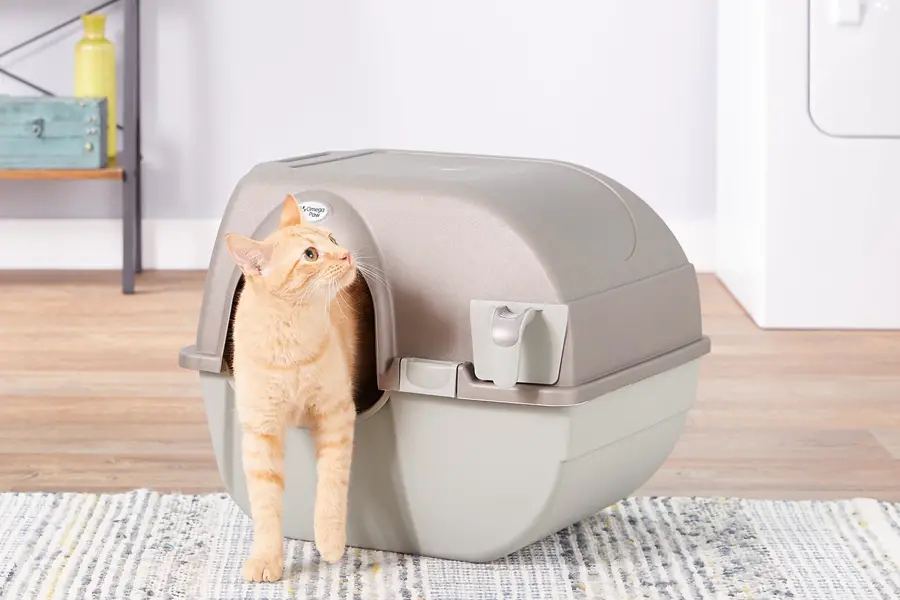 When you get a new cat, the next step is to look for kitty supplies in a pet store. The first thing you will need to purchase is a litter box. Many people think all cat litter boxes are the same and they don't pay attention to what you should look at before purchasing one. Litter boxes are created differently and vary in size, depth, shape, and other attributes. Below are the top things to consider when purchasing a cat litter box:
Top Things to Consider
1. Size
Cats vary in size. Therefore, purchasing a very large or too small litter box may have an impact. For instance, if you've got an overweight cat, you need a larger litter box that has a bigger opening to make it easier for your cat to get in and out. Before you purchase a litter box, ensure it is adequately sized for your cat. The rule of the thumb is that the length of a litter box must be at least one and half times that of your cat – nose to tail tip.
2. Covered vs. Uncovered
Consider if you need a covered or uncovered cat litter box. Each type has its advantages and disadvantages. A covered litter box offers more privacy to your cat and is usually ideal when you want to keep odors out of the air and overspill to a minimum. The appearance of a covered style is more pleasing and keeps the cat waste out of sight.
You may also consider choosing an open litter box especially if your cat seems to be too anxious to climb the litter box. Additionally, the uncovered litter boxes are easier to clean, and you can easily tell when maintenance is needed compared to a covered litter box.
3. Color
You might want to consider discreet color options that are attractive or the ones that match with your home interior. The other ideal option is to get a litter box with a similar color to other items belonging to your cat. For instance, if your cat's toys are blue, you can choose a blue-colored litter box to bring a sense of style.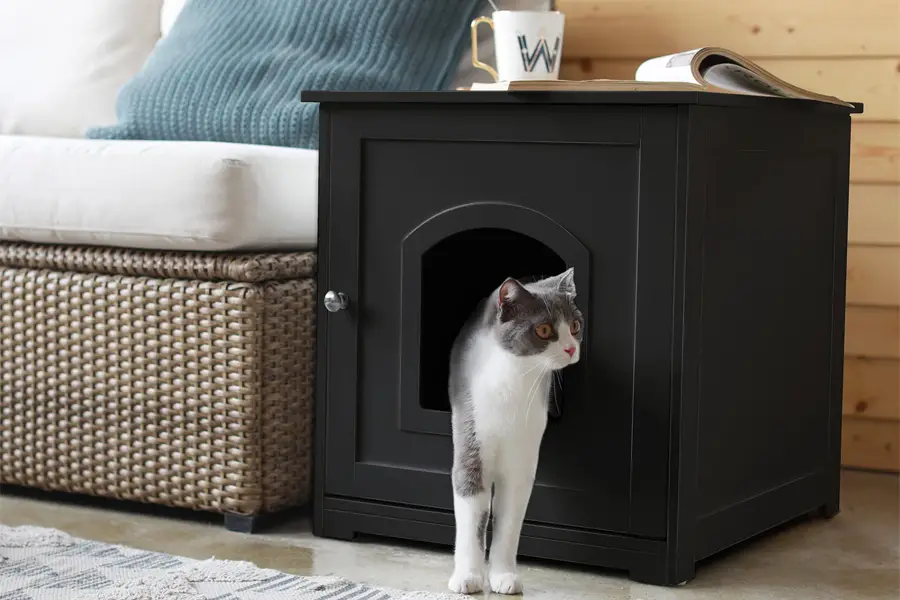 4. Entrance Height and Style
There're two types of entries contained in different cat litter boxes as follows; the front and top entries. The front door entry type is the most popular design. However, the top entry design has more advantages compared to the front entry design. First, there's a low possibility of the litter and waste to getting out of the box. Additionally, it can help if you've got young children or other pets like puppies that may try to get into the litter box.
5. Ease of Cleaning
A cat litter box needs to be clean to prevent bad odors from spreading in your home. However, there're many easy to clean cat litter boxes in the market today. You can select between the automatic and manual form of cleaning. If you've got a busy schedule throughout the week, you should consider an automatic cleaning litter box. It'll clean itself and deposit the cat waste in a disposable container that's replaced once it's full. This will minimize the maintenance required and prolong the life of your cat litter box.
6. Material
Studies show that the texture, coarseness, and granularity of a cat litter box affect how often cats use it. Litter boxes are made with materials which include clay, plastic, and other biodegradable materials. Each material type has its own advantages and disadvantages. For instance, clay litter boxes are the cheapest, they clamp well and are excellent when it comes to holding moisture. Their downsides include their heavyweight, being dusty, producing a bad smell, etc. On the other hand, plastic cat litter boxes are lightweight, excellent odor absorbers and nearly scentless. Their downsides include being expensive, and lack of clamping.
Conclusion
In conclusion, these are some of the top things to consider when purchasing a cat litter box. You also need to consider the price of the litter boxes. There're expensive ones and cheaper ones. On the other hand, if you have many cats, consider getting a larger litter box, although some people argue that the best option is to purchase separate litter boxes.