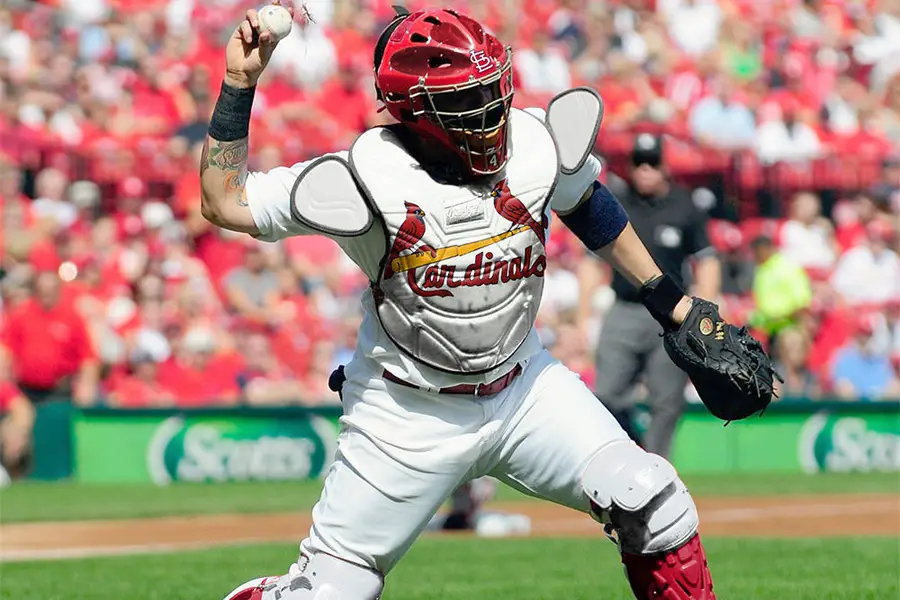 Catcher Equipment Reviews
Having baseballs come towards you in high velocity every play is a position for the brave of heart. With baseball pitchers reaching upwards of nearly 100 miles an hour, having proper equipment is essential.Catcher's need protection from stray balls, foul balls and even runners sliding into home plate. Having good quality gear is essential to being able to get the job done both during the game and during practice. The following reviews provide top notch catchers gear that will keep you safe from play to play, while being comfortable and allowing you to move around to reach your highest potential.
Most Popular Catcher Equipment
MacGregor
The MacGregor Varsity Catcher Gear Pack is a set of catcher's gear that will allow you to catch during your game with confidence. This set of catcher's gear is offered in three different colors including black, royal, or scarlet. The MacGregor Varsity Catcher Gear Pack is built for baseball players 15 and older. The set includes a professional style varsity catcher's helmet. The helmet will protect you from both baseballs and the batter's bat. The helmet is built to withstand the high velocity of the baseball while still protecting your face and head. The MCB70 Varsity Chest protector is padded and will protect you from batters and competitive runners and stray balls. The Varsity Double knee leg guards are included when you purchase this catcher's equipment set. The double knee guards protect your knees, and shins from the ball and make it easy to bend and stand as a catcher does with nearly every play. For your benefit, a throat protector is also included and will help prevent accidents while you enjoy the American sport of baseball.
Three different color options
Meant for players 15 and older
Professional style helmet
MCB70 Varsity Chest Protector with throat protector
Varsity Double knee leg guards included
– Anthony Dawson
Best Overall Catcher Equipment
Mizuno
The Miznu Samurai Youth Catcher's Package with Gear Bag is a great set for beginners. The catcher's equipment is black/grey.The Miznu Samurai Youth Catcher's Package with Gear Bag includes all of the gear your youth needs in order to be protected during practice and games. The Samurai Youth helmet will get your youth use to wearing protective gear while protecting them from bats and baseballs. The Samurai Youth Shin Guards will protect the catcher's legs, knees and shins and help them get comfortable in the squatted position. The leg straps secure the shin guards without interfering with the standing and squatting positions. The Samurai Youth Chest protector will ease the speed of the baseball while allowing your youth to become a better catcher. You will also receive a gear bag to fit all of the catcher's gear.
For beginners
Equipment is black/gray
Samurai youth helmet
Samurai youth shin guards
Samurai youth chest protector with a gear bag
– Anthony Dawson
Best Budget Catcher Equipment
Easton
The Easton Natural Youth Catcher Box set is a great set of catcher's gear that you can purchase for an affordable price. The gear can be purchased in silver or green allowing you to select the best color to match your team colors. When you purchase the Easton Natural Youth Catcher Box Set you will receive a helmet, a chest protector, leg guards, and an extra-large equipment bag. The set will save money compared to purchasing each piece individually. The helmet is offered in Intermediate Large or Youth small allowing you to select the helmet that will fit you correctly. The Chest protector has adjustable straps that will allow you to place the chest protector in the best position. The leg guards have straps that will keep this piece securely on your leg during the game. The extra-large equipment bag allows you to carry all of your gear to and from the game without forgetting important pieces keeping the gear together.
Affordable price
Silver or green color options
Helmet, chest protector, and leg guards included
Extra-large equipment bag included with purchase
Helmet has two different sizes available
– Anthony Dawson