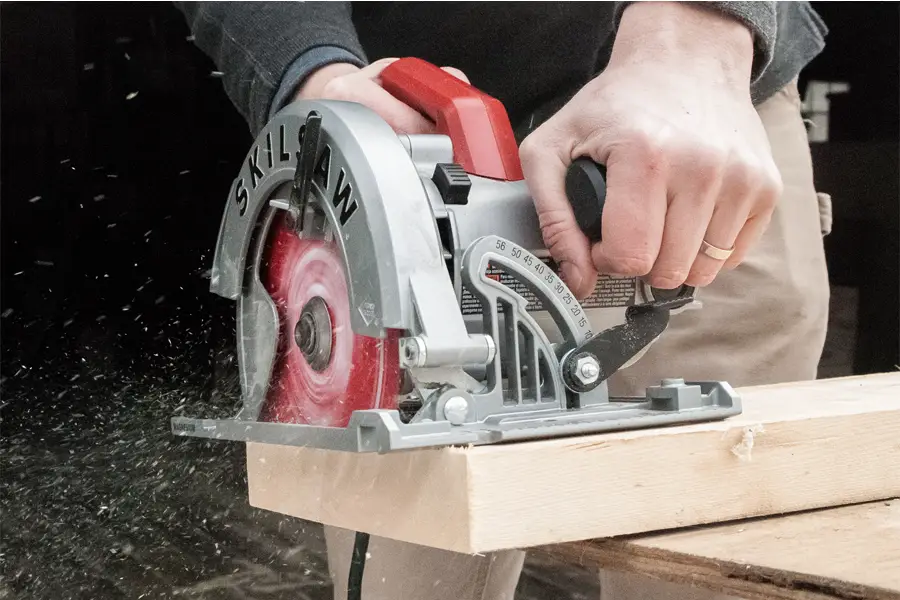 Circular Saw Reviews
A circular saw is an electric, hand held or table mounted device with a round cutting disk for cutting wood or other materials. Different saws are available according to size and materials. The cuts from a circular saw are typically very accurate and straight assuming the blade (which can be replaceable) is thin and smooth. Many features are available in different models. We have brought together all of the top models and narrowed the list down of the ones we think are the best.
Most Popular Circular Saw
DEWALT E575SB
The Dewalt (DW-E575SB) 7.25″ Lightweight CircularSaw with Electronic Brake was is one of the most well balanced and lightweight circular saw in it's class with an electronic brake that comes to a stop after release of the trigger. It is a compact and lightweight, 8.8lb circular saw, measuring 7.2″ in width and although it is small, it delivers enough power to perform some of the most demanding jobs. With 1,950 MaxWattsOut (MWO) and 5,100 revolutions per minute (RPM). The Dewalt (DW-E575SB) 7.25″ Lightweight CircularSaw has a patented 15-Amp motor and has an incorporated dust-blower. A ball-bearing lower guard protects against from dust contamination and the durable stamped aluminum plate creates a strong and streamlined base for perfect cutting. The Dewalt (DW-E575SB) 7.25″ Lightweight CircularSaw has a patented cord-protection system that is tough and provides 3 times as much durability against the cord being pulled out. An integrated board blade storage for wrenches makes blade changes simple. The saw also comes with a case for carrying.
Cord protection
15amp motor
Electric brake
Light-weight design
Handy carrying case
– Anthony Dawson
Best Overall Circular Saw
Milwaukee
The Milwaukee 7.25″ 15Amp Tilt-Lok Circular Saw Kit (6390-21) include the saw, a case, wrench and blade and get power from its 15amp, 3.25hp motor and cuts evenly, starts smoothly, and handles almost any material flawlessly. The lightest saw you will find with this amount of power, it features a quick lock cord, an aluminum plate and soft-grip handle with a button that only needs one touch. And change the blades is a snap. This saw's blade can adjust to 50degrees and offers visibility that is clear and visible from both sides. With steel gears, a 22amp switch, AC/DV, 120volt, and 5800rpm. The eight position Tilt Loc handle is a Milwaukee-exclusive, and provides control and comfort. It adjusts for comfortable working positions. This saw was built with innovation in mind.
Come with carrying case
13.75″
10.4lbs
50 degree bevel
5-year warranty
– Anthony Dawson
Best Budget Circular Saw
DeWalt DC390B
The DC390B Dewalt Bare-Tool 6.5″ 18V Cordless CircularSaw delivers cordless power and performance. This Dewalt Bare-Tool weighs 6.3lbs and will cut to a depth of 2.25″ inches at 90degrees and 1-5/8″ at a 45degree bevel. The professional-d DC390B Dewalt Bare-Tool 6.5″ 18VCordless CircularSaw utilizes an 18v battery to drive the saw's 6.5″ blade at 3,700RPM at top speed, softwood, lumber, hardwood, particleboard, oriented-strand board, plywood, and virtually any other wood material for crosscutting and ripping. This Dewalt Bare-Tool is backed by a 3 year limited warranty covering any manufacture defects. It also comes with a no cost service contract for 1 year. Dewalt will maintain the unit and replace worn out parts, for free, which are caused by normal wear and tear.
3,700 RPM
Includes blade (carbide-tipped)
Compatible with other Dewalt battery packs and chargers
3 year limited warranty
1 year free service
– Anthony Dawson
Circular Saw Buying Guide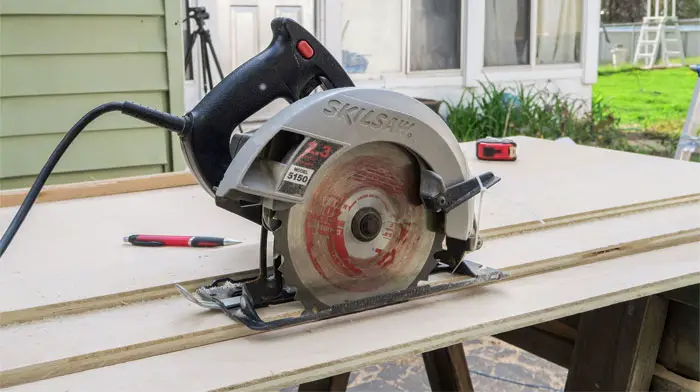 A circular saw is a machine used for cutting different types of materials. Mostly, this machine is being utilized by construction workers, woodworkers, handymen and those people who occasionally repair things at home. There are various kinds of circular saws, wherein each of them is used for doing specific type of cuts. Buyers must remember the things they need to consider when looking for the best circular saw. The priority is to distinguish the kind of task the circular saw is bound for. They must also decide whether they will prefer the power of the corded saw or the portability of the cordless saw. Lastly, they need to check the quality of the given features and decide which, among the different units, is the most suitable for them.
The Three Types of Saw Designs
The circular saw has three designs, wherein each of them has its pros and cons. Given that each type is made to perform certain tasks, you should visualize ideal projects when looking for a saw machine.
Worm-Drive Saw
In 1924, the first type of circular saw was invented, which was named as the worm-drive saw. The name pertains to the spiral-shaped internal drive system inside the circular saw. The engine is located at the back of the blade.After a few years, the newly invented sidewinder saw was introduced. Since then, the people have two choices.
This type of saw is well-built and powerful. The saw is capable of doing plunge cuts as it has a compatible shape. The length of the saw enables it to cut wider stacks of materials. The heft of the saw facilitate sawhorse tasks. This is commonly used by professional workers in making their hard-to-do projects.
Weight – approximately 13-15 pounds
Average diameter of the blade – approximately 6 1/2 -8 ½ in.
Perks – Following the cutting line is made easier, especially when using the left-sided blade.
Sidewinder Saw
The sidewinder's engine is found on the blade's left or right side. The saw with the engine on the right side of the blade, is applicable to right-handed workers. If the engine is on the left side of the blade, it is best suited for left-handed workers. When you use the suitable saw, your eyesight directing to the cutting portion will not be blocked by your hands.
This is a lightweight machine. It can cut objects made from plywood, concrete, studs and wet lumber. Usually, this type of circular saw is utilized when doing do-it-yourself tasks. This is advisable for beginners since it will be easier for them to lift and use it once in a while. It has a good blade position as your hands will be distant from the cutting space.
Weight – approximately 6-10 pounds
Average diameter of the blade – approximately 5 -10 in.
Trim Saw
This is rarely used by professional workers as it functions for doing simple tasks. This circular saw is lightweight and convenient to use. Commonly, it is responsible for polishing and cutting slender materials.
Weight – approximately 4-7 pounds
Average diameter of the blade – approximately 3 1/2 -4 1/2 in.
Each type has its own purpose, but experts advise to novices to buy the sidewinder. This is because it is the type of circular saw that you can easily use without the harm of cutting your finger. Also, it is suitable for doing a broad scope of works.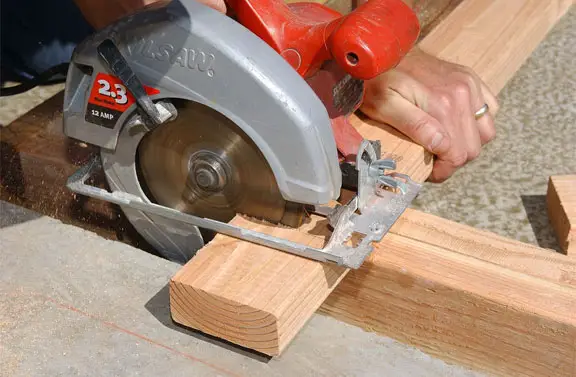 Source of Power – Corded Saw or Cordless Saw
Worm-drive saws are only available in corded units. Sidewinder and trim circular saws have cordless units. When you prioritize convenience the most, you should go for the cordless saw. This is because you can freely move from one place to another without worrying for the cord. Although the cordless saws are convenient to use, its power is less than the power that a corded saw can generate. You also need to recharge the batteries whenever they run out of power, as it has a limited power time. However, it will be difficult for you to use the cordless saw if you will be doing a time-consuming task. If you want a more powerful saw, then buy the corded circular saw.
Circular Saw Features
As a buyer, you need to know the useful features that a saw may have. In this way, you can find a unit that will satisfy your needs and wants.
Electric Brake
When you think that an accident may arise from your mistakes, you can easily stop the machine by using the electric brake. This is very useful, especially when you made a cutting mistake.
Ball Bearing Engine
This is responsible for enhancing the resilience of the machine to lengthen its tool life.
Modifiable Handle
You can easily adjust the handle in a position you are comfortable with. You must ensure that the place of the handle is easy to control.
Sturdy Base
The machine can refrain bending possibilities due to its cast-metal and emphasized-steel bases.
Magnesium Case
It can ensure the security of the engine without adding extra weight to the machine.
Depth Control
This control allows you to have an easy access, simple regulators and perfect visibility.
Bevel Ability
You can adjust the angle of the tilted blade to increase the machine's competence and precision. There is no need to use tools in making adjustments.
Conclusion
Aside from these things, you should also know if your fingers will fit in the trigger even if you are wearing gloves. Some workers prefer to wear gloves when doing their job. You may also consider buying a saw with an LED light. This will be conducive when working at night.
Before deciding to buy a circular saw, you must be able to do some research about it. You must be familiar with the common designs of circular saws and carefully compare them all. Decide for the features you want your saw to have and find the closest model as much as possible. When you are well-decided, you can buy the most suitable machine for your work. Remember that the sidewinder is for doing simple tasks, the worm-drive saw is for doing heavy-duty tasks and the trim saw is used for making small cuts.