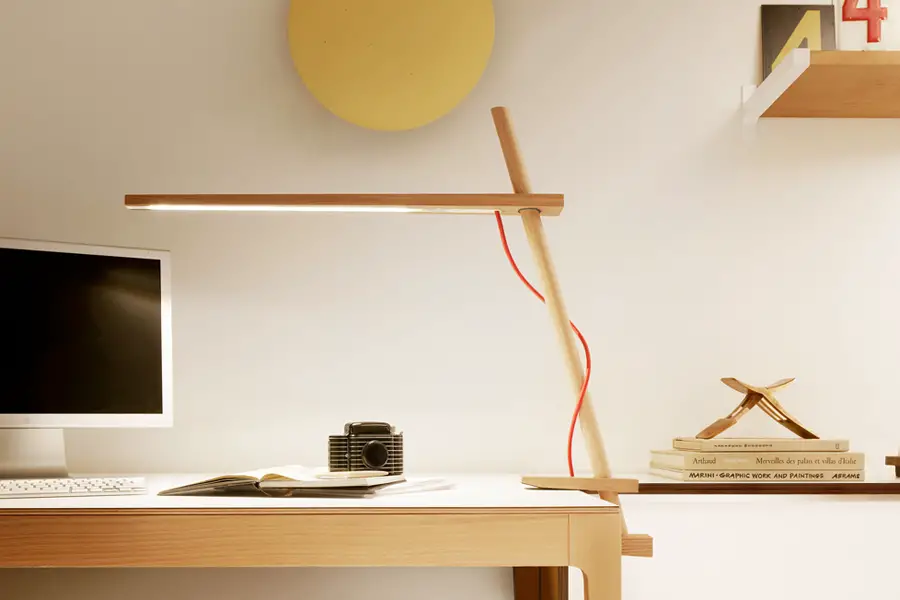 Clamp Lamp Reviews
Clamp lamps take two relatively basic inventions and blend them together to create a single unique product. At one end is the clamp, designed for attachment to a desk, tabletop, or other piece of furniture and at the other is the lamp, which illuminates an area or room as lamps are designed to do. Clamp lamps serve a variety of purposes. The fact that they can clamp onto just about any sturdy object means you're left with more room on the desk or table where you would have placed a regular lamp. Clamp lamps also typically feature flexible necks that allow for them to be positioned in a variety of ways, meaning you designate where the light shines. Clamp lamps may be cord operated and plugged into the wall like regular lamps, have USB attachment options, or accept batteries and allow for portable use.
Most Popular Clamp Lamp
Daffodil
The Daffodil USB Light is the perfect companion to anyone who spends long hours working at the computer, whether at a desk in an office or on the go. The light has a detachable cord that plugs directly into the USB port of your PC or Mac laptop or computer, which provides the power for the light. Technically no power source is needed except a charged computer battery, though the light can be powered off of 4 AA batteries for fully portable use when there's no computer handy. The light employs the use of 28 super bright white LED lights and has low, medium, and high settings to adjust the amount of light emitted as needed. The flexible gooseneck measures a little over a foot long, providing just the right amount of light to illuminate a keyboard, book, or desktop documents. The sturdy plastic clamp has rubber grip tips and affixes to most desks and tables and detaches with ease for portability.
USB compatibility means no wall-plug in or batteries are required (batteries are an option)
28 LED lights with low, medium, and high brightness settings
Strong clamp attaches to most desks and tables for computer work/reading use
– Anthony Dawson
Best Overall Clamp Lamp
EYOCEAN
This simple 14.6 inch Super Bright LED Clip-on Lamp from Home Design is great for dorm rooms, crowded apartments, and anywhere else a space-saving and energy efficient light is needed to help get work done. The lamp plugs into the wall via the attached 5-foot AC power cord and has a simple on/off switch on the head of the lamp. The 360° flexible gooseneck allows you to easily adjust the light to perfect angles as needed. The lamp uses a single, super bright LED light bulb that is included with the lamp and uses a mere 5-watts of power when on. The heavy duty 14.6 inch gooseneck adjusts to fit in small spaces and illuminated work and reading areas with minimal space consumption. The clamp can affix to any surface 1.5-inches or less in width, making it ideal for students, office workers, and those who work from home. Overall, the Home Design LED Clip-on Lamp is well-made, versatile, and plenty bright enough for a variety of working needs.
Single white LED light uses 3.6-watts of power and lasts for years
Simple design with on/off switch and flexible gooseneck
Rubber feet on clamp ensures tight grip on almost any surface up to 1.5-inches
3 lighting modes for you to choose: warm light, white light, and cool light and 10 brightness levels you can adjust: dim and bright.
– Anthony Dawson
Best Budget Clamp Lamp
LIGHT IT! by Fulcrum
The Fulcrum Multi-Flex LED Task Light/Book Light is small, discreet, and totally portable. It's a hands-free lamp with a flexible neck and sturdy clamp that clips directly onto a book, laptop, or tabletop to give you personal, glare-free, energy-efficient illumination whether at home or on the go. The light is powered by 3 AAA batteries (not included) and uses 3 LED bulbs that emit a wide range of light for such a small light. The LED bulbs are energy-efficient, emit very little heat, and never need replacement. The base of the light measures 1.5 x 2.5-inches and the gooseneck is 12-inches in length. The Fulcrum light's sturdy clamp also stands on its own as a stable base, allowing the lamp to stand upright on a stable surface for increased versatility. Great for late night reading without disturbing your partner, campsites, cooking, computer use, and more, the Fulcrum Multi-Flex LED Task Light is a handy tool that you're bound to find yourself using over and over.
Battery operated, hands free book and task light for reading, computer work, hobbies, and all-purpose illumination
Sturdy clamp clips to desks, books, and laptops and stands on its own upright
Powered by 3 energy-efficient, battery saving LED bulbs
– Anthony Dawson
Clamp Lamp Buying Guide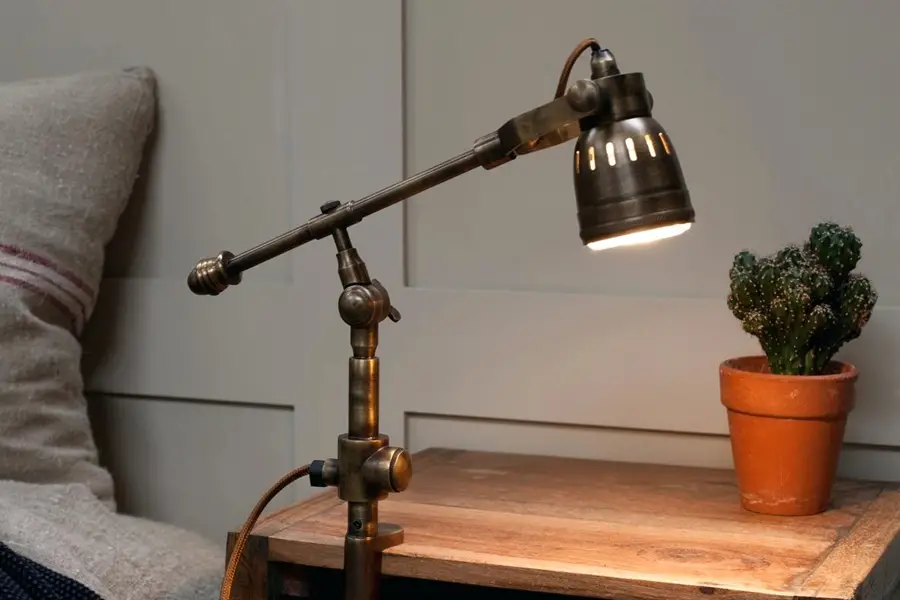 Choosing the best light fixture should be first on the list here. Clamp lamps are efficient innovations that offer, and they are user friendly as they also help save and optimize space, making them great in small offices. The lamps can be used to provide enough lighting when performing tasks that require a lot of lighting. Before you go shopping for clamp lamps, it is important to understand a few facts about clamp lamps.
Benefits of Using a Clamp Lamp
Clamp lamps can be used in different places in your home. First, you can use this kind of lighting in your reading room. This allows you to have enough illumination and protects your eyes from strain. The lamps can also be used in big rooms where normal light bulbs cannot fully illuminate the room.
Heat therapy is another use of clamp lamps. Reptile lamps can keep your pet reptile warm. The clip on these lamps directs light and associated heat on the animal. The lamps not only aid in regulation of temperatures for the cold-blooded animal, but also help create and maintain a healthy environment for them. The lamps can also be used in room remodeling. Clamp lamps can also be used with ceramic heat emitters or incandescent bulbs to make them more effective.
Certain jobs that may require focus and a steady hand like sewing and knitting need proper lighting. Adding a clamp light in your room can make such tasks easier. Clip lights from say an overhead shelf, are easily done by clamping on lamps. Clamp lamps make changing the light angle of illumination easy. This is very important when you are carrying out repair works or making models. Some clamp lights come with enhanced features such as magnifying glass to improve the way they are used.
Clamp Lamps are Flexible
These lamps shed light on a small area, meaning you work in one side of the room while keeping the rest of the room without less lighting which is great for roommates. Students in dorm rooms may appreciate this feature, one roommate could sleep while the other studies quietly, You can even read in the same room while others like a spouse sleeps without disturbing them with light. Clamp lamps are also portable so you can easily carry them from one corner of the house to another. This means you can use one lamp for the whole house.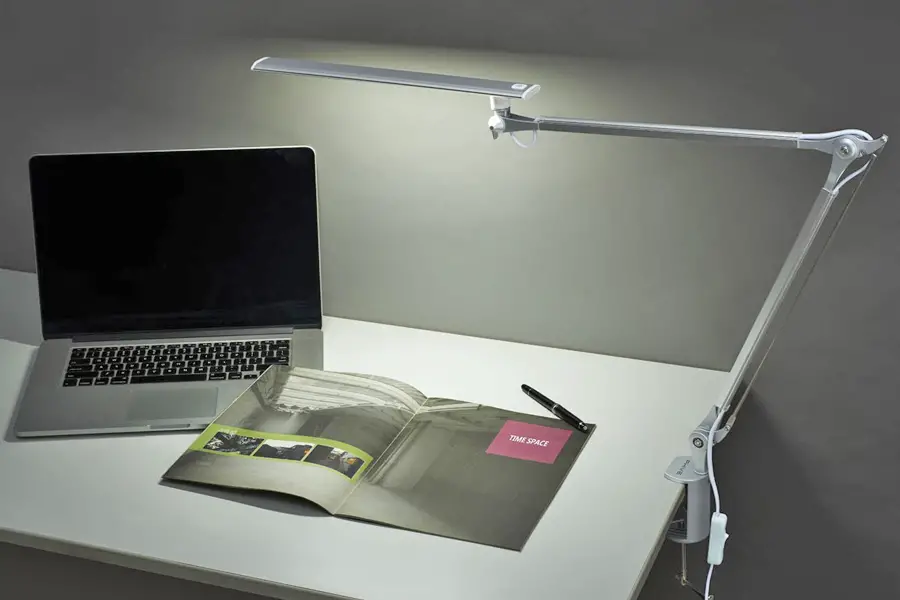 What to Consider When Buying Clamp Lamps
There are a few things that you need to consider when shopping for clamp lights.
Diameter of Clamp Lamps
The first thing that you should consider is diameter of the lamp. Clamp lamps come in different diameters to suit the uses of every customer. 5.5″ Diameter, 8.5″ Diameter and10″ Diameter are some of the lamps you can find in the market. The choice of the clamp lamp to buy will depend on the lighting needs in your home. For example, if you need a lamp for your desk or reading room, then it is advisable to go for the small diameter clamp lamp. On the other hand, larger rooms such as workshops require large diameter lamps.
Decorative Effects
Clamp lamps come in different colors and designs. These colors make them important additions to a modern room. When choosing a clamp lamp for your room, you need to consider the color of your room. Choosing a lamp color that matches the wall painting can be a plus in your house. The focused light effects of the lamp can also add a spotlights and illuminate photos and wall arts.
Cost of Clamp Lamp
Everybody loves to buy things at a bargain price. However, in most instances, lowly priced items do not represent the best quality in the market. This is why you need to be careful when choosing lowly priced items. You can find the perfect clamp lamp for your room with a simple search on eBay. Simply type the keyword and then explore the different types of the item. You can compare the features of each item on the site and their prices. Pay attention to the product quality and condition. You can also contact the manufacturer of the lamp for clarification on any feature. You also need to inquire about the warranty of the item and the discount on the product if any.